In other industries, the end of the year means a certain winding down of operations. Things start to get wrapped up. Holiday parties are being planned. Everyone spends an afternoon "cleaning their desks". This is not the way at Keela. In fact, the final quarter of the year sees every Keela team member working harder than ever before.
Of course, our developers are no exception to this! In fact we have a few whopping product releases up our sleeves that are bigger than anything we've seen so far this year.
Let me introduce you to the first!
Watch these changes in a Training Video:
Two-Step Verification
Here at Keela, we're always working on new ways to make your account even more secure. That's why we've introduced two-factor authentication to the login process. Now, we get it, not everyone wants the extra step of authenticating themselves when they log in. That's why we've made it optional!
If you'd like to add an extra layer of security to your organization, you can turn this on in your Organization Settings.
Once turned on, all team members will need to perform 2-step verification the next time they login. A code will be sent to the email address that they use to login to Keela that they can enter into the Keela login screen.

Folks can enable the 'Remember Me' option once they've done this so that they don't need to verify themselves with a code for the next month. After this, or if the user resets their browser, they'll need to verify themselves again.
Transaction Smart Codes
Smart Codes are one of the most powerful tools to use when creating dynamic Marketing Emails or sending out receipts in Keela. They allow you to replace placeholder text with Contact data in a way that is automatic but still personalized.
This end of year, we wanted to expand these Smart Codes to include transaction data so that you can make your end of year announcements truly sing!

Stripe Integration
It may not be the most fancy but this sure is a mighty one. If you use Stripe as your payment processor you might have found yourself wishing for Keela to send more information through to your account. Your wish is our command!
Here's a list of the additional data that we'll be sending to Stripe (via metadata) that will help in with your financial reconciliations:
Customer Name (ie Donor Name)
Customer Address (ie. Donor Address)
Impact Area
Campaign
Keela Transaction ID
Smart Ask - Exportable and Sortable
I certainly hope you've had a chance to view Keela's Smart Ask Contact Insight on your Donors' Profiles. It's a very useful calculation that allows you to narrow down the best possible donation amount that you should ask for.
This insight is now even more useful as you're able to export it to a CSV file along with your Contact Data or sort your entire Contact List with it by interacting with the Smart Ask column.

Public Personal Export Templates
By using the Personal Exports manager, you can create your own set of export templates to help speed up all of your data gathering needs. This tool allows you to choose the exact columns that you would like to export whenever sending data from Keela to a CSV file.
And now? You can choose to make your Personal Export templates Public so that they can be shared across your entire organization! Simply choose the "Public" option the next time you're creating one.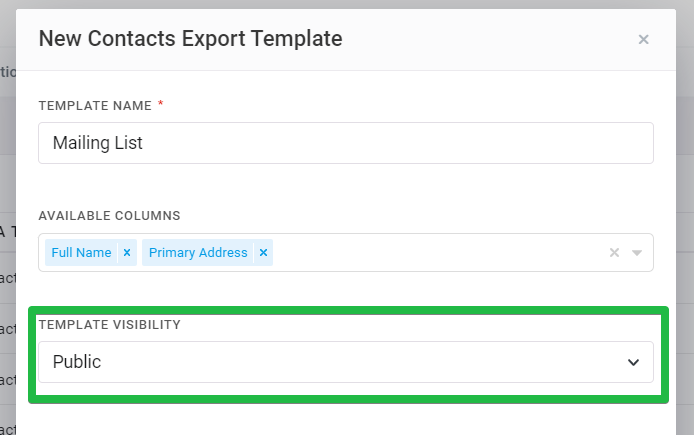 New Keela Forms in French
A few months ago we released the very first version of our brand new Keela Donation and Subscprtion Forms. Our latest addition to these powerful tools is the ability to create them in French. And the best part? All you need to do is select the French language when creating a form with the New Builder. Easy peasy!