Welcome to Keela's new Forms - I think the saying goes "out with the old, in with the new!". We've officially retired the old Donation Forms! Don't worry, we've only retired our old Donation and Subscription Forms, so your pre-existing Membership, Revenue & Custom Forms are still on the Original Form Builder and can be managed as usual.
Keela's Forms are now more dynamic than ever. including three new Form styles (Standalone, Embedded and Pop-Up) and even more design layouts! Let's walk through the process of creating one of Keela's new forms from start to finish.
Creating a New Form
Head to the Forms tool and click "Create New".
Choose your Form type
Choose a Format!
Choosing a Format
There are three different formats that you can choose from. Which format you pick, will depend on how you want the form to be displayed and shared.
Pop-Up
Choose this format if you want to create a form that will pop-up when you click a button on your website! You will be provided with a Master Code and Embed Script to get this form added to your website. The Public Link field will be empty - as you will need to fill this in with the URL from the webpage where you embed your Pop-Up Form.
Important Note: Pop-up forms are designed to be short and sweet! While each form includes fields for First and Last Name, Email and Address, you cannot add any extra questions to these forms. If you would like to add questions to collect extra information or allow opt-ins to your email marketing, we recommend using an Embedded or Stand Alone form.
Embedded
Choose this format if you want to create a form that will be embedded as part of your website. You will be provided with a Master Code and Embed Script to get this form added to your website. The Public Link field will be empty - as you will need to fill this in with the URL from the webpage where you embed your Embedded Form.
Stand Alone
Choose this format if you want to create a form on a standalone page, which can be shared via a Public Link, QR Code or Embedded Button. You will be provided with all of these codes/links within the Form's Settings. Use this if you want to share your form in an email marketing communication!
Choosing a Form Layout
There are a few different layouts that you can choose from when building a Keela Donation Form. The layouts available will depend on the Form's format (Ex. Pop-Ups only have one layout option).
You can choose between multi-page layouts (aligned to the right or to the left) or from a one-page layout.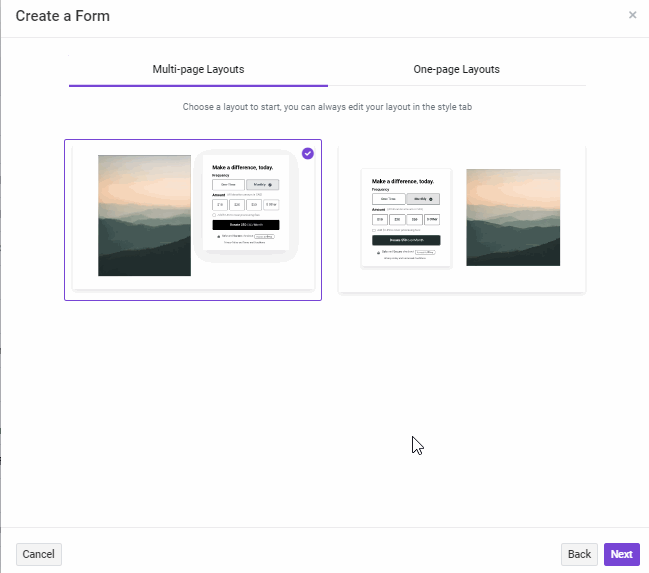 Pro Tip: Multi-Page Donation Forms are proven to increase donor conversion!
Form Details
Now that you've chosen your form type, format and layout you can enter your Form Details!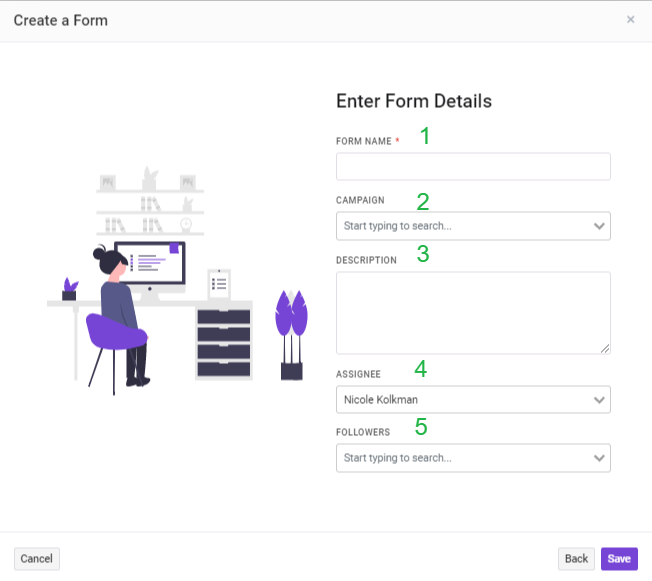 Form Name - Name your form (internal purposes only).
Campaign - Indicate if/which this Form is associated to a particular Campaign!
Description - Any additional details about this form (internal purposes only).
Assignee -

The Assignee is the team member who is the

owner

of this form. It will automatically default to whoever created the form but you can choose any team member with the appropriate

access permissions

from the

drop-down list.

Assignees will receive notifications pertaining to this form.

Followers - Followers are those team members who can receive notifications each time a response is submitted through this form. Only users with the appropriate User Permission Levels, will be shown.
Click Save!
You'll now be brought to the Form's "Overview Tab". No action is required here, this will just provided you with some general insights to your Form (Number of responses, Form Status, etc). We'll cover this in more detail here: Managing your New Keela Forms.
Form Designer
Let's jump ahead to the second tab - "Designer". This is where you will manage all of your Form's Fields and Style Settings.
We're going to start by building out the Form Details.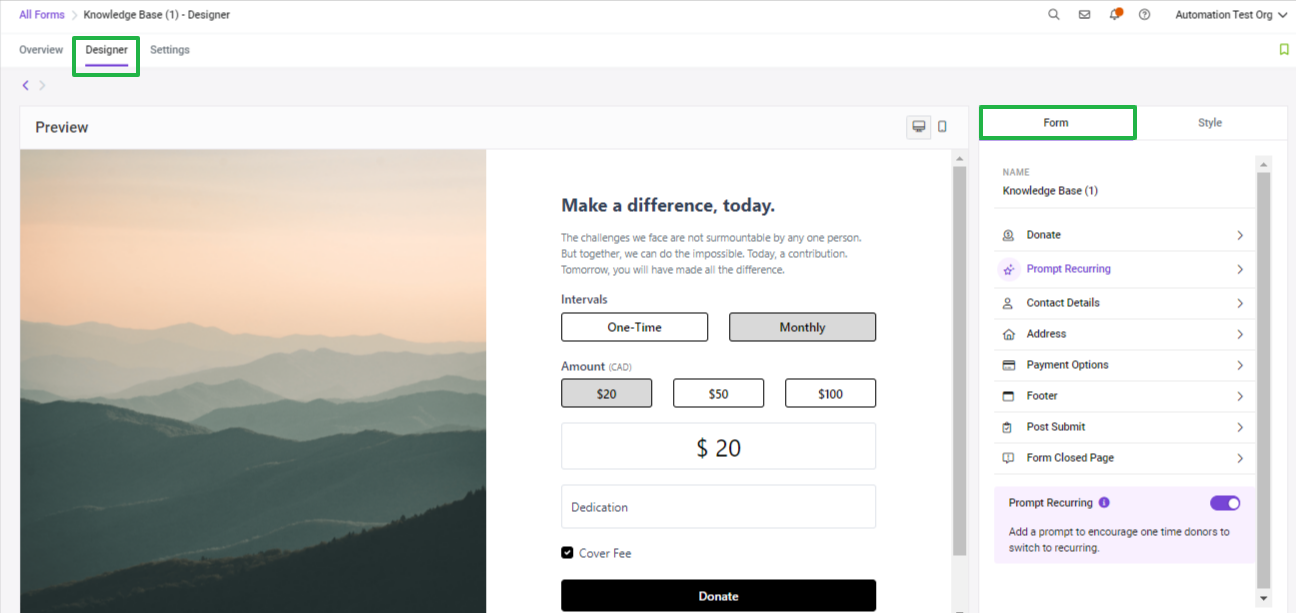 Donate
Here you can edit the donation tiers, header, body text and more!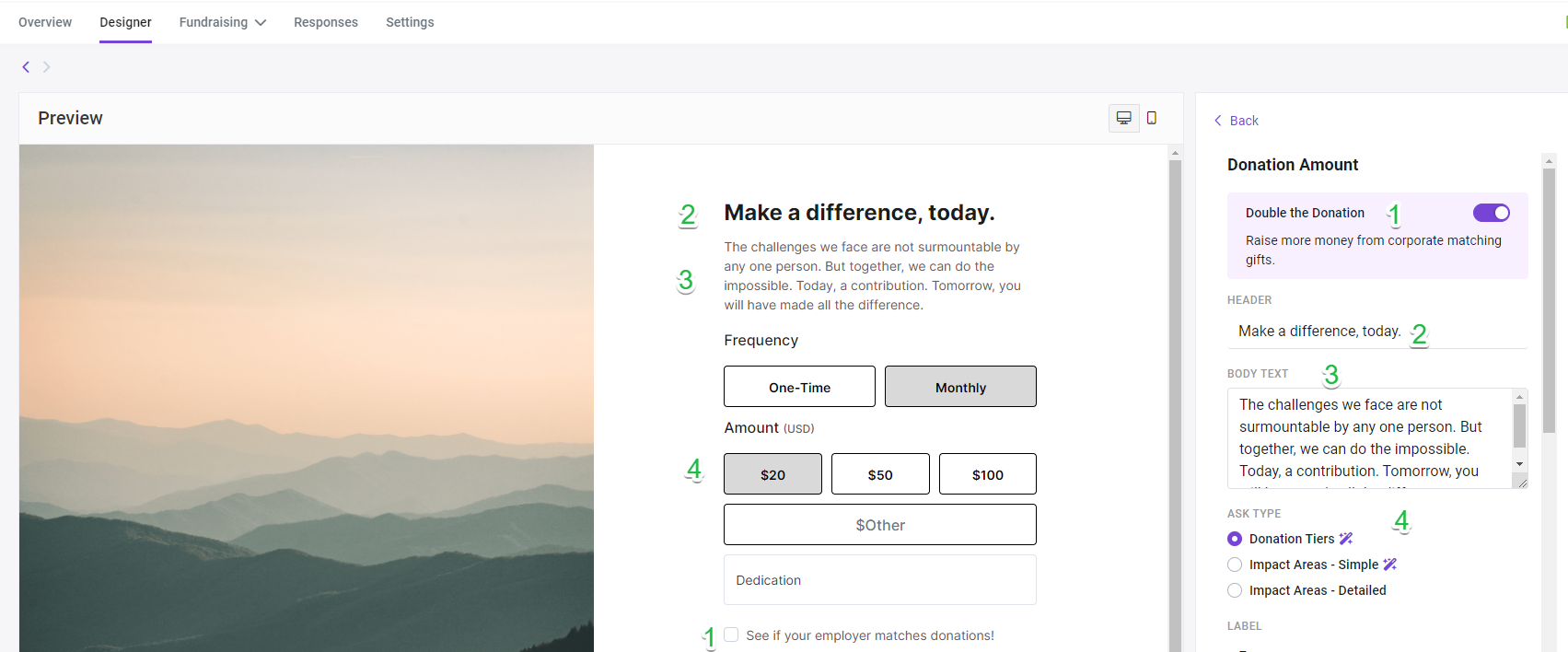 Double the Donation (Integration) - Toggle this on to enable automatic corporate gift matching. Learn about Double the Donation and Keela's integration in the linked articles.
Header - Here you can indicate a short snappy statement to draw attention to your mission.
Body Text - Use this area to provide more information about supporting your organization.
Ask Type - This is how the donation amounts will appear on your Form. You can list as Donation Tiers, or associate Impact Areas.

Impact Areas - Simple: By selecting this option, a dropdown list with selected Impact Areas can be added to your form and associated to the transaction.
Impact Areas - Detailed: By selecting this option, you can add monetary tiers and descriptions to each individual Impact Area.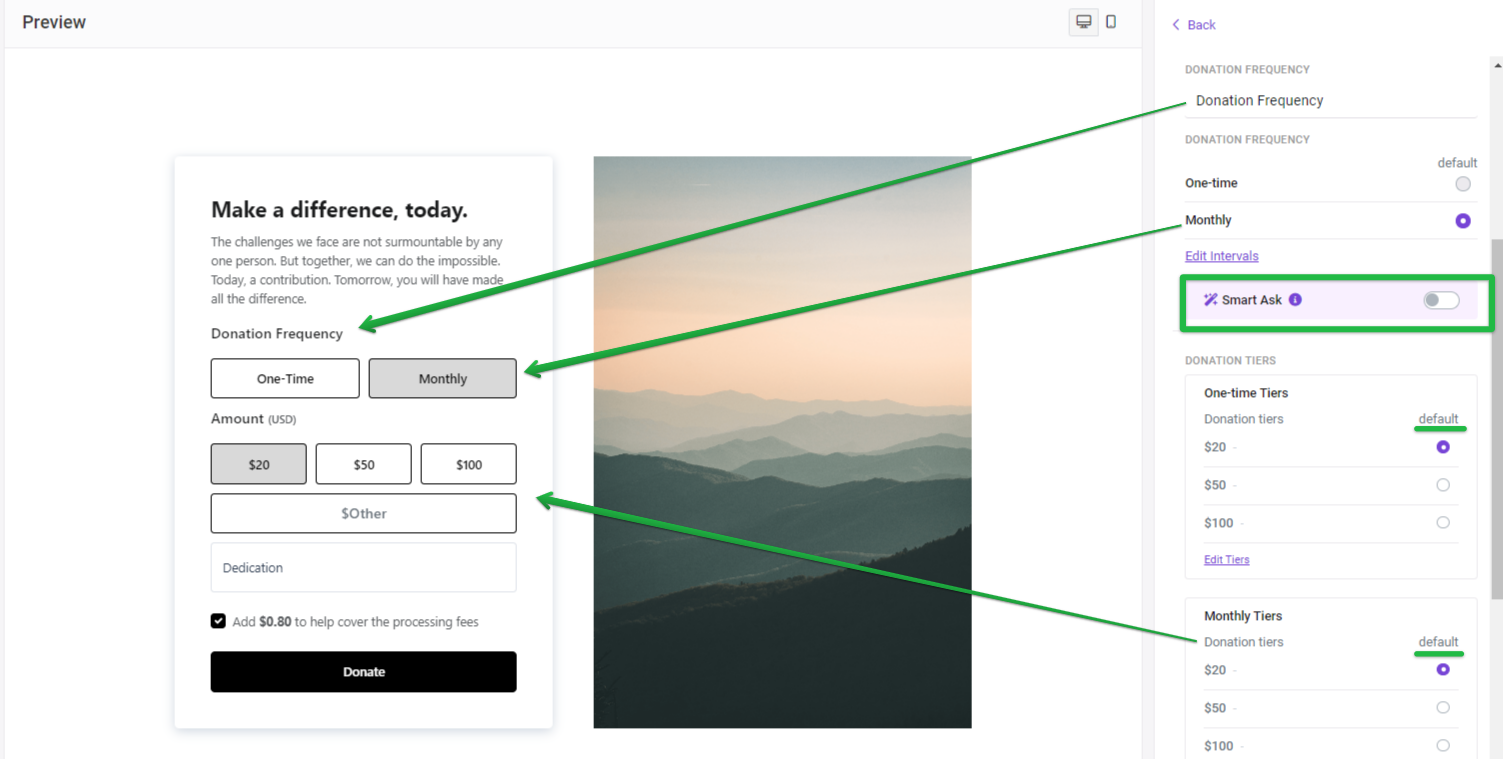 4. Donation Frequency - You can update the language referring to the different payment intervals.
5. Donation Frequency Intervals - Add or adjust the intervals (weekly, annually, etc.) and select a default for the donors.
6. Smart Ask - Toggle this on if you want Keela to do the heavy-lifting for you! Keela uses AI technology informed by trends in your donors giving history to suggest certain donation tiers (learn more about Smart Ask in our FAQ below).
7. Donation Tiers - Adjust the donation tiers and select a default for each interval.

7. Add Fields - You can add additional fields and questions linked to your Custom Fields, to collect more information from your donors. You can find the "Subscribe me to your newsletter" check-box here!
8. Options - Toggle on the ability to cover the processing fee (and if this is selected by default), allow for custom donations amount and donation dedications. If your Form is associated to a Campaign, you can also toggle on a Campaign Progress bar to be displayed on your Form!
When you add the "Other" amount, you have the ability of choosing a minimum donation amount for your form.
Prompt Recurring
Recurring Donations are a great way to create more sustainable relationships and giving patterns with your donors. When a donor attempts to proceed with a one-time donation, a prompt will appear to encourage the donor to make a monthly donation instead. Here you can outline the parameters of this prompt.

If you don't want to Prompt Recurring donations, make sure to toggle this off at the bottom of the Form tool.

Note: The Prompt Recurring option is available on forms where the following options have been selected:
Multi-Page Form Layout
When creating your form, you must select the Multi-Page Form Layout option. The Prompt Recurring option can not appear on forms where a One-Page layout was selected.
Monthly & One-Time Frequencies enabled
When adjusting the Interval option in the panel, you can choose to show both Monthly and One-Time Donation options on your form. The Prompt Recurring option can only be enabled when both intervals are selected.
The prompt will display if the above criteria are met and a donor is about to make a One-Time Donation of $15 or more.
The Keela system will perform calculations to provide one or two suggestions to the donor. We will begin by making an approximate calculation of between 30-40% of the one-time donation and then rounding that amount up depending on the figure.
If our calculation produces a suggested amount of $15 or less, we'll always round to the nearest $1.
If our calculation produces a suggested amount of $16 or more, we'll always round to the nearest $5.
Contact Details & Address
By default, Keela will collect Name and Address as these are required from receipting. If you want to collect additional data about your donors you can add it here!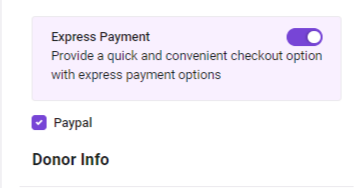 You can also Toggle on the ability for Express Payment for PayPal transactions. This way, donors won't need to input their details more than once! If you are are adding required Fields to your form (beyond the general address information) and want to use Express Payment, we recommend using this on a Multi-Page Form.
Payment Options
Here you can indicate which Payment Processors you want to use for this specific Form. If you're using KeelaPay, you can also toggle on the ability to accept Bank Transfers!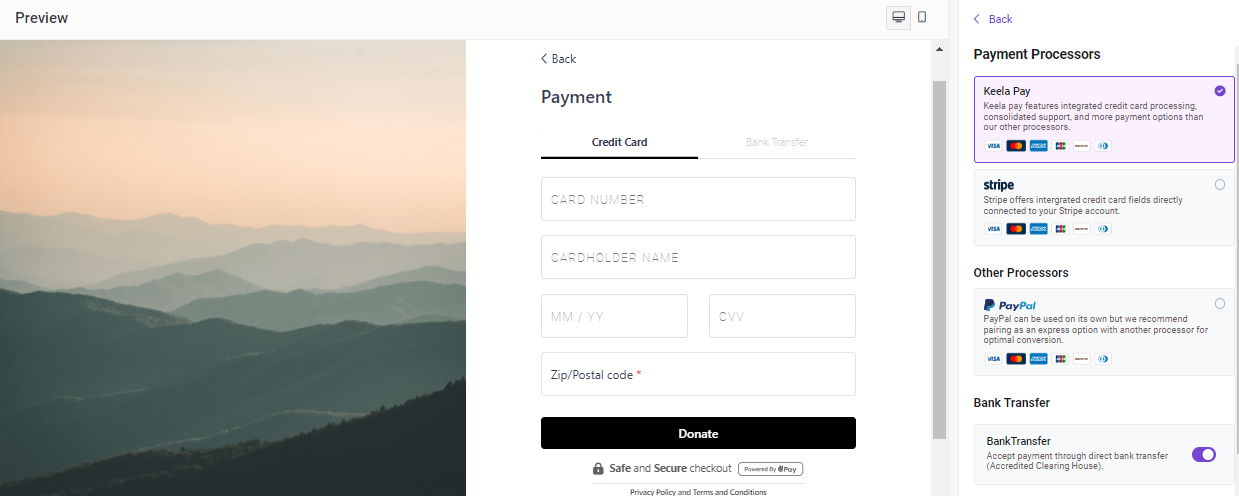 Footer
Choose if you want to include a footer on your Form, and if so, what information you'd like to include! You can even change the color of the Footer Links to match your organization's branding.

Please note these fields will be automatically pulled from your Organization Settings Profile, so make sure this information is kept up-to-date.
**Your organization's contact details will only be added to your form footer on Standalone Forms.
Post Submit
Upload an image, text and header once the Form has been submitted or you can redirect to a URL!

Form Closed Page
Upload an image, text and header once the Form, as well as a button to redirect people to your website (or any other URL)!

Form Style
Now that we've added all of the important details, let's style your Form!

Here you can upload your own image to accompany the form, adjust the image settings (fit to the page or half page), align your form on the page and adjust your button color!
Desktop vs. Mobile View
Now that your form is nearly complete, check out how it will look on a mobile device!

Form Settings
Social Sharing
Toggle on Social Sharing for your Form to be shared via Facebook, LinkedIn or Twitter! You can even add your own Description and Cover Image for each social media platform.

Receipt Settings
Toggle this on if you want to allow cumulative receipting for recurring transactions and select your default option!

Donation Benefits
This will terminology might look a bit different depending on which region your in (as each region has unique receipting terminology). If your donor is receiving a benefit for their donation (ex. a round of golf or a gala dinner), you can now indicate this on your Keela Form so that the transaction is receipted accordingly.

Auto-Tag Contacts
Here, you can choose one or more Tags to be automatically applied to any Contact who completes this form. Some examples of Tags that you could use are: Donor, Volunteer, Giving Tuesday Donor, RSVP Event - Yes and so forth.

Form Field Replacement Logic
You can link questions with specific fields on the Contacts' profiles so that the information that they provide is automatically updated if they already exist in Keela. Here's how Keela checks for duplicates for incoming Form Responses:
Keela will use the primary email to check for a duplicate.
If two contacts have the same email address, Keela will choose the oldest record to merge.
For these reasons, Keela provides three different options if a duplicate contact is encountered:

Only Update Empty Fields - Your existing Contacts' information will only be updated if the field that is connected to a question or data set that

contains no data.
Always Replace - Your existing Contacts' information will

always be updated

by a response to a form regardless of what information is already there.
Always Create a New Contact - Keela will not attempt to match up the form response to an existing Contact record. Instead, a new Contact record will be created for every response.
Assignee & Followers
Here you can update your Form's Assignee and Followers!

Voila! You've created a brand new Donation Form. Now it's time to Publish your form and share it with the world!
Head to our Sharing a New Donation Form to get started with the final steps.
FAQ
Can you change the Form's Type or Format once it has been created?
No, it is not possible to change the Form Type or Format once it has been created. You'll need to create a new Form!
Can I make changes to my Form Design or Details once it has been published?
Certainly! Keela's Forms are "live", meaning that any change to the Form will be automatically updated across the board.
How does Smart Ask work?
Each donor will see unique Donation Tier amounts on the form, based on their unique Smart Ask amounts. If the contact has no donation history in Keela, the Donation Tier amounts will be created based on your organization's median donation amount. If our intelligence server isn't able to return any amounts, the Donation Tiers will be $20, $50, $100
Why is the Body Text being cut off my Pop-Up Form?
Pop-ups have a restricted amount of lines and space. For this reason, the text is truncated. If using a Pop-Up form, we recommend keeping it as simple as possible! We recommend keeping it less than 150 characters.