Before jumping into these step-by-step report guides, we recommend checking out our How to Use Filters Training Video. Filters are the back-bone of every report, so understanding which filters to use and how to use them will be essential for mastering any report!
You can build transaction reports or export transactional data from two tools: Our Fundraising Tool and our Reports tool. Keep in mind, when building a transaction report, you are pulling a list of transactions. If you want to look at this data on a donor-level, you would need to create a Contact Report.
Getting Started
1) Navigate to the Reports Tool.
2) In the Reports Tool, click Create Dashboard > Custom Reports.
3) Now you are ready to apply the filters as described below for each use-case.
Donations That Have Not Been Receipted
Use this report if you want to view all unreceipted Donations on your Keela Account.
1) Create a Custom Donations Report.
2) Apply a Filter for: Has a receipt issued > is empty.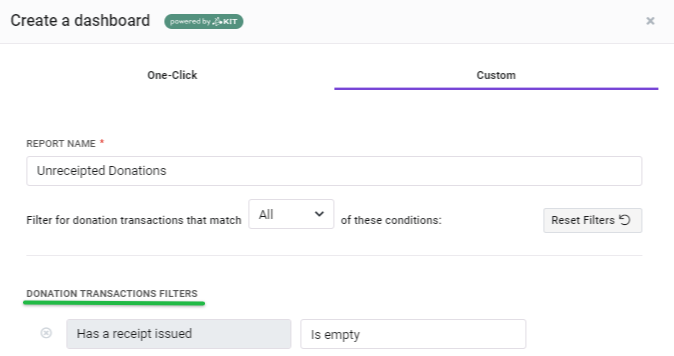 If you want to see a list of all of the unreceipted transactions (donations and revenues), you can re-create this report as a Custom Transactions Report.
Fundraising Totals for Multiple Campaigns
Use this report if you would like to know the combined donation total for multiple Campaigns.
1) Create a Custom Donations Report.
2) Apply a Filter for: Campaigns > [Select Campaign]. Apply this same filter for however many Campaigns you'd like to total.
3) Adjust the filter logic to "Any".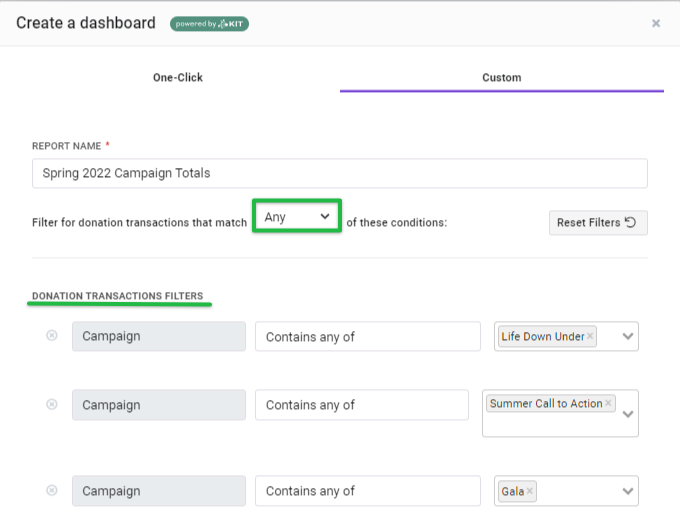 4) Click Add Widget.
5) Select the Total Donations Over Time Widget.

All Donations Within a Certain Time Period
Use this report to see all of your donations within a certain time period.
1) Create a Custom Donations Report.
2) Apply a Filter for: Date Received > is between > [Dates].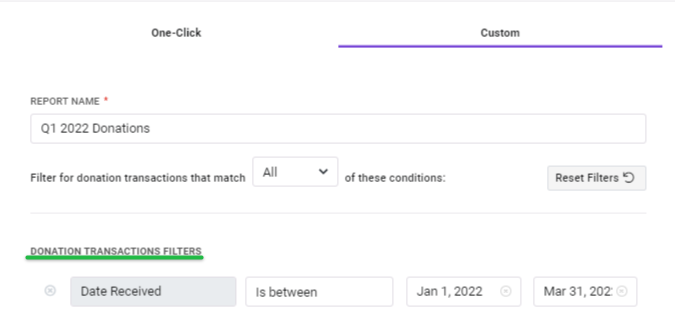 *Please note that these date range filters are inclusive (On or after January 1, 2022 to on or before March 31, 2022)
All Donations Received Last Month (Self-Updating)
Use this report when you want a self-updating donations report (ex. a Report that always shows the donations that received last month (ie. September). The report should be self-updating and automatically switch to the next month (ie. October) when the current month changes (ie. November).
1) Create a Custom Donations Report.
2) Apply a Filter for: Date Received > is relatively > last month [or last year, last week, etc.].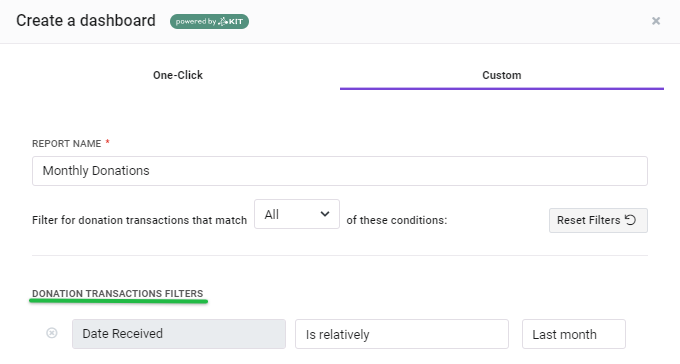 Revenues via Membership Fees
Use this report to see all of the revenue transactions that came in from Membership Fees.
1) Create a Custom Revenue Report.
2) Apply a Filter for: Category> contains any of > Membership.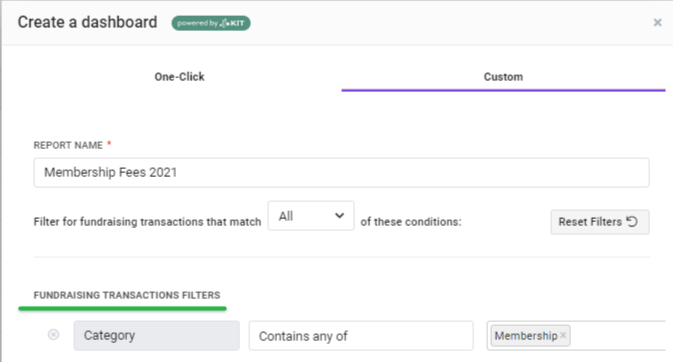 3) If you want to see these revenues within a specific time period, add a date filter.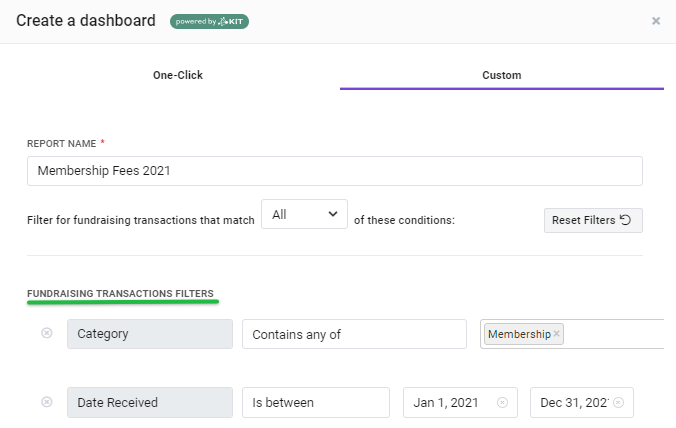 Cumulative Donation Totals for Specific Time Periods
The ability to export total donation data (whether it's for the last month, the last year, or any specific timeframe!) directly from Keela without needing any extra steps has been marked as Planned by our Product Team in the Product Portal. You can check it out and vote on it here.
While this functionality isn't available within Keela yet, we've provided you with an in-depth training video to guide you through the process of achieving this in Excel. Head to this Knowledge Base article to learn more: How Can I View Total Donations in an Export?
How do I request more Filters for this list?
Not sure if the information you need can be created with Filters in Keela? Post it in our Keela Community and we'll let you know if it's something that you can produce in Keela. We'll even pop it in here for other users to view!