What are KeelaPay's Fees?
The three main processing fees for nonprofits are:
Standard card transactions (i.e.. Visa and Mastercard payments)
Amex card transactions (traditionally more expensive then the above two)
Bank transactions (i.e.. ACH payments and the like)
The processing fees that you're charged will depend on what type of Merchant Category Code (MCC) your organization is eligible for when signing up for Keela:
MCC 8398 - Charitable and Social Service Organization (eligible for the nonprofit interchange rate)

MCC 8641

- Civic, Fraternal, and Social Associations
MCC 8661 - Religious Organizations.
If you're eligible for MCC 8398, you will receive a reduced standard transaction rate for Visa and Mastercard charges.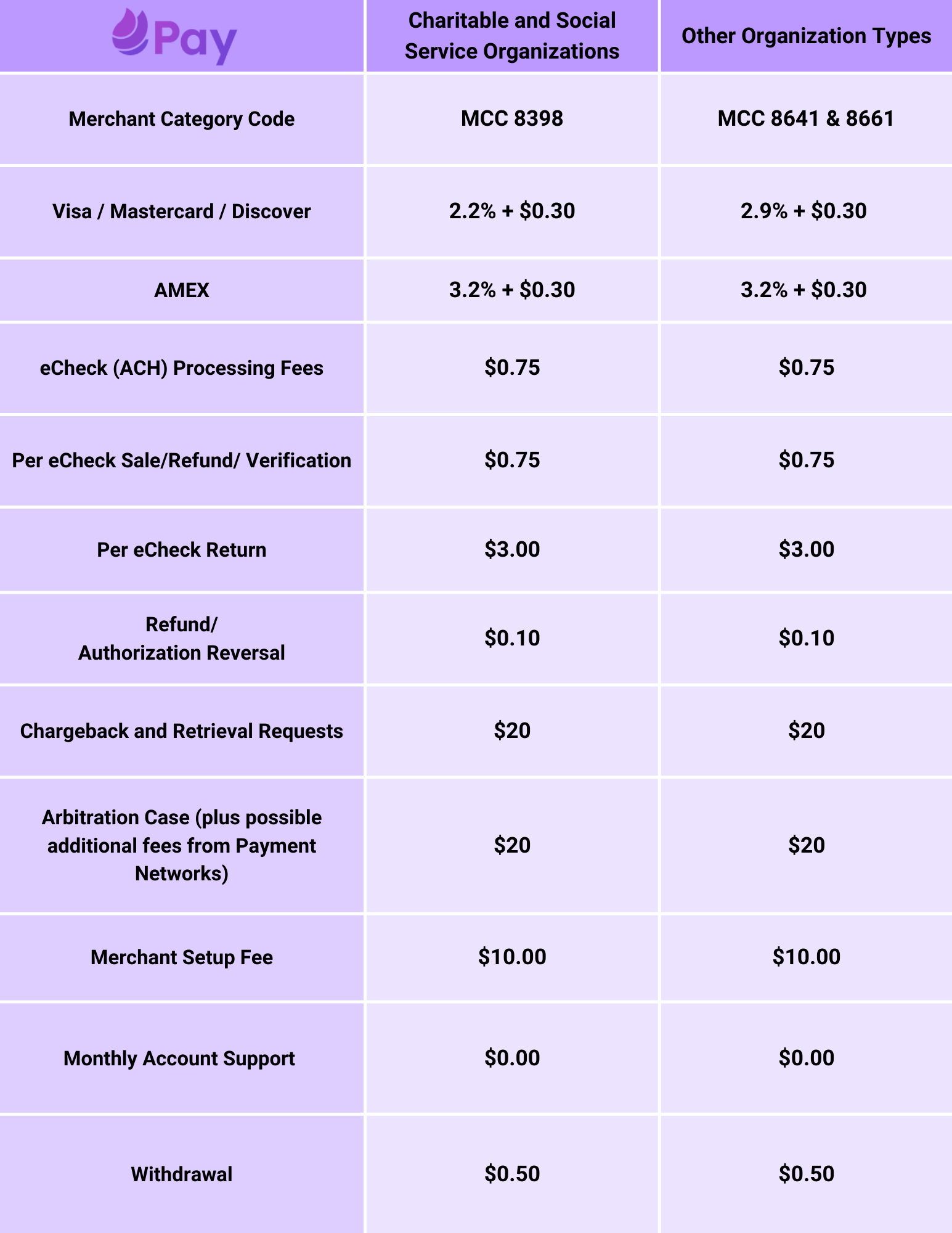 How can I turn on Email Alerts about my account?
First, you'll need to access your KeelaPay account. From there you can head to Email Alerts (under Admin) and toggle on your preferred notifications. We recommend all accounts enabling chargeback and disbursement alerts.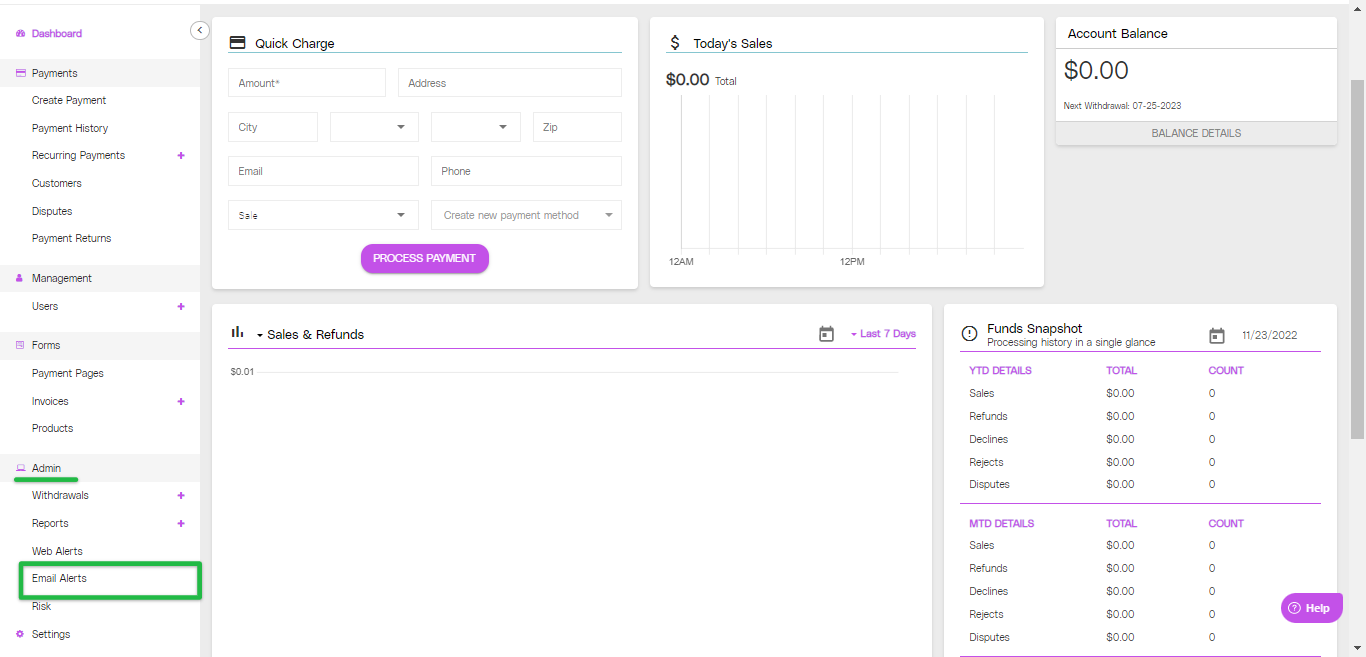 Why does a charge not appear in my Payout?
A credit card transaction or ACH has three steps before landing in your KeelaPay account: Authorization, Capture and Settlement. Only once the transaction has completed all three steps, will it be included in a payout. You can learn more about this process here: Payment Processing in KeelaPay.
Why are my ACH payments marked as "Pending"?
Due to some externalities with ACH payments, there may be a delay in the transaction being accepted and paid. Keela will monitor this status over a 10-day period to see if the transaction is returned (failed). After this 10-day period, Keela will update the transaction status to "Paid" and at that time issue the thank you and receipt.
In the unlikely chance that the payment fails after these 10-days, the transaction will be marked as "Failed" and the receipt will be canceled. Head here to learn more about Keela's transaction statuses.
What is the maximum single transaction amount?
The maximum single transaction amount is $25,000.
What is the maximum withdrawal amount?
The maximum withdrawal amount is $100,000 per month.
Why are two charges shown on a constituent's statement?
Before a constituent's funds are captured by KeelaPay, an authorization request is generated and sent to the card network or issuing bank. This authorization request appears as a pending charge on constituent statements. When seen next to the actual charge on a statement, authorization requests may look like duplicate charges. Rest assured, they will drop off of card and bank statements within 1-3 business days.
How can we handle disputes on KeelaPay?
A Dispute refers to a customer/cardholder being unsatisfied or unfamiliar with a payment charged to their card and contacting their issuing bank for more information or to force-refund the transaction.
When a dispute occurs, the Merchant generally has the opportunity to accept liability (concede to the dispute) or respond to the issuing bank with compelling evidence validating the transaction. The cardholder's issuing bank will make the final determination based on the evidence provided by both sides.
Managing Disputes in the KeelaPay Portal
1. From the Portal Dashboard, click Disputes from the left navigation bar.
2. Click the Dispute in question from the Disputes list.

3. Review the details of the Dispute and select one of the three available responses: Respond, Accept Liability, or Mark as Unread.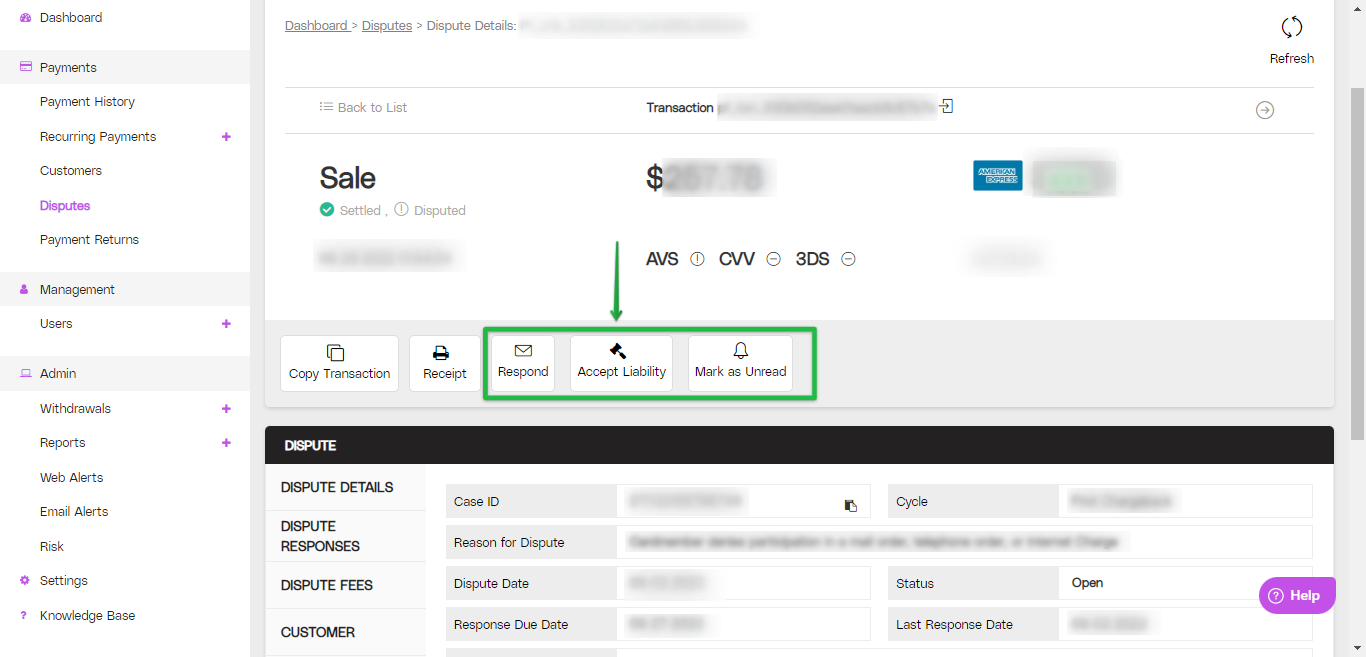 The response options available in the portal allow you to handle the dispute easily with a brief response accepting or disputing the chargeback. Each dispute will have a response due date. It is important to respond before the response due date passes to ensure your response is accepted by the credit card company.
Respond – Allows you to respond to the Dispute to argue it's validity. You can include a brief message and attach PDFs (up to 10mb total, 2mb each) to support your decision.
Accept Liability – Allows you to accept the Dispute and refund the customer for the Disputed amount.

Mark as Unread – Allows you to reset the Dispute's notification, so it will reappear as a "new" notification the next time you login to the portal.