Welcome to the first step on your journey to streamlined payment processing - you've made a wise choice!
You can access your KeelaPay application form and, provided you have all your documents handy, it can be completed in less than 10 minutes!
Before you get started, make sure you've reviewed our Introduction to KeelaPay article!
Begin the Sign Up Process
Head to your Organization Settings > Payment Processors Tab to fill in the Pre-Registration Form. Once this is approved, I'll team will follow-up via email with instructions from access the official application.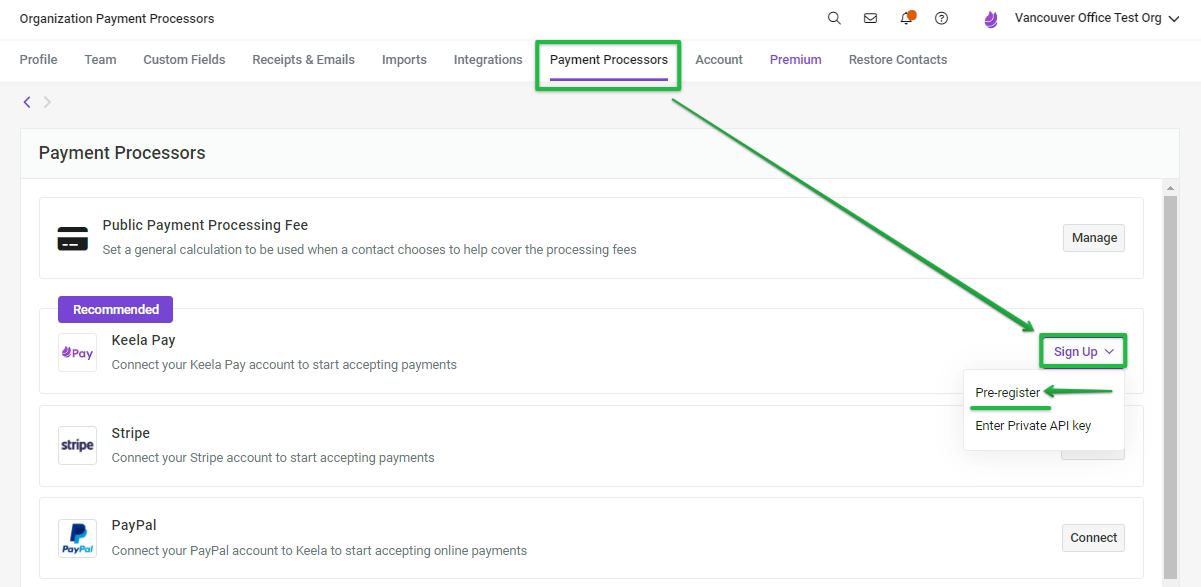 About the Business
The first tab of the application requires some information about your organization.
Note: If you're not sure what to enter into these fields, please speak to your tax professional or accountant. While the Customer Care team are experts on all things Keela, we're not able to give out legal advice for your organization and recommend a professional for this.
To avoid any delays in the application process, make sure that all of the provided details match what is on file with the IRS.
Bolded fields are required.
| | | |
| --- | --- | --- |
| Field | Example | Notes |
| Business Type | NONPROFIT | The type of incorporation of your business. Most likely, you are a nonprofit. |
| Country | United States | KeelaPay is currently available for USA customers. |
| Username | customercare | Used to login to KeelaPay - emails not accepted |
| Password | KeelaIsAwesome123 | At least 8 characters long, 1 Upper Case, 1 Lower Case, 1 Number |
| IRS Filing Name | Networks for Change | Required if your Business Legal Name is longer than 24 characters |
| DBA - Statement Descriptor | Pupper Project Gives | How your name will appear on your donor/member/payee's credit card statement - can use & , . special characters |
| Industry | 8398 - Charitable and Social Service Organizations | This will determine what fee category your organization is eligible for. Choose the business category that is most relevant to you. |
| Environment | Customers enter their payment information online primarily | Choose the most common way you accept payments from the dropdown list |
| Business Description | Provide homes for animals and education on sustainable pet care | A brief description of what cause area and purpose you're processing payments for and how your goods are sold |
| Secondary Payout Descriptor | KeelaPay | The name or descriptor that will appear on your disbursements. |
| EIN Type | SSN | Indicates whether your EIN is an SSN/TIN type or if you're not sure, Other |
| EIN | 123456789 | Your Employee Identification Number as issued by the IRS. |
| Website | www.keela.co | Your official business website or the website that you will use to process payments (ie. Keela Form if you don't have a website) |
| Annual Processing Volume | $50,000 | The amount of payments that you expect to process through KeelaPay in a year |
| Average Transaction Amount | $100 | The average credit card sale amount in the previous year. Tip: You can use Keela's Report Tool to calculate this information |
| Business Email | support@keela.com | The email address for your organization |
| Daytime telephone | (123)-456-7890 | The phone number for your organization |
| Customer Service Phone | (123)-456-7890 | May not be applicable, if you don't put anything here we'll use the Daytime telephone number |
| Address | 1234 Boggy Creek Road | PO box will not be accepted, must be a physical address |
| Address 2 | Unit 2 | Unit, Apartment, Building Numbers etc. can go here |
| City | Orlando | Must correspond with your business address (above) |
| State | Florida | Must correspond with your business address (above) |
| ZIP | 123456-89 | Must correspond with your business address (above) |
| IRS Not-For-Profit Letter Status | Active | |
| IRS Not-For-Profit Letter Issued Date | 02-28-2022 | The date that the above letter was issued. Use MM-DD-YYYY format. |
About the Principal
The second tab of the application requires some information about the Principal of your organization.
Who should my Principal Be?
This should be one individual with significant responsibility for managing your organization. It includes people like the CEO, CFO, COO, Executive Director, President, Managing Member, General Partner, Vice President, or an individual with significant legal authority to enter the Legal Entity into a commercial relationship.
Why do they need to provide all of this information?
To help the government fight the funding of terrorism and money laundering activities, federal law requires all financial institutions to obtain, verify, and record information that identifies each individual or business that opens an account. What this means for you: when you open an account, we will ask for your identifiable information including your full name, address, date of birth, and other business information that will allow us to identify you. We may also ask to see your Identification Card, Driver's License, and/or other identifying documents.
Bolded fields are required.
Field
Example
Notes
First Name
Nejeed
First name of the Principal
Middle Name
D
Leave blank if not applicable
Last Name
Kassam
Last name of the Principal
Country
United States
KeelaPay is currently available for USA customers.
DOB
28-02-2022
Date of birth of the business owner - use
MM-DD-YYYY format
SSN
123456789
The Social Security number of the Principal. Learn more about why legally require this here.
Business Title
CEO
The Job Title of the Principal in relation to your organization
Significant Responsibility
Yes
Personal Address of the Business Owner

1234 Bagshot Row

Multiple fields

Must be the physical address of the Principal, PO boxes are not accepted. Tip: If the Primary lives at the same address as your business you can copy it over from the About the Business tab.
Email

nejeed@keelaco.com

The email address of the Primary.
Phone Number

(123)-456-7890

The phone number of the Primary.
Which of the Principals Provided is the Primary Contact of the Business?

Principal 1

If you added more than one Principal, choose the relevant option from the dropdown list. Otherwise, choose Principal 1.
Add Bank Account
The third tab of the application allows you to choose the bank account that you would like to connect to your KeelaPay account to receive payouts/withdrawals to.

There are two ways that you can provide your bank details in your application:
Link your Bank Account via Plaid (this will speed up the processing of your application)
Enter your Account Details Manually (may result in processing delays and requests for more information)
Terms And Conditions
The final tab! Before you can submit your application you will need to both of Payrix's linked documents and tick all of the check boxes.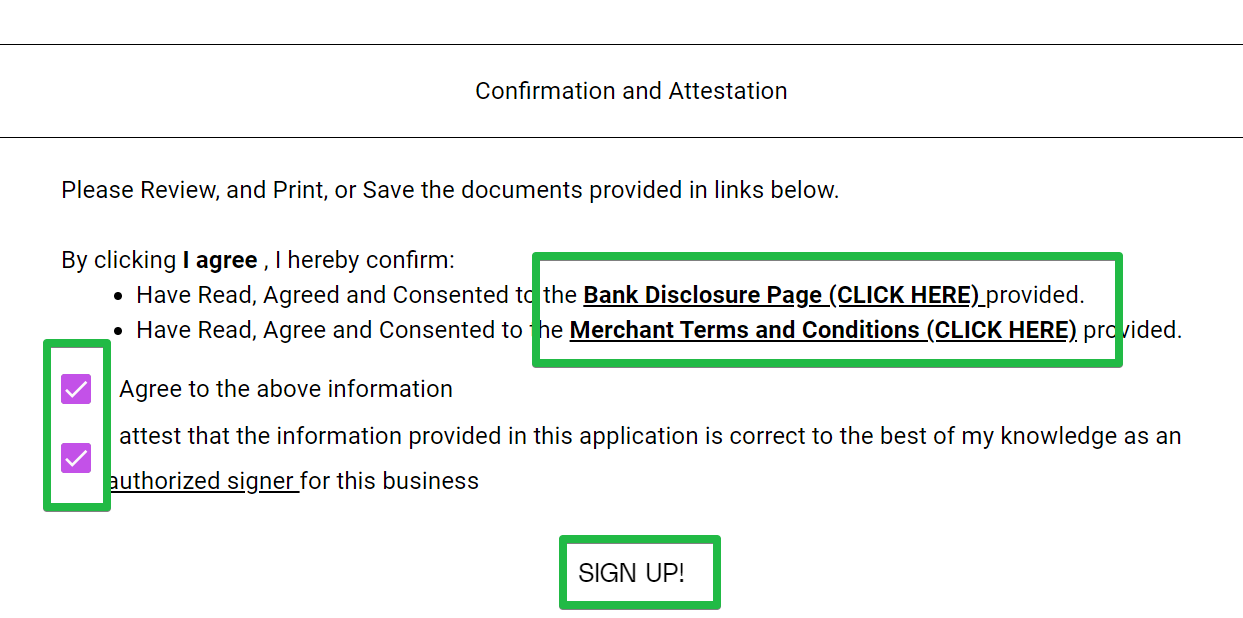 Please click on the links to open them in your browser and ensure you read each one in its entirety!