What is KeelaPay?
Our very own brand new payment processing platform!
It has a native integration with Keela which means that the two are both connected and you can navigate to KeelaPay directly from your Keela account.
KeelaPay will initially be available for our USA customers. Next up on the list will be Canadian customers.
Stay tuned for more details on when KeelaPay will be available for Australian and New Zealand users - it's on our radar!
What Payments does KeelaPay accept?
All of the good stuff like:
Credit Card payments (

KeelaPay accepts all the major credit cards, including

Visa, Mastercard, American Express and Discover Card)
ACH Payments (also known as bank transfers, bank payments, Echeque or direct debit)
And even more just around the corner:
As well as the ability to transition your existing recurring donations from other payment processors (i.e.. Stripe) into KeelaPay automatically with no interruption for your donors! Keep an eye out for these releases in the upcoming months.
How does KeelaPay work?
Exactly like Stripe or PayPal. You'll be able to process payments using KeelaPay directly in your Keela account or on any of your Keela Donation/Revenue/Membership forms.
Why switch to KeelaPay?
There are a bunch of benefits you'll get if you make KeelaPay your number one payment processor.
A top-tier, one of a kind, Customer Care team
Any question that you have about your payment processing will be received and answered by Keela's Customer Care team. Imagine that? No more waiting 5 days for a reply from a support team that has 3 minutes to solve each ticket in their queue. Instead, anytime you have a question or need training you'll be on the receiving end of:
Record breaking email reply times (less than 2 business hours average for the last 8 months)
A specialized group of support specialists (3 people instead of 100 strangers!)
Nonprofit experts - we know the ins and outs of your industry and won't treat you like a massive corporation
The most detailed Knowledge Base in the industry - Look at it, it's gorgeous!
Keela + KeelaPay connection - We have insights into BOTH of your systems, so there won't be any silos between your payment processor and your CRM.
Plus, our Premium Care subscribers will be able to access training sessions and scheduled phone calls for their KeelaPay queries!
Access to Bank/ACH Payments
Your donors or payees will be able to enter their bank account details directly into your Keela Form or perhaps share them with you so that you can process these payments in Keela on their behalf. This goes a long way to providing a flexible paying environment for your supporters - and it's just the beginning!
Some of the lowest processing fees in the industry
Our standard transaction fees and bank processing fees beat out many of our industry competitors! Plus, if you join up for Beta Testing, you'll get an even lower rate until the end of April.
KeelaPay Processing Fees
The three main processing fees for nonprofits are:
Standard card transactions (i.e.. Visa and Mastercard payments)
Amex card transactions (traditionally more expensive then the above two)
Bank transactions (i.e.. ACH payments and the like)
The processing fees that you're charged will depend on what type of Merchant Category Code (MCC) your organization is eligible for when signing up for Keela:
MCC 8398 - Charitable and Social Service Organization (eligible for the nonprofit interchange rate)

MCC 8641

- Civic, Fraternal, and Social Associations
MCC 8661 - Religious Organizations.
If you're eligible for MCC 8398, you will receive a reduced standard transaction rate for Visa and Mastercard charges.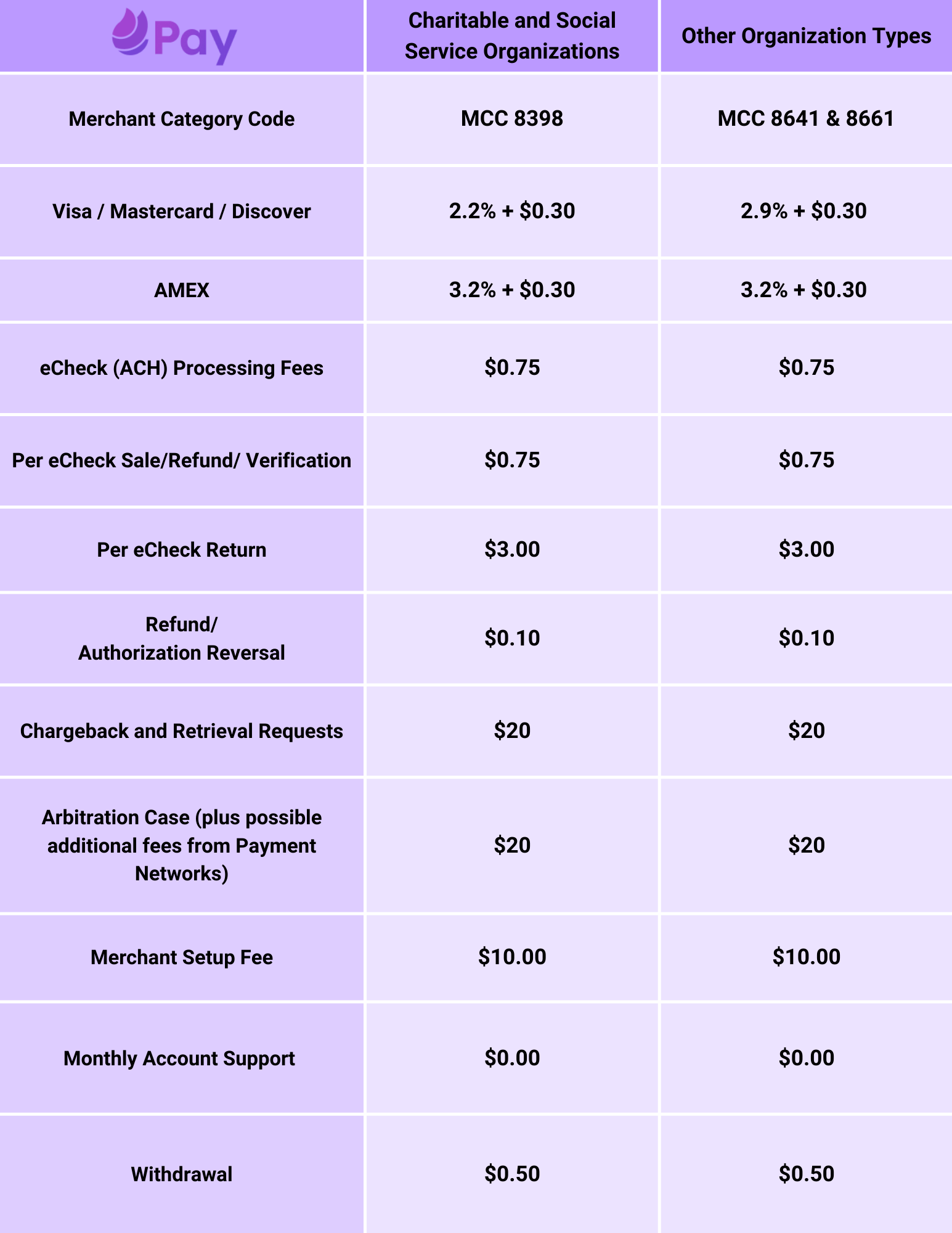 What do you need to do?
It's as easy as one, two three:
Apply for a KeelaPay account
Add KeelaPay to your Keela Donation/Revenue/Membership Forms (once approved)
Initiate take-off by transitioning to KeelaPay as your fulltime payment processor
The Customer Care team will be here every step of the way to answer questions, guide and (hopefully) learn from you all on what sort of Knowledge Base materials will be useful.
What's Next?
Head to our Apply for a KeelaPay account article to get started.