Now that you've set up the bones of your Campaign, it is time to publish and invite fundraisers! In this article, we'll cover how and where to publish your campaign, as well as how to invite users from Keela and create teams.
Publish Campaign
To publish your campaign, you'll need to click on Publish Campaign at the top right corner.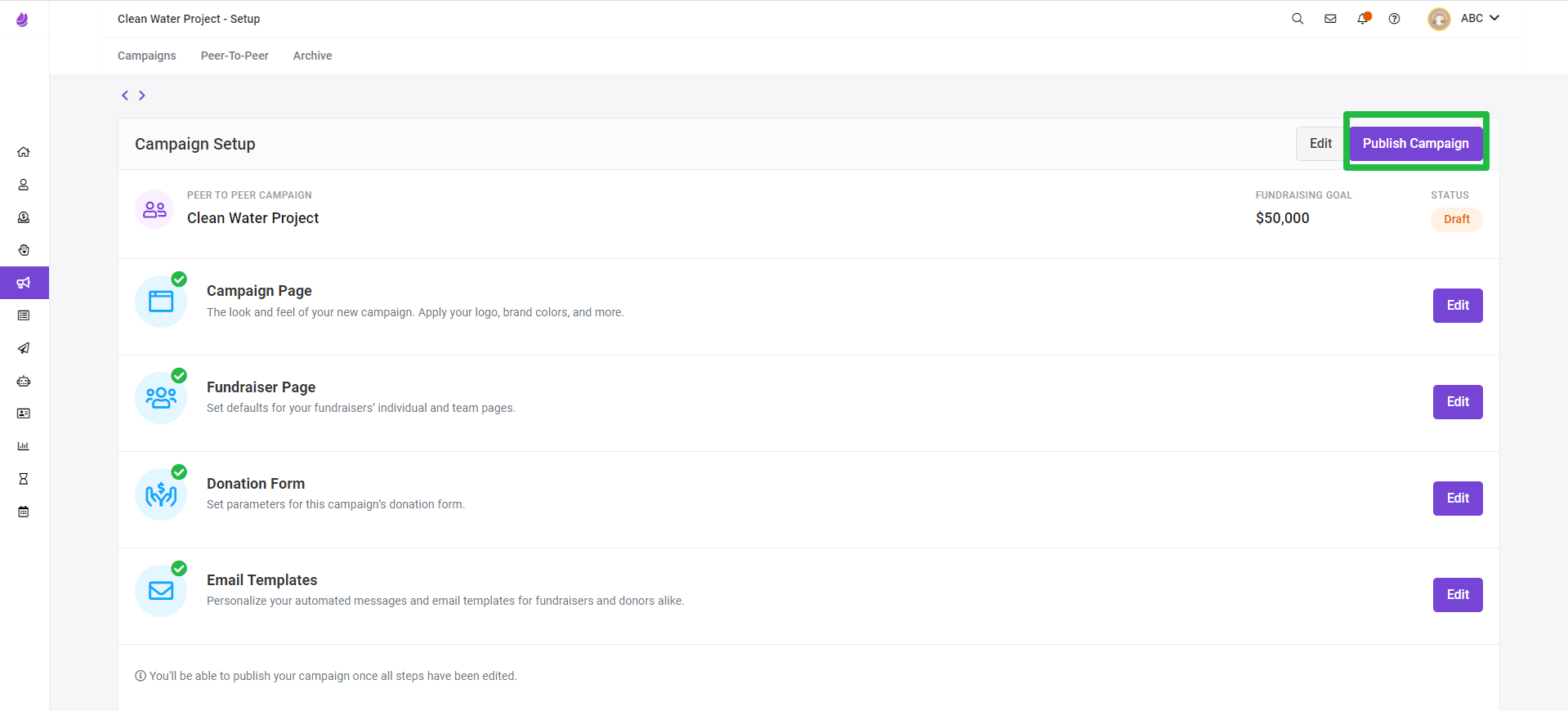 Once you've published your campaign, you'll see that you now have more headers available to manage your campaign and see more things.
Sharing Campaign URL
You can share the link to the Landing Page by grabbing the URL from the Overview Tab: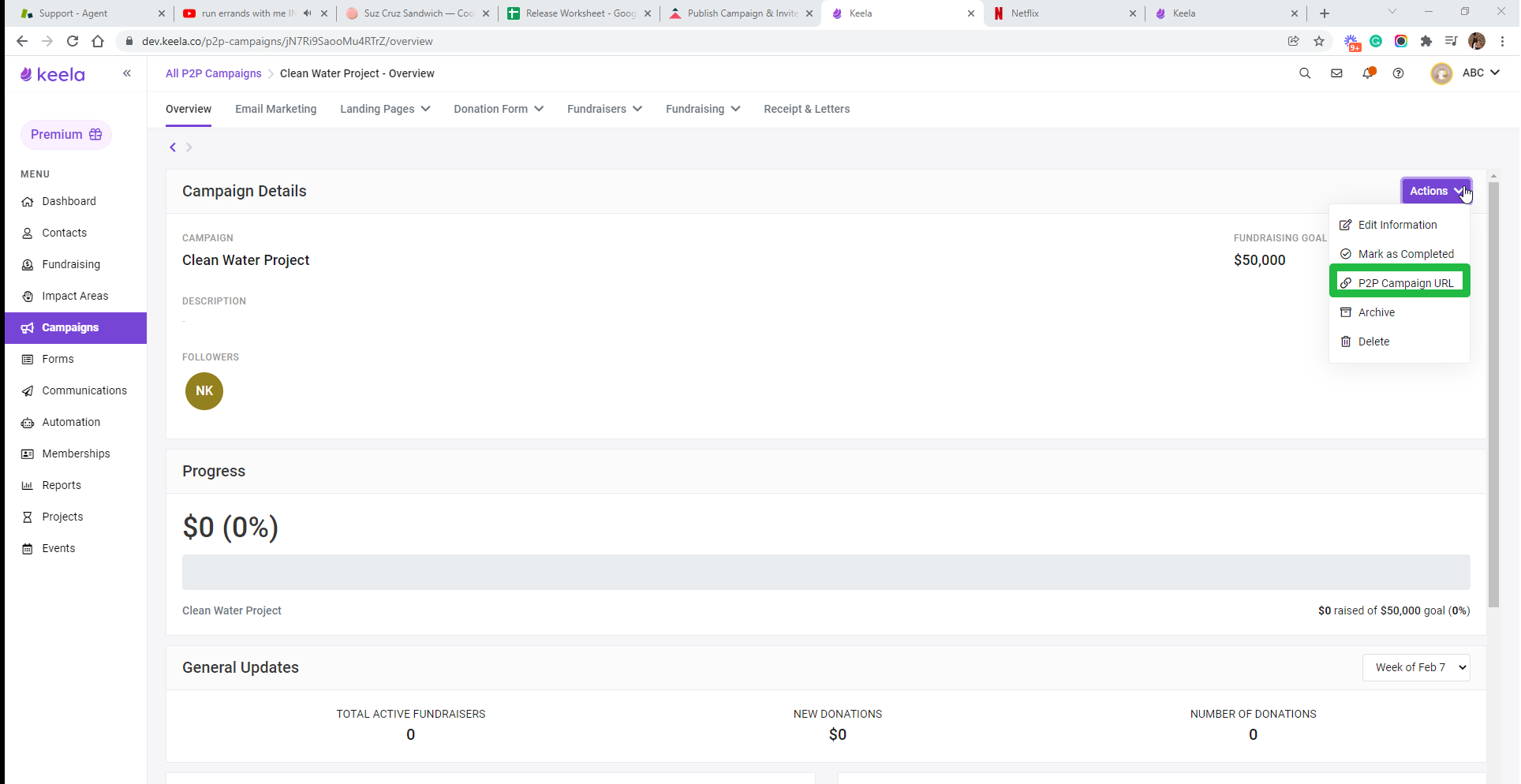 Invite Fundraisers
There's two ways that you can invite fundraisers to join your campaign
You can invite them from within Keela
You can share the URL link and they can join from the link
1) Inviting via Keela
To invite an individual fundraiser, you'll need to click on Fundraisers > Individuals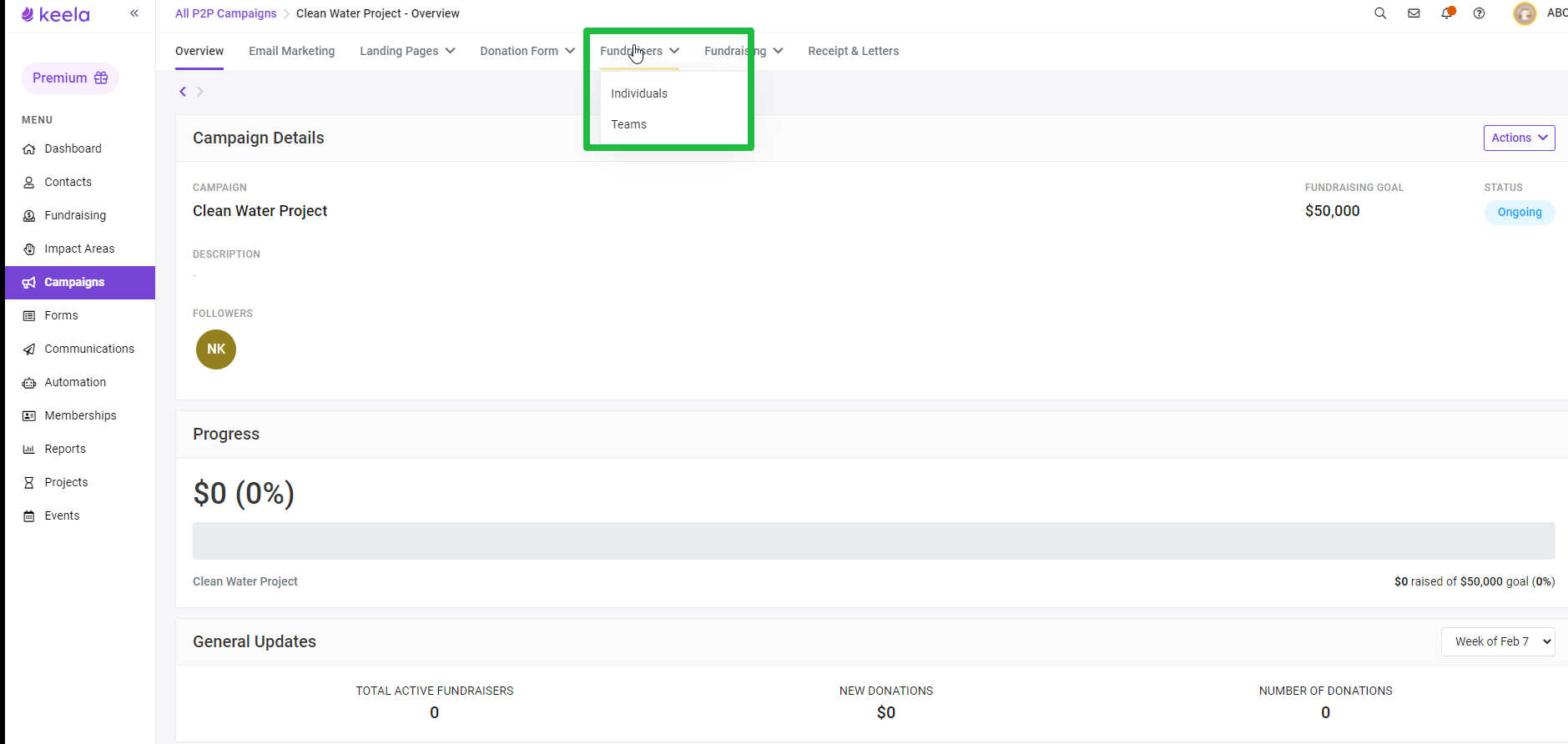 Once there, you'll see a list of your individual fundraisers that have already signed up or you can start sending out invitations: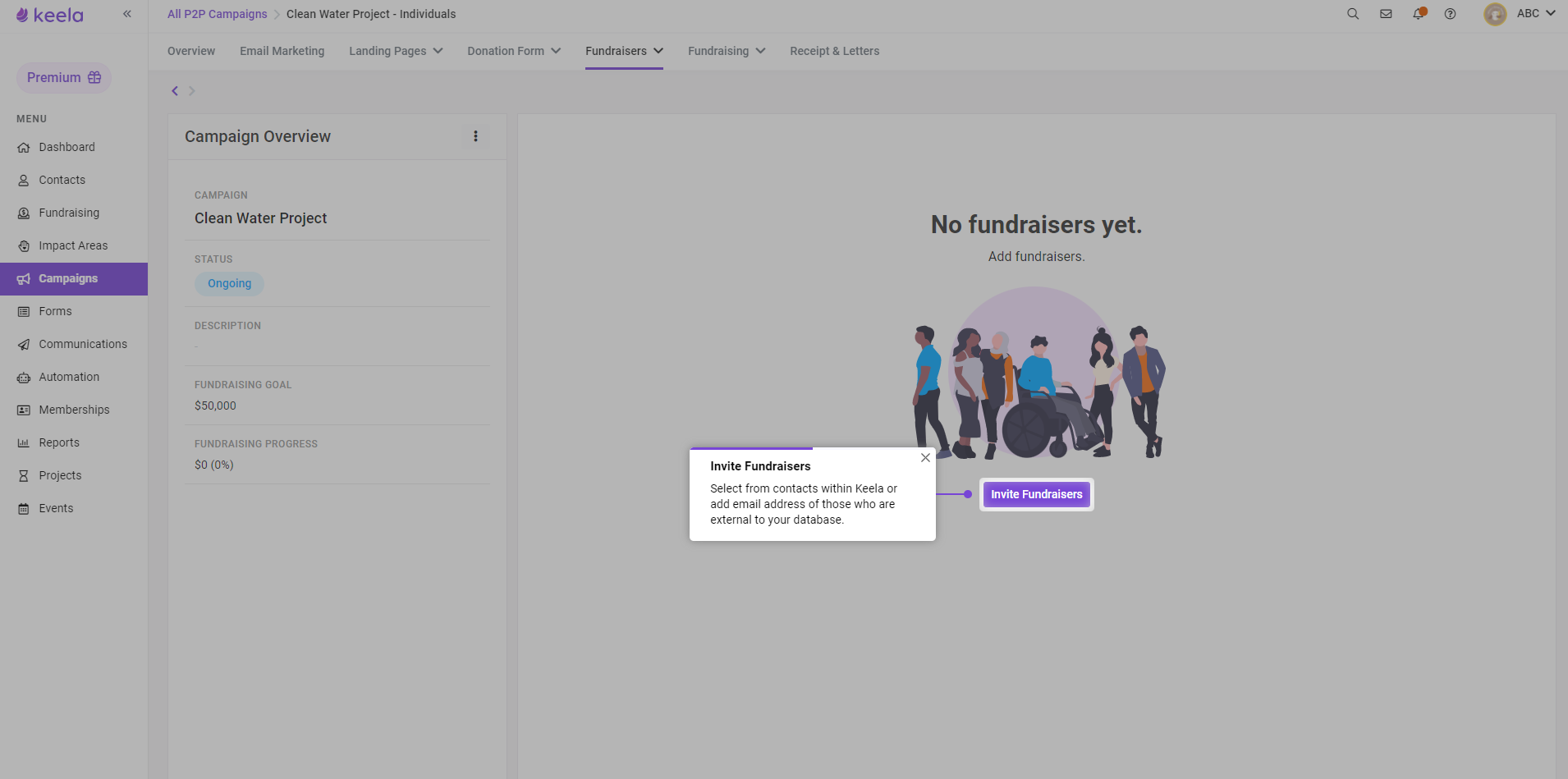 Once you click on Invite Fundraisers, you'll be able to select contacts or email addresses: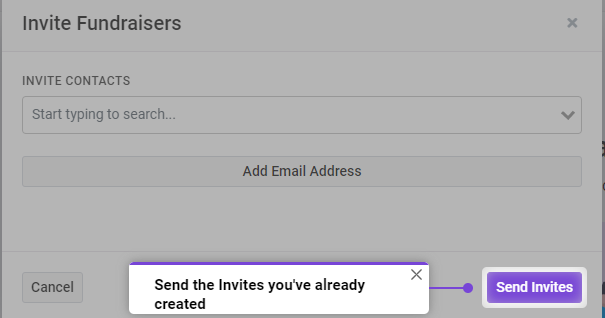 After the invitation has been sent out, you'll be able to see the email or name of the contact in the list. The individual will get an email prompting them to accept the invitation to your campaign. You'll be able to see once they've accepted the invitation to join your campaign there as well: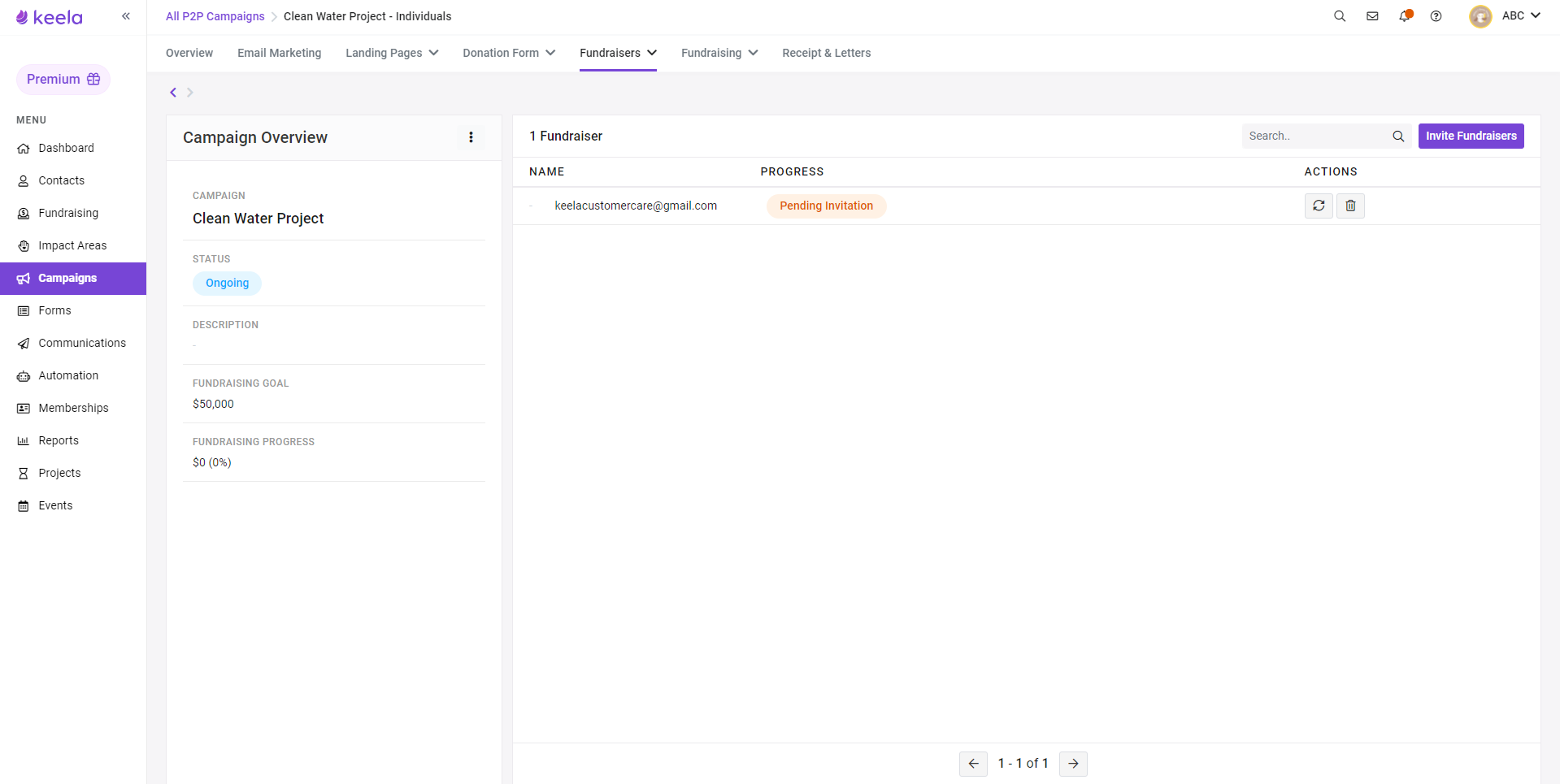 Voila! You've invited the first individual to join your campaign. Once they've accepted this invitation, you'll also be able to track their progress.
2) Inviting via the URL Link
The second way that individuals can join your campaign is via the shareable link that we mentioned above.
Once they click on the URL link, they can join your campaign by clicking Fundraise:

They'll be prompted to create an account and then verify their email address.

Create Teams
Another way that you can fundraise on your Peer-to-Peer Campaign is via Teams. You can create Teams from your Keela account or fundraisers can create Teams during sign-up.
1) Creating Teams In-App
Go to your Campaign > Fundraisers > Teams: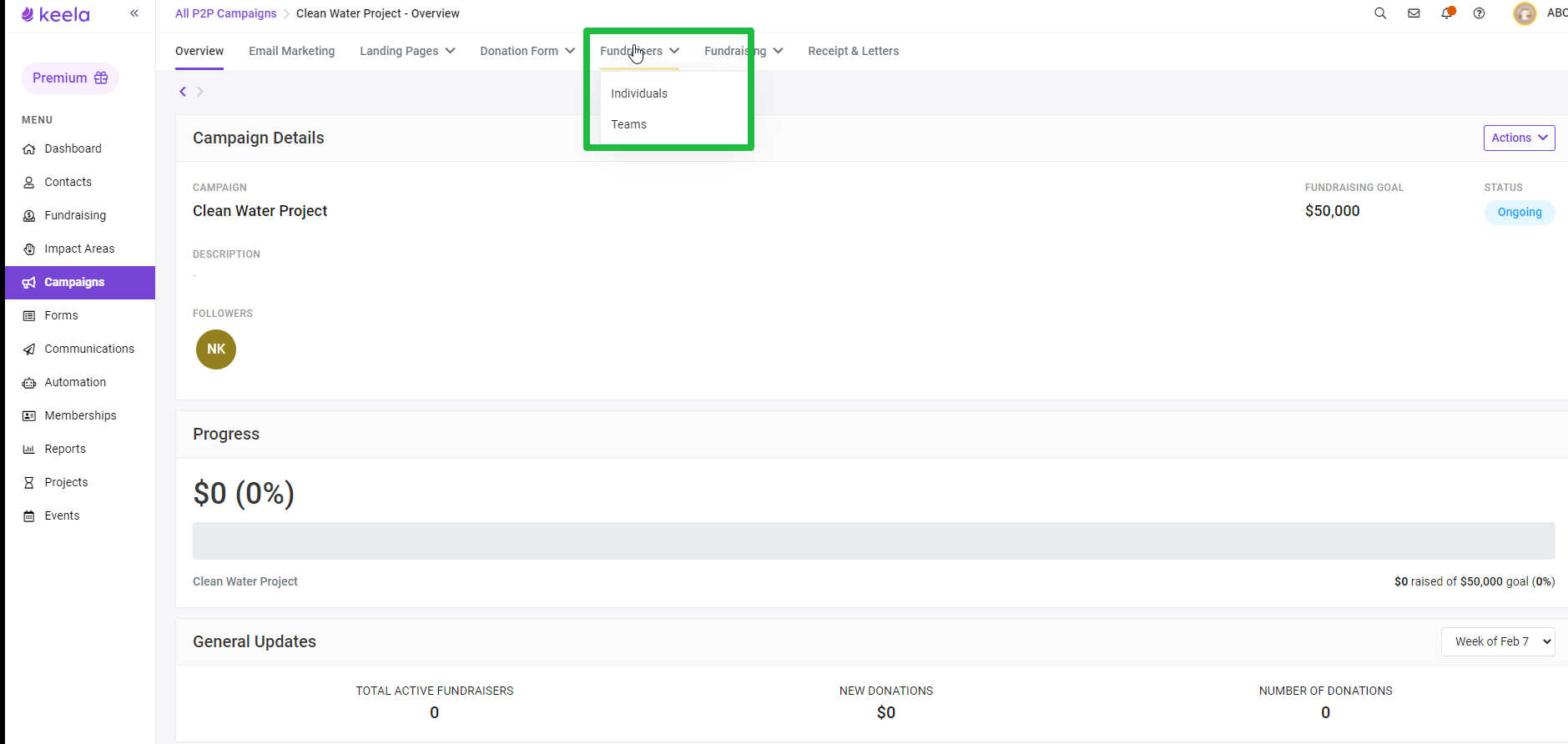 Once there, you'll be able to see the list of the Teams for your campaign or have the opportunity to create new Teams:

Once you click on Add Fundraising Team, you'll be taken to a screen to create a Team Name:

Once the Team has been created, you can go ahead and click on the Team Name and invite individuals to join the team: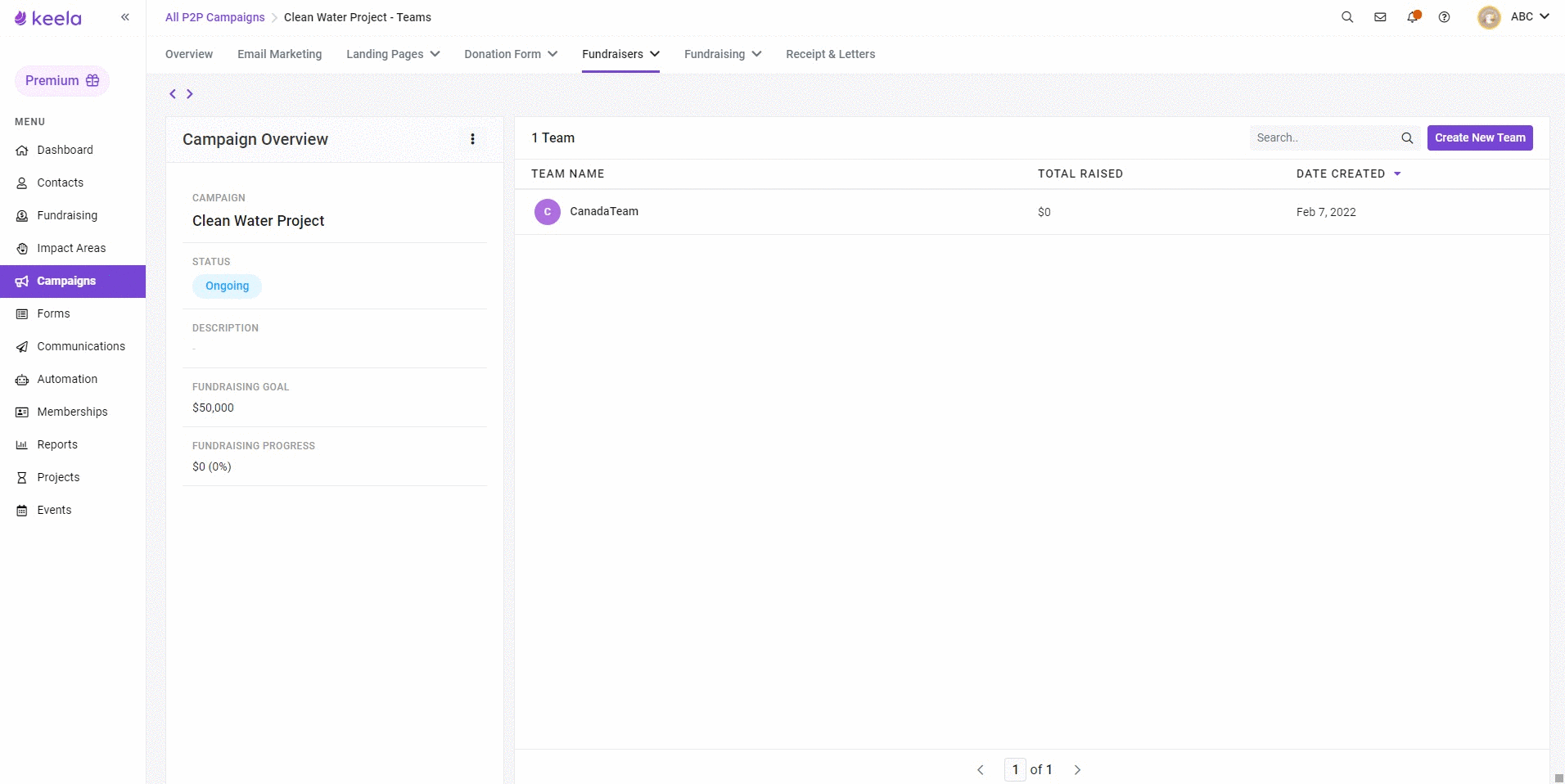 2) Teams Created via Signup
The second way where a team can be created or someone can join a team is during sign-up.
Once you open the shareable link, you'll need to click on Fundraise:

After that, it will prompt the fundraiser to create an account with their email address and information. Once that has been done, they'll need to verify their email address. After that, they can click to join an existing team or create a new team: