Understanding Email Marketing Statistics
What are Email Marketing Statistics?
We use SendGrid to deliver your Email Marketing to your Contacts. SendGrid analyzes the information that is provided back to them by your Contacts' email providers and then passes it through to Keela. This information is then stored on your sent Email Marketing communication so that you can understand how your Contacts are interacting with your communications.
Are Email Marketing Statistics 100% Accurate?
In order to track how recipients interact with your messages, all Email Marketing communications are embedded with a tiny image that is called a tracking pixel. This image or tracking pixel sends information back to SendGrid about how your Contacts interacted with the Email Marketing.
Some email providers and devices (phones, tablets) may not load the images in an email in general. For example, some recipients might have image download switched off to save on the data used when viewing emails. In this case, the tracking pixel image will not be loaded and as a result, no information can be relayed back to Keela. Likewise, some email hosts have anti-virus measures which scan and open links in emails prior to inbox delivery.
We recommend keeping this possibility in mind when viewing your statistics and using them as a general guideline.
Where to find the Email Marketing Statistics
Click on Communications in the Sidebar > Click on your Sent Email Marketing

Your Email Marketing Statistics will be available in the Overview Tab
What do the Statistics represent?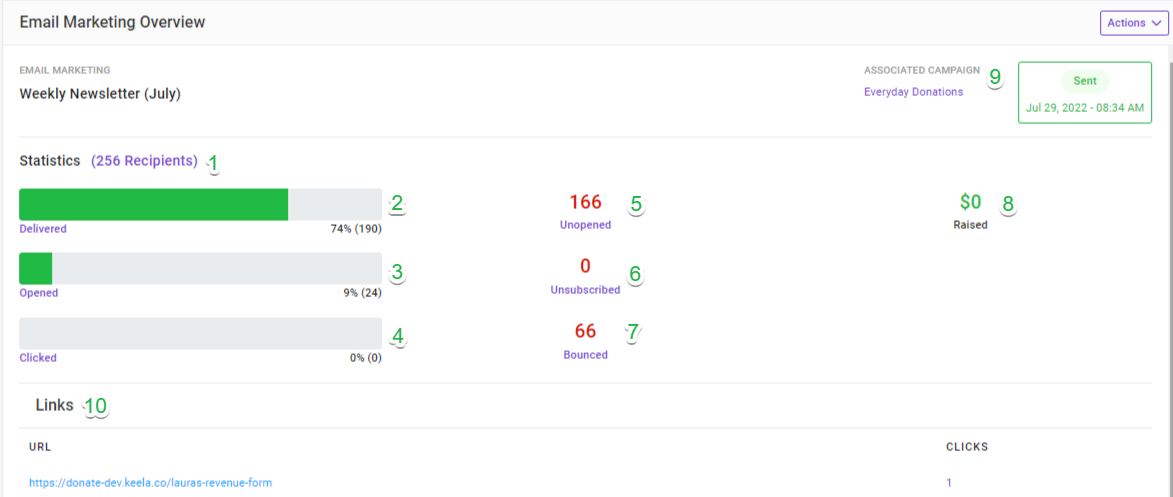 (1) Recipients
This shows the final list of recipients that your Email Marketing was sent to.
Note: Keela will automatically remove any Contacts who are invalid from this list. You can find more details about this in our Why is my Recipient List shorter? article.
(2) Delivered
This bar shows the total percentage and number of your emails that were received by the email provider of your recipients.
(3) Opened
This is the percentage and number of emails that were delivered and opened by your recipients.
(4) Clicked
This is the percentage and number of people who opened your email and clicked on a link within the message. Ideally, you want to attract readers and encourage them to engage with the content of your Email Marketing, and you will see that reflected in the number of clicks.
Note: You can find more about how this is tracked above.
(5) Unopened
This is the number of people who did not open your email. There are two causes for this:
Your recipient may not have had a chance to view your Email Marketing or deleted it before opening it.
Your recipient's email provider rejected the Email Marketing.
If the number is high, you may want to review your email list, as well as the content of your message, to ensure that the email addresses you have are correct and that you are abiding by anti-spam laws. There are a bunch of free resources online to help you increase your email deliverability!
(6) Unsubscribed
This figure shows you those Contacts who have Opted-Out of your emails via an Unsubscribe link in this Email Marketing.
You can find more information about how to view and manage a Contact's Email Subscription Status here.
(7) Bounced
This is the number of emails that were bounced (undelivered). Email Marketing can be bounced for various reasons:
Soft Bounces: Email delivery was unsuccessful after 72 hours of attempts.
The recipient's email provider is not accepting the emails for various reasons - i.e. the recipient's inbox may be full or the email file might be too large.
Hard Bounces: Email was suppressed by the recipient.
The email provider of your recipient identified your message as spam.
Recipient email address doesn't exist or is invalid.
Recipient email server has completely blocked delivery.
(8) Raised
It's possible to add a Donate Button to your Email Marketing that is directly linked to a Keela Donation Form. If a Contact clicks on this link and submits a donation through the Keela Donation Form the amount of that donation (or donations) will be totalled here.
Note: The Email Marketing statistics are only able to track interactions that are made through the Email Marketing itself. The Donate Button must be connected directly to a stand-alone-donation form in order for donations to be counted in Raised. You can find more information about this in our Why is My Raised Statistic Missing Donations article.
(9) Associated Campaign
If this Email Marketing has been associated with a Campaign, the name of the Campaign will be indicated here.
(10) Links
If your Email Marketing contained any URL Links, this statistic will show the number of times a click event is registered for each link.
Clicked vs. Clicks Statistics
The "Clicked" statistic is the percentage and number of people who opened your email and clicked on a link within the message. Whereas, "Clicks" will show each individual click event that was registered by the recipient's email provider. There can be a discrepancy in these numbers, because one email recipient could click a link in your email multiple times. They would show up as one of the "Clicked" statistics, but the "Clicks" would reflect how many times they clicked the link itself.
Keep in mind, some email recipients may have browser extensions or email settings that will 'search' emails for links. With this enabled, the email provider or extension does a scan through all emails received and clicks on links (and links after that) to test out their safety. This can result in a much higher "Clicks" statistic than the "Clicked" rate.
Managing Email Marketing Statistics
View your Recipients' Delivery Statuses
Click on Recipients

A preview box will open on the right-hand side of Keela. In this box, you can view the Name, Email Address and Delivery Status of your Contacts at a glance.

Filter and Search the Delivery Statuses
There are a couple of different ways that you can interact with the preview box. Let's take a look!

(1) Name
This is the Full Name of the Contacts and Organizations that were included in your recipient list.
(2) Email
The primary email address that was listed on your Contact or Organization's profile. This is the email address that Keela sent the Email Marketing to.
(3) Status
This column displays the delivery status of your recipient. There are 7 Status options:
Draft - The recipient has not been sent your Email Marketing yet (you may never see this status).
Unsubscribed - Your recipient used the unsubscribe link in the Email Marketing to Opt-Out of receiving future Email Marketing.
Sent - The Email Marketing has been sent but we have not received any interaction information from SendGrid yet (you may never see this status).
Bounces (Soft or Hard) - The Email Marketing failed to deliver either because the email provider rejected it as spam, the email address is invalid or there is a temporary barrier to delivery.
Delivered - The Email Marketing was delivered but has not been identified as being opened by the recipient.
Opened - The Email Marketing was delivered and has been identified as being opened by the recipient.
Clicked - The Email Marketing has been identified as having been delivered, opened, and clicked on by the recipient.
(4) Search Bar
Want to check the status of a specific Contact? Type their name into the search bar to narrow down the list.
(5) Filters
You can use this Filter tool to narrow down your list of recipients based on their Status. You can add as many individual filters as you like. There are five filters that can be added to your list:
Contains any of - Choose one or more statuses that you would like to look at. Any Contact who has one of the Statuses that you choose will be included on the list.
Does not contain any of - Choose one or more statuses that you would like to exclude from your filtered list. Any Contact who has one of the Statuses that you excluded will be removed from the list.
Matches Search Term - Not quite sure what Status you're looking for? No worries! Try typing the first couple of letters of the Status. Keela will find a Status that begins with whatever letters you've typed.
Is Empty- This will show any Contacts who have not been provided with a delivery status. This is an extremely unlikely occurrence but we include it there, just in case!
Is Filled - This will show all Contacts who have a delivery status. Again, it is extremely likely that this will be all Contacts but we include it, just in case!
(6) Actions
Manage your contacts straight from your Email Marketing statistics. You can choose to Tag all of these contacts or use the Filters to tag only select contacts. If there are contacts with the Rejected status, you will even have the option to Opt them out of all future Email Marketing!