Create Direct Mail
Click on Communications in the Sidebar > Click on the Direct Mails Tab > Click Create Direct Mail

Direct Mail Details
Update your Direct Mailing Name, Category, the Assignee, and the Campaign (if applicable) > Click Save.

(1) Name - This is the internal name that your Direct Mailing will have in the Keela system.
(2) Category - Choose the category this Direct Mailing applies to (Newsletter, Fundraising, Stewardship, etc.) or leave it blank!
(3) Assignee - This is the team member who is responsible for the Direct Mailing. Note this is optional and for internal organization only.
(4) Campaign - Is this Direct Mailing connected to a specific fundraiser? Perhaps it's part of a special event? You can connect the Direct Mailing to a Campaign here.
Editing Direct Mail Details
If you'd like to change the Name, Assignee or the Campaign of your Direct Mailing, click on the Overview Tab > Click Actions > Click Edit Information

Adding Recipients to Direct Mail
Choose the list of Contacts that you would like to send your Direct Mail communication to. You can select All Contacts, or choose a previously created Contact Segment or Tags.
Keep in mind, Keela will only generate Direct Mail communications with recipients that have a full mailing address.
Adding Content to Direct Mail
It's time for the best part - making your Direct Mailing look beautiful! There are several options that you can adjust in the Content Tab of your recently created Direct Mailing.

Generating Direct Mail
Ready to generate and download your Direct Mail letters? Head back to the Overview Tab where you will see a Generate Information section. Here you can Preview your letter and when you are ready, click Generate to prompt Keela to generate your letter.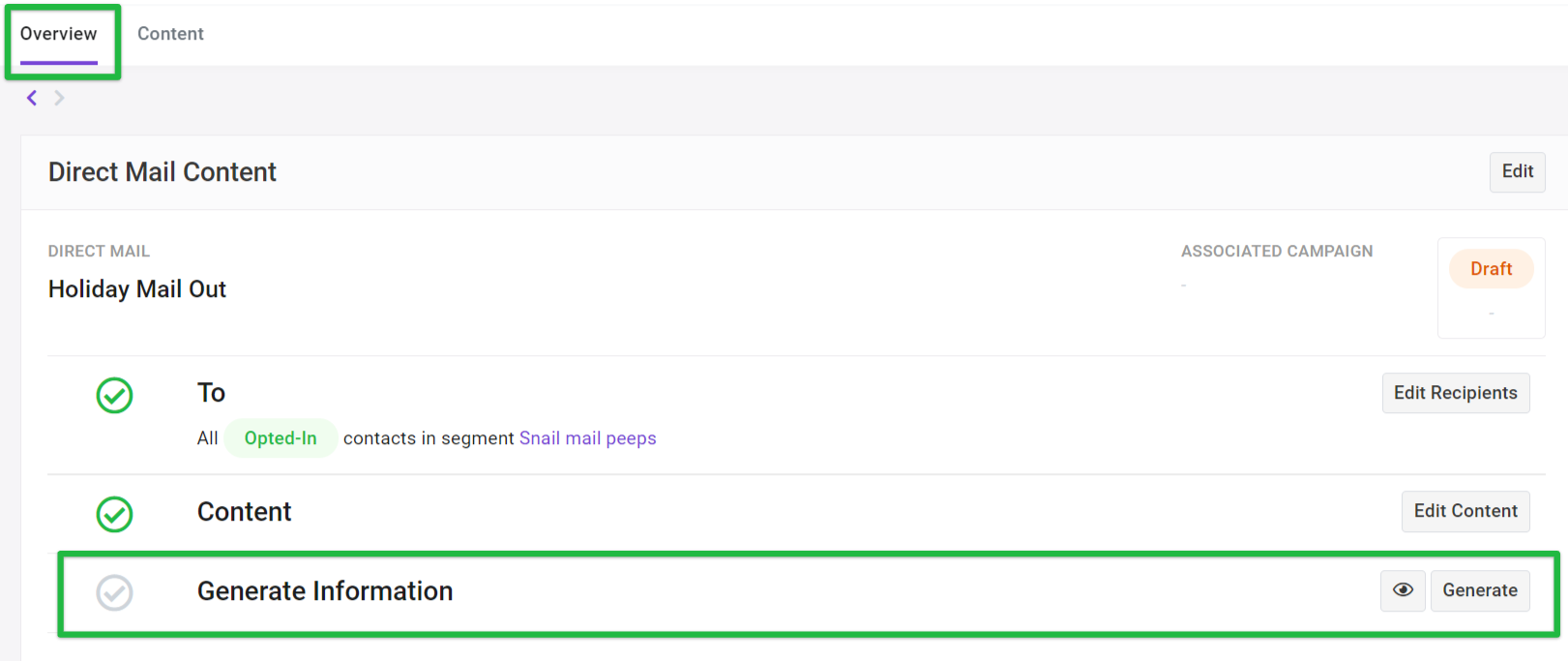 When you click Generate, you will be prompted to Confirm that you want to create the letters. Once you confirm, you will see the status of the Direct Mailing change to 'Processing' with an update that 'The letters are being generated'.

Once the letters have been generated you will see the following:
Status of 'Created' with a timestamp
Update that 'The letters have been generated'.
Download Letters button which will allow you to download the letter to your computer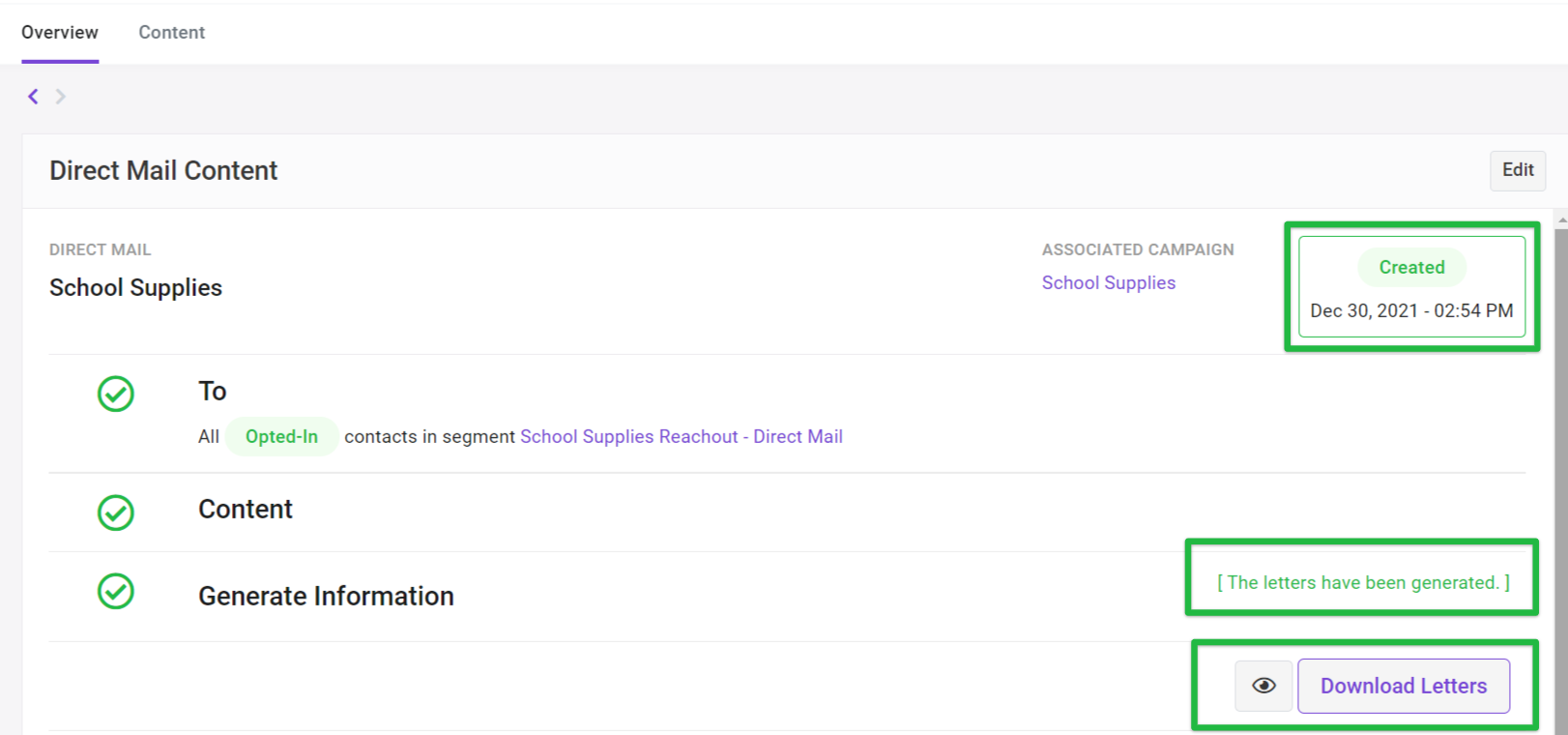 Note: when you download these letters, you may need to download multiple .zip files.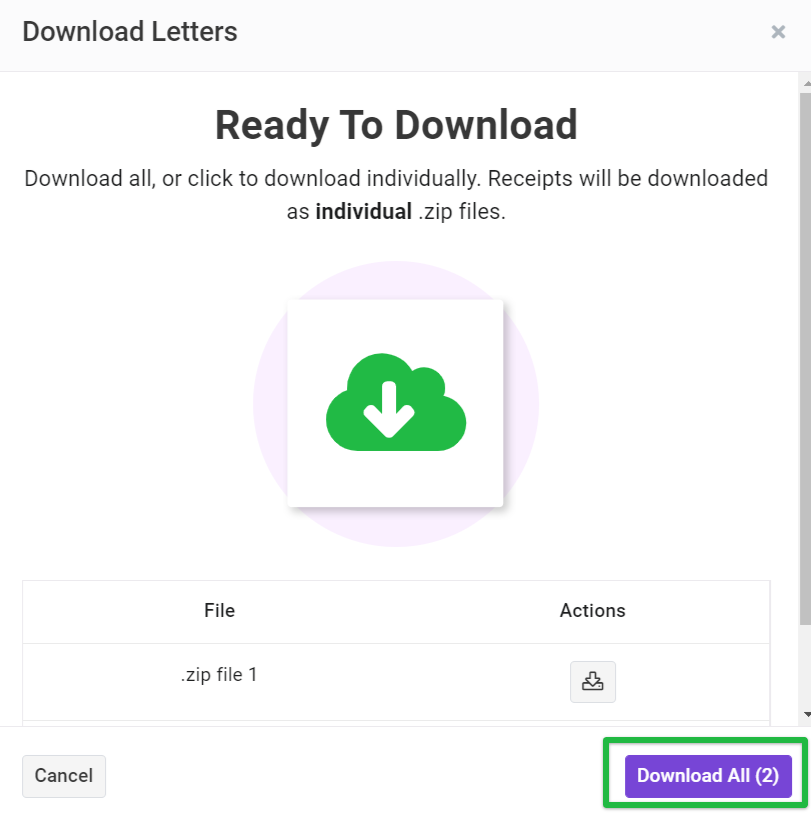 Want to see this in action?
Head over to our Creating Direct Mail Communications training video!