Email Marketing Recipient & Sender Fields
Before you send your Email Marketing communication, you will want to make sure you have all the mandatory fields filled in!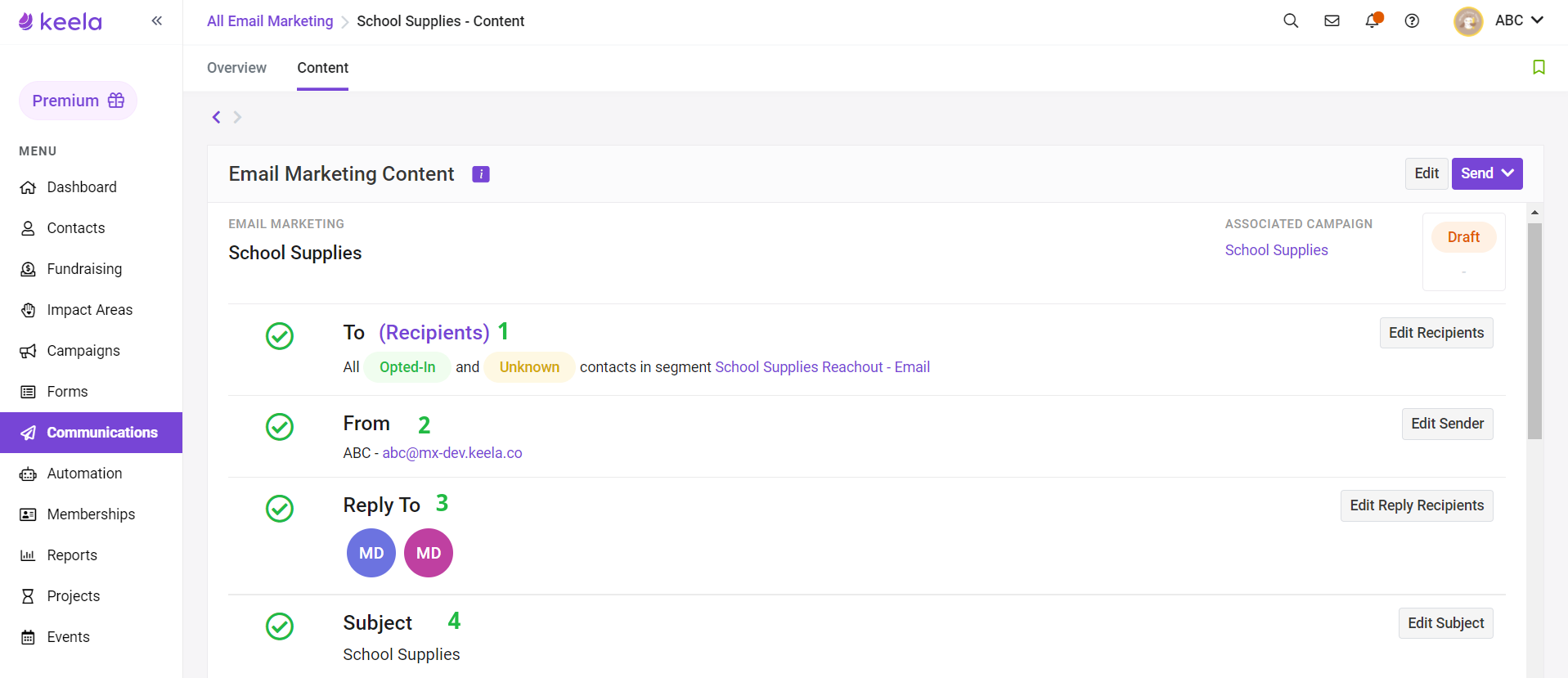 To - when you click 'Add Recipients', you can choose to send to All Contacts or a particular Segment or Tag(s). You can even create a new Segment, right from the 'Recipients' button! You can also exclude any contact from receiving this e-mail too.

You'll also be able to select the Subscription Status preference prior to sending your e-mail.

Once you've added your recipients, you will be provided with a preview of your recipient list!
From - here you can select which email address you would like to send the E-mail from. Note: if you want to send from your own domain, rather than the default Keela domain, you will need to use Keela's Sendgird Integration.
Reply To - this field will automatically be filled with the author of the Email Marketing, but you can adjust which Users receive recipient replies to the communication via their Keela inbox.
Subject - feel free to get creative here! Aim for a subject line that gets your recipients attention so they are more likely to open the Email Marketing! For some tips, click here!
A Note on Duplicate Recipients
We recommend keeping the primary email addresses unique to a single person's profile and not storing them on multiple Contacts' records. If Email Marketing is sent out to two different Contact records (Contact names) that have the same email address, the email will go out to that email address twice.
How to Send an Email Marketing
Make sure that you are on the Content Tab of the Email Marketing you want to send, on the right-hand side select Send. Note that you will need to have the 'To' / 'From' / 'Reply To'/ 'Subject' / 'Content' fields populated in order for the 'Send' button to appear.
There are three different ways that you can choose to send your Email Marketing:
(1) Send Right Now
This will place your Email Marketing into the queue immediately. Be sure to double-check your Email Marketing one last time before clicking this button as once it's in the queue it cannot be removed.
(2) Schedule Send Time
Is now not a good time? Not to worry! You can schedule a time in the future and Keela will automatically send your Email Marketing for you.
(3) Send Test Emails
Want to see how your Email Marketing looks in an inbox? Send a copy of the Email Marketing to your own inbox, or the inbox of other Keela users and non-Keela users.
Note: Features like Smartcodes and the unsubscribe link do not work in test mode as these require information from a live Contact's profile to be populated.
Want to see this in action?
Head over to our Email Marketing training video here.
What's Next?
Now that you've sent your Email Marketing, you might want to take a look at how your Contacts are interacting with your Email Marketing on the Statistics screen or Export your Email Marketing to a PDF.
FAQ
When sending a Test Email, what does it mean by Preview by Contact?
If you are sending Email Marketing which contains Donation Summaries or Smart Codes, each email will be unique to the recipient. This feature allows you to preview the email based on who the email recipient is!
How can I see the number of recipients that will receive the Email Marketing before I send it?
You can now see the number of recipients before sending the Email Marketing: