Another new year has arrived and what better way to celebrate than by debuting some brand new Keela functionality and enhancements? Learn more about what's included in this release below!
Communications
We've expanded the ways you can reach out to your contact base from Keela! Our new Communications Tool is home to both the Email Marketing (formerly E-blast) tool and our brand new Direct Mail (snail mail) tool!

Email Marketing
Out with the old, in with the new! We've renamed our "E-blast" tool to Email Marketing. Email Marketing should be thoughtful, strategic and planned, so we wanted to update the name to reflect that. Rest assured, all the functionality has remained the same so send away!
Direct Mail
We know that every donor is unique and respond best to different communication methods. This is why we have built out a brand new feature, Direct Mails, so you can draft and download direct mailings to send out to your contacts right from Keela! You can personalize this content with things like header images, Smart Codes and Donation Summary Blocks. This is only our first iteration of the Direct Marketing tool and we're already planning more!
Donation Summary Blocks
This long-awaited feature has been added to both Email Marketing and Direct Emails Interactions and allows you to send donation summaries for their contacts. These Donation Summaries provide a variety of options available for donation summaries, including custom dates, column choices and donation types to include. Note that this is not meant to be a replacement for receipts, just an added feature to engage with your donors!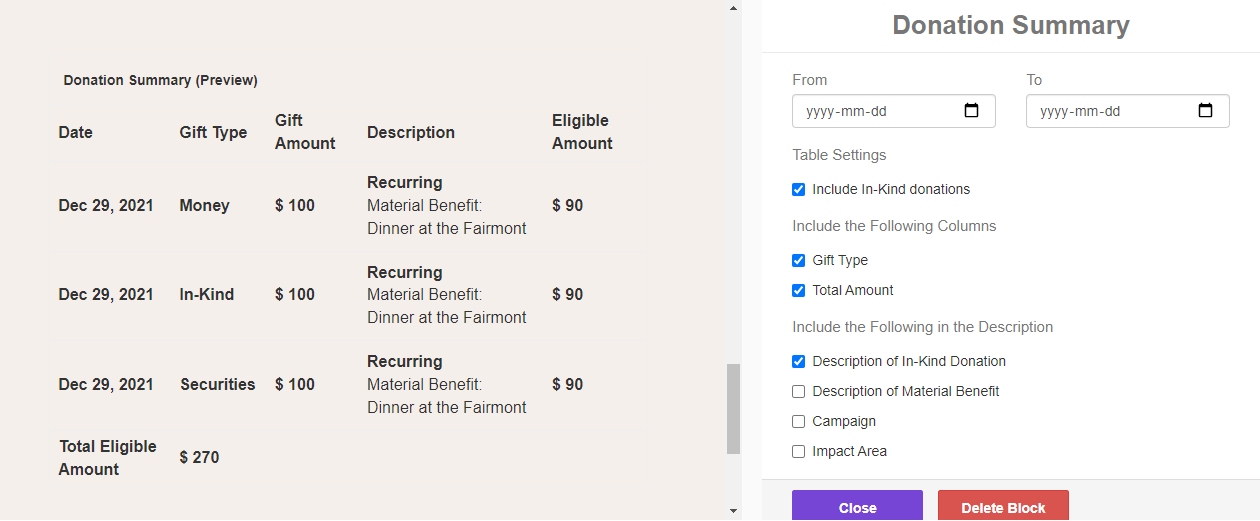 Communications Training
Head to the Communications section of the Knowledge Base for articles on navigating the new tool! And if you want to see the new tool in action, head to our Communications Tool Training Video or watch it below!
Video Timestamps:
Email Marketing Feature - 3:00 min
Direct Mail Feature - 14:00 min