You've been asking...we've been building! We're pleased to show-off some great enhancements to our Reporting tool, just in time for end of year reporting! For more information about this release, read below and keep the Product Portal ideas flowing.
See the Changes in Action
Powered by KIT

You'll notice some new signage in Keela, like on the Reports tab, Contact Insights, Smart Recommendations, and more. But what does it mean to be "Powered by KIT"? Keela is proud to have integrated with KIT, an AI-Powered, fundraising tool to optimize your data analytics in Keela.
Filtering Transaction Amounts to the Decimal
Every penny counts, or that's how the saying goes. Now you can Filter transactions by the dollar and/or cent for any donation, transaction or revenue!
Export Reports and Widgets to PDF
We know your time is valuable, so building ready-made-reporting with graphs and visuals was a no-brainer! Now, you can export your Reports (and each individual Report Widget to PDF) with the click of a button!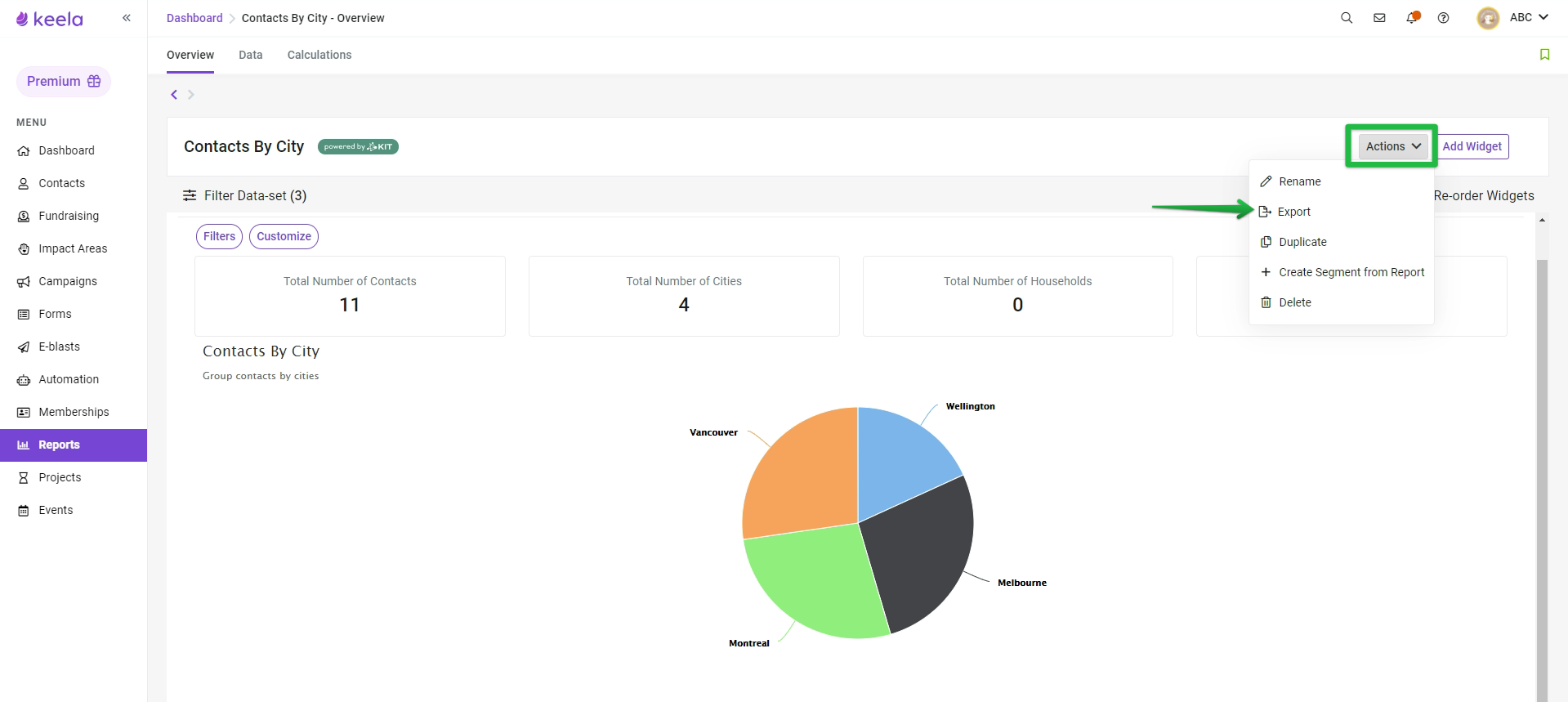 Negative Filter Logic
We've updated our negative filter logic (ex. "is not [...]," "Does not contain any of [...]") to be more intuitive. Now, Keela will look at if the individual contact fits the data criterion as a whole, rather than looking at the contact's individual attributes. No more reverse-engineering needed!
Export Button
Gone are the days of clicking on the cute little cloud button to export your data, we mean business! We've changed the design of our export button to reflect this. You can now export your data by clicking on the little paper button (don't worry it's still pretty cute).

Fundraising Report
We've made two enhancements to our ready-made Fundraising Report. You can now Name your Fundraising report, and go back up to 5 years!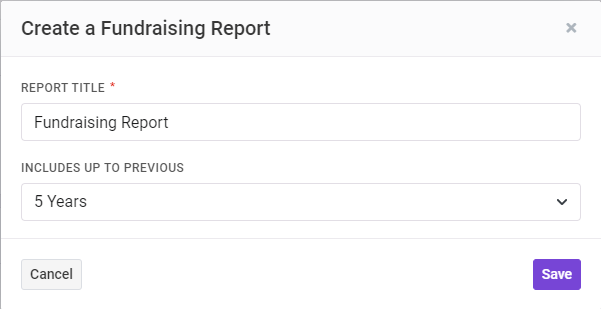 KPI Benchmarks
Want to make the most out of Keela's new KPI functionality and data analytics (saddle up...we're getting there!), you can now indicate your organization's Cause Area and Organization Revenue in your Organization Settings. These two factors will be used for a variety of the Benchmark options used to inform your KPIs.

Looking to choose your KPI Benchmark? Head to the Fundraising Tab where you will have a variety of benchmarks to choose from.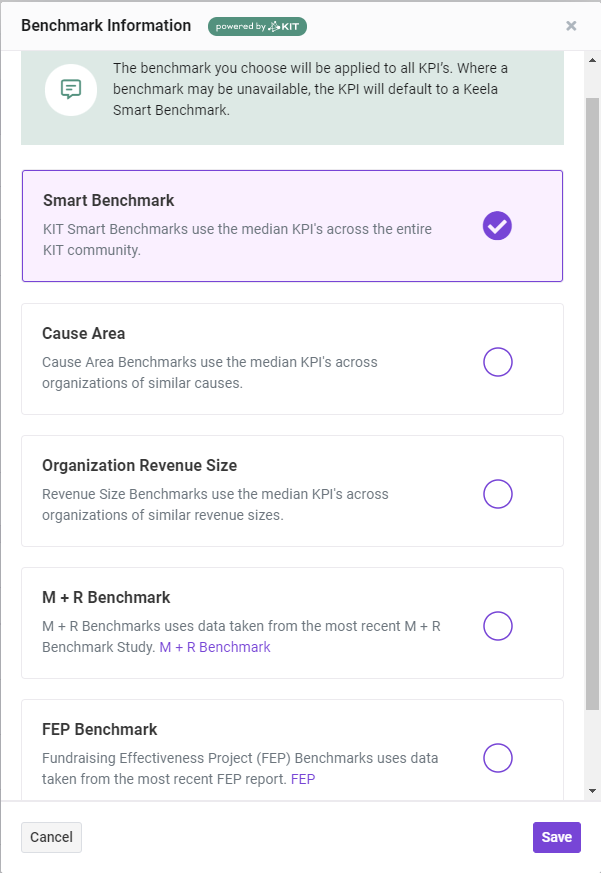 KPIs
We've added some great new KPIs (Key Performance Indicators) to measure your organization's fundraising data. Here are our three new KPIs:
Fraction of Gifts from Campaigns: The percentage of total gifts that were made to a Campaign.
Fraction of Donations from Small Gifts: The rate of total donations received from Small Gifts (gifts less than $100).
Fraction of Donations from Major Gifts: The fraction of total donations received from Major Gifts (gifts greater than $2000)

Updated Reporting
As part of this release, we have re-vamped our reporting tool to take reporting to the next level! Reports have been transformed into 'Dashboards' that are built up of widgets (reports) that break down your data based on various criteria. The purpose is to give you a more expansive and detailed picture of your data.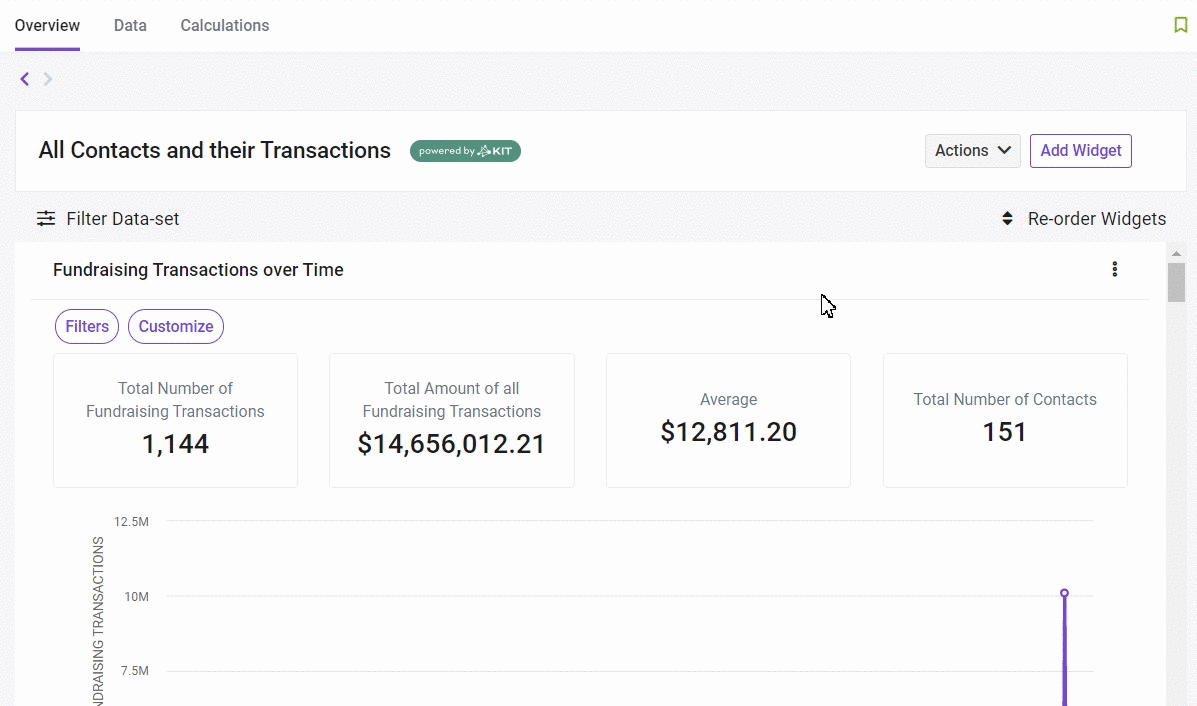 To create a new report, rather than clicking 'Create a Report' as before, you will want to click 'Create a Dashboard'. You will be prompted to select from 'One-click' dashboards where we have filters already built in the report for you, or you can choose a 'Custom' report to add your own unique filters.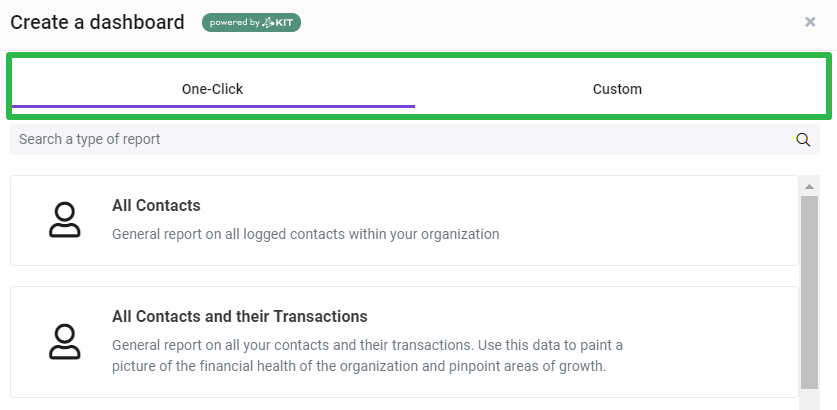 Each report will have an 'Overview', 'Data', and 'Calculations' tab, which you be familiar with. With the 'Data' and 'Calculations' tab will look nearly identical to before, our 'Overview' tab has gone through a complete transformation.
The Overview tab is now made up of a variety of widgets that break down your data into various categories of information, coupled with visualizations of this data. We have created over 90 pre-made widgets based on common nonprofit reporting inquiries, as well as the option to create your very own widgets based on your organization's custom data in Keela.
Each widget comes with the ability to be:
renamed
exported as a CSV or PDF
removed so you are only seeing which data breakdowns that are useful for you
customized with additional filters (aside from the reports overarching filters) to that specific widget to further breakdown your data.
customized to show you data visualization preference

You end up with a custom dashboard of widgets that provides visuals of your data! Pretty nifty right? For more information on navigating our report enhancements, head to the following reports articles:
First Gift Filter
Are you looking for data about first-time donors? Now you can use one simple filter to find all contacts who gave their first gift between a certain time period. You can narrow these results down further, by indicating a transaction type!