Once you've purchased our Premium Care subscription package, you'll have access to a bunch of new ways to communicate with our Customer Support Specialists. One of these support options includes Workshops!
Workshops cover various topics that are centered around best practices in the nonprofit industry. Workshops are meant to be a mix of providing educational materials, brainstorming, and building best practices into your activities in Keela.
Your package comes with one 45 minute workshop per month, but you can always grab some extra booster packs if you think you need more training as you get started or just want to pack more than one into a month.
*Please note that unused Training Sessions and Workshops do not roll over.
Book a Workshop
If you are subscribed to Premium Care, you can schedule a workshop by following the below steps:
Click on the ( ? ) icon the top-right hand corner anywhere in your Keela account > Locate Schedule Training at the bottom of the drop-down menu and click on it > Select the 'Workshop' topic that you would like to be trained on from our learning suite and schedule a meeting with us.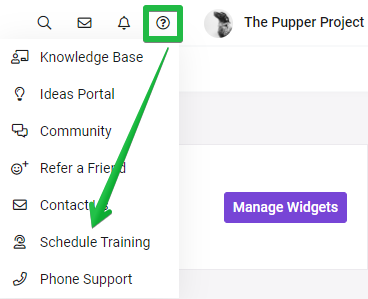 Workshop Schedule Hours
Monday to Friday, 10am - 2pm PST (1pm - 5pm ET)
Which Workshop topics are available in the Learning Suite?
Fundrasing Campaigns
Hoping to build out a fundraising campaign to raise awareness about your mission and collect funds to support your cause, but not sure where to start? Save yourself the research! We have bundled up the industry's best practices for building out a successful fundraising campaign. This workshop will include an intro to fundraising campaigns and industry best practices, a brainstorming session to support you in building out your campaign strategy and timeline, as well as a walkthrough of the steps for building out a campaign in Keela. So get your campaign ideas ready and get ready to become a fundraising campaign expert!
End of Year Guide
Is the end of the year approaching and you're not sure where to start? This workshop will work through a checklist of all the things you will want to think about and prepare as the end of the year approaches. This includes last-minute donations, data entry & clean-up, receipts & letters, end-of-year summaries, annual reporting, and more. After this workshop, you will be more than prepared for end-of-year tasks and go into the new year confident!
Donor Stewardship
Did you know that a current donor is 5 times more likely to give than someone who hasn't given? So how do you keep those existing donors invested in your organization? Donor Stewardship! Stewardship is the relationship-building process and activities that begin after a donor makes a gift to your nonprofit. Stewardship involves more than just sending a thank you letter or newsletters here and there, it involves a detailed plan of strategic activities and initiatives focused on the goal of building and sustaining a strong relationship with donors. In this workshop, we will explore what donor stewardship is, best practices, how to create a donor stewardship plan, how to carry out your stewardship activities in Keela, and how to measure the success of your stewardship initiatives.
*We are working on additional workshops to add to our Learning Suite. Stay tuned!
How can I book more workshops this month?
Booster Packs
Hungry for more learning? Get the most out of Keela by adding a booster pack to your Premium Care features for a one-time fee of $400. With each pack, you will receive three additional sessions that can be used for workshops or live training at any time!
Reach out to us at support@keela.com to learn more!
Looking for Live Training?
Sure thing - head over to our Live Training article here to learn more.
Looking for Phone Support?
Sure thing - head over to our Phone Support article here to learn more.
Looking for Live Chat?
Sure thing - head over to our Live Chat article here to learn more.
I can't see the Schedule Training option in my account.
If you haven't purchased our Premium Care package yet, you won't be able to see this option in your account. Head over to our Premium Care article here to learn about how you can sign up!