So, you're a Keela Partner who has a client ready to purchase their Annual Keela Subscription. Now what?
We're so grateful for the recommendation, and we'd love to offer you a referral bonus as a thank you. But how do you set yourself up to receive these referral payments?
About the Partner Referral Program
Keela is a fantastic donor management tool that can help take a nonprofit's fundraising to the next level; but sometimes, we need a bit of help getting our name out there and getting our clients set up.

The Partner Referral Program is a way for you to tell your clients about Keela, by spreading awareness about Keela's solution and services. We want everyone to benefit from this program, which is why your clients have the opportunity to receive up to 40% off their annual subscription, and you get the option to receive referral payments in return. Each referral payment and discount offering depends on the partner tier you are currently at. For more information about partner tiers, please contact partners@keela.com.
Why join?
Keela empowers nonprofit organizations to make better decisions, to easily connect with their donors, and to get back to what matters most - their mission. Organizations that join the Keela community see an average revenue increase of 46% in their first year, and we think that's worth sharing!
How does it work?
If you refer an organization to Keela, and they decide to purchase an annual Keela subscription, you are automatically eligible to receive a referral payment, and their discount will be applied at checkout.
For your Client:
Our Sales Team is happy to support your clients by ensuring their partner discount will be taken off at the time of purchase. This discount is only available for their first year's subscription, and only on annual subscriptions. Monthly subscriptions are not eligible to receive discounts.
For the Partner:
Upon becoming a partner, you'll be given access to your own account on the Keela Partner Portal, powered by FirstPromoter. It is through this portal that you will be able to receive your referral payments.
The Partner Portal has a 'Payouts' tab, in which you can set up your Paypal account, or bank information, to receive payments. After your clients' sales have closed, you'll see a new payment ready in your portal account, at which point you can (1) accept the payment, (2) accept & donate to the charity of your choice on your own accord, or (3) forgo the payment altogether. It's completely up to you!
Ok, I'm ready to refer!
Step 1: Log in to your Partner Portal
After becoming a Keela Referral Partner, you'll be given access to the Keela Partner Portal, where you can login here.

Once you've logged in, you'll be immediately taken to your dashboard. Scroll down to the bottom of the page to find your referral link. Copy this link to send to your interested clients, post it on your social media or website, or head to the URL - this link will take the viewer to the 'Book a Demo Request Form.'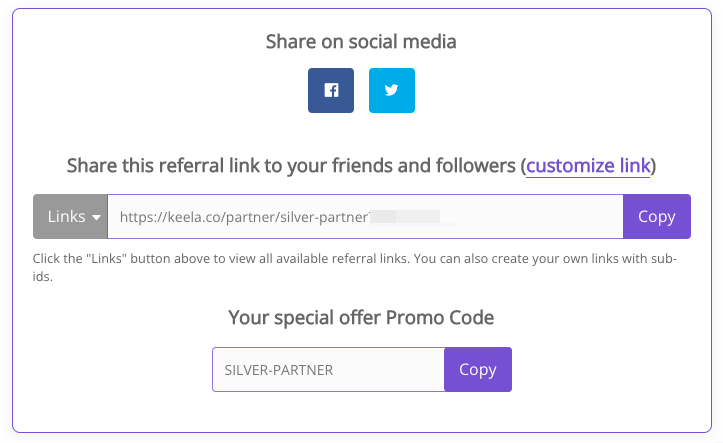 Filling this form out not only gets your client booked for a demo with the Keela Sales Team, but it also lets us know right from the start that they'll be receiving a discount off their final purchase. This referral is automatically tracked in your Partner Portal, and sets you and your client up for success.


Step 2: Set Up Your Payments
On your Partner Portal, head to the 'Payouts' tab in your header.

Once a client signs onto their annual Keela subscription, they will be updated from a 'Lead' to a 'Customer' in your Partner Portal. This triggers a payout, which will be listed on the 'Payouts' tab.


To receive referral payments, you will need to set up your preferred method of payment by clicking "Select payout method."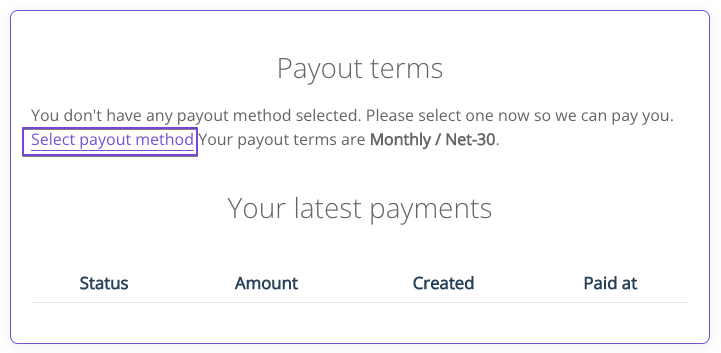 You'll have the option to sign into your Paypal account to be paid via Paypal. Once your PayPal information is filled in, there will be automated payments listed on this page. Please note, payout terms are monthly, and will be paid at the end of each month.
If you are not interested in receiving referral payments, you have a few options:
To decline referral payments, you can leave your payment information blank on your Partner Portal. We're happy to take that as notice of your decision to defer from referral payments.

We encourage you to donate your referral payments to the charity of your choice. Keela is about empowering nonprofit organizations in the sector. You are welcome to accept your referral payments for the purpose of redirecting them to a worthy cause.

If you are interested in choosing to accept some referral payments, and not others, you will simply need to update your payment information. All referral payments will need to be "accepted" on your part, so you can choose which ones you'd like to redeem.
Info! Clients will receive their discount regardless of your decision to accept or decline referral payments. Partner discounts range from 10%-40% off an annual Keela subscription, based on tier level.
Step 3: Repeat!
That's it, and that's all! Easy, right?
We welcome you to refer as many organizations as you'd like (in fact, we encourage it). The more referrals you bring in, the higher your discount offer can be! Alternatively, you can also take a 2-hour course to become a Certified Partner, which comes with an offering of 40% off.
If you have any more questions, visit the "Assets" Tab in your Partner Portal, or get in touch with partners@keela.com to chat with our Partnerships Team.