Are you looking for a way to monitor your Contact' Subscription Preferences and Contact Profile updates? That's where Subscription History comes into play! Subscription History is a great way to track Contact Data updates and understand how and why it has changed.
Where Can I Find Subscription History?
Subscription History can be found on a Contact's Profile, down in the Admin Section.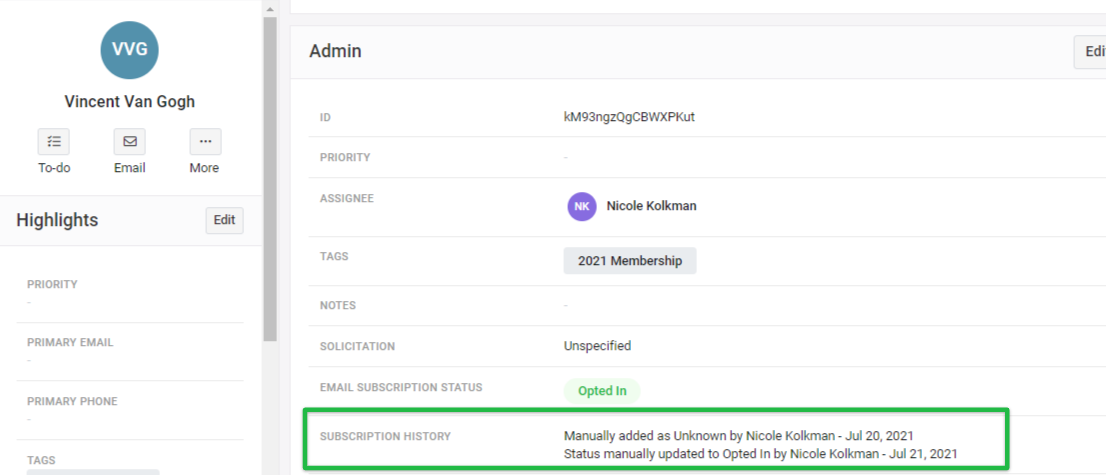 How Does Subscription History Get Recorded?
Through a Contact Record Import - regardless of whether Subscription Status is indicated

When a Contact is manually added to Keela

When a User changes Subscription Status manually, in-app or via Import

When a Contact updates their Subscription Status by opting-out via Email Marketing Unsubscribe Link or opting-in via a Keela Form

When Contact information is provided through Keela Forms

Why is Subscription History Empty on Some Contact Profiles?
Keela only adds the Subscription History for Contact data updated via Contact Import, Keela Forms or manually. Subscription History, is not updated for Volunteer Records, Donation Transactions, Revenue Transactions imports that also include the contact details.