If you are familiar with Keela's Email Marketing Statistics but not quite sure how to manage the recipients within these statistic categories, that's what this article is for! Below we have outlined recommendations for Rejected, Unopened, and Unsubscribed Email Marketing statistics.
Bounced
Email Marketing can be bounced (or undelivered) for various reasons:
The recipient's email address is invalid (e.g. missing symbols, fake email, etc.).
The recipient's email domain is not a real domain.
The recipient's email provider is not accepting the emails for various reasons - i.e. the recipient's inbox may be full or the email file might be too large.
The email provider of your recipient identified your message as spam.
Recommendations:
Verify the emails in your list and ensure that you are complying with

anti-spam laws

.

Research how to design and format mass emails to reduce the likelihood of them being categorized as spam by email providers.

If a recipient 'hard bounces' and they have given express consent to receive your emails, you can now 'unbounce' them from their contact profile.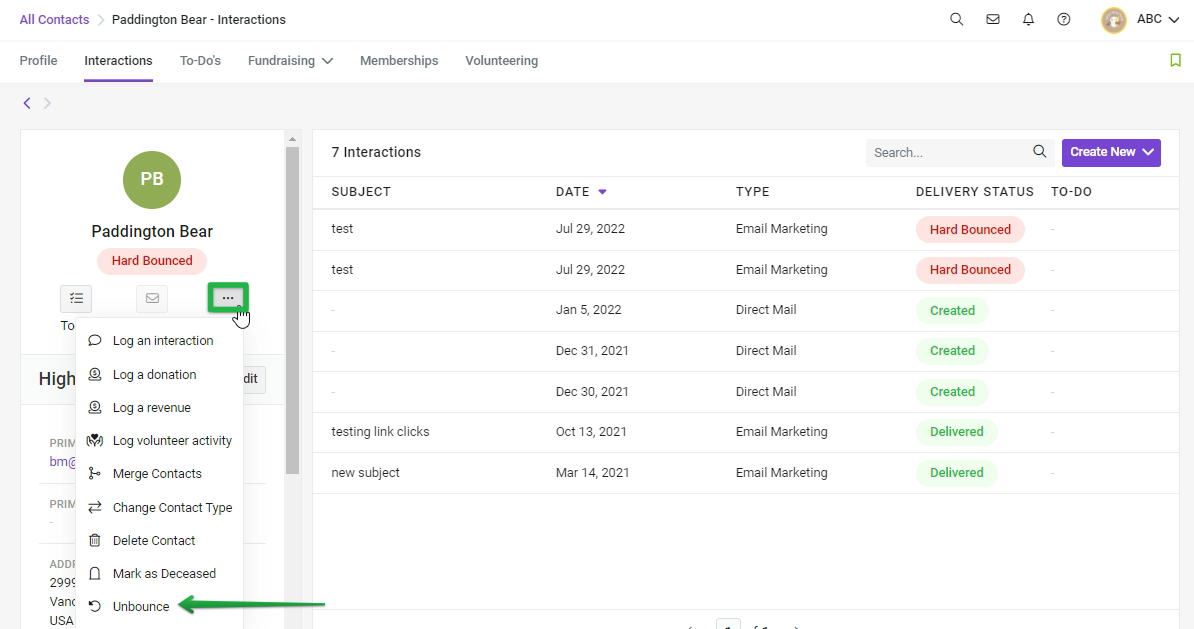 **If a contact has been Hard Bounced, the ability to send one-on-one emails will also be disabled.
Unopened
The average open rate for nonprofit emails is 25.17%. So don't be discouraged by the Unopened statistic. There's plenty of room to increase your stats, and we are here to help!
Recommendations:
Take a peek at some best practices for non-profit emails to keep your outreach read-worthy! Head to our blog on Guide to Nonprofit Email Marketing to brush up on your email marketing skills, or head to

our

Email Marketing 101 for tips on how to send a compelling newsletter.
You can also always send another

Email Marketing

to unopened recipients if you want to take another shot at grabbing their attention! Perhaps try a different day of the week or time of day. Below are the steps:
Head to the

Email Marketing

and click on "Unopened" to view all of the recipients who did not open this e-mail.
Click the 'Actions' button at the top > 'Add to Tag' > create a Tag.
You should now have a list of all your 'Unopened' recipients from the

Email Marketing

with the appropriate Tag, which you can then send another

Email Marketing

to.
Unsubscribed
The average unsubscribe average for nonprofit emails is .20%. So it is certainly normal for a few people to end up in the Unsubscribed statistic from time to time. When a recipient unsubscribes, Keela will automatically mark this contact as 'Opted-out' in the system.
Recommendations:
If you prefer to remove these contacts from Keela, you can add these contacts to a Tag by clicking on the 'Unsubscribed' statistic in the

Email Marketing's

'Overview' tab, click 'Actions' at the top of the list, and choose 'Add to Tag'. You can then delete those contacts by filtering out that Tag in the Contacts tool.
Links
Do you have URLS in your e-mail content that you'd like to track how often they're clicked and by who? Keela will display the number of clicks per link.