You can make different changes to your Workflow from a couple of different tabs in Automations. In this article, we'll check out all of the change that you can make on the Settings tab which should come first.
Email Settings
If you've added "Send Email" Action Stages to your workflow, let Keela know if these emails should be sent to Contacts when their Subscription Status is Unknown.

Tip: Learn more about what this means in our Unknown Subscription Status article.
Click on the Edit icon > Click on the tick boxes to change your Email Settings

Re-enter Workflow
Do you want your Contacts to be able to enter into this workflow multiple times? For example, every time they donate. If so, then toggle this on.
Alternatively, would you like to ensure that a Contact can only be entered into this workflow once? For example, a Welcome Email workflow. If so, keep this toggled off.

Excluded Segment
If you like, you can choose to exclude entire Segments of Contacts from your Workflow. Simply create the Segment in your Contacts section of Keela and then search for it here.

Note: Contacts who are in this Segment will not appear in the below Exclusion List. That list is designed to show you those Contacts who have been manually excluded from this workflow by you or a team member. If you'd like to see the Contacts who are in this Segment, locate it it the Segments tab of Contacts.
Exclusion List (for manual exclusions)
Add Contacts to the Exclusion List
You can also choose to manually exclude Contacts one-by-one by searching for them in this section. This is useful if the Contacts don't have anything specific on their profile that can be used to Segment them out.
Click on the purple Exclude Contacts button > Note: this button will be in the middle of your screen if you haven't excluded any Contacts yet

Type the name of the Contact/s that you would like to exclude in the Search bar > Remember, if they don't appear in the drop-down list you can always search for them > Click Save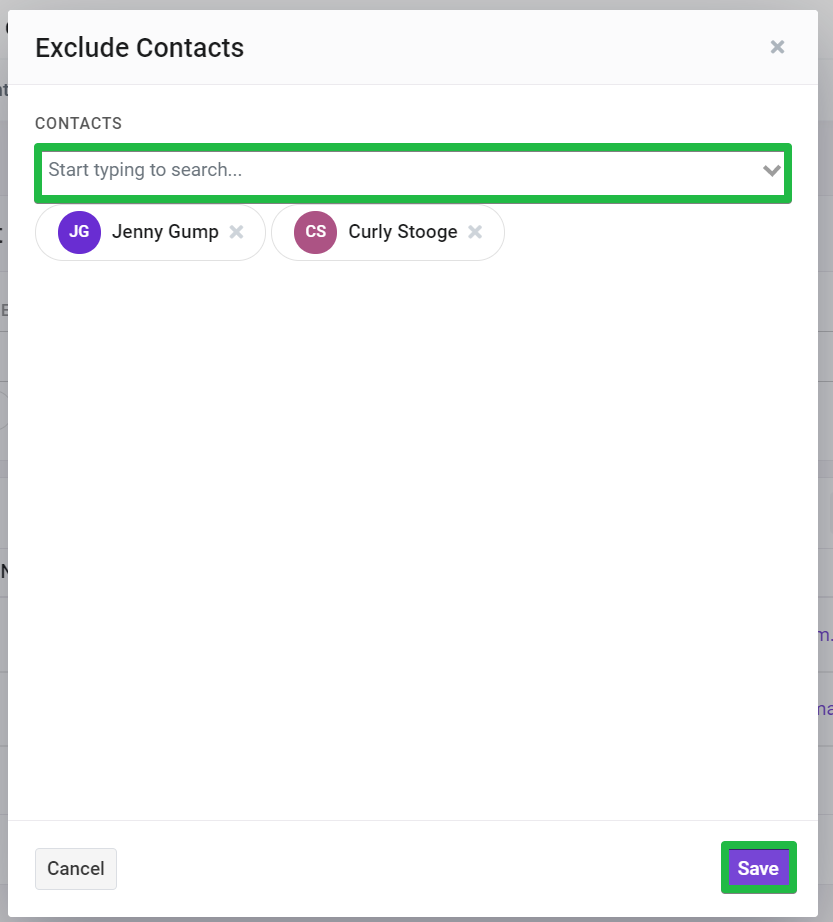 Remove Contacts from the Exclusion List
Changed your mind? No worries! You can always remove Contacts from the exclusion list.
Select the Contacts that you would like to remove from the exclusion list > Click Actions > Click Remove from exclusion list

What's Next?
Now that you've got the settings ready to go on your workflow, it's time to activate it! Head on over to our Activating your Workflow article to learn how.