We've spent a little bit of time talking about the high-quality and fast paced unlimited email support that comes with every Keela subscription. But what if you'd like more options to communicate with our team?
That's where our Premium Care subscription package comes in!
Premium Care Support and Training Services
Email Support
*Included in all Keela subscriptions
| | |
| --- | --- |
| | The best email support you'll ever receive! Our team is passionate about helping non-profits and is here to assist with your onboarding, best practices & advice, feature insight & technical support all while using creative and innovative ways to help through email, including customized videos! |
Learn how to get in touch via Email Support here.
Email Support Hours
Monday to Friday, 8am - 4pm PST (11am - 7pm EST)
We know how important it is to hear back quickly when you need help! During support hours, our average first response time is the same day*.
*Note that this can vary based on the complexity of your request and current ticket volume. We want to ensure that we provide an accurate and informative response which can sometimes take some time!
Live Chat

Premium Care plans only
Chat with our support team live, right from your Keela account! This is a great way to get an answer quickly to any straightforward questions you may have or if you need assistance right away - a Customer Care specialist

will usually respond within a couple of minutes to help out.
If your question is a little more complicated or requires some additional follow-up, we might ask to move to email or a phone call to continue working with you.
Learn how to get in touch via Live Chat here.
Live Chat Hours
Monday to Friday, 10am - 2pm PST (1pm - 5pm EST)
Scheduled Phone Support

Premium Care plans only
| | |
| --- | --- |
| | Schedule a 15 or 25-minute Zoom call with our team to chat through any complex questions or issues that you may have. The best part? There is no need to go through a call tree or wait on hold for hours. Simply join the zoom link provided via email! |
Phone Support is a good option if your question can wait a day or two and would benefit from a more in-depth discussion or maybe you just want to say hi!
*Please limit scheduling to one session per day for your organization to ensure access for all Keela learners. Any additional calls scheduled for the same day will be required to be rescheduled.
Learn how to get schedule a Phone Support meeting here.
Phone Support Hours
Monday to Friday, 10am - 2pm PST (1pm - 5pm EST)
Live Training, Workshops & Seminars

Premium Care plans only
| | |
| --- | --- |
| | Live Training sessions are structured and scripted sessions that take an in-depth look at Keela's built-in tools. Choose from our list of live training sessions, and we'll show you the ropes! |
| | Workshops are interactive sessions where our Customer Care Specialists work with you to build out Forms, Email Templates and more based on sector best practices! |
| | Seminars are more formalized sessions, where our Customer Care Specialists cover various best practices in the nonprofit industry while showing you how to incorporate them into your activities in Keela. |
Learn about the Training Sessions, Workshops & Seminars that we offer or how to schedule a Training Session in our article here.
Training & Workshop Hours
Monday to Friday, 10am - 2pm PST (1pm - 5pm ET)
*Please note that unused Training Sessions and Workshops do not roll over.
Premium Care Pricing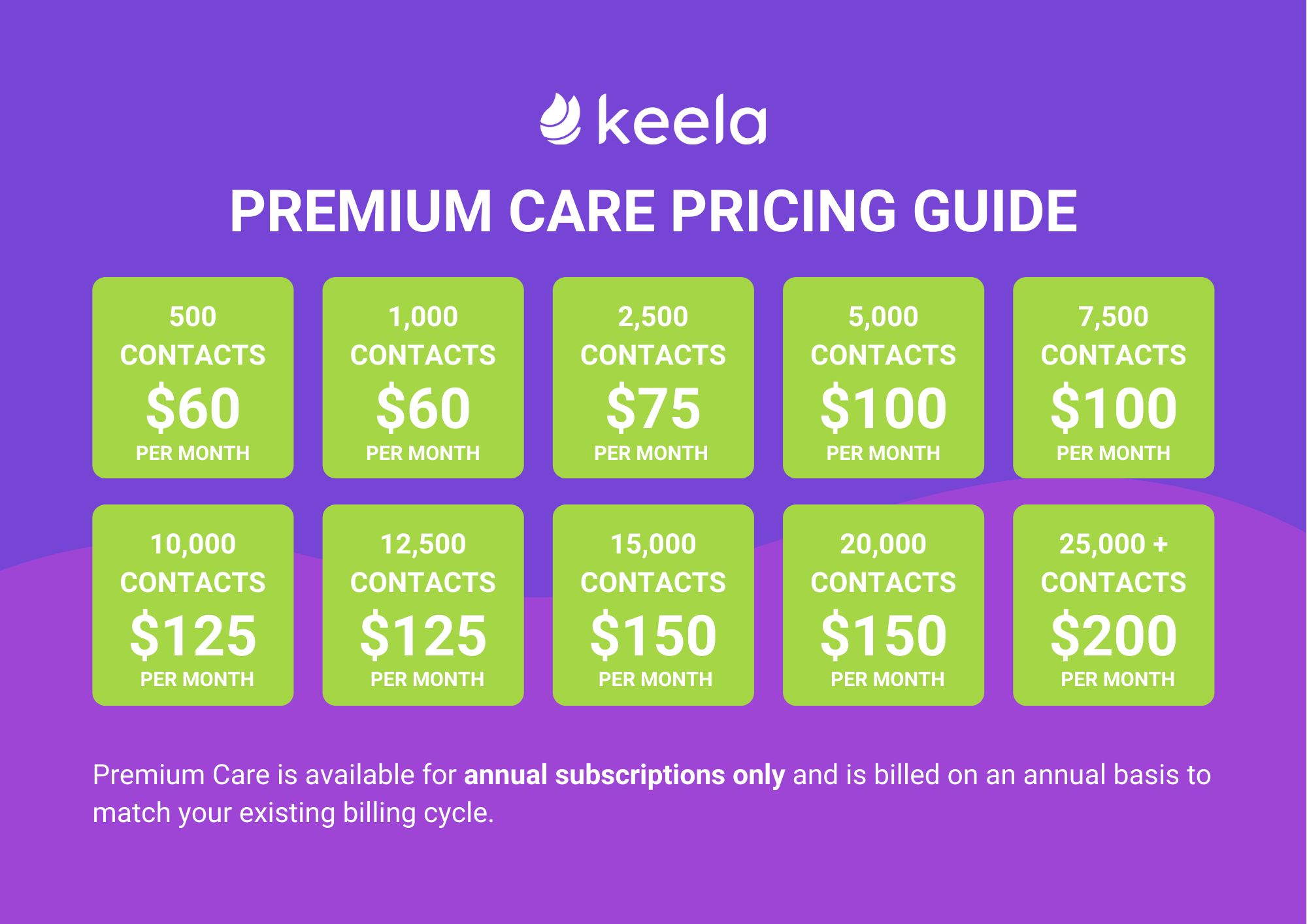 How can I purchase the Premium Care Feature?
To access it, click on the purple Premium button in the bottom left-hand corner of the sidebar or navigate to the Premium tab in your Organizations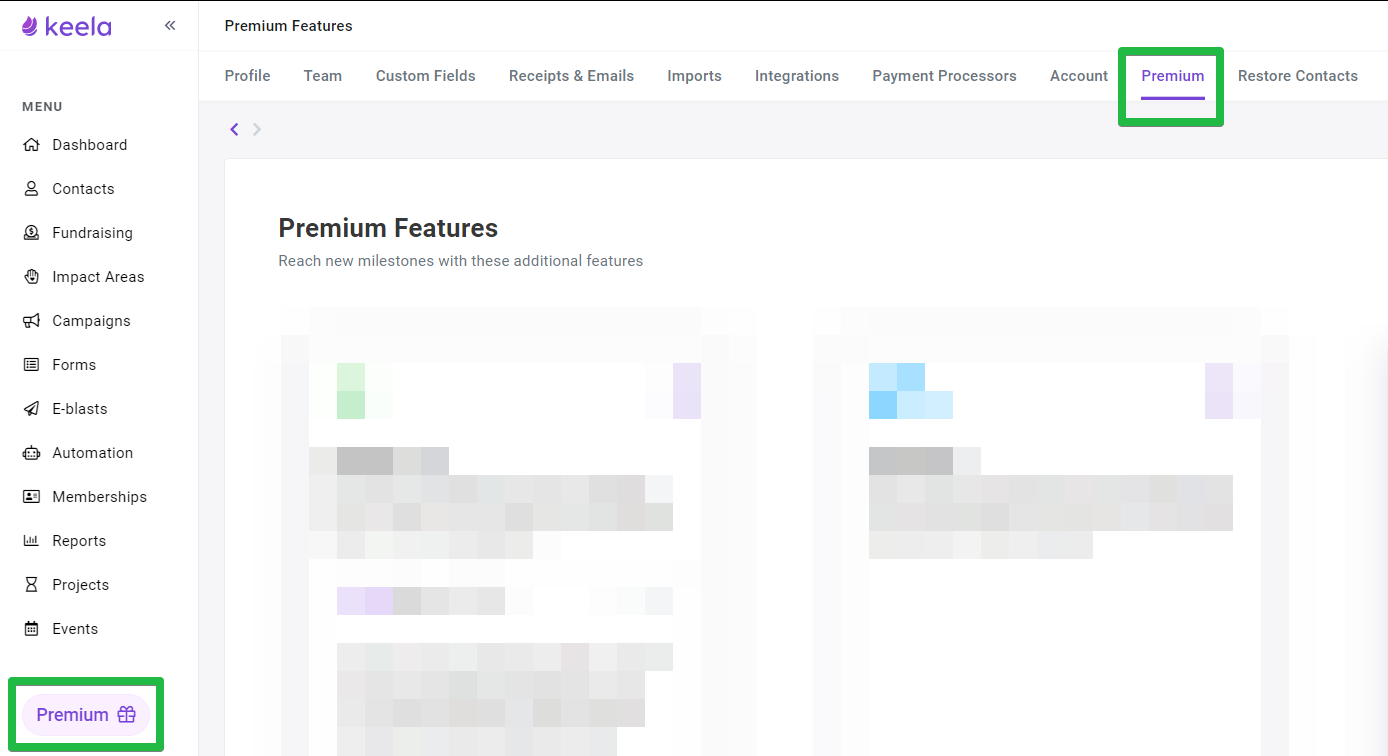 Here, you'll see a list of the Premium Features we offer in Keela.
When you're ready to move forward, simply select the Premium Care card > Select any option Booster Packs (packs of 3 training sessions) that you might like to add (optional) > click Get Feature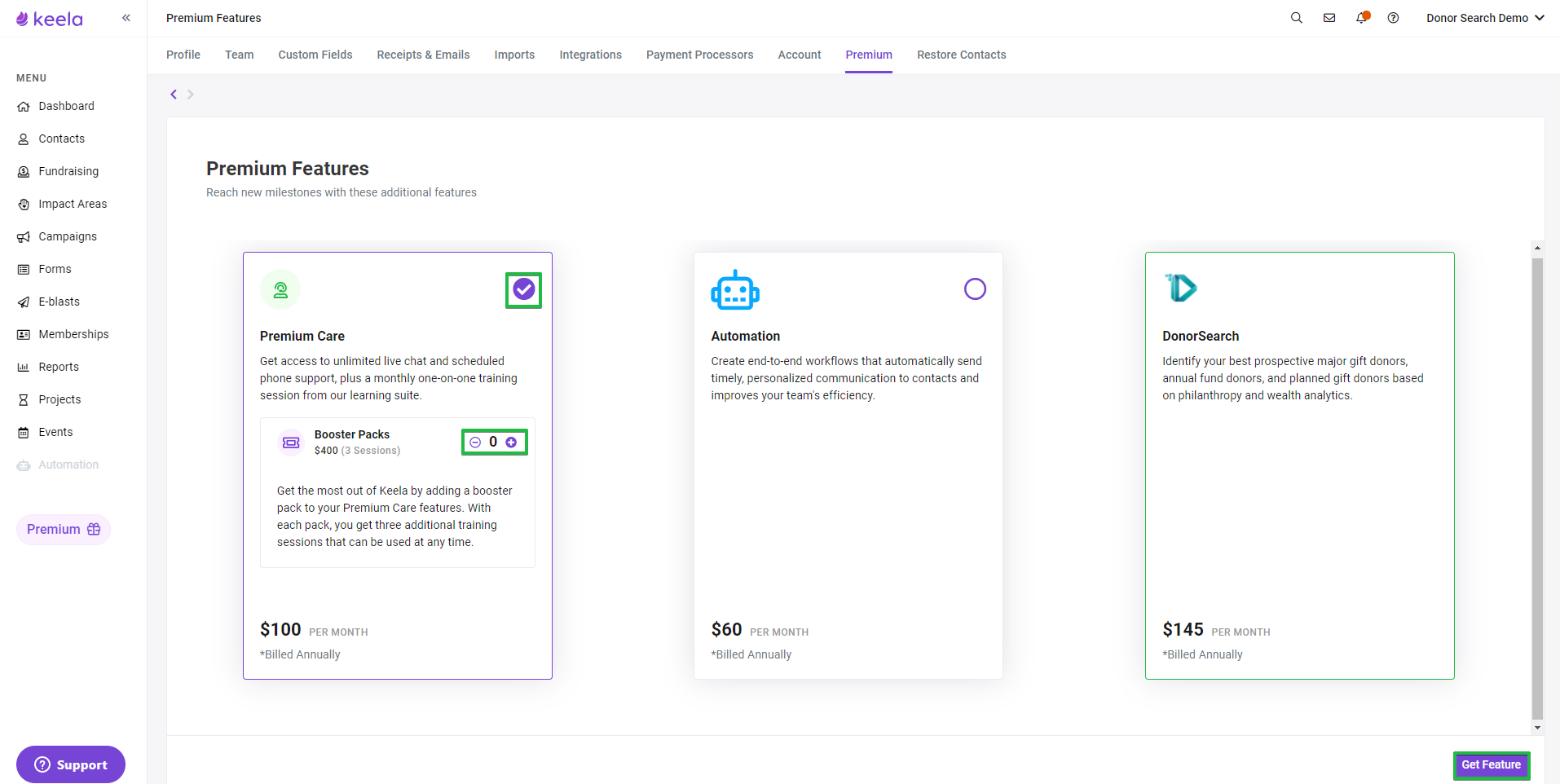 Important Note: Premium Care features are only available on Annual Subscription Plans.