Once you've purchased our Premium Care subscription package, you'll have access to a bunch of new ways to communicate with our Customer Support Specialists.
One of the fastest ways to get in touch with us is by using our Live Chat tool right in your Keela account.
Get in touch via Live Chat
If you are subscribed to Premium Care, you can access phone support by following the below steps:

Click on the purple Support button in the bottom right-hand corner of your screen during our Live Chat hours > type "Chat" into the search box and press enter > Click on the purple Live Chat button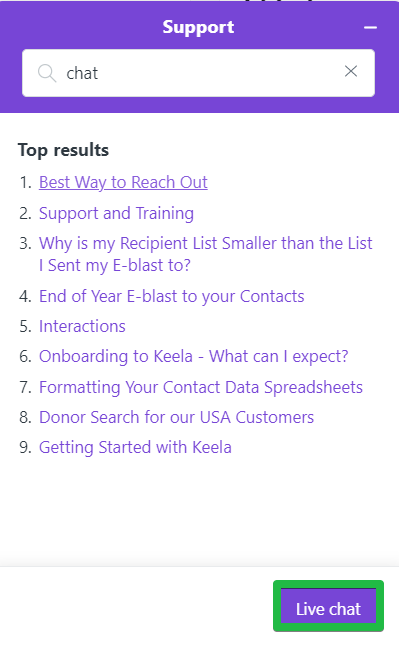 Live Chat Hours
Monday to Friday, 10am - 2pm PST (1pm - 5pm EST)
Looking for Phone Support?
Sure thing - head over to our Phone Support article here to learn more.
Looking for a Training Session?
Sure thing - head over to our Training Session article here to learn more.
I can't see the Live Chat option in my account.
If you haven't purchased our Premium Care package yet, you won't be able to see this option in your account. Head over to our Premium Care article here to learn about how you can sign up!