Once you've purchased our Premium Care subscription package, you'll have access to a bunch of new ways to communicate with our Customer Support Specialists. One of the most popular ways to learn the new system is by scheduling a monthly one-on-one live training session or workshop from our Learning Suite.


Live Training sessions are structured sessions that cover one specific tool in Keela at a time. A Customer Care expert will present the training session theory to you, while demonstrating in Keela. You can sign up for any and all of the sessions, but our general recommendation is to start at the top and work your way down as they do build on each other.
Workshops are the most practical/activity based sessions. They are similar to a seminar, as they focus on best practices for your Keela account. However, they take these concepts to the next level by providing a more hands-on experience. Work alongside a Customer Care expert in your account as they discuss the best practices for Keela's tools and guide you to create something right there in the session!
Seminars cover various topics that are centered around best practices in the nonprofit industry. Seminars are similar to Training Sessions in that they are structured, but focus on general industry training rather than a strong Keela focus.


Your package comes with two Training Session or Workshops per month, but you can always grab some extra booster packs if you think you need more training as you get started or just want to pack more than two into a month.
*Please note that unused Training Sessions, Workshops & Seminars do not roll over.
Book Live Training, Workshop or Seminar Sessions
If you are subscribed to Premium Care, you can schedule a training session by following the below steps:
Click on the ( ? ) icon the top-right hand corner anywhere in your Keela account > Locate Schedule Training at the bottom of the drop-down menu and click on it > Select the topic that you would like to be trained on from our learning suite and schedule a meeting with us.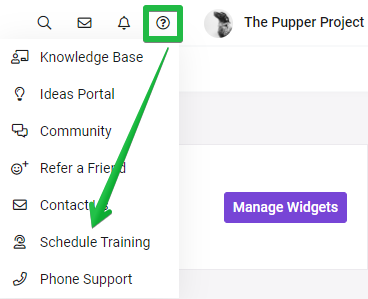 Training Schedule Hours
Monday to Friday, 10am - 2pm PST (1pm - 5pm ET)
What Training Sessions are available in the Learning Suite?
Introduction to Keela
This is your go-to live training if you are looking for an overview of navigating the Keela system. We will walk through the basics of navigation, such as the toolbars, search functionality, notifications, and more! We will also work through Organization and Personal Settings, so you can make sure your Keela settings are up to date and set up to match your preferences. By the end of this session, you will be a master navigator of the system!
Contacts
This session will walk through all things contacts including where to find contacts in the system, adding contacts, the difference between individual and company contacts, how to track contact interactions, create to-do reminders for contacts, how to add volunteer activities and membership subscriptions, how to filter out contacts on specific criteria, and more! We will also touch on the Tags and Segments tools which will be your go-to for creating lists of contacts so you can stay organized and strategically correspond with your contacts.
Fundraising
We work with enough organizations to know how important managing your fundraising activities and recording transactions is! This session will walk through the difference between donations and revenues, how transactions are recorded and managed in Keela, and how to set fundraising goals. As a bonus, we'll also introduce you to our fundraising report that is automatically generated for your organization, as well as our forecasting tools which will support you in making predictions about your organization's income (with the help of AI)! Sounds pretty cool right? You don't want to miss this one!
Forms
What kind of forms does Keela have? How can I create one? What happens when someone submits a form? Where can view transitions and responses that were submitted through a form? If any of these questions ring a bell for you, this training session is for you! We will touch on the types of Keela forms, the entire form setup, publishing, and sharing process, what happens in the system when a form is submitted, and how you can view and download form responses. By the time the session is over, you will well on your way to creating a stellar Keela form!
Communications
Want to learn how to send newsletters, run email fundraising campaigns, reach out to volunteers, or update RSVP'd contacts with event details? These are only a few of the possibilities of Keela's Communications tool! In the session, you will learn how to create a stylish email or direct mail letter, and how to track the success of your outreach! If you are ready to bring your organization's outreach to the next level and strategically target your donors and contacts, this session is for you!
Memberships
Does your organization have a membership program to support you in generating revenue for all that amazing work that you do, or are you interested in setting this kind of membership program up? In either case, this is your go-to training for all things memberships! This training will provide you and your team with an in-depth overview of how membership work in Keela including how to create and manage membership plans and subscriptions, how to report on and export memberships, how membership forms work, and how to manage membership receipts. By the end of this training, you will be well equipped to offer enticing membership options to your stakeholders along with newfound knowledge to support you in keeping those memberships organized!
Reporting
Reporting! We all have to do it, and we certainly all want an intuitive system that makes it easy for us, am I right? You're in luck! Keela's reporting tool allows you to report on your transactions, contacts, and volunteers with ease. We have all sorts of filters that you can use to break down your data so you can view and analyze the information that is important for your organization. This session will walk you through the 'Reports' tool from start to finish. You will learn how to create all kinds of reports (custom and pre-made), how to use filters, how to view report calculations at a glance, and how to export your reports to share with your team & stakeholders. You are one session away from becoming a reporting expert, what are you waiting for?!
Importing & Exporting Data
Need to import data into the system, or pull data out of the system, and not sure where to start? No worries! The purpose of this session is to give you an overview of how to organize and import your data, as well as how you can export your existing data from the system (including reports)!
When it comes to imports, we will outline the steps for exporting from a third-party system, cleaning up your data, formatting your import files to match Keela's requirements, and using the import tool in Keela.

When it comes to exports, we will outline what data can be exported from Keela & how to export that data! Fun fact: you can create custom exports, so you only pull the fields that you need. No more bulky export files!
By the time you complete the session, you will be ready to conquer those import spreadsheets and impress your colleagues with polished exports!
Key Performance Indicators - Currently Unavailable
What on earth are Key Performance Indicators, and why should you care? Great questions! To keep it simple, KPIs are indicators that allow you to identify goals that you have and track your progress towards those goals. Keela's KPIs can support your team in skyrocketing the effectiveness and productivity in relation to nonprofit fundraising, marketing, donor management, and more by showing you where you're doing really well and where you might need a little extra push to move closer to your targets.
This training session will provide more detail on what KPIs are, why you should care about them, how to use them, and how Keela's intelligence tools can automate KPI measures for you. When you're ready to take your organization to the next level, we'll see you in our KPI training!
Keela Intelligence
Interested in finding out who of your donors are most likely to give, which donors have the most social and financial interaction with your organization, which donors you should focus your energy on, and which donation amounts you should ask for? Save yourself the brain energy, and let us show you how Keela can do all this for you! This session will explore how Keela uses artificial intelligence to provide donor insights and recommendations that guide your organization to understand which donors bring the most value, how to inspire disengaged donors, how to make strategic donation asks, and more. What are you waiting for, come explore the power of Keela's AI!
Automation (Premium Feature)
Keela's Automation tool allows you to create custom workflows that will send your contacts through a series of actions determined by you! The workflow follows IF/THEN logic statements, so when one thing happens, you tell the system exactly what you want to happen next. For example, an automated workflow might go from a volunteer filling out an interest form → receiving an application form via email → filling out an application → users are notified there is an application to review → and then accepted volunteers are added to a volunteer Tag. And that's just a simple workflow example...skies the limit!
Ready to see this automation in action? This session will educate you on how the automation tool works while walking through a workflow example. As a bonus, we will then be building a mock workflow together, right on the spot! You won't want to miss this one.
Peer-to-Peer (Premium Feature)
Keela's Peer-to-Peer tool allows you to create campaigns that can be shared with your friends, families, and networks to raise funds on your organization's behalf. With Keela's Peer-to-Peer tool you can create and customize a campaign landing page and fundraiser pages, send out email invitations in bulk to fundraisers and fundraising teams to entice them to join your fundraising efforts, and track your overall Peer-to-Peer funding progress. Ready to learn how to build one out? In this session, we will walk through the ins and outs of building your very own Peer-to-Peer campaign in Keela.
What Workshops are included in the Learning Suite?
Building a Fundraising Campaign
In this hands-on workshop, learn about the best practices involved with creating and executing a fundraising campaign and work alongside on our Support Specialists while you execute this in Keela!
Building a Peer-to-Peer Campaign
In this hands-on workshop, learn all about Keela's newest add-on, the best practices for P2P campaigns and even build out your campaign with a Keela expert on hand!
Building a Keela Form
Need a little extra help building your Keela Forms? In this hands-on workshop, create a Keela Form with our support specialist guiding you along the way and informing you of best practices!
Building an Email Marketing Communication
In this hands-on workshop, create new email marketing templates and communications with the guidance of our Keela experts! You'll learn more about the industry best practices and some nifty resources for making your email stand out!
What Seminars are included in the Learning Suite?
Fundraising Campaigns
Hoping to build out a fundraising campaign to raise awareness about your mission and collect funds to support your cause, but not sure where to start? Save yourself the research! We have bundled up the industry's best practices for building out a successful fundraising campaign. This workshop will include an intro to fundraising campaigns and industry best practices, a brainstorming session to support you in building out your campaign strategy and timeline, as well as a walkthrough of the steps for building out a campaign in Keela. So get your campaign ideas ready and get ready to become a fundraising campaign expert!
End of Year Guide
Is the end of the year approaching and you're not sure where to start? This workshop will work through a checklist of all the things you will want to think about and prepare as the end of the year approaches. This includes last-minute donations, data entry & clean-up, receipts & letters, end-of-year summaries, annual reporting, and more. After this workshop, you will be more than prepared for end-of-year tasks and go into the new year confident!
Donor Stewardship
Did you know that a current donor is 5 times more likely to give than someone who hasn't given? So how do you keep those existing donors invested in your organization? Donor Stewardship! Stewardship is the relationship-building process and activities that begin after a donor makes a gift to your nonprofit. Stewardship involves more than just sending a thank you letter or newsletters here and there, it involves a detailed plan of strategic activities and initiatives focused on the goal of building and sustaining a strong relationship with donors. In this workshop, we will explore what donor stewardship is, best practices, how to create a donor stewardship plan, how to carry out your stewardship activities in Keela, and how to measure the success of your stewardship initiatives.
How can I book more Training Sessions or Workshops this month?
Booster Packs
Hungry for more learning? Get the most out of Keela by adding a booster pack to your Premium Care features for a one-time fee of $400. With each pack, you will receive three additional sessions that can be used for live training or workshops at any time!
Reach out to us at support@keela.com to learn more!
Looking for Phone Support?
Sure thing - head over to our Phone Support article here to learn more.
Looking for Live Chat?
Sure thing - head over to our Live Chat article here to learn more.
I can't see the Schedule Training option in my account.
If you haven't purchased our Premium Care package yet, you won't be able to see this option in your account. Head over to our Premium Care article here to learn about how you can sign up!