We're excited to announce some great new additions to the Keela system!
Check out all the details below and don't forget to send in your ideas to our Product Board here. You never know! Your ideas might end up here 😉
Receipts
Customize your Receipts & Letters by Campaign or Impact Area
It's finally here!! 🎉 🙌 Engage your donors and let them know the impact of their donation by creating receipts and thank you letters specific to your individual Campaigns or Impact Areas.
Cumulative Receipts Appendix
Your donors can now get all the deets on each and every transaction included in their cumulative receipt! You can now Toggle on a new option in Receipts & Emails Settings to add a receipt appendix to all cumulative receipts that will include the following:
Transaction Date
Transaction Amount
Transaction ID

Receipt setting for un-editable PDFs
As an added level of security to PDF receipts, you can enable password-protected receipts 🔓. Toggle on this option in Receipts & Emails Settings to remove the ability for your donors to edit their PDF receipts in Adobe Acrobot.
Fundraising
Update a recurring subscription amount
Does your donor want to increase their monthly donation?! Fantastic! You can now edit the amount of a recurring transaction easily right in Keela!

*Note: this is only possible for Stripe payments.
Bulk editing donation associations
Did you forget to add the Campaign to your Donation Form when you set it up? 🤦
No worries! You can now bulk edit Associations. Select any transactions you would like to update and click the Action button to change the following Associations:
Campaign
Impact Area
Source
Keywords
Dedication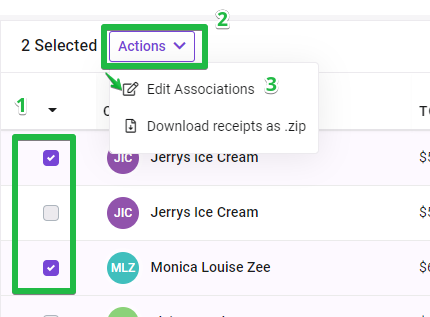 Filters and Reporting
Filter Pledges by Campaigns and Impact Areas
Campaign and Impact Area have been added as a new Pledge Filter - yippee! You can now easily find the Pledges you need and report on them.
Demographic Data filters
We've added some new demographics filters to the Contacts table to further segment your contacts!
Median household income
Median individual income
Unemployment rate
Median home value
Median monthly rent
Median age
Donor Search filters
Who doesn't love more data points? If you're subscribed to Donor Search, you can add DonorSearch Rating as a column in your contact table! We've also added the following filters to the Contact table so you can get more out of your Donor Search insights:
Donor Search Rating
Largest Gift
Business Revenues
SEC Stock Value
Political Total
Republican Total
Democratic Total
Real Estate Value
Organization Settings
New updates for Contact Restorations
Restoring deleted contacts just got a whole lot easier! You can now see which user deleted the contact and and can filter by date of deletion date or contact type.