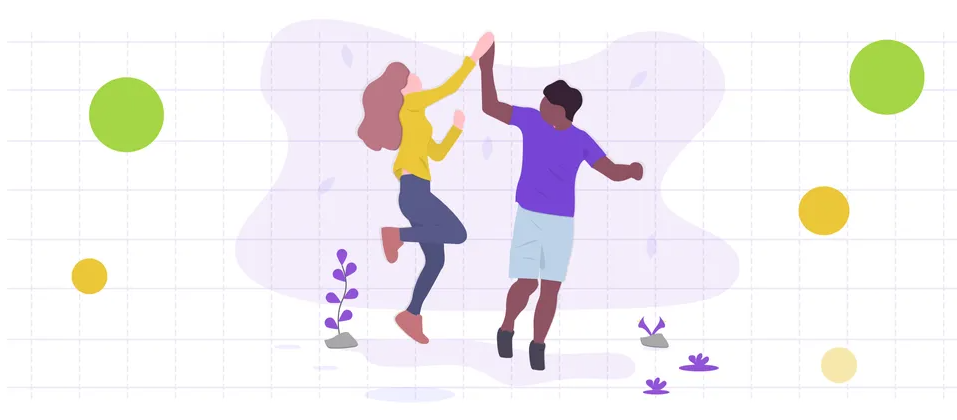 Looking for a warm community of nonprofit professionals from around the globe with one common mission: to create an impact in our society using Keela?
What is it?
The community is made up of Keela users, partners, employees, and nonprofit professionals and serves as your go-to destination for Keela know-how, peer-to-peer support and thought leadership on best practices. We also ideate with customers directly on how to improve the Keela platform.
We've compiled a list of guidelines to ensure the community is valuable to you and serves as a platform where we can all come together and feel safe.
How do I access it?
Click here to access the Keela Community.
Alternatively, you can also access it from within your Keela account: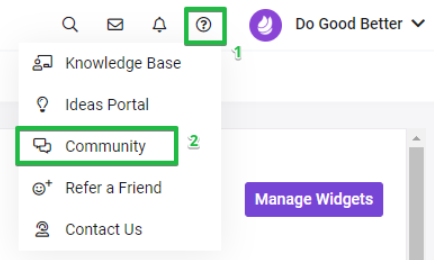 Or from within our Knowledge Base:

How do I join the Community?
Before you can post on the Keela community, you'll need to create an account.

Important Note: Your Keela account is not connected to the Keela Community. You'll need to create a new account to access it.
To create a new account, click Sign In > A pop-up window will appear > Click Sign Up.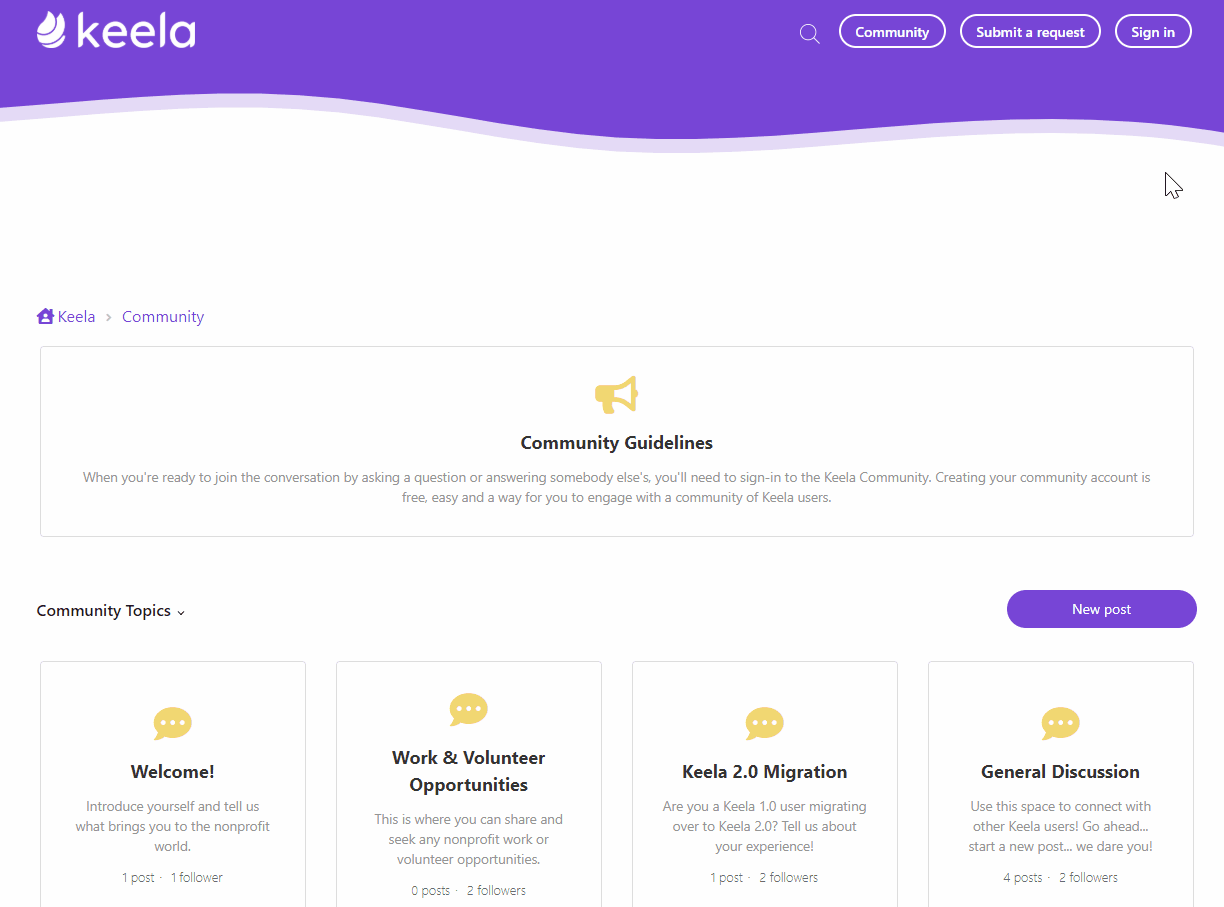 How do I create a post?
Creating a new post allows you to ask questions about whatever you'd like - Keela related, or not! This is a space where you can get to know your peers, share knowledge, and perhaps even make a friend.
Typically, a new post will be in the form of a question or topic of discussion, such as: 'Introductions', What is your favorite part of Keela 2.0?', and 'Donation page inspiration'.
You can create a new post by following these steps:
Create a new post by clicking on 'New post' button, which is located on the

Community homepage.
A new post page will appear - this is where you'll write your post.
Fill in an appropriate Title for your post. The Title should be clear and concise. Please note: This field is mandatory.
(Optional) You can also choose to add details to your post. This can include a photo (any type of file including GIF), a hyperlink, and options to format the text.
Choose a Topic. Please note: This field is mandatory.
Click 'Submit'.
Community Guidelines
1. Be respectful.
We all want to share positive experiences in the community, so please be polite and considerate in your interactions with others. Respect the time and attention it takes to post well thought out questions and answers. All opinions are welcome, but personal insults and harassment have no place in the community.
2. Be relevant.
The community is designed to provide a place for Keela users to seek and receive help from other community members, so please keep your comments constructive and relevant to the topic board and thread. If you have a new question, start a new thread rather than interrupting a conversation.
3. Share the love.
Help make the Keela Community a richer place by sharing your Keela expertise. You may have just the right answer that somebody else is looking for, so delight them by adding your insight to the conversation.
4. Be responsible.
You are solely responsible for your interactions with other community users. Please practice common sense and use good judgement when posting and/or interacting with others. Do not post anything that would violate any contractual agreements (copyright, trade secret or otherwise) or nondisclosure agreements to which you are a party.
5. Protect everyone's privacy.
Don't share anything about yourself, your organization or that of any other community member that you/they would not want to be publically available. Do not post personal information that you receive in one-to-one communications and private messages without the other party's consent.
6. Keep in mind, this is user-generated content.
You'll find plenty of good advice, instruction and insight here but remember that you and your organization's situation, configuration and/or implementation may vary from that of another community member. Apply the same good judgment here that you would apply to information anywhere on the Internet.
By engaging on and contributing to the Keela Community you agree to follow these rules.
Flagging inappropriate content for review
If you recognize any violation of these guidelines, please notify us by sending an email to community@keela.com
To learn how to access the community, create or comment on a post, please view this article.