Email Marketing, Forms, Logos - Oh my! There are so many places that you can upload your own images to make your brand pop! But there's a big difference between Receipt PDFs, Form Web Pages and HTML Emails right? They're all completely different formats!

And because of these intricate differences, each medium has its own optimal dimensions for images that are uploaded.
Here we'll look at just what dimensions you will need to be successful with Keela!
Important Note About Resizing Images
Whether you're making an image bigger or smaller to fit into Keela's parameters, there are some important things that you need to know about how digital images work.
An image is made up of a series of pixels. These are tiny colored squares that make up the whole picture. If you zoom into your image, you'll start to see these pixels (instead of the picture as a whole). This is what gives the impression of your photo being blurry the more you zoom into it.
Your original image has a specific number of pixels in it. Perhaps it's 1000 pixels wide and 400 pixels high. Each of these pixels is important because they provide things like shading and color gradients - the more pixels you have in your image, the clearer the image will be.
What happens if I resize my perfect picture?
When you resize your images to fit Keela's parameters, you're charging the pixel width and height. And as we've just learned, pixels are what gives your image clarity.
If you need to make your image smaller to fit into Keela, you'll be reducing the number of pixels that are visible in your image. If you have a very intricate and complicated image (ie. a landscape with many undulating hills and colorful vegetation) reducing the pixels will result in a loss of sharpness and contrast between these colors. Translation? Your image may appear blurry when you upload it into Keela (or even after you've made it smaller).
Similarly, if you are increasing the size of your header, you may find that extra pixels need to be added to accommodate this (ie. stretching an image from 150 px wide to 600 px wide). If you don't have enough pixels in your image, your enlarged image will appear choppy or blurry. This is because there is not enough variation in color and shading of your pixels.
How do I prevent images from appearing blurry?

The only way to absolutely guarantee that an image will not appear blurry is if it is built/created from scratch with the specific parameters in mind - with no resizing occurring.
It's also recommended to keep your headers simple wherever possible. For example, if the image is for a Form Header, try to avoid using photos or overtly complicated images as they will need to be resized quite a lot to fit the standard webpage format. Instead, try using block colors and text with small logos.
Tip: Canva is a great tool to create headers, footers and logos in. You can even customize the exact size of your canvas and use your own organization's color scheme to make sure your branding pops! It's what we use here at Keela. 
Tip: Some users have reported improved image-quality when uploading images to Email Marketing via a link (as opposed to a local upload). If you are experiencing blurriness with properly-sized images uploaded locally, we would recommend trying your upload using a URL/link instead.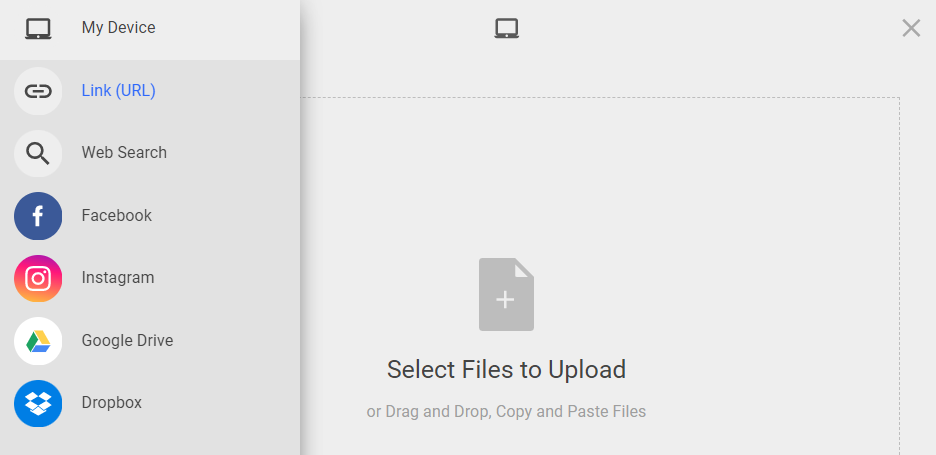 Keela's New Form Builder
We recommend using images that are  900 px (W) x 1200 px (H).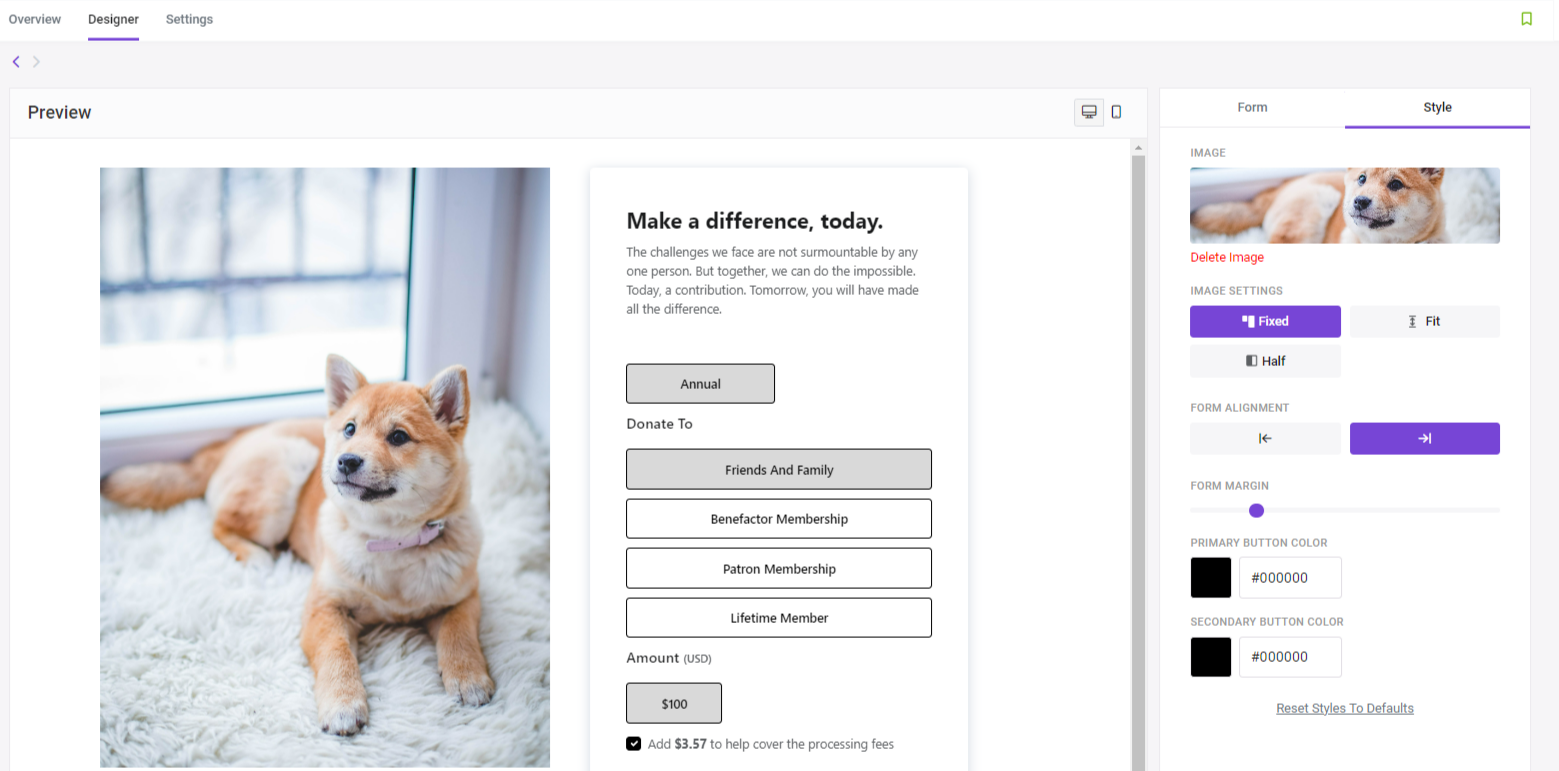 Email Marketing Header Dimensions
| | |
| --- | --- |
| Width in Pixels | 661 px |
| Height in Pixels | Any |

When adding a Header to your Email Marketing, use the Image Content Block.
This Image Content Block is 661 pixels (px) wide. Keela will automatically adjust the pixel height of the image to fit your image - so you can have any size here. However, the best recommendation is between 100-200 pixels (px) in height.
There are 2 x Email Marketing settings that you can also employ to ensure that your Header takes up your entire Email Marketing to make things extra snazzy.
Push your image to the very edges of the content block
After you have uploaded your image, push the Resize bar to 100% and tick the Edge to Edge option.

​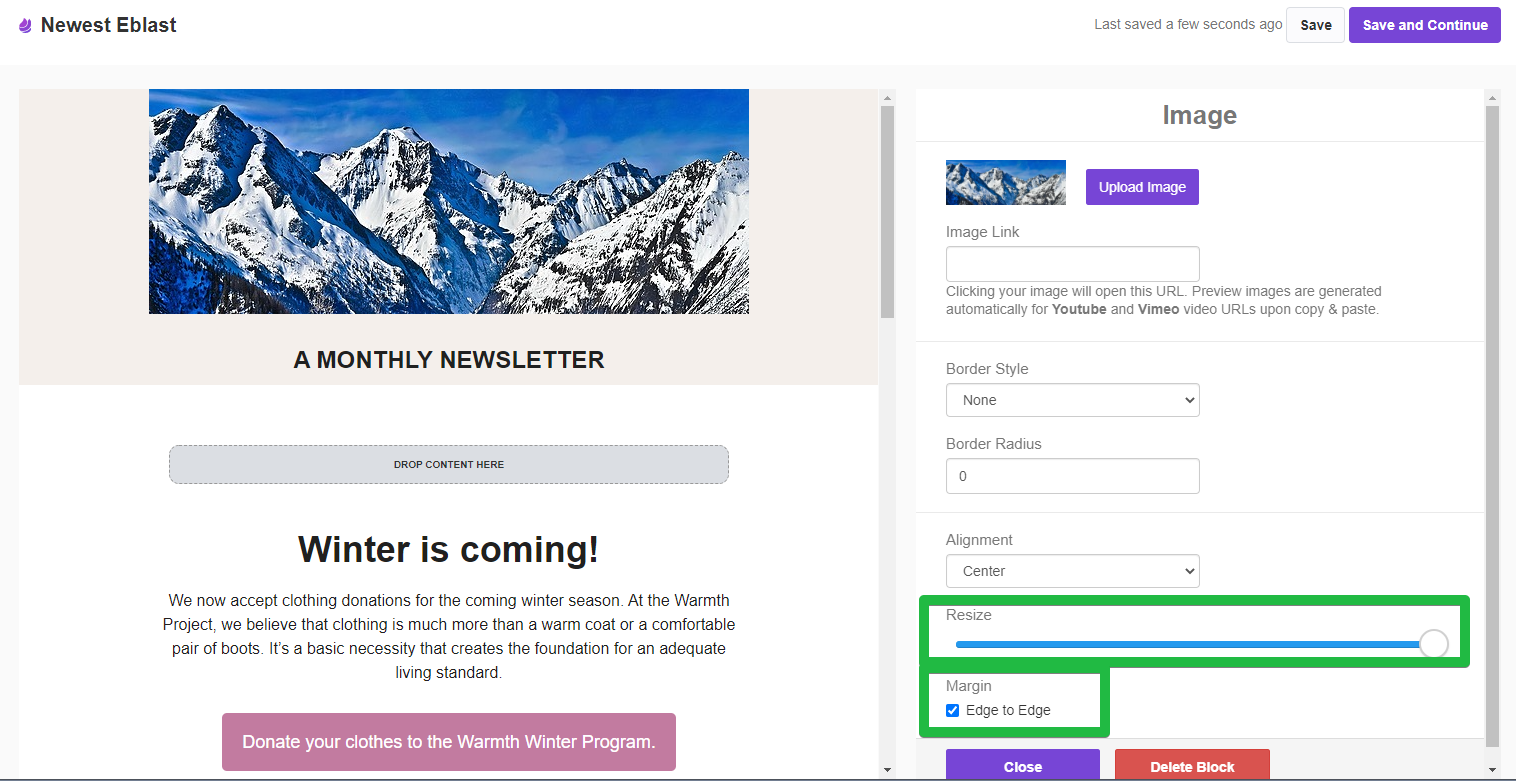 Remove the Padding of the Header section
Click on the Style Tab and remove any padding from the Header section.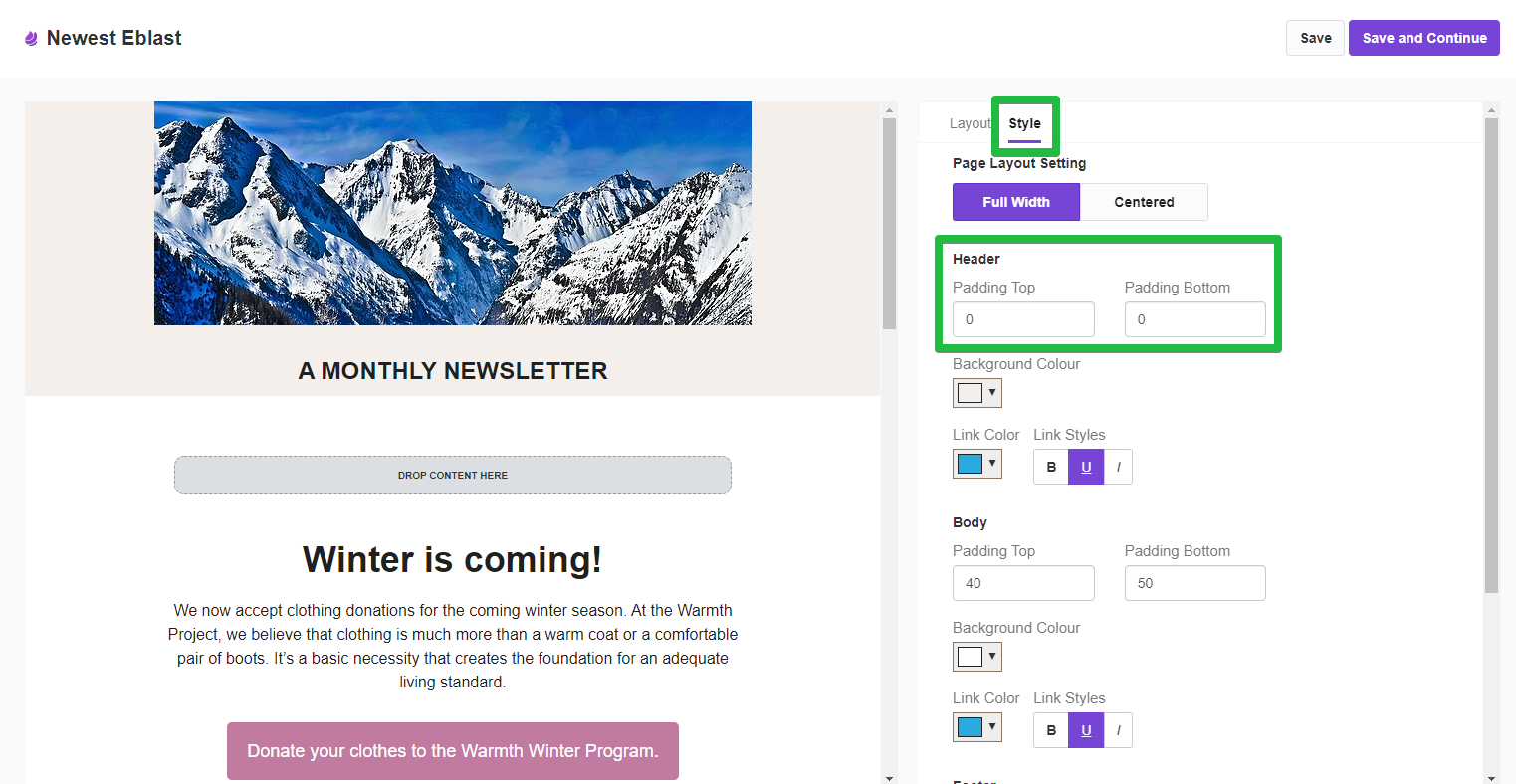 Pretty nifty, right?​​

Form Headers
| | |
| --- | --- |
| Width in Pixels | 661 px |
| Height in Pixels | 128 px |
When creating a Form (Donation, Subscription, Membership, Custom, or Revenue Form), you can upload an image right into the Header section.
The Header Section
If you decide to Toggle on the header in your Form, you will notice that there is an option to adjust the Pixel Height when uploading the image.
This number will default to 300 but you may need to change this to fit your image (especially if you are using the recommended dimensions we've included below)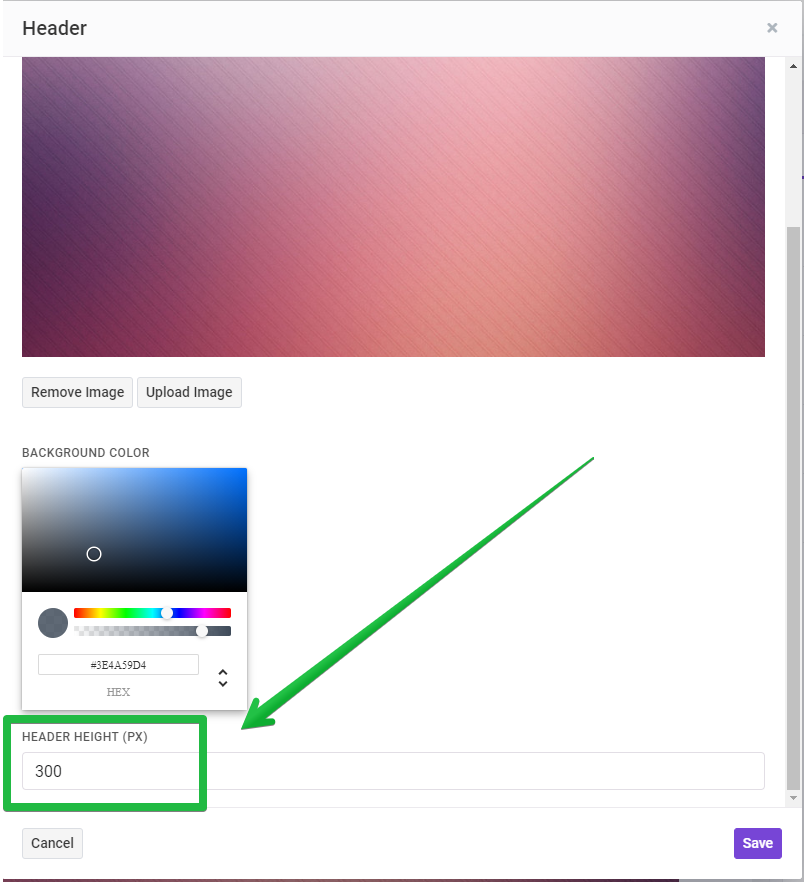 Note: If you toggle on any other options for your Header such as Logo, Organization Name etc. you will not be able to adjust the Header Height (as these options need a certain amount of space to live on your form!)
The recommended dimensions for an image when uploaded is:
Width: 661px

Height: 128px
Every image is different! If you find your image isn't quite fitting into your header, try adjusting the Header Height (PX) from the above screenshot. We've found that testing out intervals of 50 (ie. 150, 200) can work well here.
Form Page Format
In the Style Settings tab, you can adjust the Form Page Width to be either Full-width or Centered. While this might not directly change the Header Image, it will change the width of the form which can compliment your header. 
Tip: If you're planning on embedding your form, skip this part - it's only for stand-alone donation forms only (not forms that are embedded directly into your website).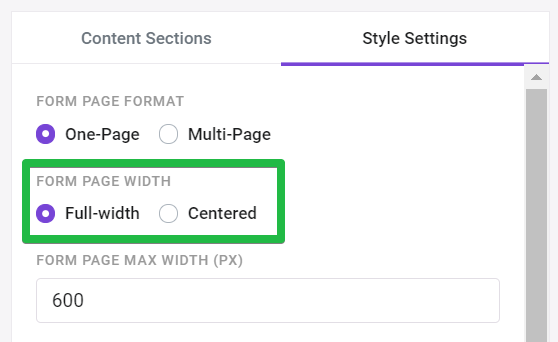 Full-width
The borders and section headings will span across your viewer's entire browser page.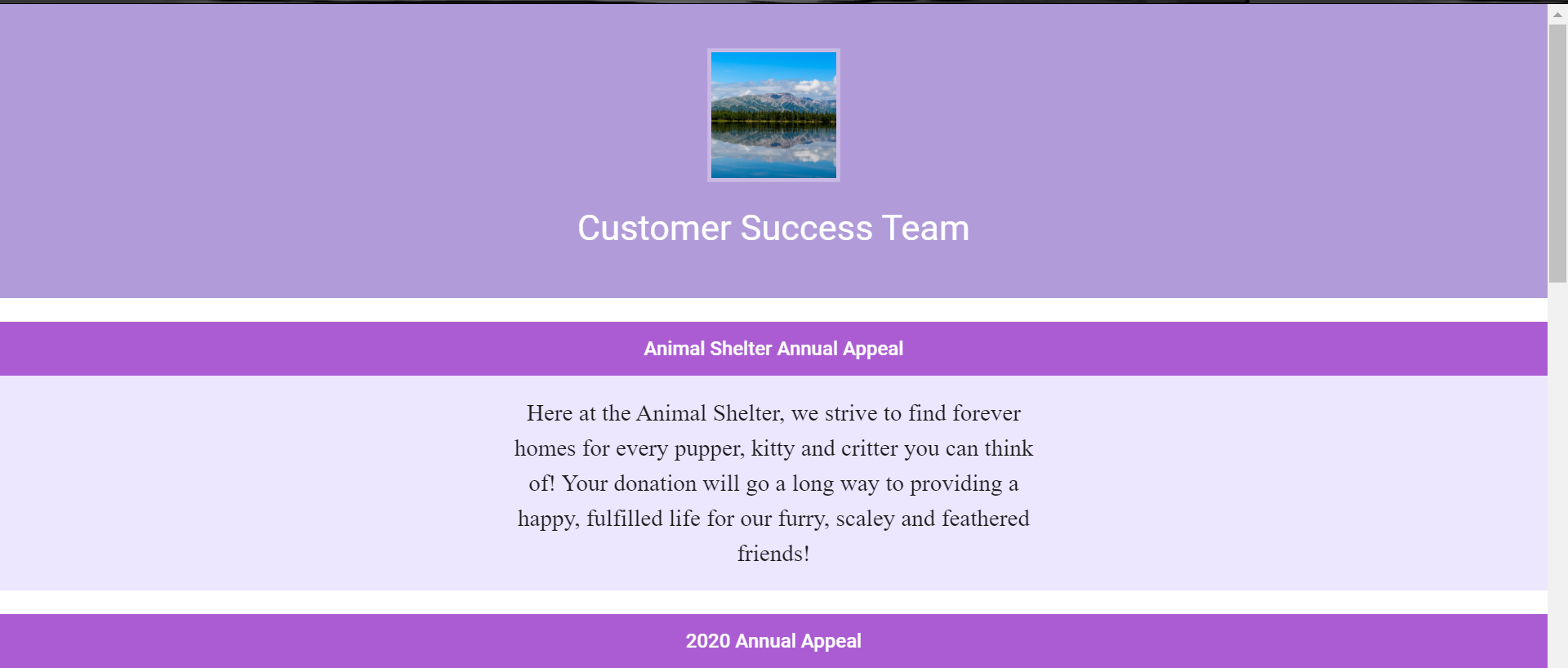 Centered
The borders and section headings will be boxed off and not span the entire page.

Form Page Max Width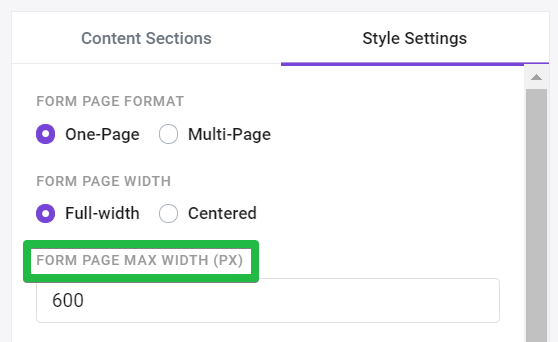 Use this field to increase or decrease the width of the questions/information on your form INCLUDING the Header. Play with the px dimensions of the Form page Max Width to get the perfect dimensions for your image to display on your Phone or Desktop!
Peer-to-Peer Campaign Images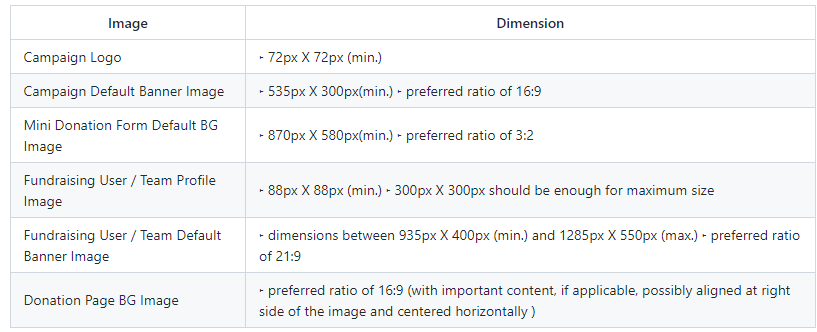 Phone Dimensions
Let's face it there are a lot of phone users out there today. Parents, Friends, Grandparents...everybody seems to be on mobile these days!
When it comes to pixel Dimensions for a smartphone, the actual resolution for justifying the image from a Form will differ slightly depending on the make of the Phone. The most popular screen resolution worldwide—across both mobile and all platforms—is 360×640. That said, the following is a list of the pixel dimensions for different Phone's (and Tablets) and their platforms:
Email for desktop viewing = 600 pixels Width
iPhone 8 Portrait = 750 pixels Width
iPhone 8 Landscape = 1334 pixels Width
iPhone X Portrait = 1125 Width
iPhone X Landscape = 2436 Width
Samsung Galaxy 8 Portrait = 1440 Width
Samsung Galaxy 8 Landscape = 2960 Width
Receipt and Thank you Letter Headers
So you're probably wondering...what about my receipts? 
Navigate to your Organization Settings > Click on the Receipts and Emails tab > Click the Edit icon beside Logo and Header

Once there, you have the options of adding a Logo, Background Color and Header!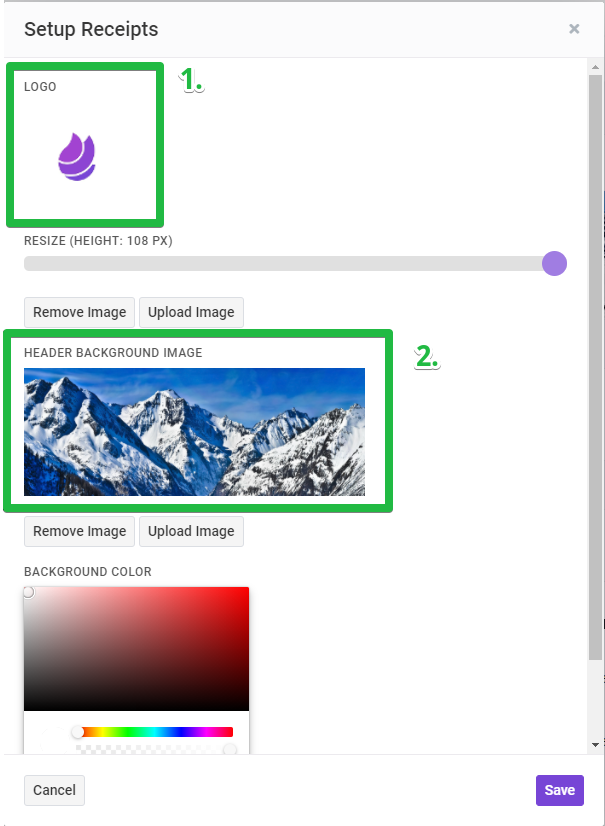 .
1. The Logo
The Logo can be any image you would prefer, as you have the option of adjusting the Logo and Cropping it upon Uploading the Image.
However, you will notice that the image Dimensions will cap at 108px by 108px as a Maximum! So Crop carefully and take your time picking the right image before upload!

2. Header Background Image
So like the Logo, this can be any image you would prefer. However, the recommended Dimensions by our handy dandy Developer team would be the following:
Height: 128px
Width: 900px 
To note, the above range for Height and width would be the same for the Thank You Letters.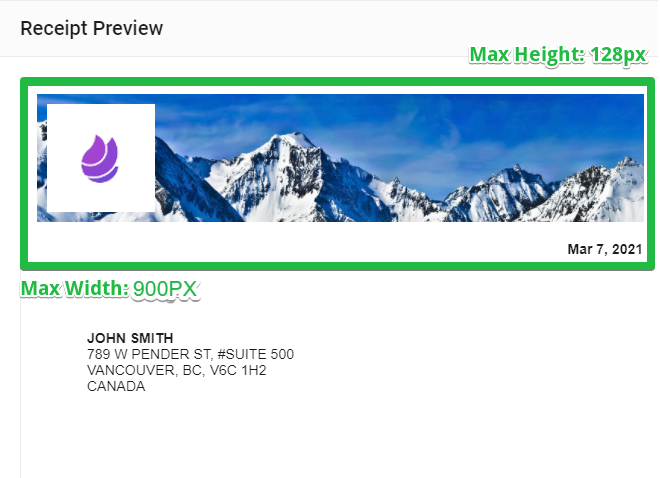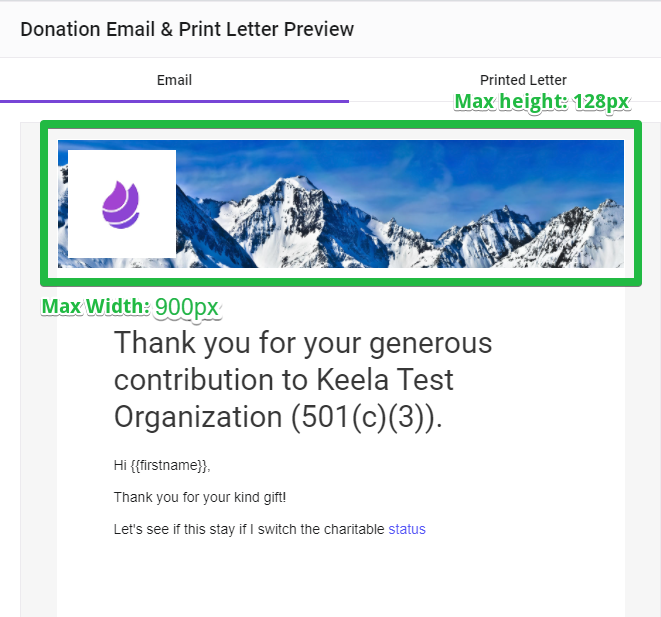 Final Thoughts
If there is any doubt as to how you should format the Images, look no further! We have a list of images and their sizes below that you can copy and paste from at any time!
Email Marketing Content Blocks (661px by 200px):

Form Header (661px by 128px):

Receipt Headers and Thank You Letters (900px by 128px):

That's all folks! Happy editing! 


​​