You might be thinking as you peruse through Keela, what would be the optimal image size for my Logo? I have a swanky new image my organization would like to showcase for my next Campaign. What about my E-blast headers? Or EGADS my Receipt Headers!?
Well, you have come to the right place! Here we'll look at just what dimensions you will need to be successful with Keela!
E-blast Header Dimensions
You'll notice that, when you create an E-blast from scratch or from a template, there are three main E-blast Sections that you'll be editing:
(1) Header - Organization's name and logo
(2) Body - The information and images that make up the content of your message.
(3) Footer - Information needed to ensure you are compliant with Anti-Spam laws such as your contact information and an unsubscribe link.
We'll be looking at the first section -- i.e. the Header of your E-blast -- more in-depth and seeing just the right pixel dimensions you would need to have your Organization logo look exactly the way you would prefer!
For starters, th​​e Image Content Block in an E-blast is 661pixels (px) wide. You can choose any pixel height for the image, the content block will adjust to suit whichever height dimension you choose. However, the best recommendation is between 100-200 pixels (px) in height.
That said, there are 2 E-blast settings that I would recommend so that your Header takes up the whole space (and looks a little snazzy along the way).
(1) For the Resize option, this should be at 100% while, under Margin, the option to select Edge to Edge should be clicked on.

​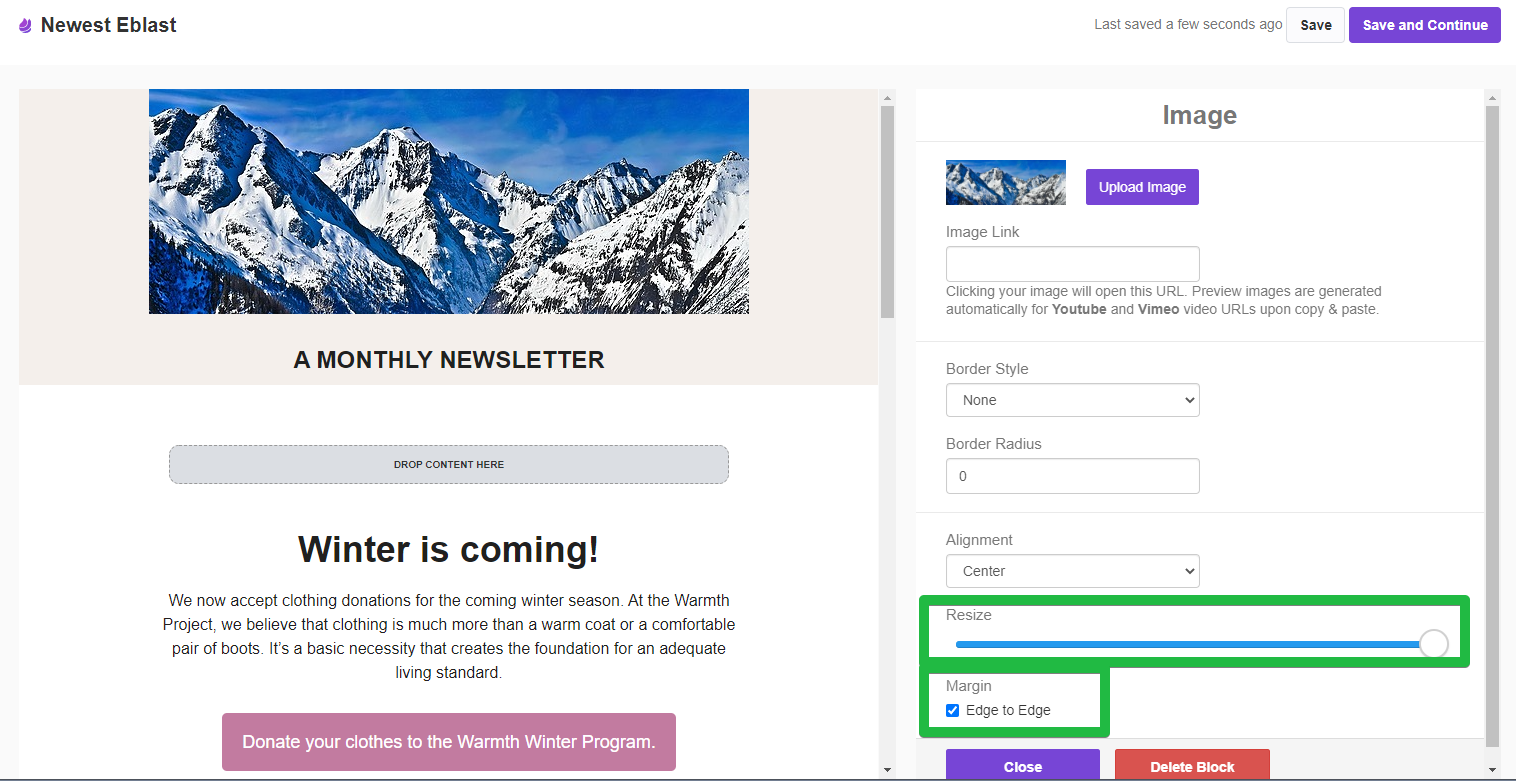 ​
​
(2) Update under the Style tab of the E-blast to have no Padding in the Header section of the E-blast.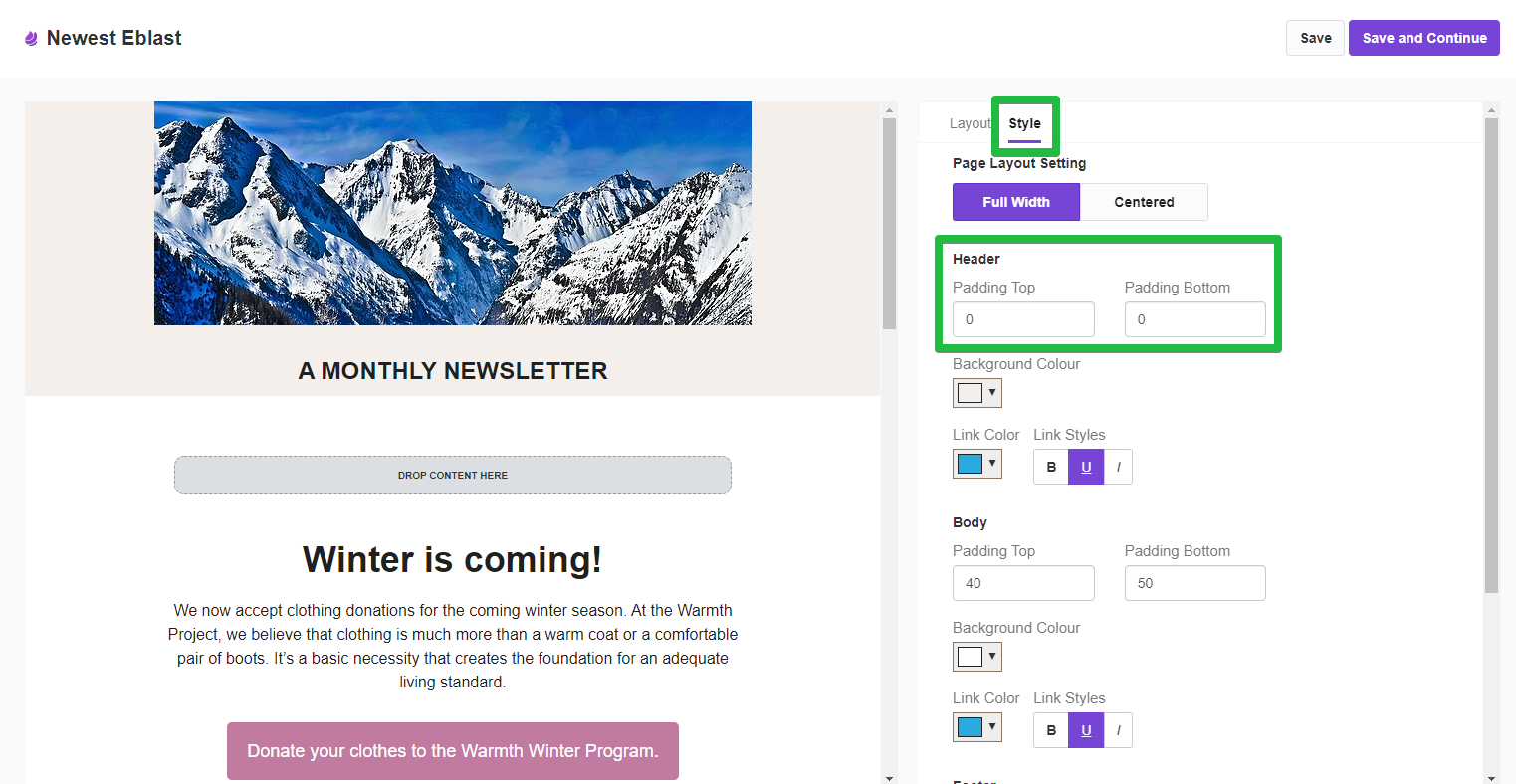 ​​
​
That way, your header looks justified and close to your Content without excessive space! Pretty nifty right?
Form Headers
When creating a Form (Donation, Subscription, Membership, Custom, or Revenue Form), you will have the option to adjust your Header under Forms > Designer Tab > and selecting between Form Page, Form Thank You Page, and Form Closed Page.
The Header Section
If you decide to Toggle on the header in your Form, you will notice that there is an option to adjust the Pixel Height when uploading the image: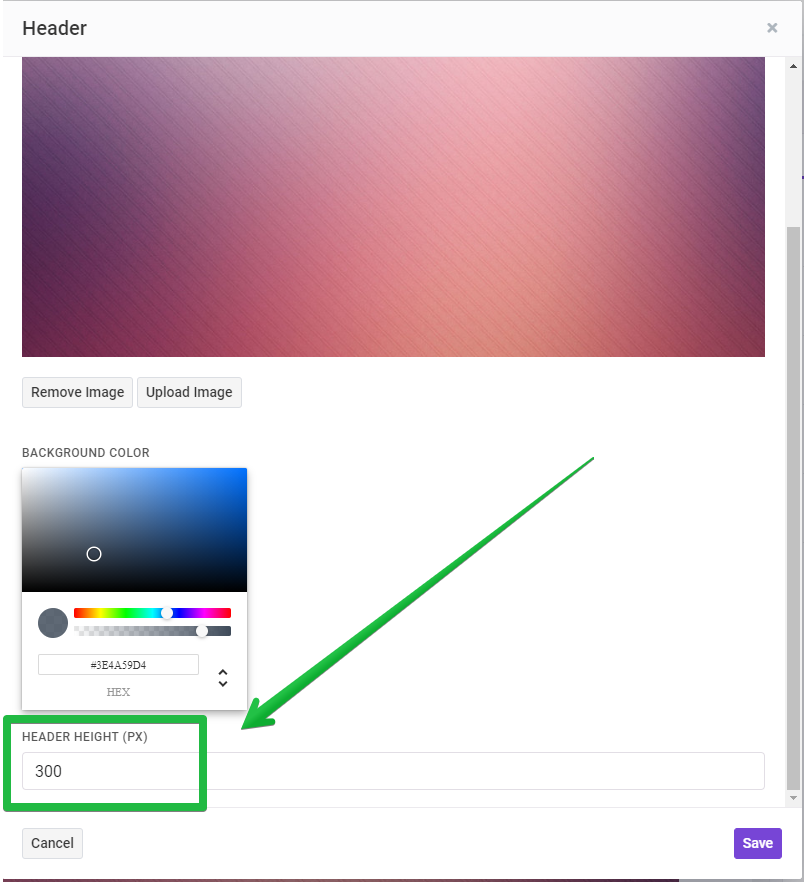 While this height could be fixed to your preferred specifications, the recommended dimensions for an image when uploaded is:
Width: 661px

Height: 128px
Also, under the Style Settings of your Entire Form, you have the option of adjusting the Form Page Width as either Full-width or Centered. While this might not directly change the Header Image, it will change the justification of the form and overall width of the form (including the Header image).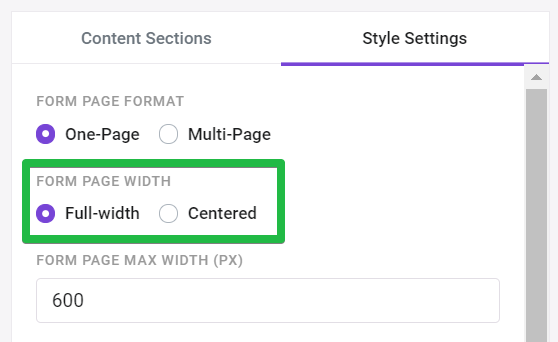 Full-width
The borders and section headings will span across your viewer's entire browser page.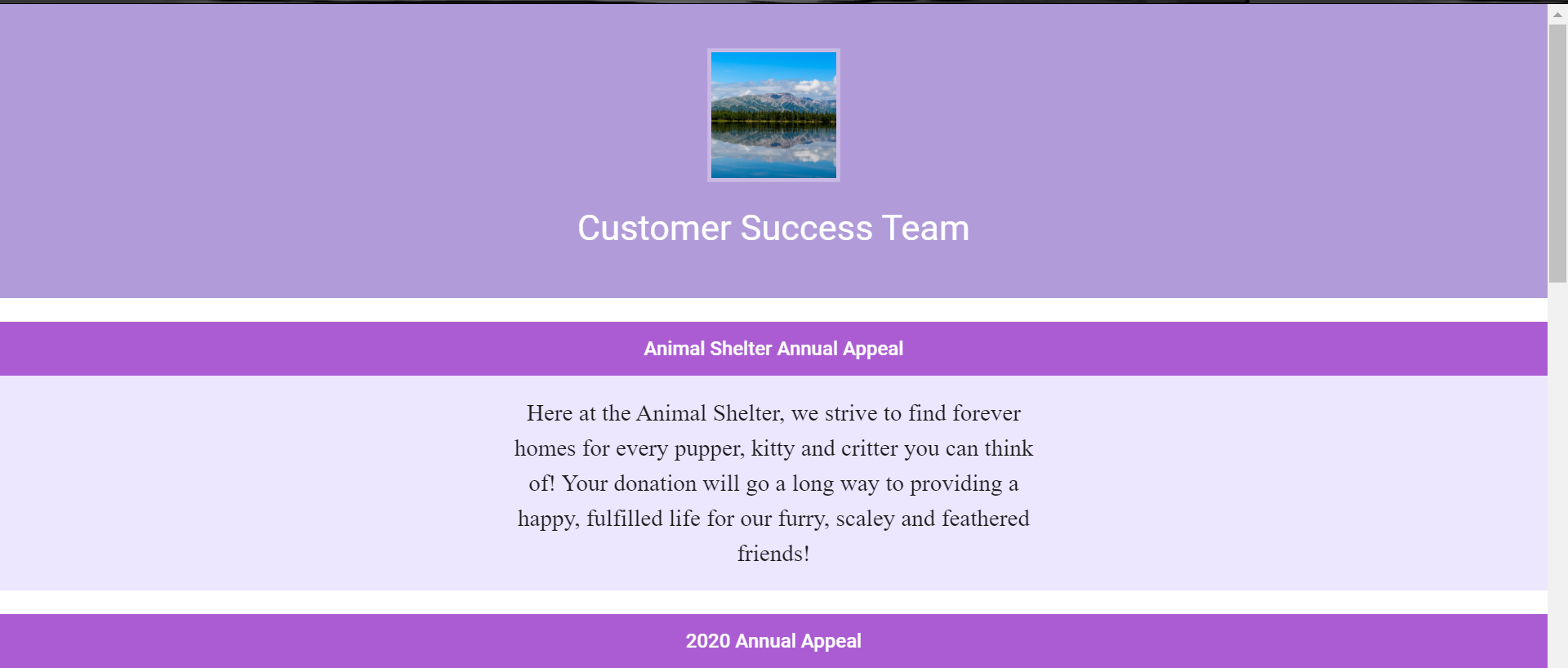 Centered
The borders and section headings will be boxed off and not span the entire page.

Form Page Max Width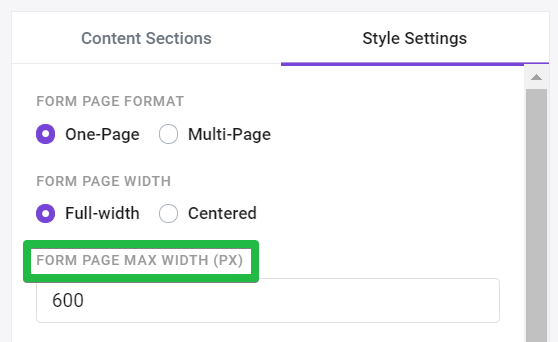 Use this field to increase or decrease the width of the questions/information on your form INCLUDING the Header. Play with the px dimensions of the Form page Max Width to get the perfect dimensions for your image to display on your Phone or Desktop!
Phone Dimensions
Let's face it there are a LOT of Phone Users out there today. Parents, Friends, Grandparents...everybody seems to be on mobile these days!
When it comes to pixel Dimensions for a smartphone, the actual resolution for justifying the image from a Form will differ slightly depending on the make of the Phone. The most popular screen resolution worldwide—across both mobile and all platforms—is 360×640. That said, the following is a list of the pixel dimensions for different Phone's (and Tablets) and their platforms:
Email for desktop viewing = 600 pixels Width
iPhone 8 Portrait = 750 pixels Width
iPhone 8 Landscape = 1334 pixels Width
iPhone X Portrait = 1125 Width
iPhone X Landscape = 2436 Width
Samsung Galaxy 8 Portrait = 1440 Width
Samsung Galaxy 8 Landscape = 2960 Width
Google Pixel 5 Portrait = 1080 Width
Google Pixel 5 Landscape = 2340 Width
iPad Air 2 Portrait = 1536 pixels Width
iPad Air 2 Landscape = 2048 pixels Width
I would check back regularly to this article and do some frequent testing for your Forms before posting a Campaign. Check your phone and mobile devices regularly to see what Form Header Dimensions work best!
Receipt and Thank you Letter Headers
So you're probably wondering...what about my receipts? Where am I editing this and what are the best dimensions to keep in mind when updating my Thank you Letters and Receipts?
Well, for starters, the best place to start would be to check out the Logo and Header settings from under your Profile > Organization Settings > Receipts and Emails > Edit. This will be the Background Image behind the Logo.
Once there, you have the options of adding a Logo, Background Color and Header!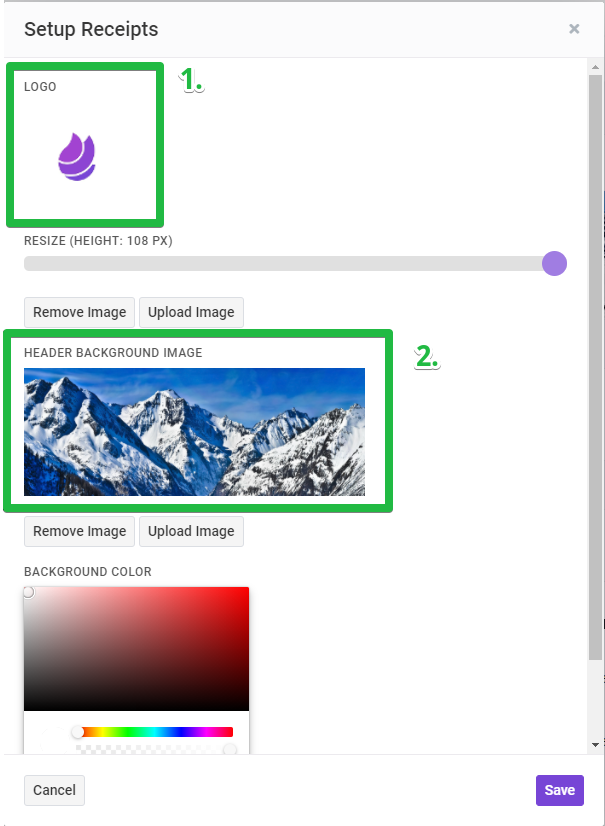 .
1. The Logo
The Logo can be any image you would prefer, as you have the option of adjusting the Logo and Cropping it upon Uploading the Image.
However, you will notice that the image Dimensions will cap at 108px by 108px as a Maximum! So Crop carefully and take your time picking the right image before upload!

2. Header Background Image
So like the Logo, this can be any image you would prefer. However, the recommended Dimensions by our handy dandy Developer team would be the following:
Height: 104-128px
Width: 566-703px
To note, the above range for Height and width would be the same for the Thank You Letters.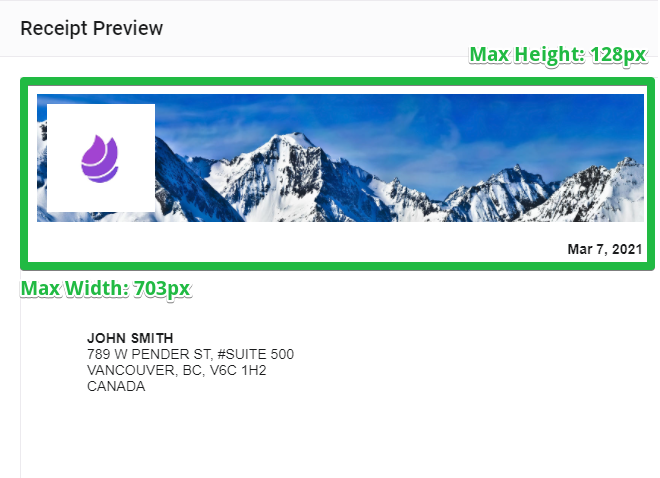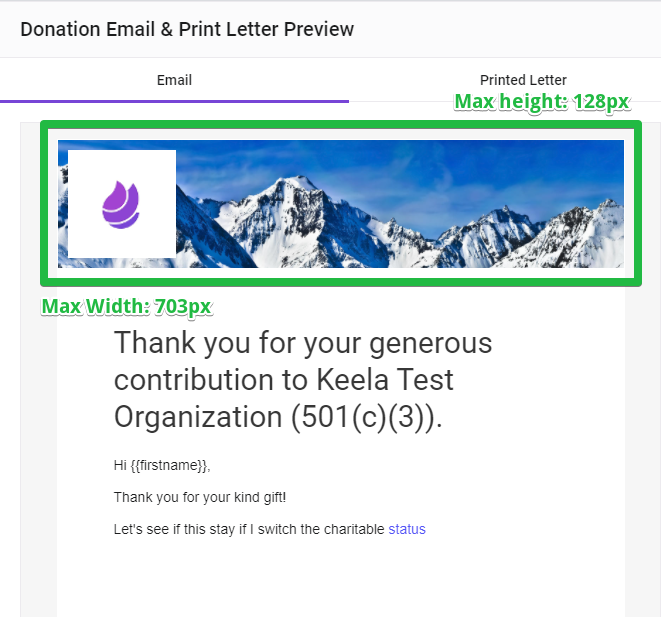 Final Thoughts
If there is any doubt as to how you should format the Images, look no further! We have a list of images and their sizes below that you can copy and paste from at any time!
E-blast Content Blocks (661px by 200px):

Form Header (661px by 128px):

Receipt Headers and Thank You Letters ( Minimum: 566px by 104px):

Receipt Headers and Thank You Letters ( Maximum: 703px by 128px):

That's all folks! Happy editing!


​​