So, you want to help a friend out by introducing them to some really great nonprofit software, all the while earning both you and your friend $75? Here's how to use the Keela Referral Program.
What it is
Keela is a great CRM, we don't need to tell you that, but we do need you to tell your friends.
The Keela Referral Program is a way to earn points (both brownie and financial) by spreading awareness about Keela's CRM.
Why?
Not for nothing but organizations that join the Keela family see an average revenue increase of 46% in their first year, and we think that's worth sharing!
But what's in it for you?
If you refer an organization through the program, and they successfully sign up to Keela on an annual plan, you will earn a $75 donation towards your nonprofit or receive $75 off your Keela subscription. You pick!
The organization you refer will also receive a $75 credit towards their new annual subscription to Keela.
Have more than one friend who could benefit from Keela? You can refer as many organizations as you'd like! Each one that successfully signs up on an annual plan will earn you a $75 reward. These rewards can either be stacked up (ie: if two organizations sign up, you can request a $150 donation to your organization), or mixed and matched (ie: you'd like to receive x1 $75 donation and x1 $75 credit against your subscription renewal).
Spread Love. Spread Good. Spread Keela.
Ready?
How It Works
To refer an organization, you will first need to visit the Keela Referral Program Page. Once you are on this page, follow the steps below.
Step 1: Create Your Account
When creating an account, you will need to provide an email, name, and create a password.
Note: if you already have an account, you can select 'Login here' at the bottom of the signup page.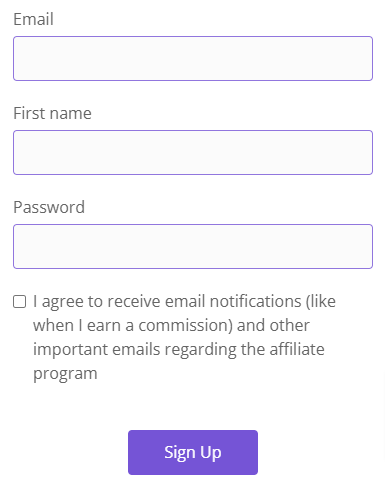 Step 2: Receive Your Customized Referral Page
An entire page just for you? You betcha. Once you sign up, you'll be sent a customized URL (not this one) explaining exactly why Keela is the bees' knees. Then, you can go ahead and share this with your network, your friends, and even your mum!
You can check your dashboard for how many clicks, referrals, and customers you've brought on.

Step 3: Reap the Reward of a Job Well Done!
A member of the team will reach out to you once your friend signs up for their very own Keela account. This will be within a month of your friend signing up.
Then, you'll be able to choose to either receive a $75 donation towards your charity or $75 off your Keela subscription!
Step 4: Repeat!
Great! Wasn't that easy?
You can refer as many organizations to Keela as you like (in fact, we encourage it). The one thing to keep in mind is the organizations you are referring must not be part of the Keela family already. Only organizations who are not existing customers may be considered for the program.
If you have more questions, we have a whole page of FAQs.
Otherwise, get in touch with sales@keela.com and we'll help you become a referral rockstar!