So, you want to help a friend out by introducing them to some really great nonprofit software, all the while earning both you and your friend $75? Here's how to use the Keela Referral Program.
What it is
Keela is a great CRM, we don't need to tell you that, but we do need you to tell your friends.
The Keela Referral Program is a way to earn points (both brownie and financial) by spreading awareness about Keela's CRM.
Why?
Not for nothing but organizations that join the Keela family see an average revenue increase of 46% in their first year, and we think that's worth sharing!
But what's in it for you?
If you refer an organization through the program, and they successfully sign up to Keela on an annual plan, you will earn a $75 donation towards your nonprofit or receive $75 off your Keela subscription. You pick!
The organization you refer will also receive a $75 credit towards their new annual subscription to Keela.
Have more than one friend who could benefit from Keela? You can refer as many organizations as you'd like! Each one that successfully signs up on an annual plan will earn you a $75 reward. These rewards can either be stacked up (ie: if two organizations sign up, you can request a $150 donation to your organization), or mixed and matched (ie: you'd like to receive x1 $75 donation and x1 $75 credit against your subscription renewal).
Spread Love. Spread Good. Spread Keela.
Ready?
How It Works
As the referring organization, you will need to visit the Keela Referral Program page.
Step 1: Click the 'Refer a Friend' Button

A pre-filled email should pop up with a link to the referral program. This will generate in whatever email carrier you have set to default. If you are working on a Mac, this will be Apple Mail. If you have a PC, this will be Outlook. If you're using Linux, well then aren't you just the coolest cat!
Step 2: Personalize Your Email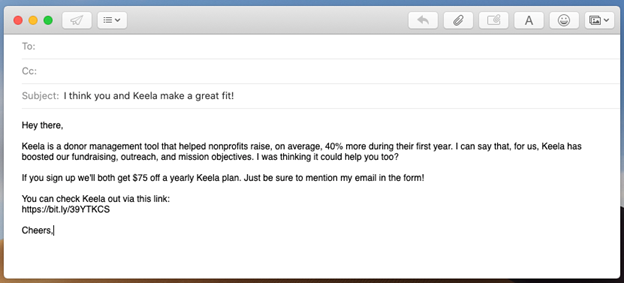 We've gone ahead and created an email template for you, but it's always nice to add a personalized touch. Just make sure you mention the email connected to your Keela account as this is the email the referee will need to input.
The email you send it from could be connected to a personal email rather than your organization's, depending on the default mail settings on your computer.
*This is important as we will be able to easily search and see that you referred this person, thus expediting your reward!
What if the email does not appear?
Unfortunately, due to the mercurial magic that is the Internet, the "Refer a Friend" button doesn't always work. If for any reason you are having trouble sending your friend the email, you can send them THIS LINK instead through your own email or any messaging service. Just be sure to have your friend fill in your keela-associated email circa the steps above!
This is the form your friend will fill out. Notice the last field asks for your email address.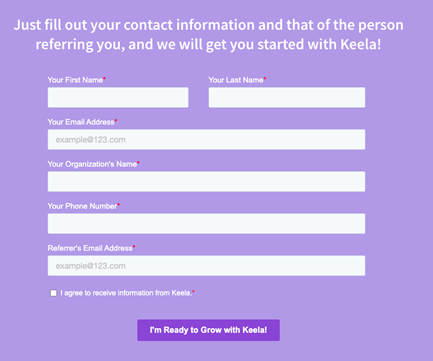 Step 3: Reap the Reward of a Job Well Done!
A member of the team will reach out to you once your friend signs up for their very own Keela account. This will be within a month of your friend signing up.
Then, you'll be able to choose to either receive a $75 donation towards your charity or $75 off your Keela subscription!
Step 4: Repeat!
Great! Wasn't that easy?
You can refer as many organizations to Keela as you like (in fact, we encourage it). The one thing to keep in mind is the organizations you are referring must not be part of the Keela family already. Only organizations who are not existing customers may be considered for the program.
If you have more questions, we have a whole page of FAQs.
Otherwise, get in touch with sales@keela.com and we'll help you become a referral rockstar!