Need to view or update the information for an individual transaction? You've come to the right place. Check out the steps below!
If you wish to view or edit a scheduled recurring series head on over here.
View Individual Transaction Details
To navigate to an individual transaction's details page, you will want to head to the Contact's Profile who has the transaction you would like to edit > click on the 'Fundraising' Tab > choose 'Transactions' from the drop-down > then click on the individual transaction that you want to edit.
Tip: You can also locate and click on individual transactions from the Fundraising Tool.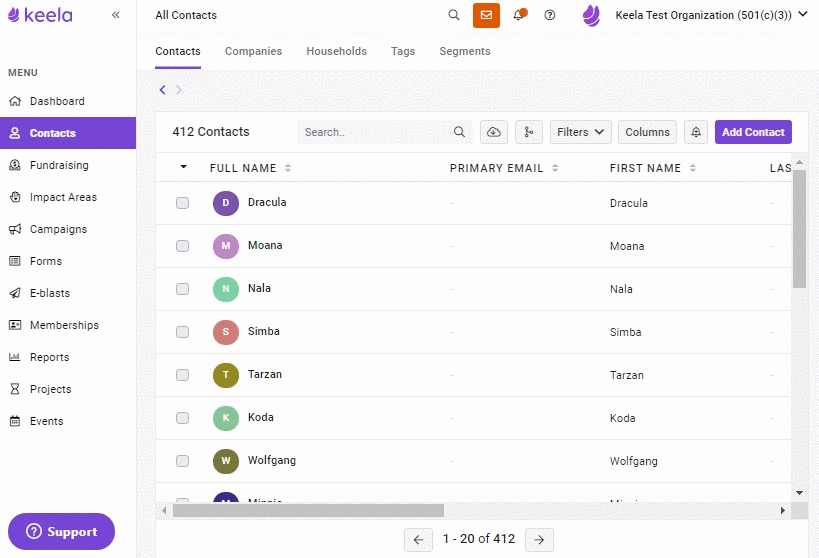 Once you click on the individual transaction the details page will open and have several fields which are discussed below:
Total Amount

The total amount of the donation or revenue.

Received Date

The date the transaction was received.

Type
Whether the transaction is a Donation or Revenue. You can find more information on the types in Donations vs Revenues.
Receipt PDF and Serial #

These fields will show only if you generated a receipt.

Status

This status is related to whether or not the transaction has been receipted. The following statuses are:

Draft - a receipt has not been generated yet (note this is optional).
Receipted - a receipt has been generated.
Ignored - this transaction was imported with a 'Y' in the 'Receipted' column, prompting the system to ignore receipting this transaction.
Approved - this receipt has been approved to be receipted.

Transaction ID

The unique Keela transaction ID for Keela's internal record keeping - this can not be changed.

Gift Type

The type of gift (In-kind, Money, etc).

Frequency

Whether it's a One-time or Recurring transaction.

Payment Method

The payment method used (Online, EFT Bank Transfer, Online via Stripe, etc).

Pledge
If this transaction was made towards a Pledge
Impact Area
The Impact Area the transaction is linked to.
Campaign
The Campaign the transaction is linked to.
Soft Credit

The Contact who is a Soft Credit for this transaction.

Form

The name of the Form the transaction was submitted through.

Source
The Source of the donation.
Keywords
Any Keywords that you have added to the transaction.
Dedication

If the transaction was made in dedication to someone.

Notes

Any additional Notes about the Transaction.
Edit an Individual Transaction
If you want to edit the field listed above, you will want to select the purple 'Edit' button in the top right-hand corner of the transaction details page. You will see two tabs in the pop-up window with the different fields that you can edit.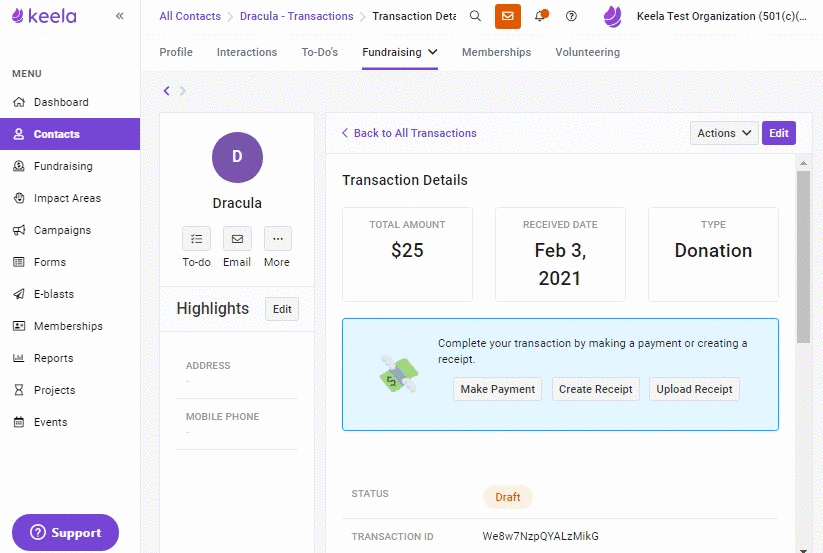 Bulk Editing Payment Associations
To bulk edit the payment associations for multiple transactions, you'll want to first go to your Fundraising Tab and then go to your Transactions:

After you select them, you can click on Actions and click on Edit Associations. Here you can edit Campaign, Impact Area, Source, Keywords and Dedication: