Now that you have Integrated with Xero, the next step is to setup your Sync Settings.
We're now on the third step of the process!
Setup Sync Settings for Xero (That's this article!)
Note that these steps will not sync your data to Xero (we'll cover that in the next step!). We will be setting up Sync Settings, so you can map where the Keela data should be sent in Xero on your next sync!
Setup Sync Settings
In the Integration Settings, click Actions and Sync Settings.
Map Accounts
You'll be directed to the first tab Map Accounts. If you do not yet have accounts in Xero that you would like to send your Keela transactions to, you can easily create them in Xero using this tab.
To view these created accounts in Xero, visit your Chart of Accounts.
Note! If you already have accounts setup in Xero, please skip this step and move to the Income tab.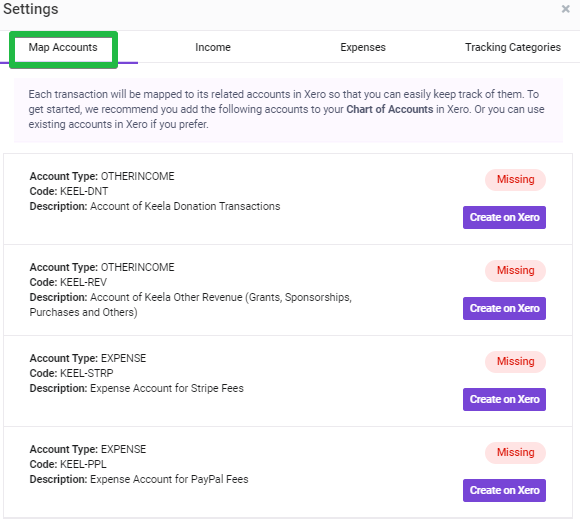 Mapping Income
In the Income tab, you'll map Keela income data to the Xero Income Account you have setup.
You can sync the following income data to Xero:
Donations
Revenue (Grants)
Revenue (Sponsorships)
Revenue (Memberships)
Revenue (Purchases)
Revenue (Other)
Example: Under the Donations header, you will see a list of all Xero Income Accounts you have setup in Xero. Select which Income Account you would like the Keela Donation data to be sent to.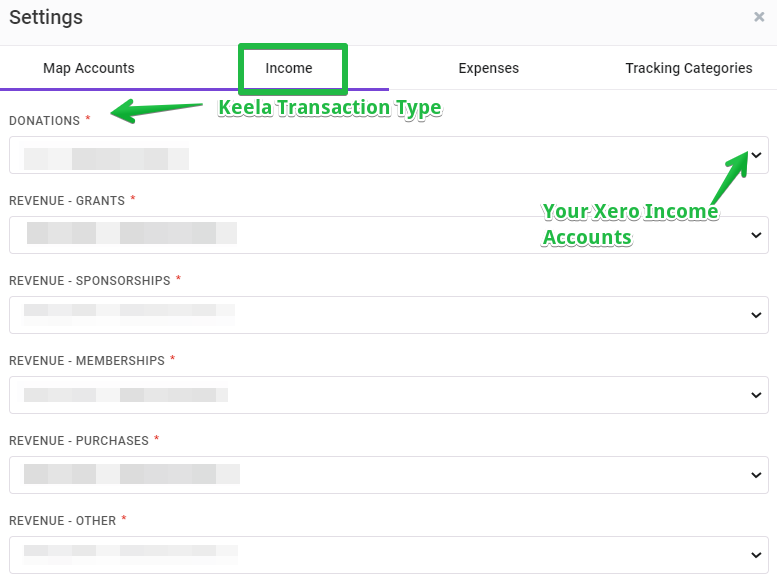 Mapping Expenses
In the Expense tab, map Keela payment processing expenses to a Xero Expense Category.
You can sync the following expense data to Xero:
Example: Under the Stripe Fee Category, you will see a list of all Xero Expense Categories you have setup in Xero. Select which Expense Category you would like the Keela Stripe Fee information to be sent.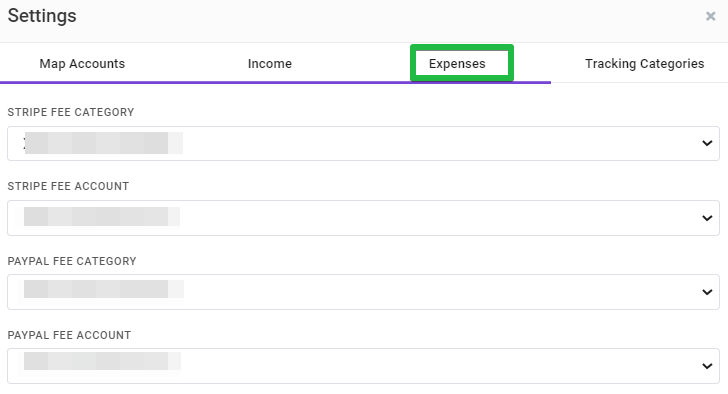 Mapping Categories
In the Tracking Categories tab you can sync Keela transactions to a Category in Xero by the Association (Impact Area OR Campaign).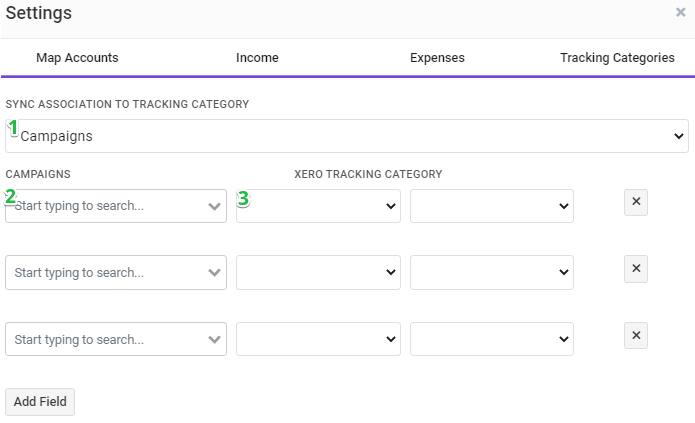 Select if you would like to Segment by Campaigns OR Impact Areas (please note you can only select one)
Select the Keela Campaigns you would like tracked in Xero
Select the Tracking Category that corresponds in Xero
Congrats! You are now ready to sync your data to Xero! Head here next - Syncing Data to Xero
FAQ
Why aren't my expense accounts showing up in my Sync Settings?
In order for Xero's Sync Settings to pick-up on your Expense Accounts, two conditions must be satisfied:
The account type must be a bank (not expense)
The account must have a unique account code
I received the below notification. How can I resolve this?
The default currency in Xero and Keela must match. To review the default currency setup for your Keela account, please review your 'currency' in Organization Settings.