"I was thinking of ways we can support nonprofits in navigating through these challenging times. And I think we should leverage our software to do this"
- Nejeed Kassam, Keela's CEO
This was the birth of Keela Mindfulness.
Why is Mindfulness important?
According to our good friend Meico Marquette Whitlock, Keela Mindfulness teacher, mindfulness is a mental state of non-judgmental awareness. He adds, "that simply means the ability to be aware of what we're thinking, what emotions we're holding, and what bodily sensations we're experiencing without judging ourselves."
In other words, mindfulness is learning how to be fully present and engaged in the moment without distraction or judgment. You can think of it as an invitation to let go of the problems of the past and the stressors of the future.
Learn more about our journey to Keela Mindfulness in our blog post, here.
What is Mindfulness in Keela?
We've worked with Meico to create a series of 10 videos integrated directly in your Keela account. The content is broken down into segments of different lengths, from one-minute short exercises to a 25-minute guided meditation.
Watching the series, you'll learn that mindfulness is not just sitting in a silent room for an hour. It's also an invitation to reflect on your professional purposes, practice yoga on your office chair, cultivate compassion, or take the time to breathe.
Where to find Mindfulness in Keela?
Click on your Organizations' name in the top-right hand corner of Keela > Click Personal Settings

Click on the Mindfulness tab > Click on a Session

Click on the video to play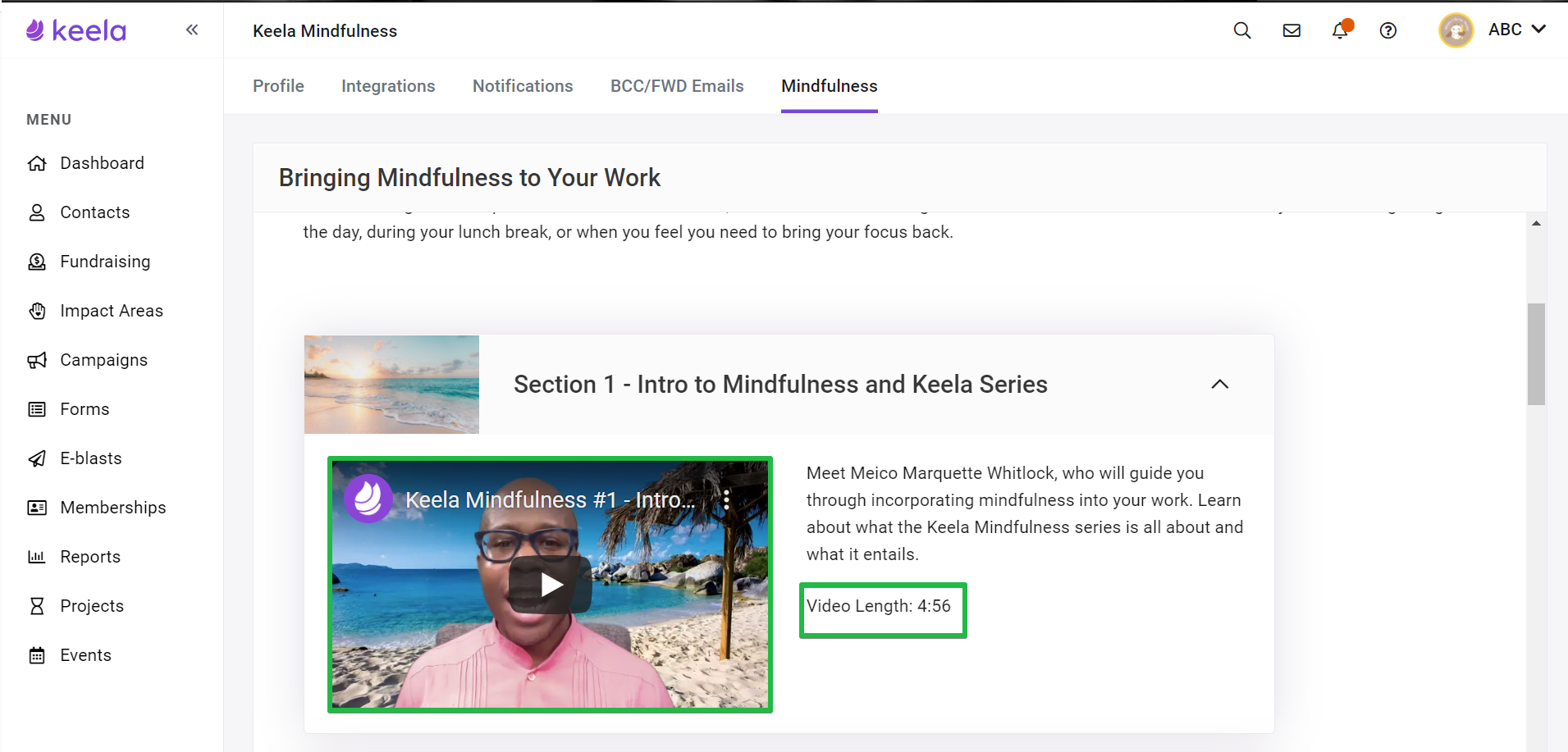 Tip: There are lots of different video lengths that you can choose from!
Click on the Full screen box to expand the video