Hello to our USA friends! In this issue, we'll be chatting about Keela's connection to Donor Search, how it works, and how you can go about getting it set up!
What is Donor Search?
Donor Search is a USA prospect research tool that allows its users to access a wealth of databases to learn more information about your Contacts. You can use this tool to identify your best prospective major gift donors, annual fund donors and planned gift donors based on philanthropy and wealth analytics.
By purchasing our Donor Search add on, you get the benefits of this information right here in your Keela account! You can use the integration to better understand your donors.
How Can I Use Donor Search to Leverage my Data?
Great question! DonorSearch expert, Michael Bronson, spent some time with us discussing the integration and its possibilities in a webinar. Watch it here!
You can also learn more about how wealth screening can assist your fundraising in our blog post here.
Show Me How It Works
Navigate to a Contact's profile > Click on the Fundraising Tab > Click Capacity to Give

Click the Update Data button to pull information from DonorSearch

A pop-up will appear > When you pull data from DonorSearch, it's called a "Call". You can view how many Remaining Calls for information you have at the top of this window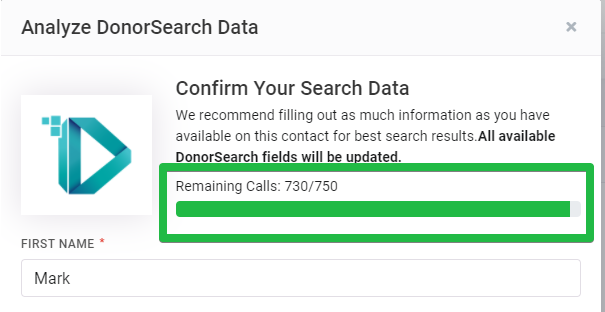 Review the Search Data that is being sent from Keela to DonorSearch to perform this call > Choose if you'd like your Contact Profile to be automatically updated with DonorSearch data (optional) > Click Confirm & Search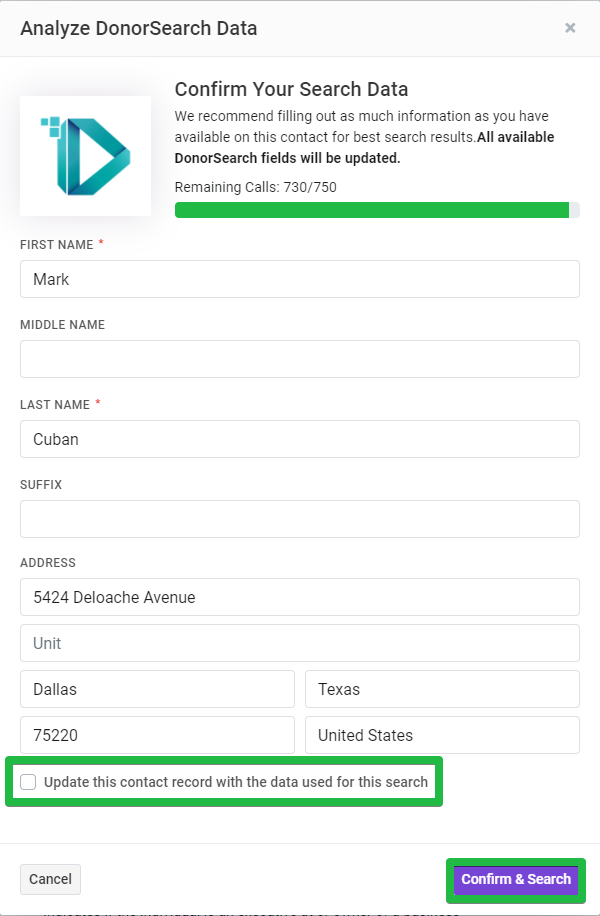 Your Contact will be updated with all information available from DonorSearch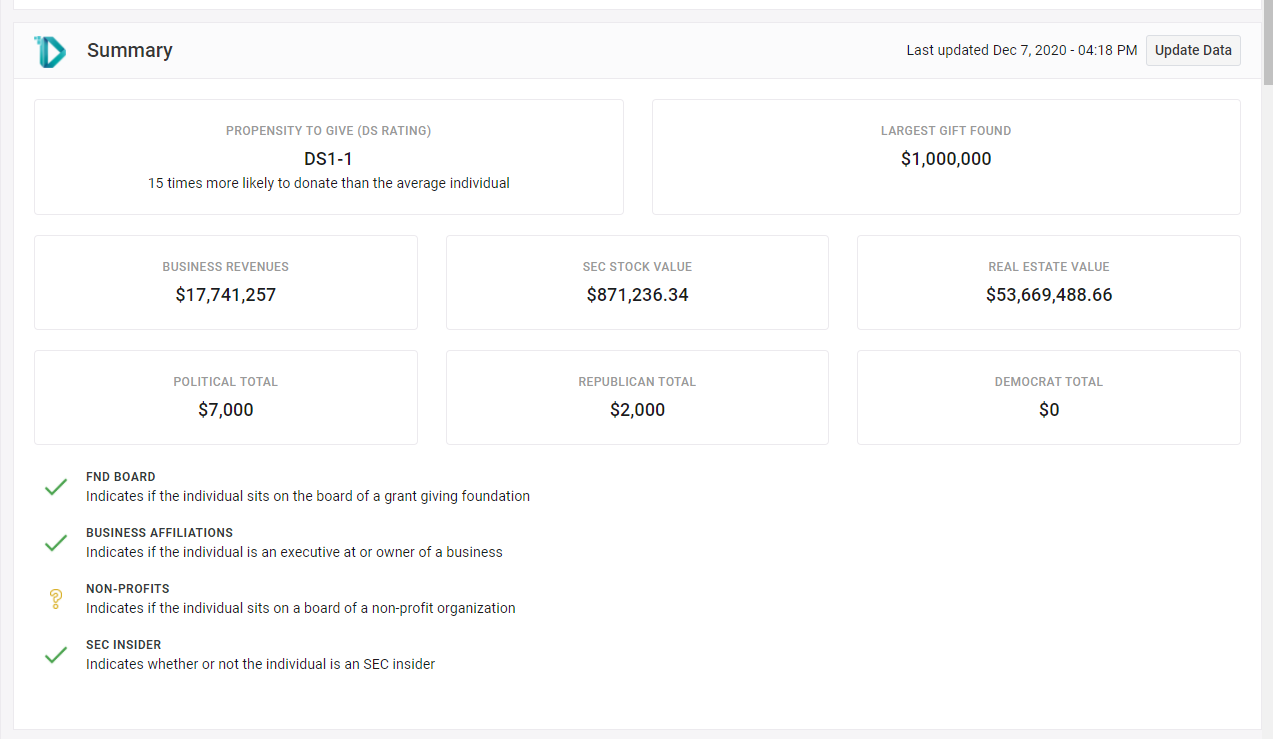 What Information Does DonorSearch Send to Keela?
Donation History
Propensity to Give (DonorScore Rating)
Largest Gift Found
Business Revenues
SEC Stock Value
Real Estate Value
Political Total
Republican Total
Democrat Total
Individual labels

Are they on an FND Board
Doe they have Business Affiliations
Are they on the Board of a nonprofit organization
Are they a SEC insider

Philanthropic Giving History
Stock Holdings
Pair this with our inbuilt Demographics Data and you'll gain the biggest picture!
I'm On Board! How Do I Purchase This?
You can purchase this Premium Feature directly in your Keela account.
To access it, click on the purple Premium button in the bottom left-hand corner of the sidebar or navigate to the Premium tab in your Organizations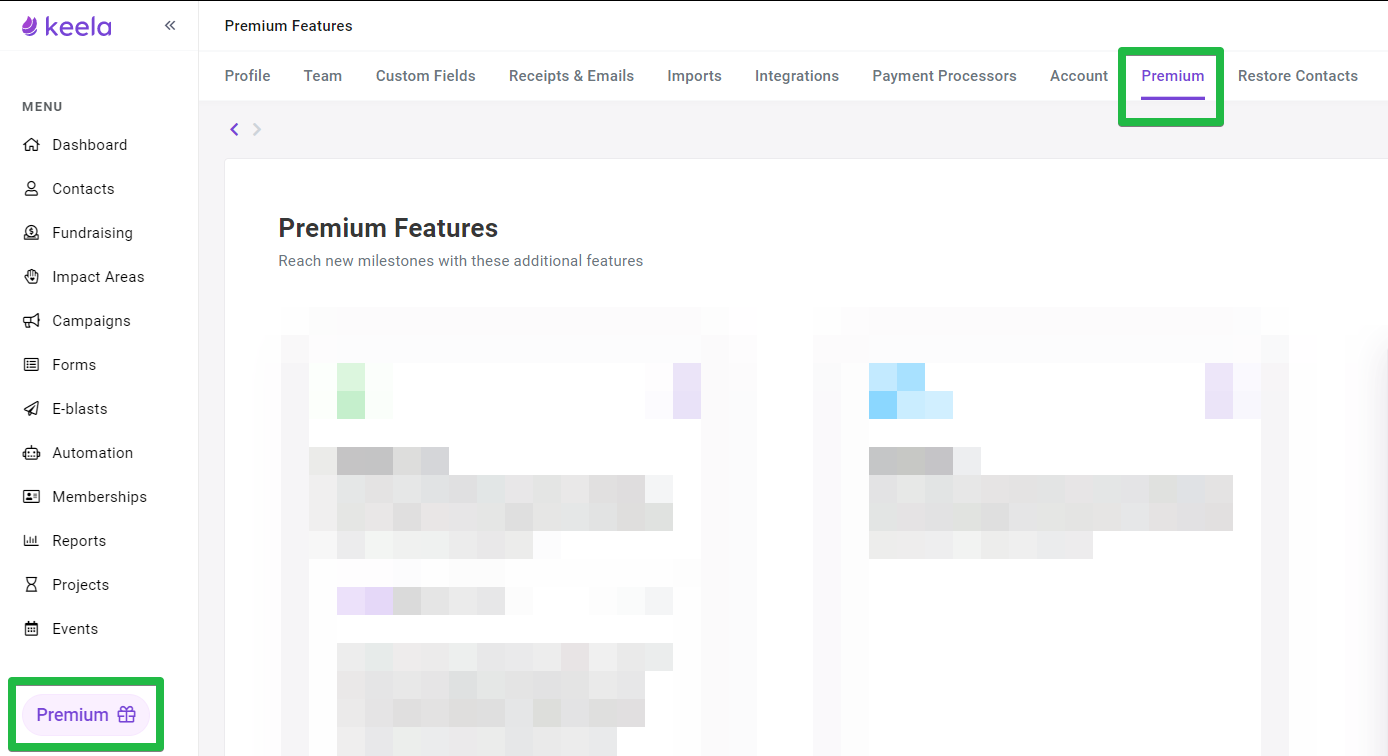 Here, you'll see a list of the Premium Features we offer in Keela.
When you're ready to move forward, simply select the DonorSearch card> Select the Plan (Number of API Calls) you would like to purchase> Enter your EIN Number > click Get Feature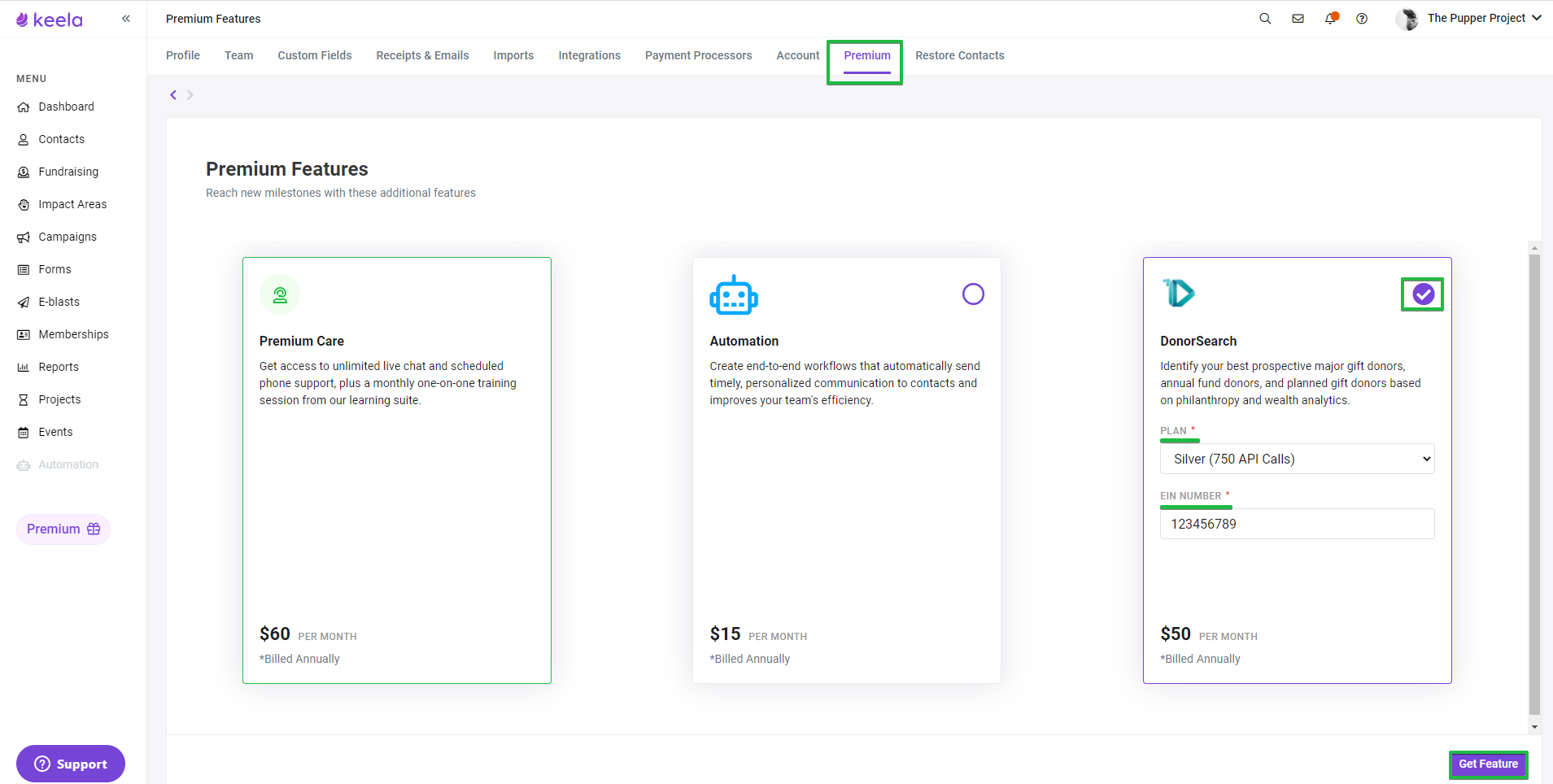 What are API Calls?
API calls refers to the amount of times that you can pull information from DonorSearch into your Keela account. Each time you search for a Contact in DonorSearch and pull their donor information across to your account, it's counted as an API Call
How much does DonorSearch cost?
There are three types of Plans that you can purchase:
Silver (750 API Calls) = $600 per year

Gold (1,500 API Calls) = $1,140 per year

Platinum (3,000 API Calls) = $1,740 per year
Your account will be activated within 2 business days. You'll receive an email from us once this is done!