Here at Keela, we understand that when it comes to your Contacts it's important for you to be able to store as much information as you need on their profiles.
Your Contacts' Profiles come with some pre-existing fields for you to store data on. These are pretty general fields that everyone uses - Full Name, Email Address, Birth Date, Address.
But every organization is different and we want to make sure that you have the flexibility to create your own fields and tag your Contacts in a way that makes sense to you!
Tags/Custom Fields - What's the Difference?
Both the Tag and Custom Field features in Keela allow you to store and track information that is specific to your Organization. Think about those pieces of data that you need to be present on your Contacts' profiles that aren't included in our pre-existing fields.
Tags

A Tag is a single label that you can apply to a group of Contacts who have something in common. You can pick and choose exactly which Contact to add to a Tag to so that they can join the rest of the folks who have this label.
Tags are great if you want to group a bunch of Contacts together under a single umbrella.
Examples of Tags
"Donor" tag - Every Contact who has been given this Tag has made at least one donation to your organization
"Volunteer" tag - Every Contact who has been given this Tag is an active volunteer at your organization
"Board Member" tag - Every Contact who has been given this Tag is on your organization's Board
"Newsletter" tag - Every Contact who has been given this Tag has signed up for your organization's email newsletter
You'll see from these examples that Tags can be used as "buckets" to put your Contacts into. Contacts can have multiple Tags so they can be in as many buckets as you like. But the buckets only tell you one thing - The Tag tells you this Contact is a Donor or this Contact is a volunteer.
Tags are great for simple labels! But if you want to get a little deeper, Custom Fields are the next level.
Custom Fields

A Custom Field is just like Keela's pre-existing fields, except you create it! Custom Fields allow you to create your own fields on a Contact's Profile to store whatever information is relevant to your organization.
You can report on Custom Fields themselves and the responses that are entered into them in the exact same way that you can report on our pre-existing fields.
Custom Fields are great if you want to store information that's more complicated than a single label.
Since you can create a bunch of different Custom Fields, and store whatever you like within them, the examples of Custom Fields are nearly endless!
Examples of Custom Fields
"Preferred Volunteer Date" field - Use this field to specify if your volunteer prefers to work on a Monday, Tuesday, Wednesday, Thursday or Friday
"RSVP Annual Gala" field - Use this field to specify if your Contact RSVPed "Yes" or "No" to your online Gala invitation or, keep it blank if they haven't responded at all.
"Preferred Method of Communication" field - Use this field to specify which method (or methods!) your Contact prefers to be contacted by
Tags/Custom Fields - How do I choose?
When it comes to choosing between a Tag or a Custom field, it really depends on the type of data you're wanting to store.
I find that it's best to follow a process of elimination! Think about the piece of information that you're wanting to store on a Contact's profile and how it will be used, then take the below quiz to figure out where it belongs!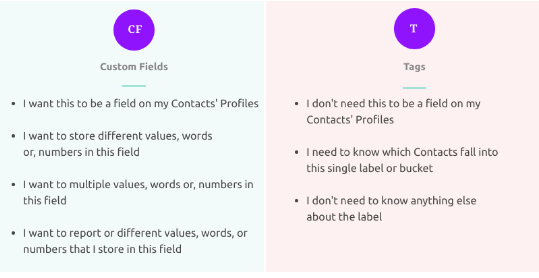 What's Next?
That you've got a good foundation for the difference between Tags and Custom Fields, why not let Peter the Keela expert show you how they work in the system!
Head to our Tags, Custom Fields, Segments, and Filters - Bringing it All Together training video for a recap on this article and a video demonstration of how it all works in the system!