Where is the Keela Community located?
You can access the Keela Community from our website, Knowledge Base Center, as well as right within Keela itself.
Keela website
You can find the Keela Community in the footer of the Keela website under the GET HELP column.

Keela app
You can find the Keela Community right in Keela. You can find this in the toolbar located just to the left of your organization's name.
Click on the question mark.
A dropdown menu will appear. You will see 'Community'.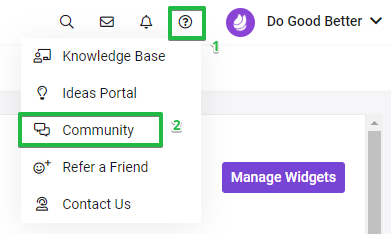 Knowledge Base
Lastly, you're able to find the Keela Community right within our Knowledge Base Center. You can always find it on the top right-hand side, to the left of 'Submit a Request'.

Joining the Keela Community
Once you've found the Keela Community, you may notice that you have the opportunity to create a new post, or even comment on someone else's post. In order to do so, you'll have to first set up a new account.
Please Note: This account is separate to your Keela account.
To create an account you can simply click on the 'Sign In' option at the top right-hand side of your screen. Alternatively, you can click the 'New Post' button, and the same 'Sign In' pop-up will appear.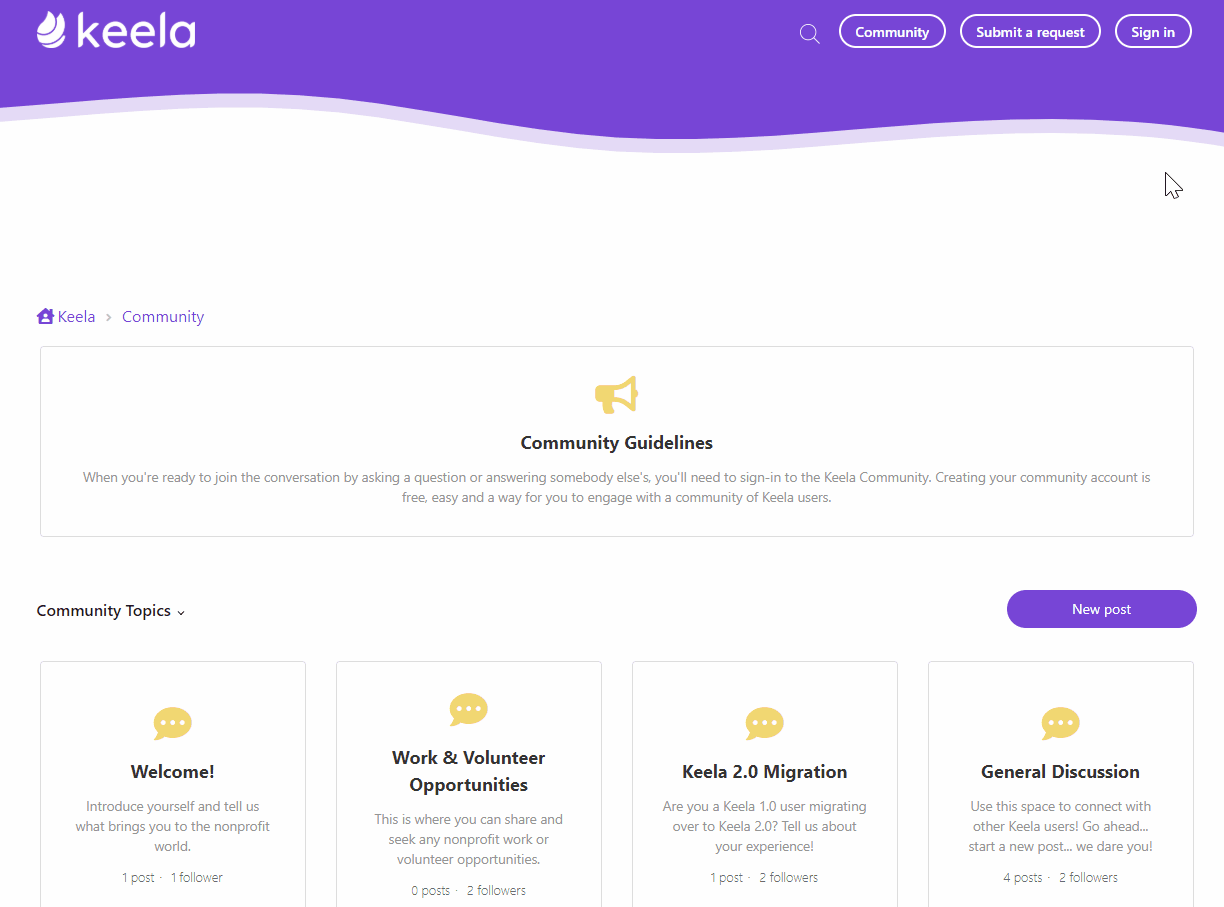 As shown in the video above, a pop-up window will appear. To create a new account, you'll need to click 'Sign up' in the pop-up window. The only information you need to give is your full name and email. Once you've submitted this information, you'll receive an email to verify your email address. Once you've verified, you are now able to create a post and/or comment on someone else's!
Creating a post
Creating a new post allows you to ask questions about whatever you'd like - Keela related, or not! This is a space where you can get to know your peers, share knowledge, and perhaps even make a friend.
Typically, a new post will be in the form of a question or topic of discussion, such as: 'Introductions', What is your favorite part of Keela 2.0?', and 'Donation page inspiration'.
You can create a new post by following these steps:
Create a new post by clicking on 'New post' button, which is located on the Community homepage.
A new post page will appear - this is where you'll write your post.
Fill in an appropriate Title for your post. The Title should be clear and concise. Please note: This field is mandatory.
(Optional) You can also choose to add details to your post. This can include a photo (any type of file including GIF), a hyperlink, and options to format the text.
Choose a Topic. Please note: This field is mandatory.
Click 'Submit'.
Commenting on a post
Once you've selected the post you'd like to comment on, you'll scroll down to the bottom of the post. There you will find a space in which you can comment. If there are many comments on this post, you'll have to scroll past all of them to the bottom.