Do you have recurring donations that are being processed or stored outside of Keela? Then you've come to the right place!
In this article, we'll be looking at everything you need to know about tracking recurring donations in your Keela account as well as our recommendations on how to transfer the processing of the payment for these over (optional!)
(1) Your Recurring Donation Transaction History
First things first - you'll need to ensure that your historical recurring donation records are stored in your Keela account so that your reporting is accurate and up to date. You can import your historical recurring donations in the same spreadsheet as your regular, one-off donations via a Donation Import.
Note: Historical Recurring Donations are those individual donations that were made as part of an ongoing gift. There should be one row in your spreadsheet per donation record.
Mickey Mouse has been making a monthly payment of $50 to my organization since the start of 2020. Each of these donations will have a designated row in my Donation Import.

(2) Log new Recurring Donations on your Contacts' Profiles
Secondly - Now that you've got all of your past donation records logged in your Keela account, it's time to look to the future!
You can create new recurring donations in your Keela account for each recurring donor. You can choose a specific frequency for these (ie. Every month) and update it directly to a Contact's profile. The Keela system will do the rest! A new donation record will be logged in accordance with that frequency in the future - you won't need to do a thing!
Note: The recurring donation series will begin on the day that you log it. We recommend waiting until the next day in the series to create this record to ensure consistency.
After importing Mickey Mouse's past recurring donations into my Keela account, I navigate to his Contact Profile on the 1st day of the next month. I log a new monthly recurring donation on his profile and save it. Keela automatically creates a new donation record on his profile every month from now on.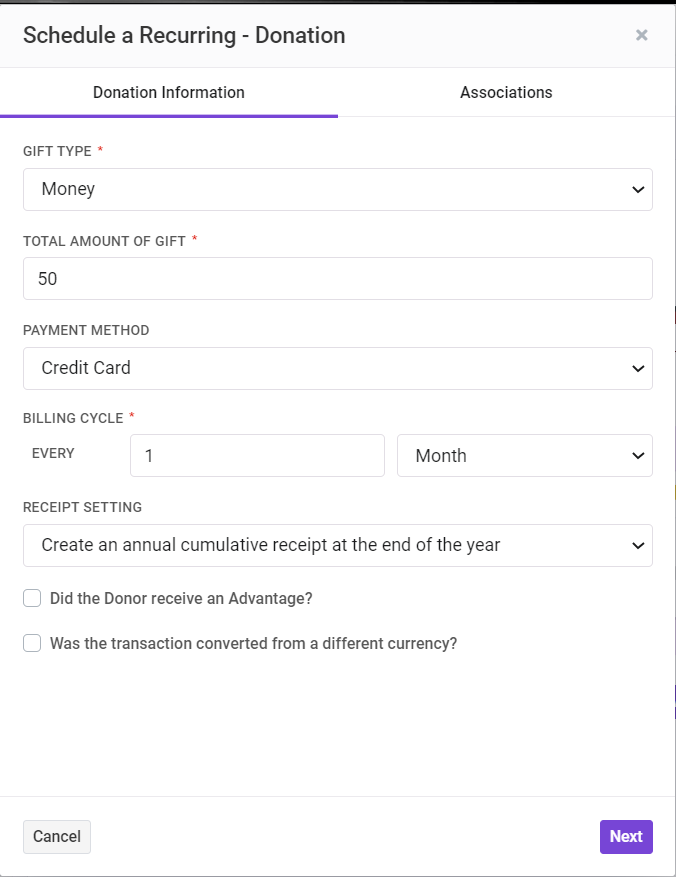 (3) (Optional) Transition the Payment Processing of the Recurring Donations to your Keela account
The third part of the process is completely up to you and your Organization! You'll know what's best for you and your donors.
After you have logged a recurring donation on a Contact's profile in Keela, you'll be given the choice to start this recurrence with payment or without a payment.
I have Mickey's credit card details and would like the payment for this recurring donation to be processed in Keela today. I click "Start with payments".

If you have your Contact's credit card details (including the security code) on hand and would like to process the next recurring donation payment in Keela today, you can choose to Start with payments. This will automatically charge your Contact's credit card today and in the future with all new recurring donations logged in this series.
(4) (Optional) Create an Email Communication Campaign for your Recurring Donors
Moving to a new system and getting everything set up again can take time and in the nonprofit world, time is often in short supply! Wherever possible, try to use the Keela system to do the heavy lifting for you so that you can get back to your impact.
Head here to read up on the details!
Frequently Asked Questions (FAQ)
I don't want to log credit card details for a recurring donation in Keela. Is that okay?
Of course! You know your donors and organization best. If you would like to simply track the donation records themselves in Keela without any payments connected to them, that's fine! You can continue to process the payments for these outside of Keela and track only the records in your Keela account.
If I choose to start a new recurring donation with a payment, when will my Contact be charged?
Your Contact will be charged immediately after you have saved their credit card details on the recurring donation.
Do I need the security code or CVV number to process the payment?
Yes. We use Stripe and PayPal to process payments in Keela and this number is a requirement for both organizations.
What if I don't have my Contact's credit card details?
Why not read about the Email Communication campaign that we've created to request this information safely and securely from your Contacts. Automating processes like this can save you eons of time later!
My recurring donations are in a Stripe or PayPal account. Can I migrate them over automatically?
At this time, it's not possible to send or migrate recurring donations automatically from Stripe or PayPal.
Will I need to cancel the recurring payment in my other system once it's been logged in Keela?
Yes! If you have logged credit card details on a new recurring donation in Keela, then your payments will be processed here from now on. Please ensure that you cancel the payment in your other system to ensure that only was is processed moving forward.