What is a Smart Ask Form?
Wouldn't it be great if your Donation Form could include a custom amount for each contact based on the amount that they are most likely to donate? Guess what, thanks to Keela's Smart Ask Insight, this is now possible!
When sending a Keela Donation Form via Email Marketing, Keela's Smart Ask Form Feature will pre-fill the form with donation amounts based on a contact's Smart Ask amounts, which take into account giving history and total contributions. Using Smart Asks in forms increases the likelihood for donors to give and reduces the chances of underestimating their ability to give!
Using a Smart Ask Form
The Smart Ask Form behaves a bit differently depending on how you share the form:
Sharing a Smart Ask Form via Email Marketing:
Each contact will see unique Donation Tier amounts on the form, based on their unique Smart Ask amounts
If the contact has no donation history in Keela, the Donation Tier amounts will be created based on your organization's median donation amount
If our intelligence server isn't able to return any amounts, the Donation Tiers will be $20, $50, $100
Sharing a Smart Ask Form not via Email Marketing:
For example, a contact visits a Smart Ask Form by clicking on your website
The Donation Tiers will be $20, $50, $100
This is why we recommend sharing Smart Ask Donation Forms via Email Marketing. Remember, you can create more than one Donation Form in Keela, so you can create these forms specific for Email Marketing campaigns if you'd like!
What will the donor see?
When the Smart Ask option is turned on, the Donor will see three donation amount options. These amounts reflect the amounts on the Contact's Profile in the Smart Ask Insight section. See an example below:

Contact A has the following Smart Ask amounts in Contact Insights:


When Contact A receives a Smart Ask Form from Email Marketing, Contact A will have the following Donation Tiers:

Contact B has also received that same email but they have different Donation Tiers:

That is because Contact B has the following Smart Asks on their account:

Important Note: If a contact has a Smart Ask above $2500, then they will see the defaulted max amounts ($500, $1000 and $2500).
Enabling Smart Ask
On your form
(1) Head to the Forms section in the left-hand toolbar
(2) Create a New Donation Form or select an existing Form
(3) Turn on the Smart Ask option in the Setup tab of the selected form. Under the Organize By section, select Smart Ask.
Note that if Impact Areas have been enabled, they will appear on the live form with the Smart Ask Donation Tiers.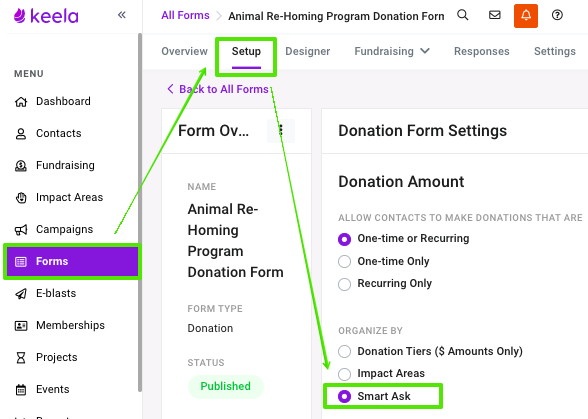 We also recommend having the Custom Donation Amount option turned on under the forms Setup Tab. This way, if the donor wants to donate an amount outside of the suggested amounts, they have that option. See below: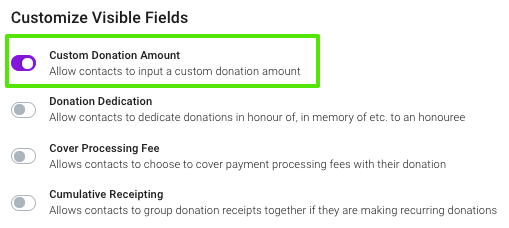 Sharing via Email Marketing
Important: For the Smart Ask feature to work properly you must link the Donation Form using a Donation Form Button. For more details on how to add a donate button into Email Marketing, head to our article on Designing Email Marketing.
FAQ
Why do the Smart Ask amounts for individual contacts only appear if I send the form via Email Marketing?
The Smart Ask Form works best for forms sent via an Email Marketing. This is because Email Marketing allows Keela to populate the Smart Ask field by tracing the donor history of the recipients.