When approaching a donor for a gift, it's important to understand what causes they are most likely to give to increase the likelihood that they will donate. This is exactly what Keela's Campaign Recommendation is for! Keela's Campaign Recommendation informs you which Campaign your donors are most likely to donate to so you can make informed and strategic donation requests.
How it Works
The Campaign Recommendation is the result of an algorithm that is used to determine which Campaign your contacts are most likely to donate to! Some of the factors taken into consideration are:
The other campaigns the contact has contributed to in the past.
The overall giving history of the contact.
The Donor Readiness of the contact - donors with higher Readiness scores are recommended before donors with lower scores.
Where are Campaign Recommendations?
Campaign Recommendations can be found in two places within Keela.
Located in Campaigns Tool
One place you can find Campaign Recommendation is within the Campaigns tool located in the sidebar. When you click on one of your running campaigns and navigate to the Overview tab, you will see a list of contacts most likely to give to that campaign! Note that Campaign Recommendations will be available for a max of four running campaigns at a time.
You will even notice an email button next to each contact so you can go ahead and send them a direct email right from there requesting a donation. You can also always use Keela's Email Marketing tool if you would rather send all those contacts in the list a donation request at the same time!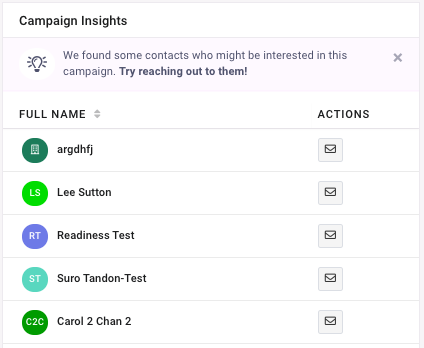 Located in Contact's Profiles
Another place you can find Contact Insights in a Contact's Profile in the Insights section on the Profile tab. Here you will see a campaign that a donor is most likely to contribute to!

We recommend you match this Recommendation with the Donor Readiness Insight to determine if it a good time to ask your donor to contribute!