Here at Keela, we have a superhero Product Team that continuously works to improve the Keela system for our users. In fact, it was through their tireless efforts (and your wonderful feedback) that we were able to build this latest version of Keela and continue to make regular enhancements to the system!
We value all our customer ideas and that's why we have a dedicated Product Portal to house these ideas for Keela customers!
It's a dedicated space for our Product team to learn more about your ideas and how you use Keela
If you submit or vote on an idea that we decide to move forward with, you'll receive

updates as we move through all the steps to bring the idea to fruition!
Introducing the Product Portal!
The Keela Product Portal (click here)!
Here you can find the existing idea submissions that have been logged by you, other users, or even Keela team members (we have ideas too!).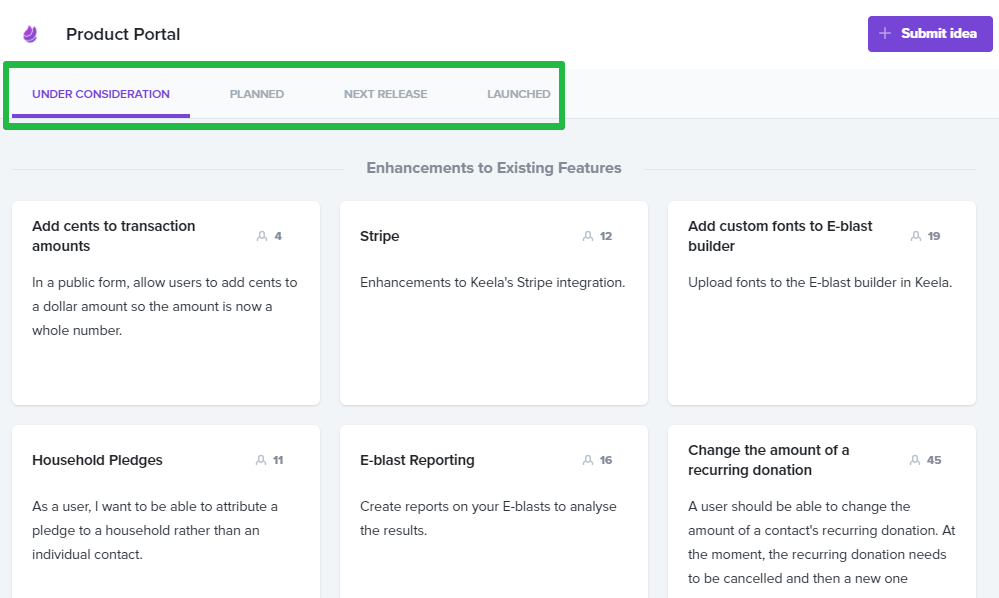 There are four different tabs that you can review:
Under Consideration
All the new or existing idea submissions that our Product Team has completed the initial review for and are still considering and evaluating.
Planned
All the ideas that our Product Team has finished evaluating and have committed to releasing into Keela. There are a couple of stages to this part including (but not limited to!) research, design-build, development, testing, and release. Lots of work goes into this part!
In Progress
These ideas are coming to fruition very quickly and will be live in the system soon! Look out for a notification in your Keela account for when these will be released or watch our Release Notes page here.
Launched
These are idea submissions that have been released into the system. Woohoo!
Submitting a new idea in Keela
Step 1:
Head over to The Keela Product Portal > Search (CTRL + F) for your idea in the Under Consideration tab, just in case we've already got it there > If you don't see it, click on the + Submit idea button
Note: To search the Product Portal, hold down the Ctrl button and then press the F button. A search bar will appear that you can type a keyword into to see if it's present in the Product Portal already!

Step 2:
Enter a description of your new idea > Let us know if it's a Nice-To-Have, Important or Critical idea submission > Enter your email address > Click Submit
Note: Entering your email address will allow you to add new ideas, vote on existing ideas, add comments to existing ideas, and be notified of changes to your idea submission.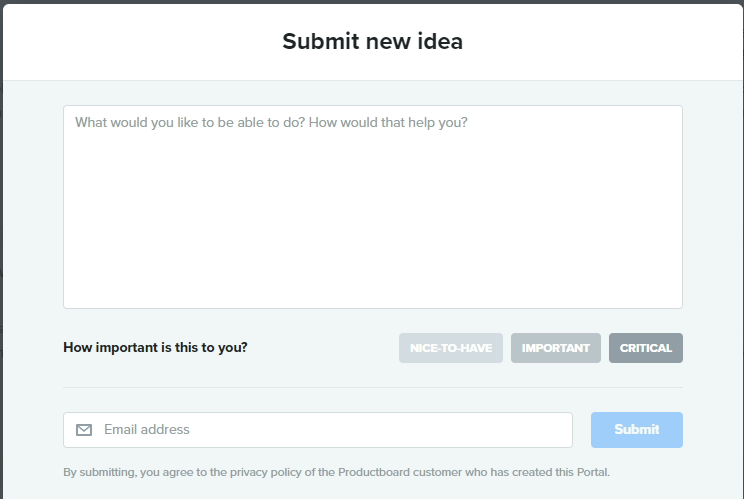 Step 3:
You'll be sent a confirmation email address to your inbox > Follow the prompts to submit your idea!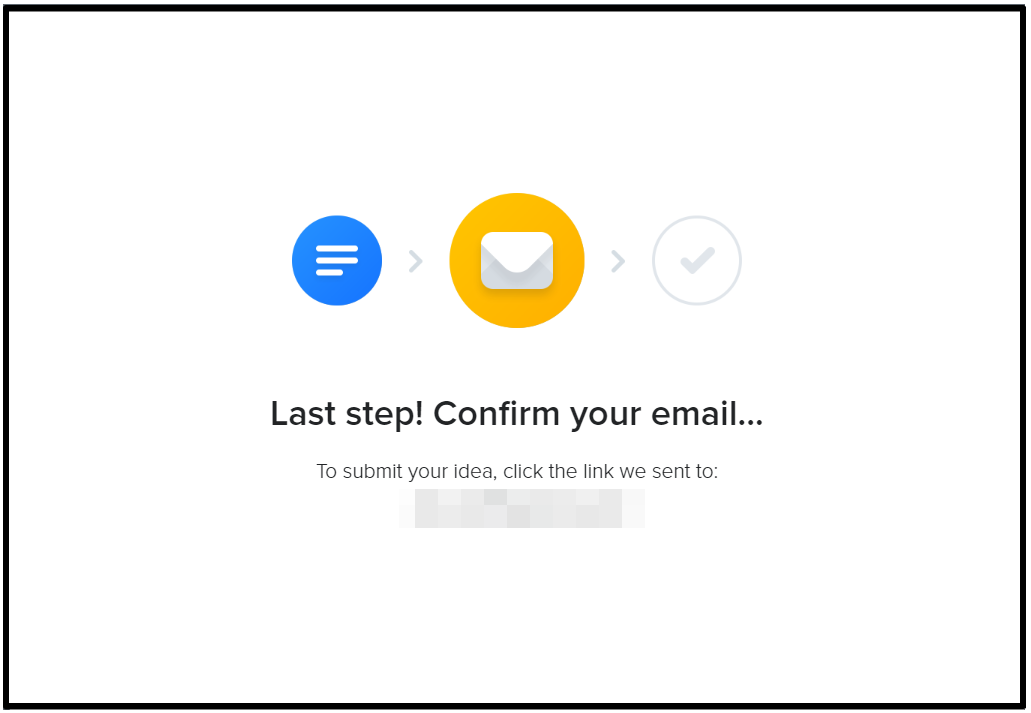 Voting or Commenting on Existing Ideas
Head over to The Keela Product Portal > Click on an idea that you would like to vote on
Enter a description of why this is important to you > Let us know if it's a Nice-To-Have, Important or Critical idea > Enter your email address > Click Submit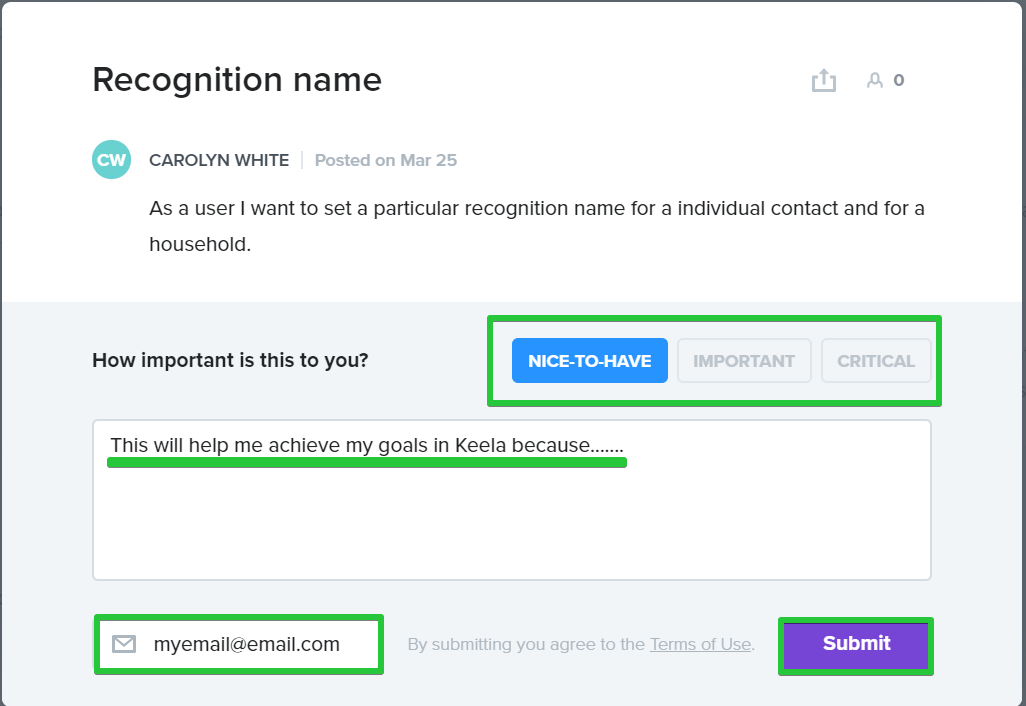 FAQ
What if something in Keela isn't working as expected?
If you run into any unexpected occurrences that aren't quite a new idea, but rather an issue related to existing functionality, please reach out to our Customer Care team at support@keela.com who can investigate this for you!
What are the best practices for submitting a new idea?
Thank you for asking!
Search for the idea first before submitting it (press Ctrl + F to search for keywords)
Log one idea per submission (ie. Please don't bunch them together)
Have fun!
Will all ideas appear in the 'Under Consideration' tab?
Not all ideas will make it to the Under Consideration tab, however, please know we review each and every idea that comes to the portal. Your ideas are important, so we want to ensure they get the attention they deserve from our team.
What happened to the ideas, votes, and, comments from the previous Keela Ideas Portal?
These are all safely stored in our archives! Many of them have been added to Keela's user system. Our Product Team will be adding these to the new Product Portal in the upcoming months (when they aren't busy adding new features and processes to the system - thanks Product Team!)
What if I have questions that aren't answered here?
You know the drill! Email us at support@keela.com and we'll be happy to provide more information.