We know how important it is to be able to record and manage promised funding from your supporters. That's why Keela has created a Pledges feature to help you keep track of those promises!
Where to Find Pledges
On the Contact Profile
Navigate to Contacts in the Sidebar > Select a contact > Select the Fundraising tab > Select Pledges from the drop-down list.

In the Fundraising Tool
You can also locate all of your Pledges within Keela's Fundraising Tool:

Creating a Pledge
(1) To create a Pledge, click the Add Pledge button.
Note: If this is your first Pledge for a contact, an Add Pledge button will appear in the middle of the page in lieu of the Add Pledge button.

(2) Fill out the Pledges card that appears.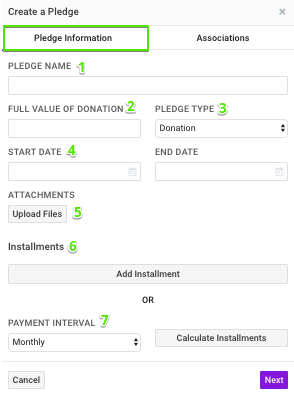 A guide to the Pledge Information fields:
Pledge Name - The title of the Pledge.
Value of Donation - The value of the Pledge.
Pledge Type - Whether the Pledge is a donation or a revenue.
Start & End Date - Start date is the day the Pledge was made and the End date is the deadline for the Pledge.
Attachments -Any documents you'd like to add.
Installments -A

llows you to manually create single, one-time installments for your pledge, with a specific amount and date. For example:

$5,000 on October 15th.
Payment Interval - Automatically generates a series of installments starting on a specific date, with a specific amount, according to a schedule you select. For example: $1000 every month, starting October 15, 2018.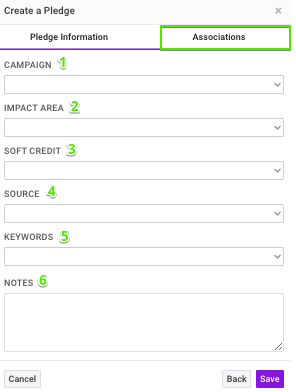 A guide to the Pledge Associations fields:
Campaign -

If the Pledge was made in response to or in connection with a campaign, select the campaign.

Impact Area - If the contact made a Pledge towards any Impact Areas, select the impact area.
Soft Credit -

If the contact who made the Pledge contributed in response to the efforts or influence of someone else, you can

soft credit the

Pledge

to a contact in Keela, to acknowledge their role.

Source -

Select a source if the contact who made the Pledge came from a certain source (e.g. online via Keela, a corporation, from a fundraiser, etc.).

Keywords - Any keyword related to the Pledge for reporting.
Notes - Additional notes for the Pledge.
Logging a Payment to a Pledge
Select the specific Pledge you want to add a payment to > Click the Add Transaction button.
Now, you can follow the usual procedures of Logging a manual donation. Look at our full summary of logging a donation here: Log a Donation.
Editing a Pledge
To edit a Pledge > click on the specific Pledge> click on the Actions button. This will allow you to make changes to the Pledge information fields, cancel a Pledge, or delete a Pledge.