We've spent lots of time in the Help Centre talking about how you can use Keela Forms to accept online payments and automatically log them in your Keela account.
But what about those payments that aren't received online or via a credit card? Not to worry - these can be logged directly into your Keela system. You can use Keela's Fundraising tool to log a revenue payment, process a payment (if applicable) and even issue transaction receipts!
A few examples of revenue payments that you may want to log in Keela:
Purchases received via cheque or cash
If you have a payees credit card information and want to process a payment on their behalf
You received a grant through another system like your bank account and would like to record it in Keela
Need to log a recurring revenue payment? Head on over to XXX Log a Recurring Revenue Payment XX
How to Log a Revenue payment
There are two different places in the Keela system that you can log a new revenue payment from.
(1a) From within the Contact's Profile
Navigate to the Contact's profile > Click on the Fundraising Tab> Choose Transactions.

If you've logged donations or revenue payments for this contact previously, you'll see a list of all transactions for that contact.
Click Create New > Click Revenue Transaction
Note: If you haven't logged any transactions on this Contact's profile yet, click on the purple Create New button in the middle of the screen.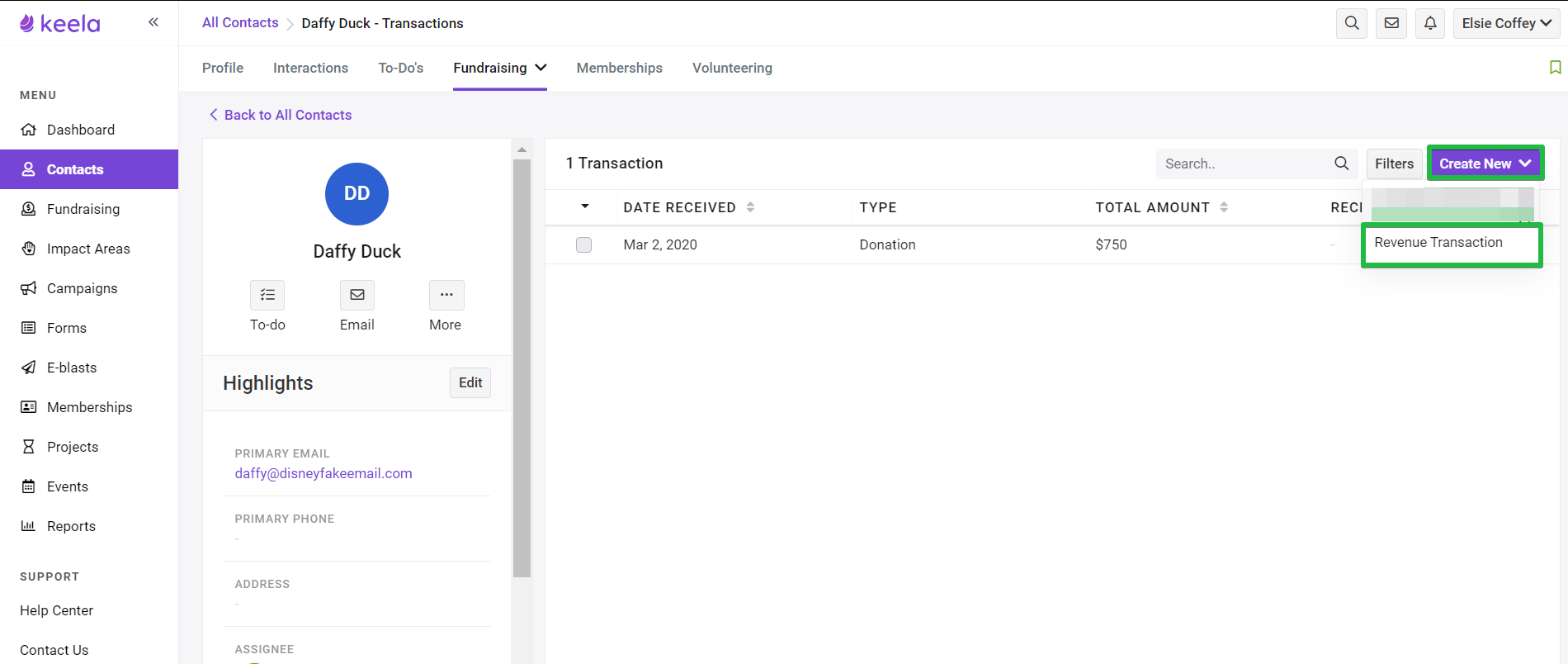 (1b) From within the Fundraising section of Keela
Click Fundraising in the Sidebar > Click on the Transactions tab > Click Create New > Select Revenue Transaction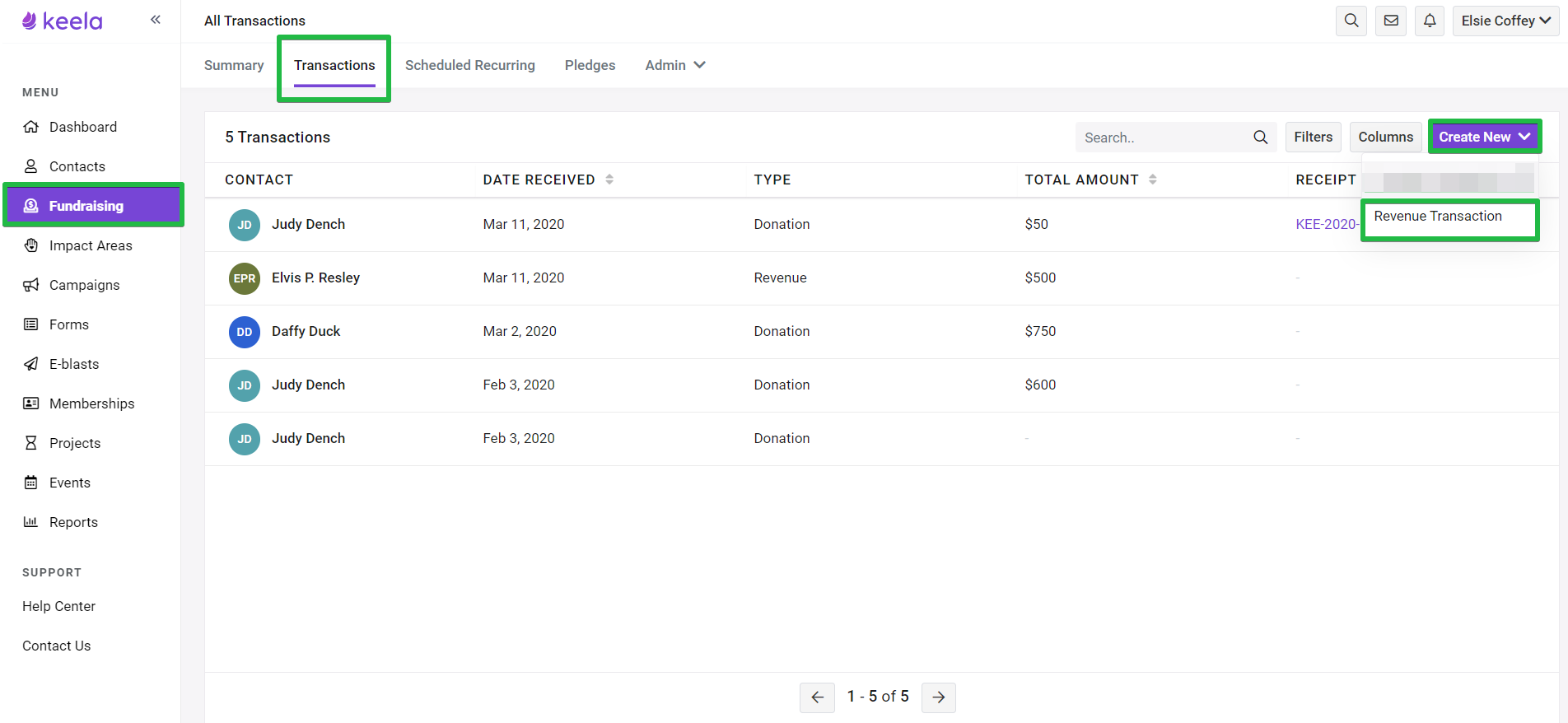 (2) Create a Revenue Transaction
A pop-up window will appear that will allow you to enter information regarding your revenue payment.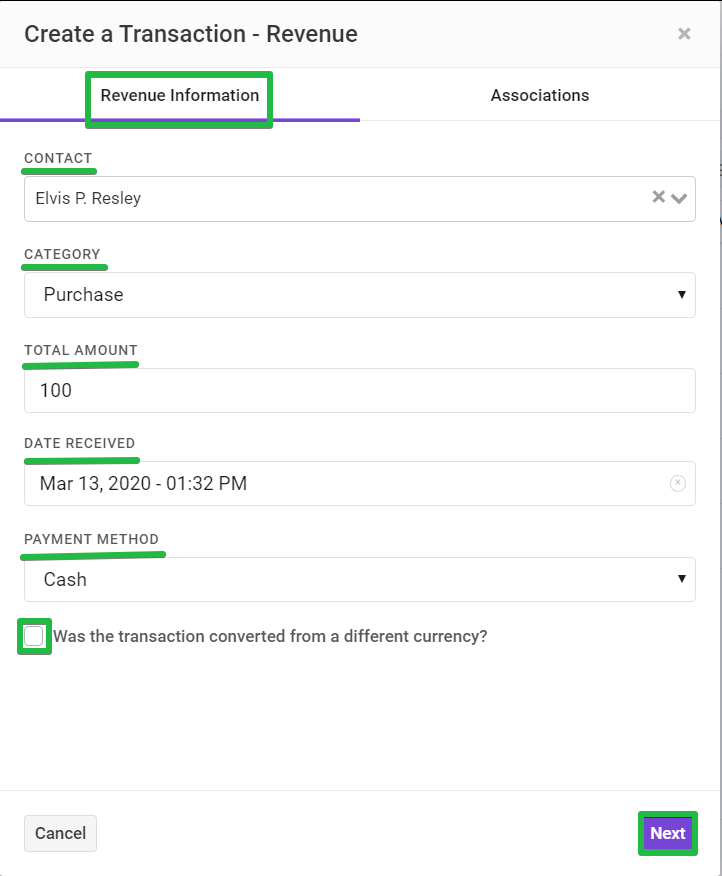 Contact
Choose the Individual or Company Contact who made the revenue payment from the drop-down list or type their name to search for them.
Category
What type of Revenue payment was it? Choose from one of the below categories:
(a) Grant - Eg. Funds given by an entity like a public body, charitable foundation or specialised grant-making institution.
(b) Sponsorship - Eg. A local organization contributing to the purchase of jerseys for a football team.
(c) Purchases - Eg. A payment made to your organization where goods, services or an experience were exchanged for the full value of that payment - like a T-shirt or box of chocolates.
(d) Other - Anything that doesn't quite fit into the three former categories.
Total Amount
What was the total amount of revenue that you received from this transaction?
Date Received
On what date did you receive this revenue payment?
Payment Method
Choose the payment method that your payee used to provide these funds to you.
Transaction Currency tick box
All transactions that are logged into your account will be stored in your Organization's currency. If your revenue payment was originally provided to you in a different currency, click this tick box. You will be given the option to provide the exchange rate information if this is something you would like to store in the transaction:

Once you've completed all of the steps, click Next.
(3) Apply any Associations to your Revenue Transaction
Next, you'll be taken to the Associations screen where you'll be able to attribute all kinds of labels and information to your revenue payment. These can be really useful when filtering and sorting for transactions using our Reports tool!

Pledge - If this Revenue is towards an existing Pledge, you link the Pledge here!
Campaign - If the Revenue was made in response to or in connection with a Campaign, select the Campaign.
Impact Area - If the contact made a Revenue payment towards any Impact Areas, select the Impact Area.
Soft Credit -

If the contact who made the Revenue payment contributed in response to the efforts or influence of someone else, you can

soft credit the donation

to a contact in Keela, to acknowledge their role in the Revenue payment.

Source -

Select a source if the contact who made the Revenue payment came from a certain source (e.g. online via Keela, a corporation, from a fundraiser, etc.).

Keywords - Any keyword related to the

Revenue payment

for reporting.
Dedication - If the

Revenue payment

is dedicated to someone, you can add their name here.
Notes - Additional notes for the

Revenue payment

.
Click Save to create the revenue record in Keela.
(4) Processing a Payment for a Revenue record
You can even use the Keela system to process the payment for your newly created revenue record! In order to do this you will need all of the following:
The full number, expiry date and security number of the credit card
Once you've saved your revenue payment, you will be taken to the Transaction Details screen.
Click on the Make Payment button.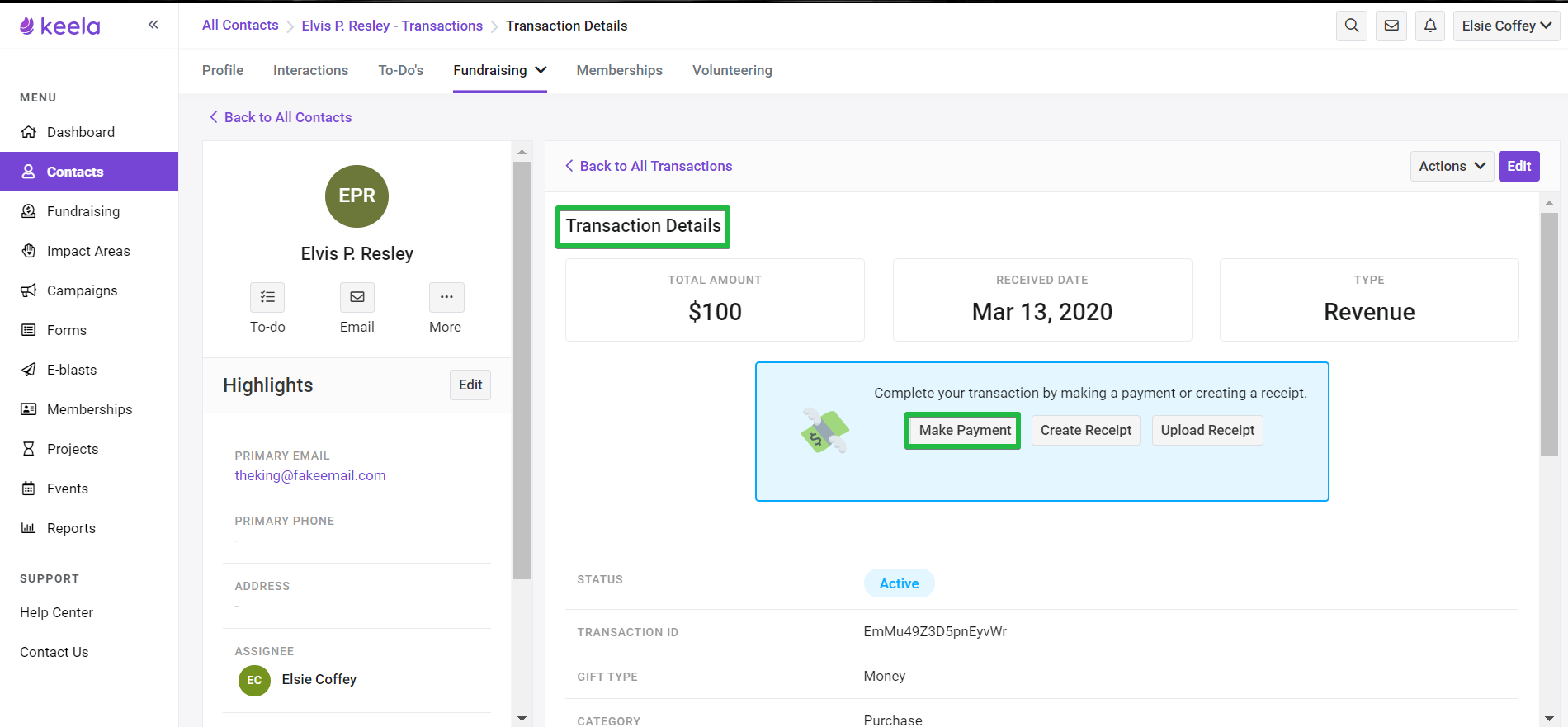 The Receipt and Payment pop-up box will appear.
Ensure that the Contact's Full Name and Mailing Address are included > Click Next
Tip: You can choose to email a copy of the receipt to your Contact automatically! Just ensure that the tickbox is selected and the listed email address is correct.
The next screen will allow you to select your payment processor.
Note: Only the payment processors that you have integrated will appear here.
(4a) Payment Processing via Stripe
If you select Stripe a new window will pop up to enter credit card details. Once correct, click Pay to process the payment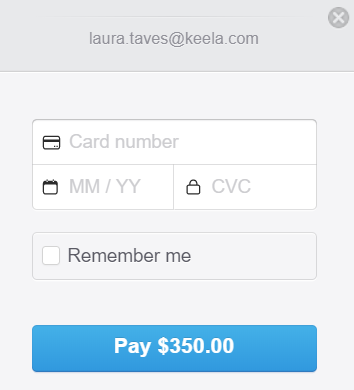 (4b) Payment Processing via PayPal
PayPal will provide two options for processing payment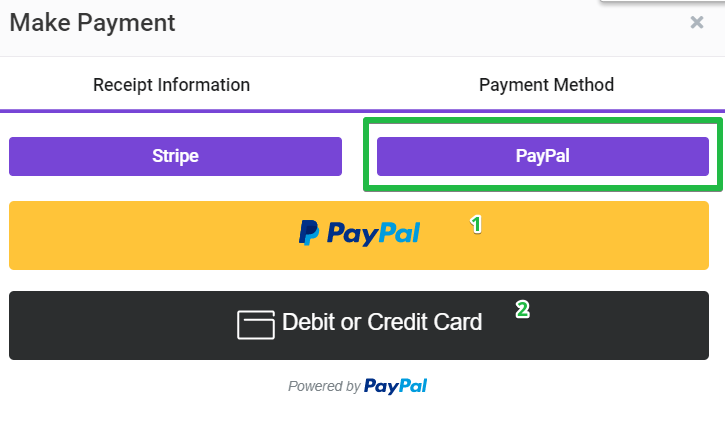 PayPal Account - to provide payment by logging into the payee's PayPal account. It's unlikely you'll have this information but PayPal provides this option anyway - aren't they nice?
Debit or Credit Card - to enter the credit card details in.
Note: Once the payment has been processed, a transaction receipt will be automatically created. The receipt will only be emailed to the contact automatically if this was selected during the Receipt Settings step.
You're done!