There are a lot of different tabs that can be accessed from within a Campaign in Keela. In this article, we'll be looking at the Forms tab.

What are Forms?
As discussed in our What is a Forms article, Forms are stand-alone web pages or little boxes embedded into a website where a person can enter information. So, how does that relate to a Campaign? You can associate your Forms with Campaigns so that any donations or revenue payments that are submitted through them are automatically assigned to your Campaign and will be included in your Fundraising Goals.
But that's not all! You can even add a Button on your Campaign Email Marketing that is connected directly to a Donation Form or Revenue Form. When you send out Email Marketing to let everyone know about your Campaign, you can include a way for them to support you, right in the email!
How to create a Form and associate it with your Campaign
There are a couple of different ways to create a Form an associate it with your Campaign, depending on where you are in the system.
From within your Campaign
(1) Create a new Form
After creating your Campaign and navigating to the Forms tab, click on the Create Form button.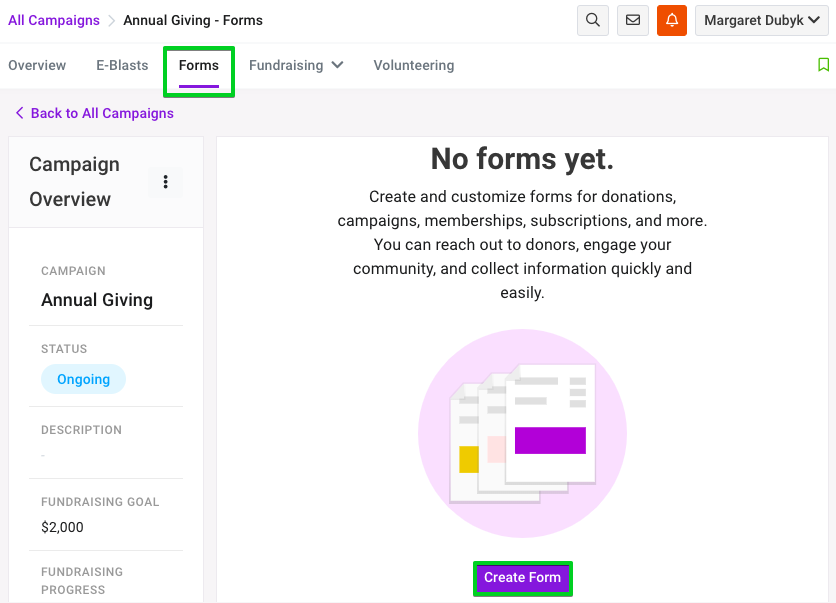 Hint: If you already have existing Forms connected to your Campaign, the Create Form button will be in a different spot.
(2) Name your Form
A pop-up window will appear that allows you to define certain bits of information about your Form.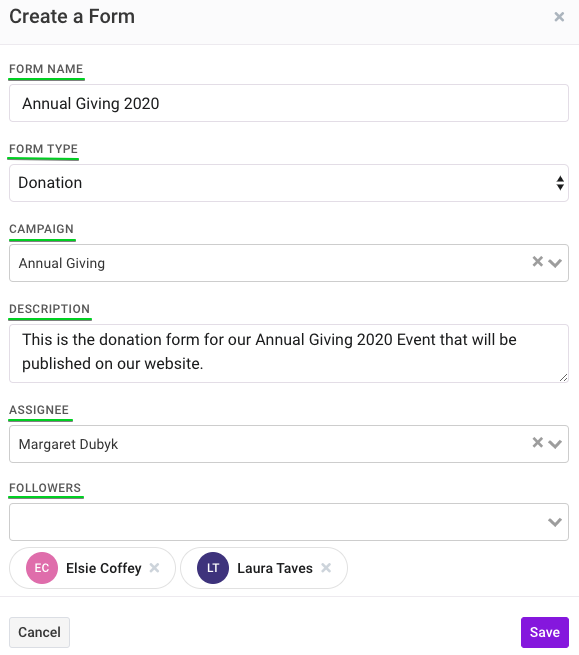 (1) Form Name
The name of the form will appear on your Navigating to Forms page and will be used as an internal reference for you and your team members.
(2) Form Type
As mentioned in our What is a Form article, there are several different types of Forms that you can create in Keela:
Choose the type of form that you would like to create from the drop-down list.
(3) Campaign
This will automatically default to the name of the Campaign that you are already in. This is the piece of information that will connect the Form to your Campaign so it's important to ensure that it's populated!
Note: All Donations, Revenue Payments, and Membership Payments will be automatically assigned to this Campaign when made through the form.
(4) Description
Here, you can enter some details about what sort of form this is and what it should be used for. This can be a great place to leave notes or directions for your team members!
(5) Assignee
The Assignee is the team member who is the owner of this form. It will automatically default to whoever created the form but you can choose any team member with the appropriate access permissions from the drop-down list.
(6) Followers
Followers are those team members who can receive notifications each time a response is submitted through this form.
Once you've finished updating the above 6 fields (where applicable), click Save. You'll be automatically taken to the Forms section of Keela.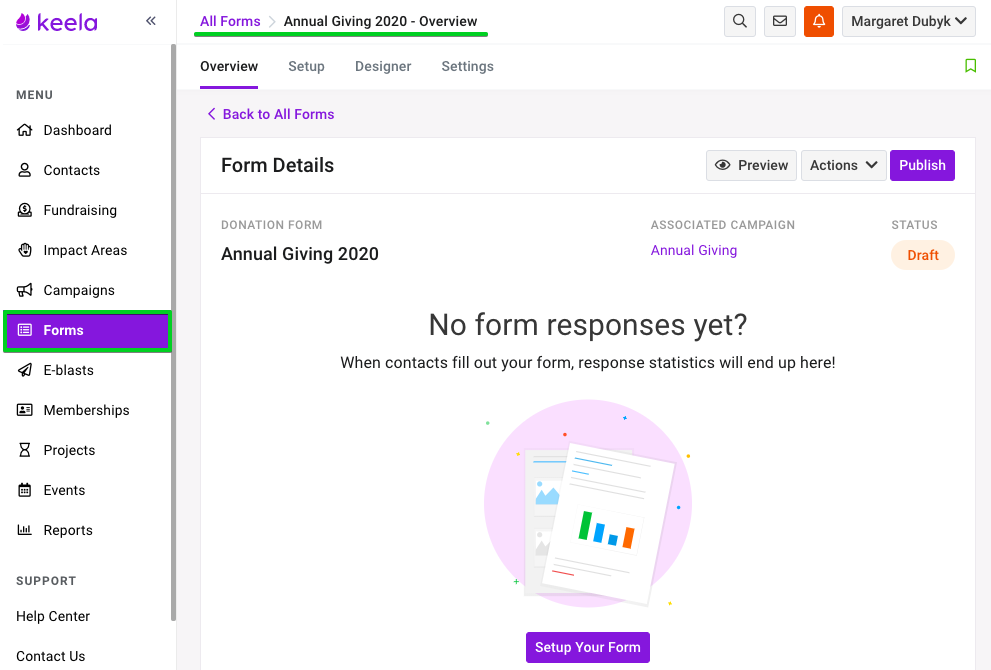 From the Forms tab
You can also create a new Form directly from the Forms tab in Keela. You can find a complete guide on how to do this in our How to Create a New Form article.
Tip: Please ensure that you connect your new Form to your Campaign during the Name Your Form process.
How to Navigate the Forms Tab
Once a Form has been associated with your Campaign, it will appear in the Forms tab.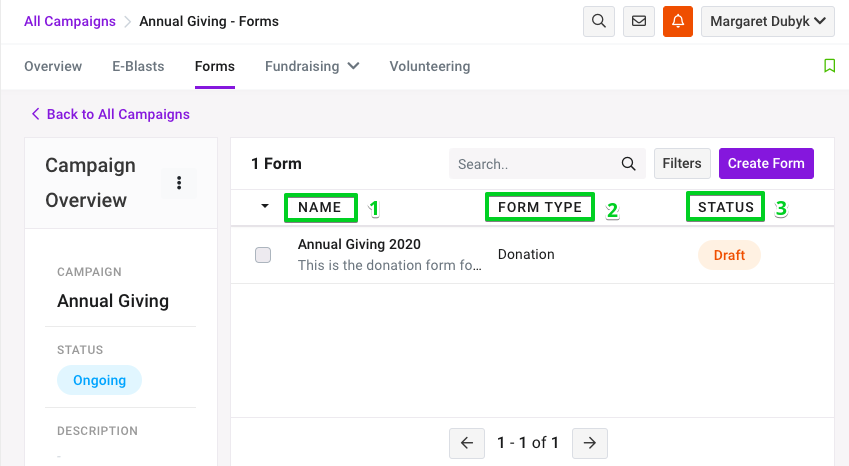 1) Name
Here, you'll see the name of your Form that was defined when it was created. Click on the Form to access more information about it.
2) Form Type
As discussed in our What is a Form article, there are lots of different types of forms that you can create in Keela. In this column, you'll be able to identify what type of forms you have associated with this Campaign.
3) Status
Here you will be able to view the status of your Form:
Draft - Your Form has been created but is not publically accessible yet.
Published - Your Form has been created and published so that the public can access it.
Closed - Your Form is no longer accessible by the public.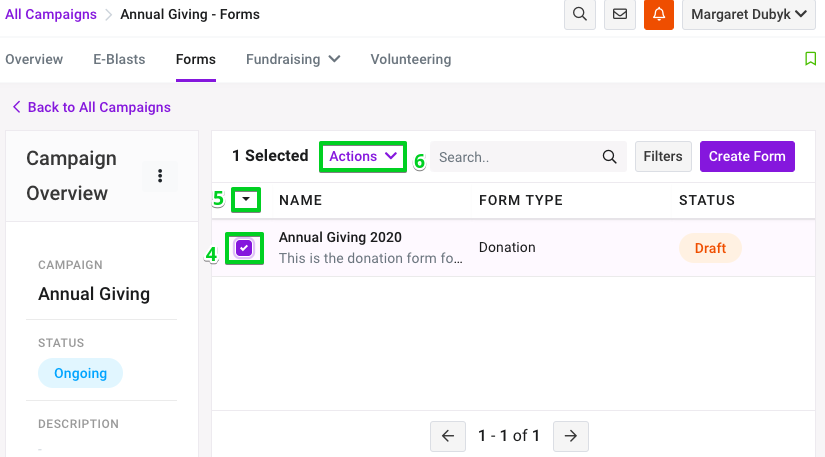 4) Single Select tick box
Want to archive or delete one or a couple of Forms that appear on this list? Tick the Single Select tick box to select these. You'll notice that the Actions button appears - more on this below!
5) Select All tick box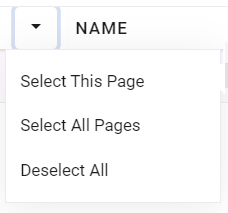 Want to select a bunch of Forms to archive or delete? Click on this drop-down arrow! You'll be given the option to select all of the Forms on this page, all of the Forms in this whole Campaign or to deselect all of the Forms in case you made a mistake.
6) Action Button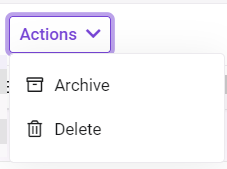 Once you've selected at least one Form, this Action button will appear. This will allow you to either Archive or Delete your selected Forms.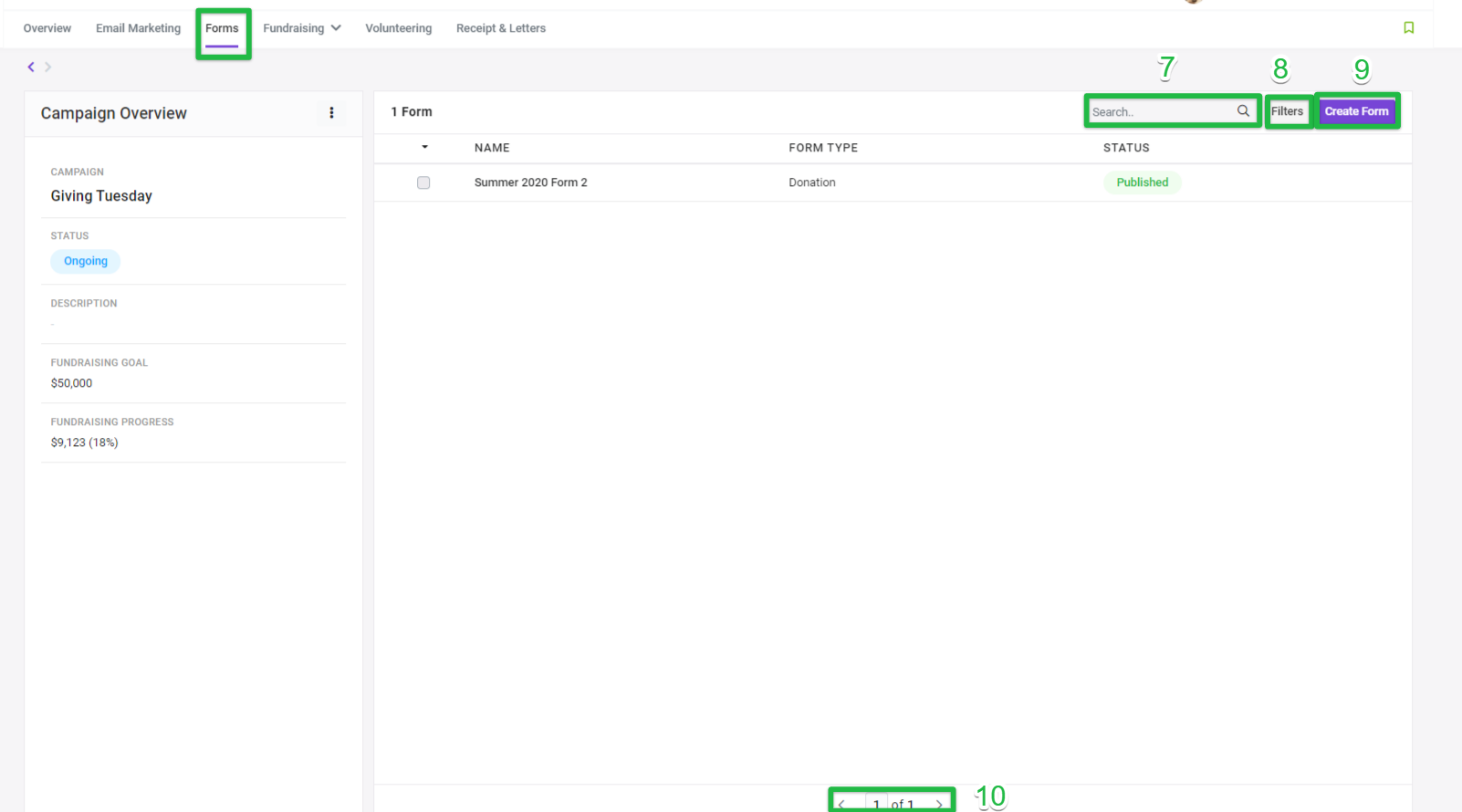 7) Search bar
Looking for a specific Form? Don't see this Form at the top of your list? Enter the first word or letters of the Form in the search bar to narrow down the list.
8) Filter
Have a lot of Forms? Only want to see a specific type of Form Type? Look no further! Here you can filter the types of Forms that appear in your list.
9) Create Email Marketing
You're well versed in how to create a Form from your Campaign by now but it never hurts to show you where the Create Form button will be when there are already Forms in your Campaign!
10) Page Count
Here you'll see the total number of non-archived Forms in your Campaign. The system displays 20 Forms at a time and you can flick between pages by using the arrow buttons.
What's Next?
We are three tabs down! Here's what you may have done already:
(1) Created a Campaign
(2) Created Email Marketing and linked your Form to it by adding a Button
(3) Created a Form
You're ready to start receiving transactions! Head over to our Navigating a Campaign - Fundraising Tab for the next steps.