There are a lot of different tabs that can be accessed from within a Campaign in Keela. In this article, we'll be looking at the Volunteering tab.

Here you will be able to view all of those Volunteer Hours that have been logged on your Contact's profiles and associated with the Campaign.
Important Note: In order for volunteer hours to appear here it must be associated with this Campaign.
How to Navigate the Volunteering Tab

1) Activity Name
This is the name that was attributed to the Volunteer Record when it was logged.
2) Contact
This is the name of the Contact who contributed the hours. Click on their name to access their profile and contact details.
3) Hours
The total hours that the Contact spent volunteering for your organization.
4) Start Date
The day that your Volunteer's set of volunteer hours started. This could be the day that they came in to volunteer or the beginning of a weeklong project.

5) Single Select tick box
Want to delete one or more Volunteer records that appear on this list? Tick the Single Select tick box to select these. You'll notice that the Actions button appears - more on this below!
6) Select All tick box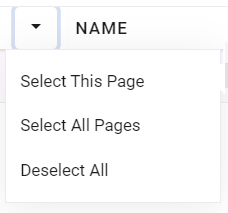 Want to select a bunch of Volunteer records to delete? Click on this drop-down arrow! You'll be given the option to select all of the Volunteer records on this page, all of the Volunteer records in this whole Campaign, or to deselect all of the Volunteer records.
7) Action Button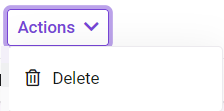 Once you've selected at least one Volunteer record, this Action button will appear. This will allow you to Delete your selected Volunteer record.

8) Search bar
Looking for a specific Volunteer record? Don't see this Volunteer record at the top of your list? Enter the first word or letters of the Contact's name who Volunteered in the search bar to narrow down the list.
8) Filter
Have a lot of Volunteer records? Only want to see Volunteer records from a specific date? Look no further! Here you can filter the list of Volunteer records that you see.
9) Add Activity
Click here to log a new Volunteer record for your Campaign.
Hint: You can also log the volunteer activity on the Contact's profile - just be sure to select your Campaign in the Associations tab!
10) Page Count
Here you'll see the total number of individual Volunteer records in your Campaign. The system displays 20 Forms at a time and you can flick between pages by using the arrow buttons.