Now that you understand what a Campaign is, you might want to try the process out for yourself! In this article, we'll look at how to create a new Campaign in Keela.
How to Create a Campaign
How to Create a Campaign for the first time
Navigate to the Campaigns section > Click Create a Campaign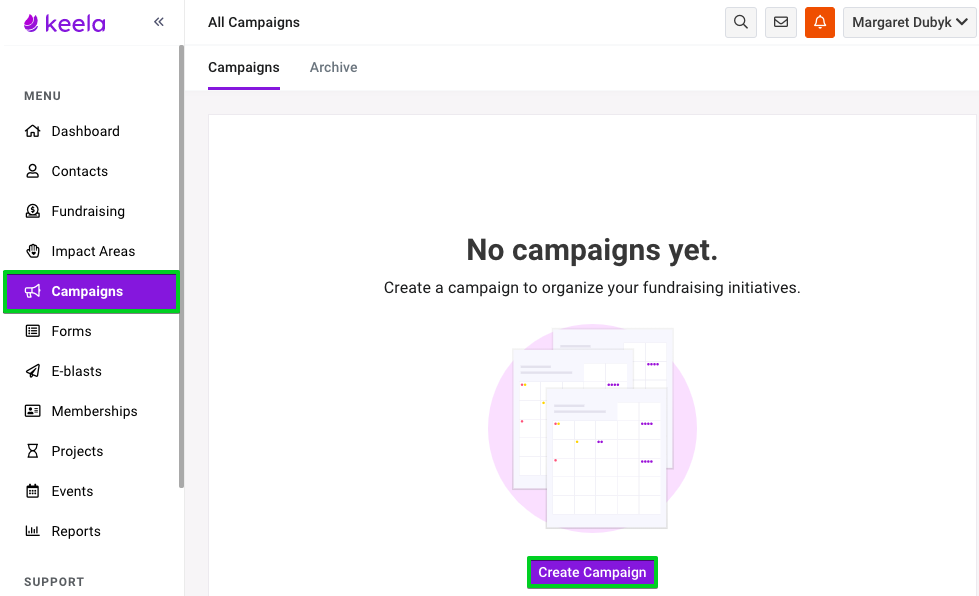 How to Set Campaign Goals and Details
After clicking on the Create a Campaign button, a pop-up box will appear that allows you to define some information for your Campaign: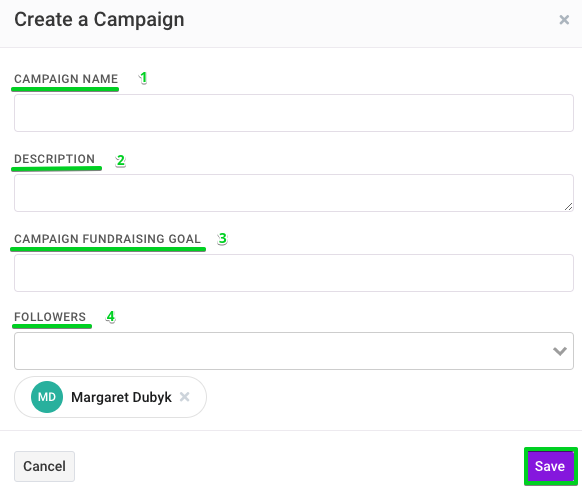 1) Campaign Name -This is the name of your Campaign. This should be short and concise and easy to identify for other team members at your Organization.
2) Description - What is your Campaign about? What are you hoping to achieve? Sum it up in a couple of sentences here!
3) Campaign Fundraising Goal - If your Campaign is focused on raising funds, you can put your financial target here. This figure will be used by Keela to help you track your progress!
4) Followers - Is your Campaign a collaboration? Add them as followers by selecting them from the drop-down list! They'll be notified about being added to this Campaign.
When you're finished updating your information, click Save. Don't worry - you can always make changes to this information later on.
Campaigns Training Video
Want to see this in action? Follow along while we create and connect Campaigns in Keela!
What's Next?
Now that you've successfully created a Campaign, learn how to navigate around it in our How to Navigate a Campaign article.