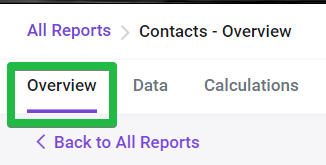 There are three tabs available for a newly created a report. In this article, we'll be taking a look at the information available on the Overview tab and all of the ways that you can customize it!
The Overview tab will automatically populate with different types of data, depending on what type of report you created.
There are a couple of different ways that you can customize this tab or perform actions: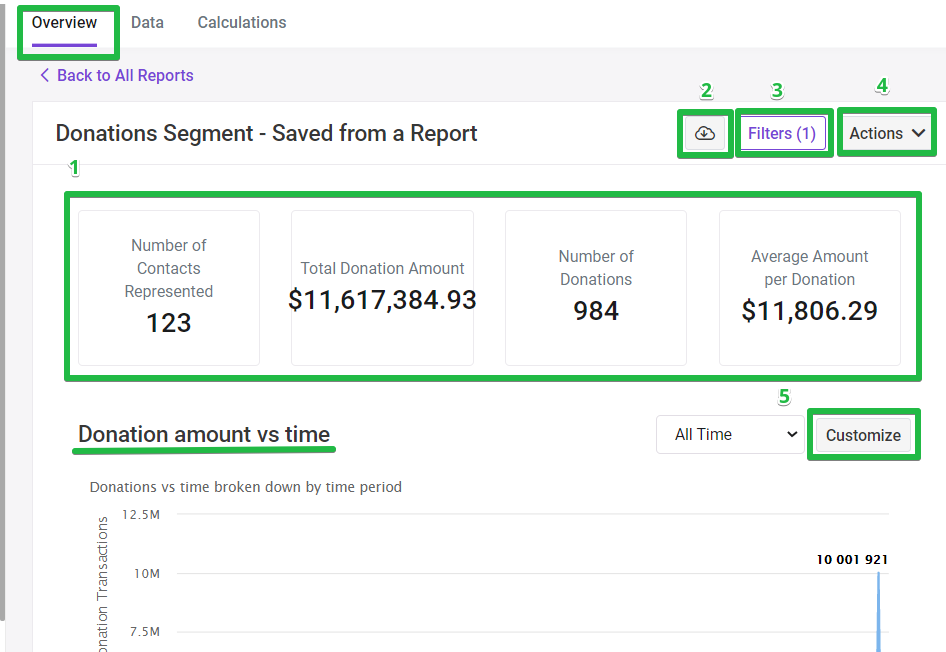 (1) Report Highlights
There are four squares at the top of each report that will store different figures or values depending on the data type that you selected to make your list. These options will always be labeled to show you exactly what information they are displaying.
(2) Export
Export the report data to a csv file.
(3) Filters
Filters provide you with the option of narrowing down your list of Contacts, Donations, Revenues or Volunteer Records depending on different types. If you selected one of our Suggested Reports, there will already be filters applied to your list.
Tip: We cover Filters in much more detail in our Filters training.
(4) Actions
There are a couple of different Actions that are available on a report. It's important to note that some of these are only available after you have Saved your list (discussed below)
Rename - Allows you to adjust the name of your report
Duplicate - Allows you to create a new, identical copy of your report

Create Segment From Report - Allows you to save your Contact Reports as a Segment

Delete - Allows you to delete your report
(5) Customize
Beneath the Report Highlights squares, you'll see a couple of graphs or tables that represent important information about your data. Use the Customize button to change the type of information that is displayed and how it looks on your screen.
Tip: We cover the Customize ability in much more detail in our How to Customize the Overview Tab of your Report article.