For any donations not received via a Keela Donation Form, you can use the Fundraising feature in Keela to log a recurring donation, process payments and issue receipts.
A few examples of recurring donations that you may want to log in Keela:
You are moving from another platform and would like to log the recurring donation in Keela going forward
A donor calls with their credit card details and you need to process the payment and log a recurring donation on their behalf
Need to log a single donation? Check out Log a Donation!
How to Log a Recurring Donation
You can start a recurring donation log via the Contact Profile or Fundraising menu:
From the Contact Profile
Select the Donor from your Contact Screen > Select the Fundraising Tab and Scheduled Recurring.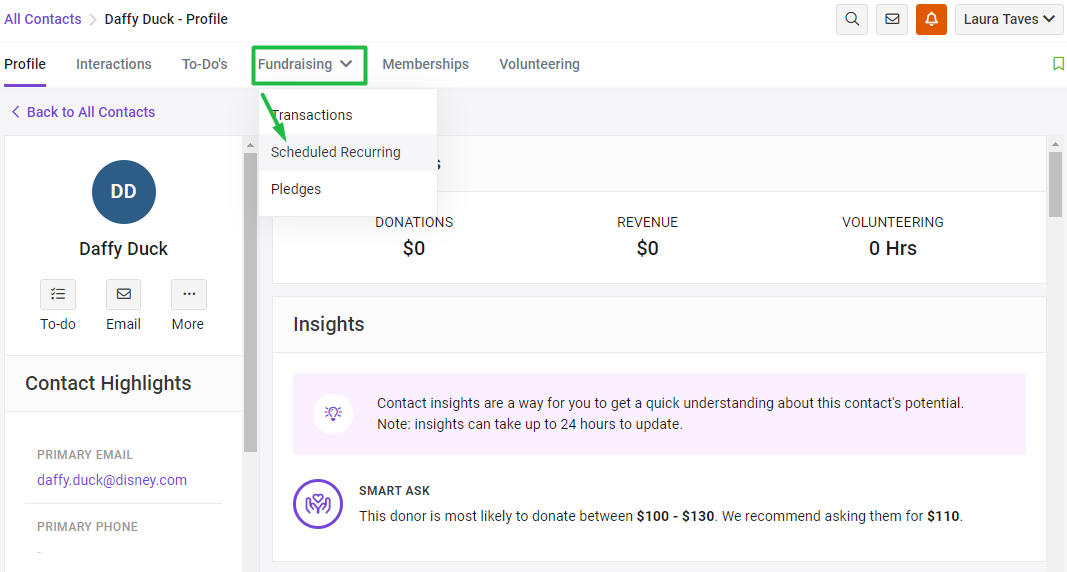 If you've logged recurring donations for this contact previously, you'll see a list of all transactions for that contact. Click Create New and Recurring Donation at the top right of the summary.
If no recurring donations were logged previously, the Add Recurring Donation button will be in the middle of the screen as below: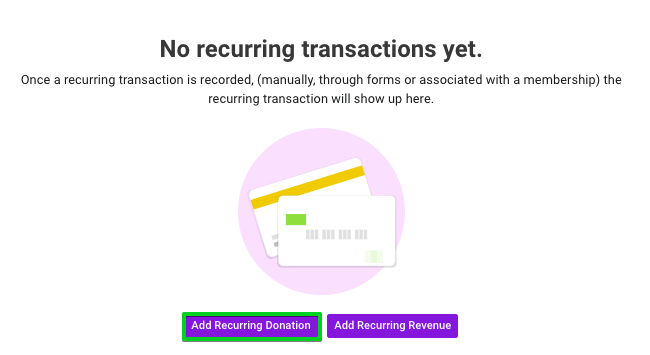 From the Fundraising Menu
Select Fundraising in the left menu > click Scheduled Recurring > Create New > Recurring Donation

Whether you choose to start the recurring donation from the contact profile or the fundraising tab, a form will appear to add your recurring donation info. See the next section below.
Filling out Donation Information
When you create a new recurring donation, you will be prompted to fill out Donation Information and Donation Associations.
Important note: the recurring donation will start on the day that you log the recurring series. For example, if you want a recurring donation to start on May 12th, you will need to log it on May 12th.
Donation Information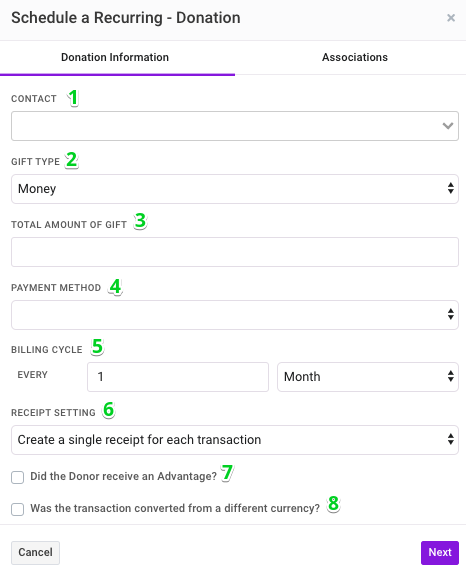 (1) Contact - The recurring donor's contact name (this field will only appear when scheduling a recurring donation from the Fundraising tab in the sidebar rather than the contacts profile).
(2) Gift Type - Money, In-Kind, or Securities. Note: the available 'Gift-Types' depends on the status of your organization in your country (e.g Registered Charity).
(3) Total Amount of Gift - The value of the donation received
(4) Payment Method - Cash, Cheque/Check, Credit Card, Online, Online via Stripe, Online via PayPal, Other
(5) Billing Cycle - The frequency of the donation (ie. every 1 year or every 2 months)
(6) Receipt Setting - This allows you to select from three receipt options:
Create a single receipt for each transaction
Create a cumulative receipt at the end of the year
Do not create automates receipts
(7) Did the Donor receive an Advantage? - Check if yes. More details on Advantages/Benefits here.
(8) Was the transaction converted from a different currency? - Check if yes. More details on accepting donations in a foreign currency here.
Donation Associations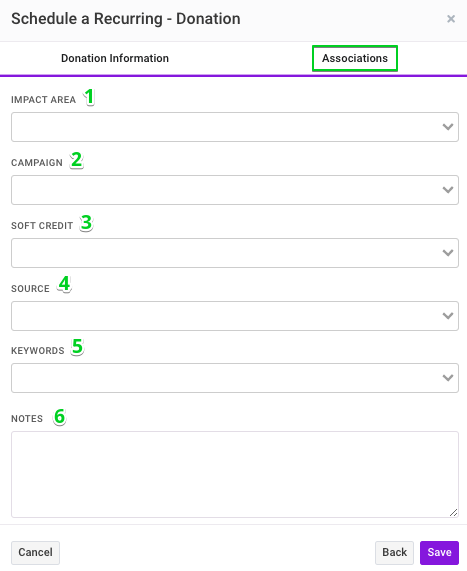 (1) Impact Area - If the contact made a donation towards any Impact Areas, select the impact area.
(2) Campaign - If the donation was made in response to or in connection with a campaign, select the campaign.
(3) Soft Credit - If the contact who made the donation contributed in response to the efforts or influence of someone else, you can soft credit the donation to a contact in Keela, to acknowledge their role in the donation.
(4) Source - Select a source if the contact who made the donation came from a certain source (e.g. online via Keela, a corporation, from a fundraiser, etc.).
(5) Keywords - Any keyword related to the donation for reporting.
(6) Notes - Additional notes for the donation.
Click Save which will create a DRAFT recurring donation record in Keela.

Logging a Donation with an Advantage/Benefit
Some jurisdictions require that you declare any advantages to the donor. For example, fundraising events such as luncheons, banquets or golf tournaments involve giving benefits to the donors. These benefits are known as advantages and must be taken into consideration when logging a donation and issuing a tax receipt.
If you add an advantage/benefit to your donation, Keela will prompt you to add the amount of the advantage and a description. These details will then be confirmed on the tax receipt.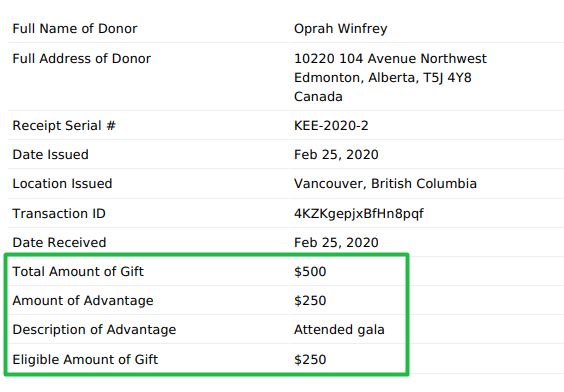 Activate a Recurring Donation
Select the Draft Donation record and review the information to ensure everything is correct. If you need to make any changes, just click Edit before you activate the record.
There are two options to activate the recurring donation record:
(1) Start with Payments - Available if you have a payment processor connected with Keela. You can enter the contact's credit card details and Keela will charge the card automatically according to the Billing Cycle on the record.
(2) Start without Payments - don't collect payment but log the donation in Keela.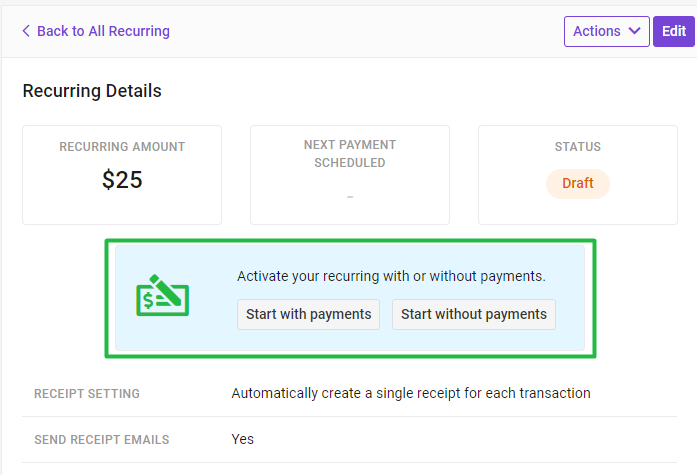 Activate Without Payments
An info form will pop-up so you can review all your receipt information for the recurring donation.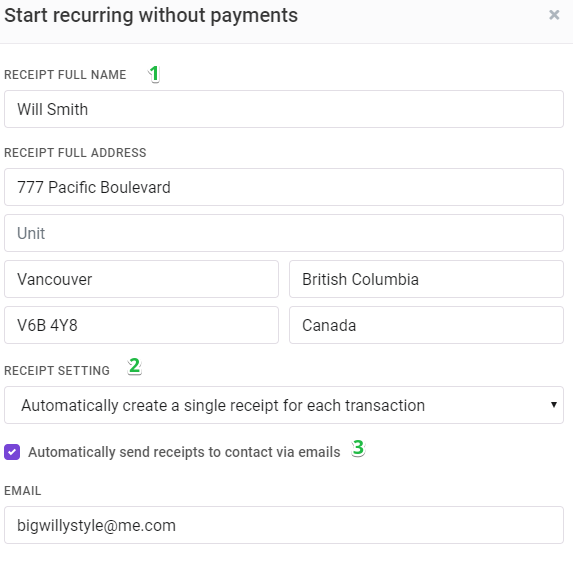 (1) Receipt Full Name and Address - If this information is included on the contact record, the information will be pulled from there. As this is a legal document, please ensure the information is correct prior to activating the recurring donation.
(2) Receipt Settings
Automatically create a single receipt for each transaction - the donor will receive a receipt for every donation
Automatically create an annual cumulative receipt at the end of the year - the donor will automatically receive a receipt at the end of the year with a summary of all transactions
Do not create automated receipts - Keela will not create any receipts, but receipts can still be created manually
(3) Automatically send receipts to contact via emails - when receipts are created according to the receipt settings, whether or not you would like Keela to automatically email the contact a copy.
Click Save to activate the Recurring Donation Record
Activate With Payments
Note: You must Integrate a Payment Processor before processing payments in Keela.
An info form will pop-up so you can review all your receipt information for the recurring donation, as above.
Instead of clicking Save you will click Next to Review the record and Pay. Once reviewed, choose whether you will use Stripe or PayPal to process the payment.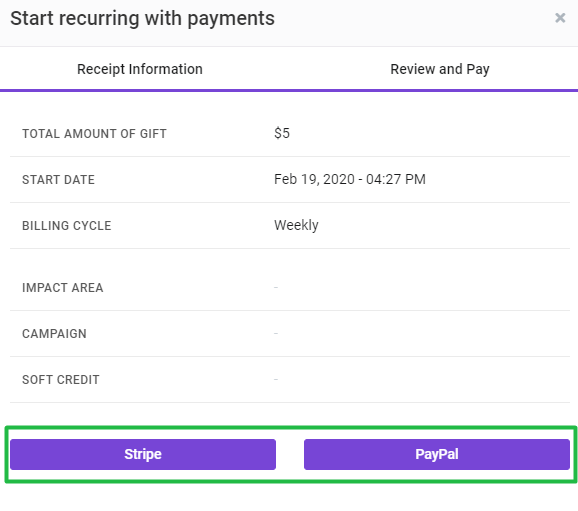 (1) Payment Processing via Stripe
When you select Stripe a new window will pop up to enter credit card details. Once correct, click Pay to process the payment.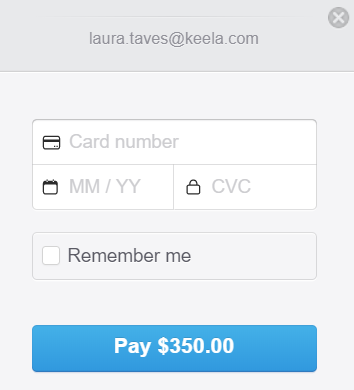 (2) Payment Processing via PayPal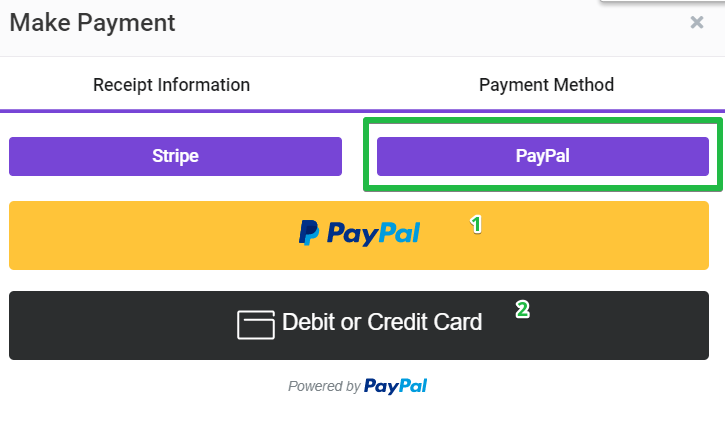 PayPal will provide two options for processing payment.
PayPal Account - to provide payment by logging into donors' PayPal account. It's unlikely you'll have this information but PayPal will still provide this as an option.
Debit or Credit Card - to enter the credit card details.
Once payment has been provided the record will automatically activate and the card will be charged and receipts generated according to the settings you established during the steps.
Your recurring donation has now been logged! Congrats!