Now that you've got your form looking beautiful, it's time to share it with the world! In this article, we'll explore the three ways that you can do this.
Note: You will need to Publish your form in the Settings Tab of your form before it can be shared.

Where to Find the Information Needed to Share Your Form
Navigate to the Form that you would like to share > Click on the Settings Tab > Here, you will see three different options for sharing your Form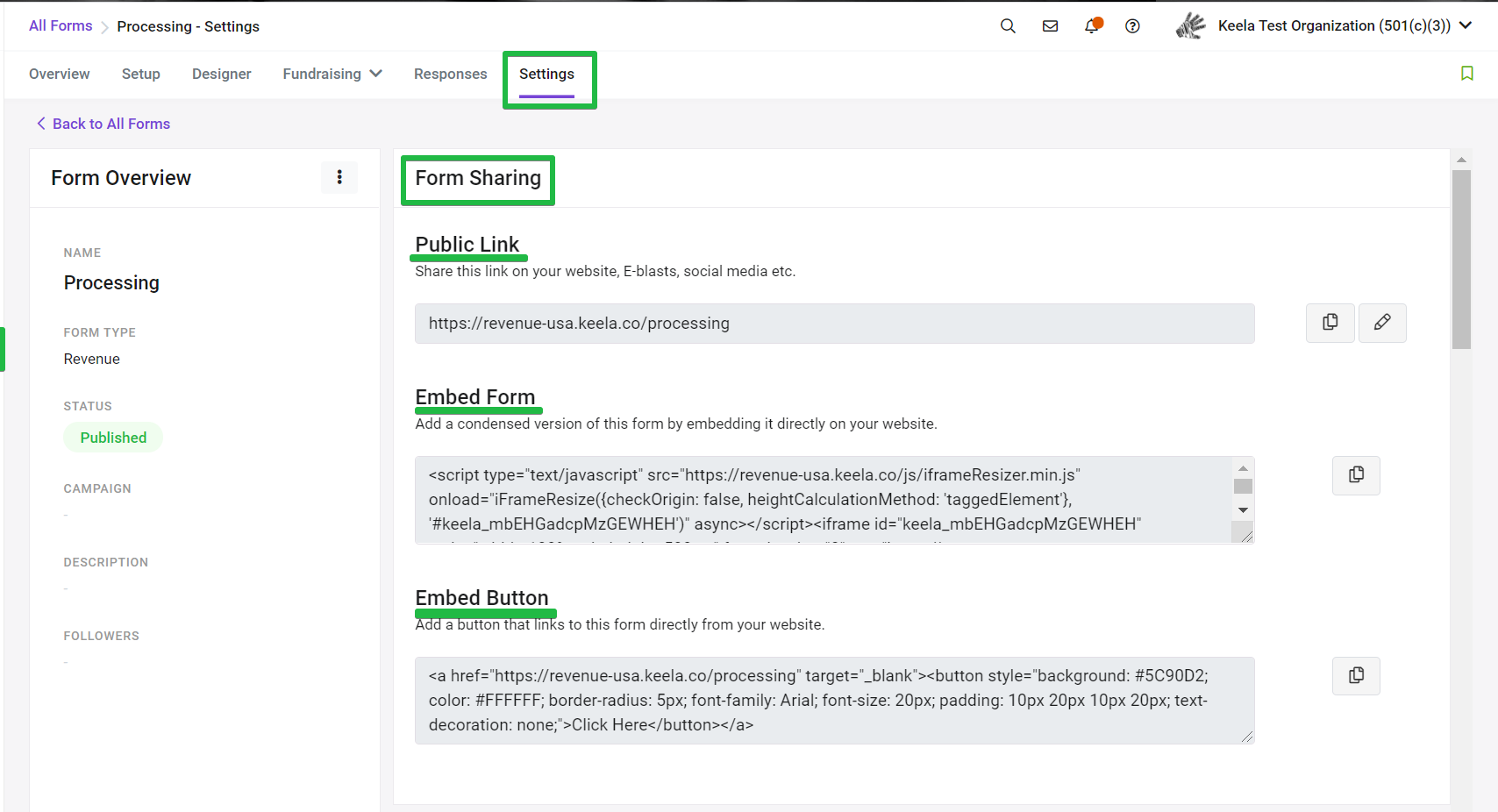 Public Link

Similar to any website address or URL, the public link of your form can be copied and pasted into an internet browser or social media post. The link will bring up a "stand-alone" web page to hold your form.
Click on the Copy icon to copy the URL. Click on the Pencil icon to change anything in the URL that comes after usa.keela.co/.
Tip: A donation link is a great option for one-off campaigns or events as it allows you to share a form quickly without making any changes to your website (see Embed Form).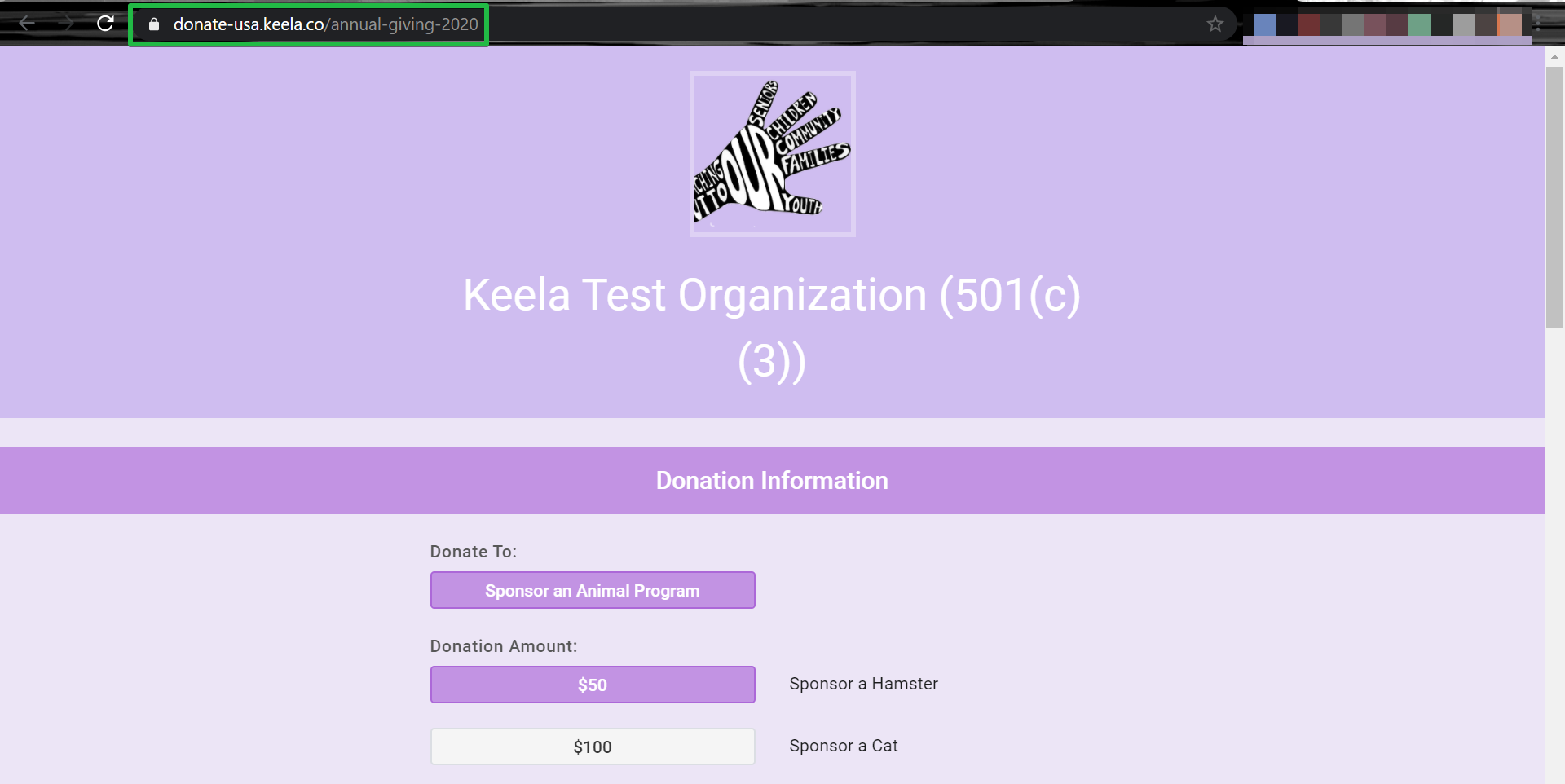 Examples of when you might use this link:
Hyperlink text with the form: Click here to donate today.
Sharing the link directly to your Facebook page
Linking a Donate Button on your Email Marketing to this form
QR Code
What is a QR you might ask? In short, it's a unique image that when hovered over with a phone camera it will generate a pop-up right on the phone that directs to your donation form. Share this QR code online (Facebook, email, etc.) or offline (printed) to allow quick, easy, and contactless giving. Donating made easy!
**Any changes made to the public link will result in a new QR code.
Curious to see this in action? Here's what this looks like from an Iphone.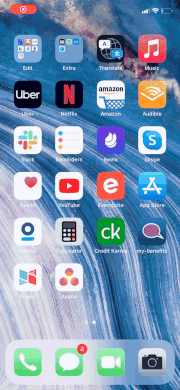 Embed Form

Perhaps you would like to embed your form directly into your website so that your Contacts can interact with it without being re-directed to another page.
Examples of when you might embed a form:
An ongoing, general donation form
An email subscription form that allows your Contacts to sign up for your newsletter
Tip: This is a great option if you intend to use your form for an extended period of time as it requires your website administrator to update the code of your site. We recommend that you paste the code directly into your website editor without making any changes to it. If you're not sure how to update your website, try reaching out to your website administrator or to the support team of the site you use to host your website.
Note: Embedded forms do not include the header or body of the form as embedded forms are intended to fit seamlessly into a pre-existing web-page. If you would like the header and body displayed, we suggest using the embed button option in the following section.
Embed Button

The embed button is a nice mix of the Public Link and the Embedded form. Here, you'll find code that can be pasted into your website to create a "Donate" button. Once clicked, the Contact will be directed to the stand-alone version of your form.
Tip: This is a great way to streamline your website and remove clutter!
Examples of when you might embed a button:
Click here to RSVP to this event
Want to more? Click here to read our blog.
Click here to view our image gallery
What's Next?
Once your form has been published and shared, you'll be ready to receive responses. Check out our Responses article to learn more about how this works.