In Keela, Impact Areas are associations that can be applied to Donations, Revenue or Volunteer records in Keela, so you can track funds and efforts towards a specific area or cause within your business. If used on a Keela Donation Form they also provide a way to demonstrate to your donors how their generosity can help in a tangible way! It gives your donors the power to understand more about your organization and feel more connected to all of the great work that you're doing.
What are Impact Areas?
Impact Areas are the specific areas or causes within your business that a Donation, Revenue or Volunteer record can be applied to. There are many different Impact Areas that you can create and chances are, your organization is already tracking a few! For example, you could use an Impact Area to sponsor a specific animal, provide workshop supplies or even pay for a specific program that your organization runs.
Impact Areas can also be presented as options for your donors' to choose from when they are submitting a Revenue or Donation Form online. This option will be available when you set up a Keela Form.
Impact Areas Training Video
Watch our training session to see how Impact Areas work first hand!
Managing Impact Areas
View Impact Areas
Impact Areas are available in the left sidebar for easy access. All your Impact Areas will be available on the overview page and you can make any changes from here.

Add an Impact Area
To add an impact area, click New Impact Area. If this is your first Impact Area, there will be larger button in the middle of the page to add your first!

An information box will pop-up for you to add a public Name and internal Description for the Impact Area. Click Save when you're done.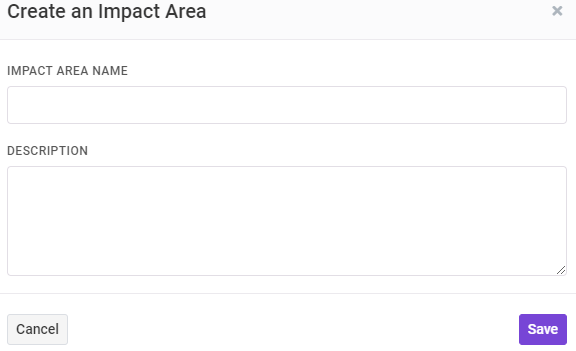 Edit an Impact Area
Select the Impact Area and in the Overview, select the 3 dots and Edit Information. Make any changes in the pop-up provided and click Save.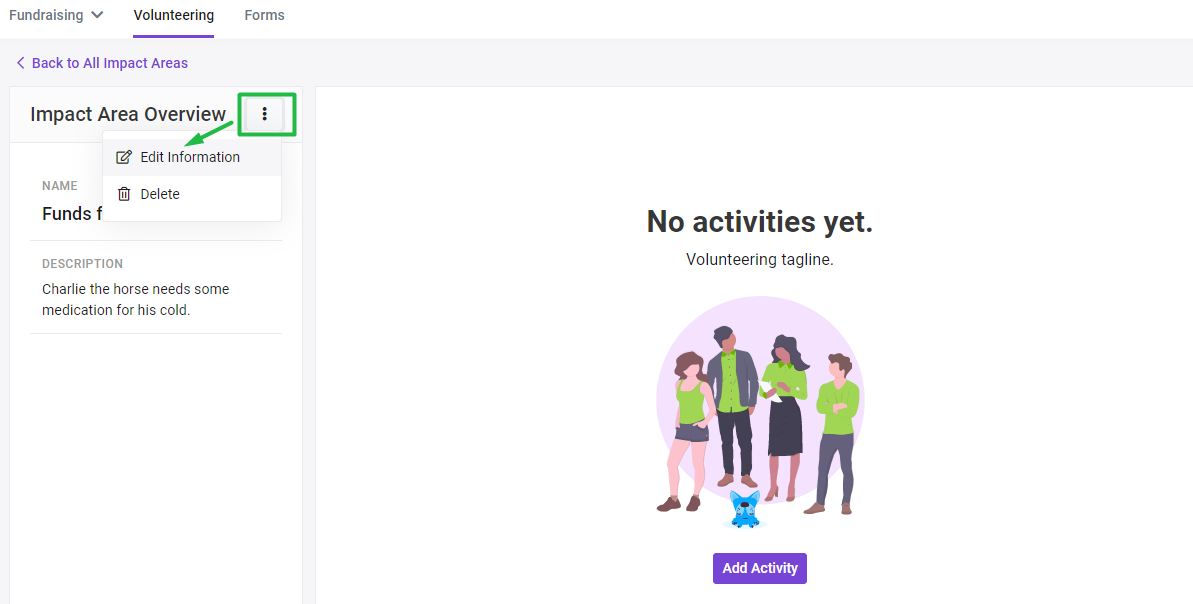 Delete an Impact Area
There are two ways to delete an Impact Area:
From Impact Areas Overview: select the Impact Areas you want to delete > Actions > Delete
From the individual Impact Area Overview: select the 3 Dots > Delete
Logging Transactions, Pledges and Volunteer Records to an Impact Area
You can log a transaction (Revenue or Donation), Pledge or Volunteer record directly through the Impact Area tool. You'll also have the option to add Impact Areas to these records when created manually or via import.
Impact Areas and Keela Donation Forms
Once Impact Areas have been created, you can publish them to a Donation or Revenue form to make them visible to donors. You'll be able to publish as many as you wish and make further customizations to the description and transaction amounts on the form itself. You can learn more about Keela Forms here: Keela's New Donation Forms.