Once you subscribe to Keela, your main point of contact will be our Customer Care team.
We're proud to be based out of our (now virtual) head office in Canada and are dedicated to helping you reach your organization's goals, using Keela!
You'll never have greater advocates, best friends, coaches, or confidants than the folks on our Customer Care Team. Don't take our word for it, our Customer Care team currently has a 98% Satisfaction Rating.
Support and Training Options
Who doesn't love options? We offer two support and training options for your Keela journey - one of which is completely included in your subscription!

Standard Care
There's nothing "standard" about our included support! It's the same high-quality, fast paced, and detailed support that our customers have come to know and love for years.
We happily provide every Keela customer unlimited email support and full access to our comprehensive online training and support resources - all inclusive in your subscription.
Standard Care is the support package we've provided all Keela customers since inception and it's a great option for any budget-friendly customers or those that are happy to learn on their own through our Knowledge Base with the support of our Customer Care team via email.
Pricing
Free with every Keela subscription plan!
Premium Care
We are happy to offer an optional Premium Care plan for customers that are looking for more ways to communicate with our team.
Premium Care includes all the services in Standard Support with the addition of unlimited live chat and scheduled phone support, plus a monthly one-on-one training session from our learning suite. You can learn more details about each service we offer below.
Ready to take Keela to the next level? Click the button below to sign up for Premium Care!
Sign Up Here
Pricing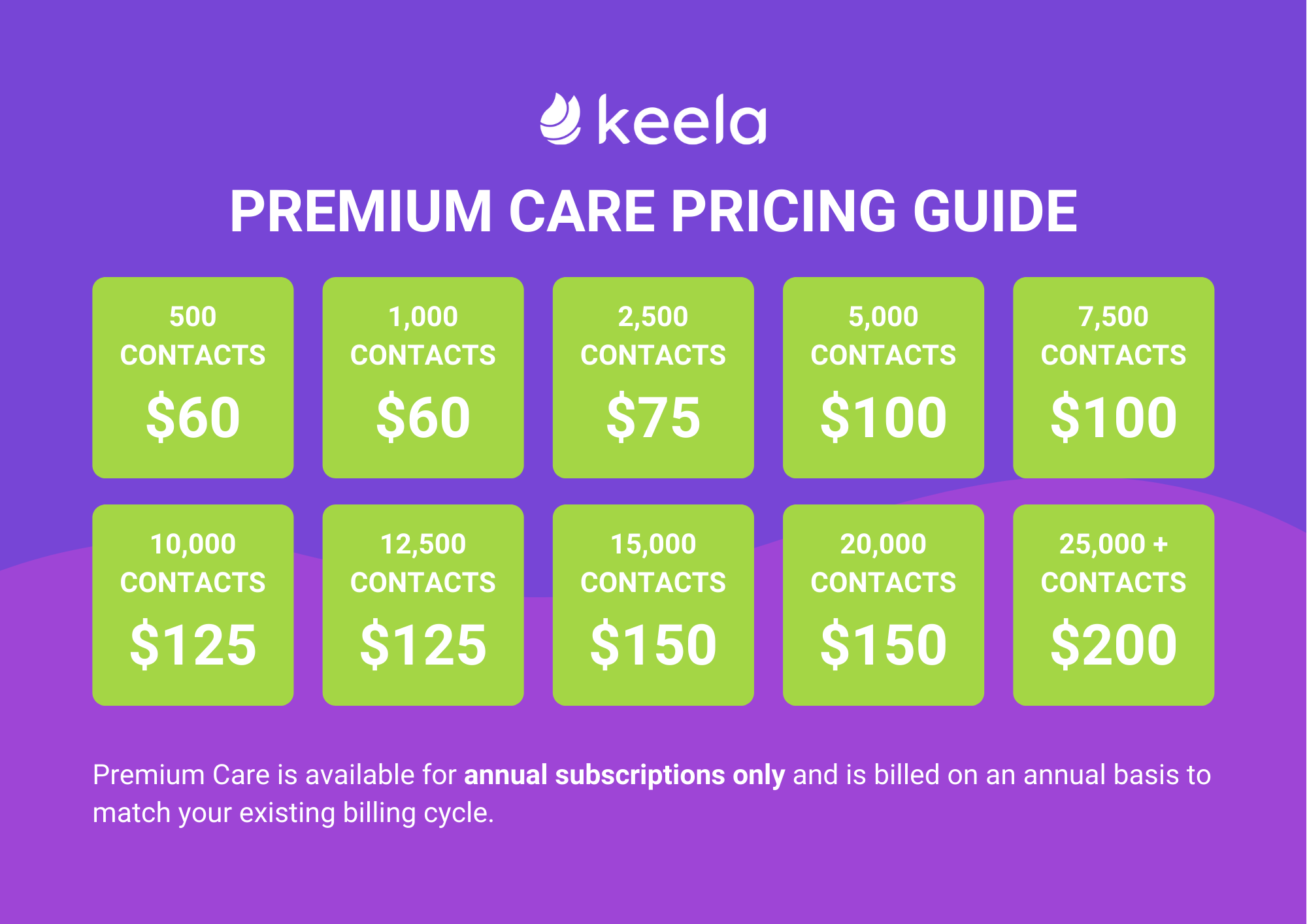 Support and Training Services
Email Support
*Included in all Keela subscriptions
| | |
| --- | --- |
| | The best email support you'll ever receive! Our team is passionate about helping non-profits and is here to assist with your onboarding, best practices & advice, feature insight & technical support all while using creative and innovative ways to help through email, including customized videos! |
If you're subscribed to Premium Care, email support is a great option if you're looking to have an ongoing discussion with us that isn't time urgent and could benefit from being written down. For example, if you would like us to perform a free review of your data spreadsheets before you import them into the system.
Get in touch via Email Support
In your Keela account - click Support at the bottom left of your screen
In the Knowledge Base - click Submit a Request at the top right of every page
Send an email directly to support@keela.com
Don't Forget!
Add
support@keela.com
to your safe sender list to ensure you receive our replies.
Email Support Hours
Monday to Friday, 8am - 4pm PST (11am - 7pm EST)
We know how important it is to hear back quickly when you need help! During support hours, our average first response time is the same day*.
*Note that this can vary based on the complexity of your request and current ticket volume. We want to ensure that we provide an accurate and informative response which can sometimes take some time!
Live Chat

Premium Care plans only
Chat with our support team live, right from your Keela account! This is a great way to get an answer quickly to any straightforward questions you may have or if you need assistance right away as a Customer Care team member

will usually respond within a couple of minutes to help out.
If your question is a little more complicated or requires some additional follow-up, we might ask to move to email or a phone call to continue working with you.
Get in touch via Live Chat
| | |
| --- | --- |
| | If you are subscribed to Premium Care, you can access Live Chat by clicking the Support button at the bottom left of every page in Keela. |
Live Chat Hours
Monday to Friday, 10am - 2pm PST (1pm - 5pm EST)
Scheduled Phone Support

Premium Care plans only
| | |
| --- | --- |
| | Schedule a 15-minute call with our team to chat through any complex questions or issues that you may have. The best part? There is no need to go through a call tree or wait on hold for hours. We'll call you at your appointment time! |
Phone Support is a good option if your question can wait a day or two and would benefit from a more in-depth discussion or maybe you just want to say hi!
Looking for on-demand support? If you can't wait for an appointment, that's cool too! We recommend using Live Chat to get in touch with us immediately.
Get in touch via Phone
If you are subscribed to Premium Care, you can access phone support through your account by clicking the '?' icon at the top right of every Keela page and selecting Phone Support. From there, you'll be able to schedule a 15-minute session with us starting the next day!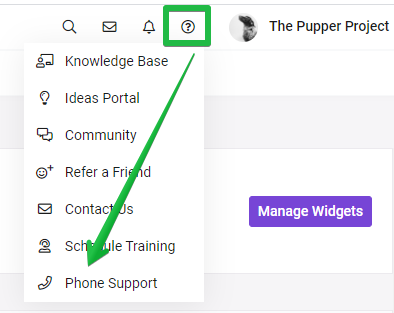 Phone Support Hours
Monday to Friday, 10am - 2pm PST (1pm - 5pm EST)
One-on-one Training

Premium Care plans only
| | |
| --- | --- |
| | Yearning for some learning? Bring the whole team along for a session from our learning suite! Schedule a live, one-on-one training with our team and we'll show you the ropes. |
All Premium Care plans include one 45 minute training session per month. If additional training is needed, consider a Booster Pack.
Premium Care Learning Suite
We have spent hours curating a suite of training sessions that cover one important component to the Keela system at a time. You can sign up to any and all of the sessions but our general recommendation is to start at the top and work your way down as they do build on each other. Your package comes with 1 45 minute long session per month, but you can always grab some extra booster packs if you think you need more training as you get started or just want to pack more than one into a month.
We currently offer the following training sessions from our learning suite*:
Introduction to Keela

Contacts

Fundraising
*We are in the midst of our soft launch for Premium Care, so are working on additional training sessions to add to our Learning Suite. Stay tuned!
Accessing One-on-one Training
If you are subscribed to Premium Care, you can access training through your account by clicking the '?' icon at the top right of every Keela page and selecting Schedule Training.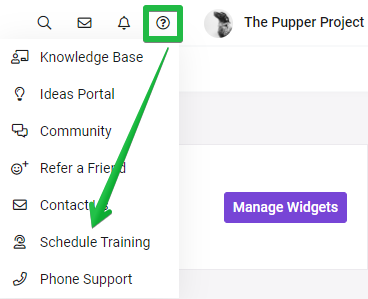 Phone Support Hours
Monday to Friday, 10am - 2pm PST (1pm - 5pm ET)
Training Booster Packs

Premium Care plans only
Get the most out of Keela by adding a booster pack to your Premium Care features for a one-time fee of $400. With each pack, you will receive three additional training sessions that can be used at any time.
Meet our Support team!
Support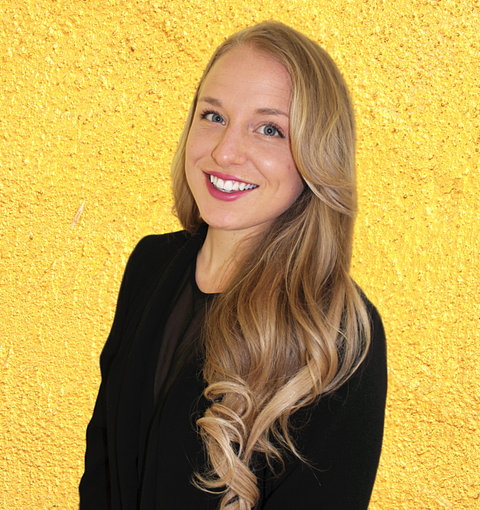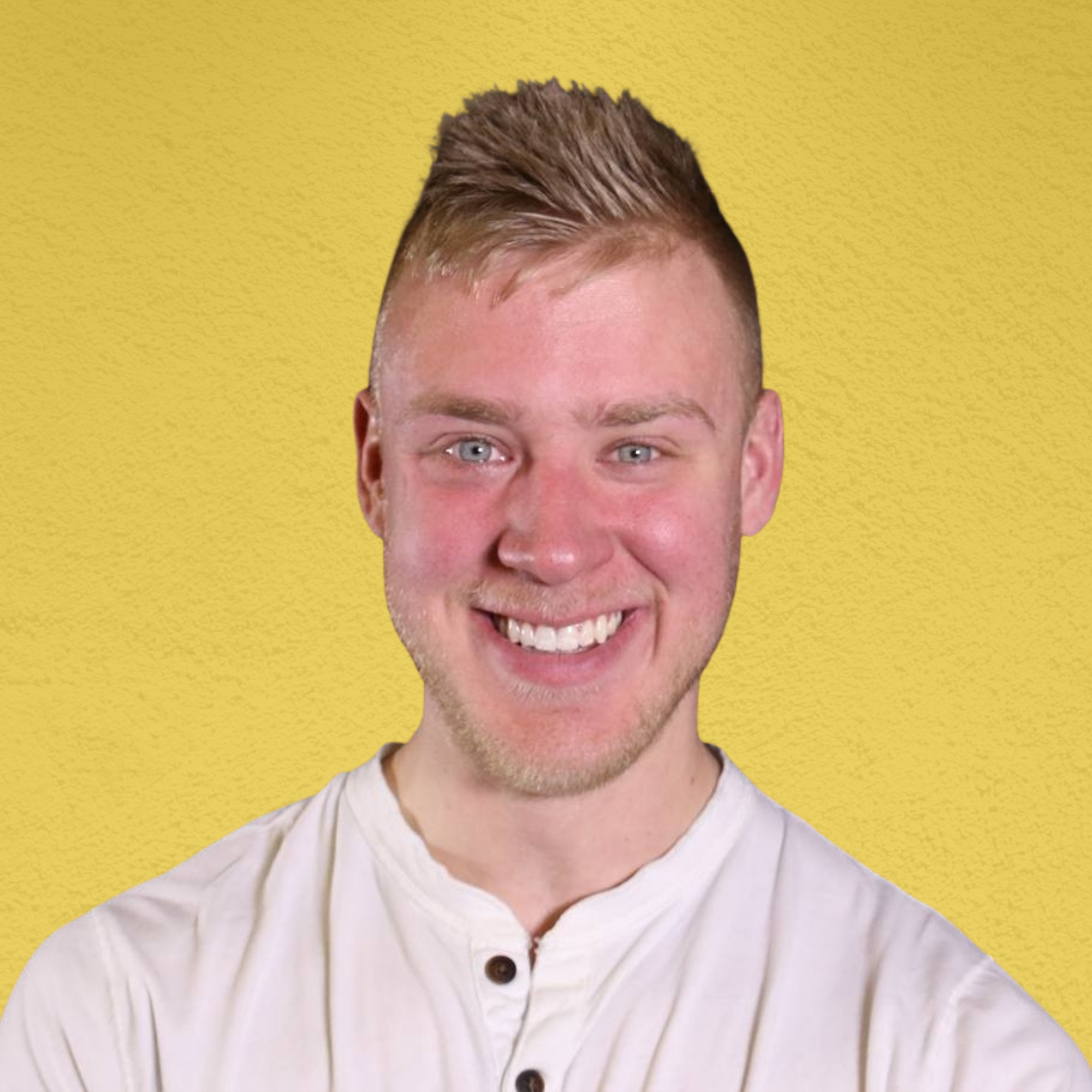 Maggie and Thomas will be your best friends while you are going through your Keela journey, especially during onboarding when you're new to the Keela system! Anytime you send an email to us, you'll be directed to Thomas or Maggie who are always happy to help.
Meet our Customer Success and Training team!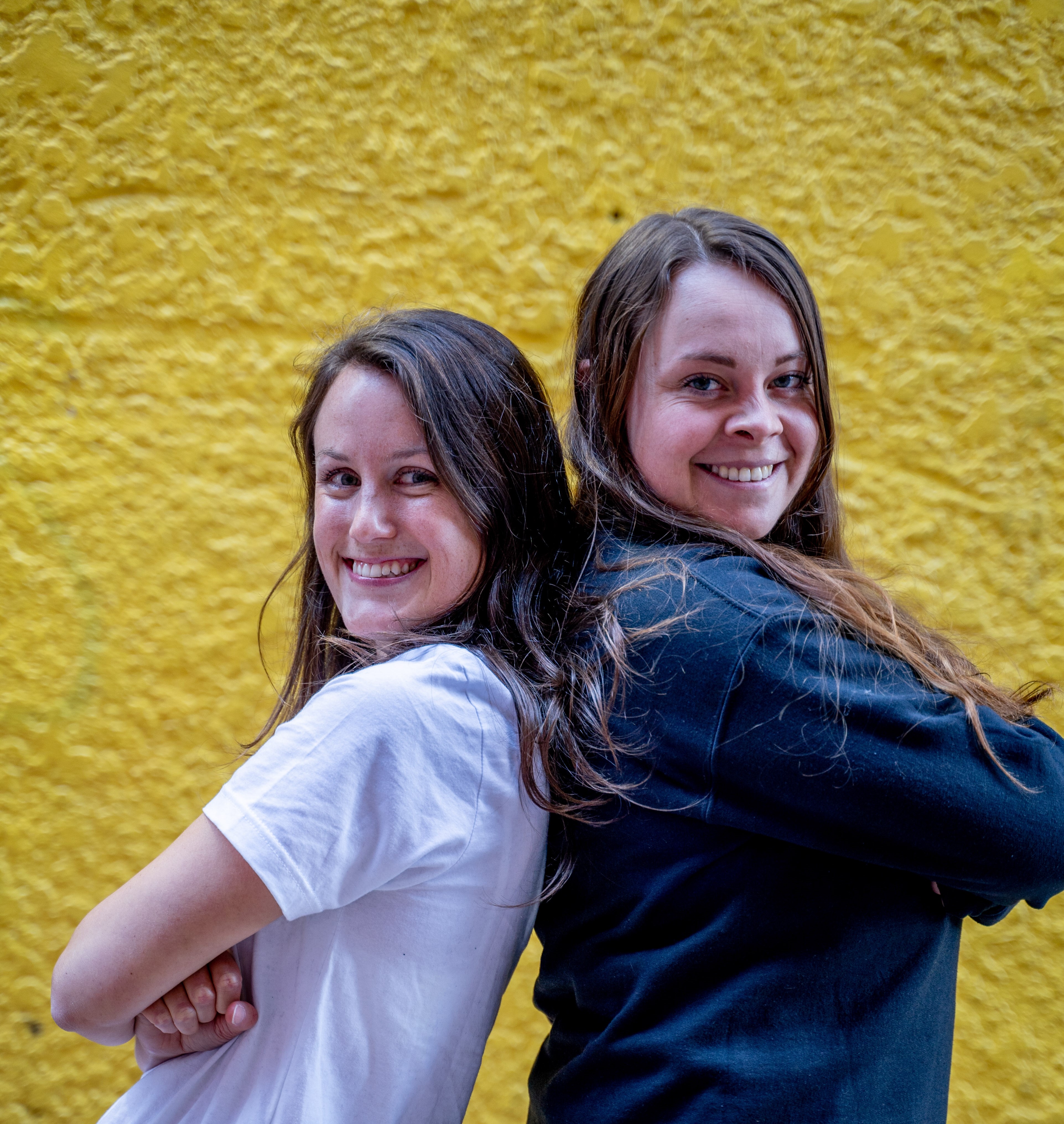 Elsie and Laura are the dedicated relationship managers for all our customers! You'll hear from Laura or Elsie often during your onboarding, as they check in on your progress and provide any resources you need to get started. They also work in the background, ensuring the Knowledge Base is up to date and that customers are receiving the resources they need to be successful at Keela! They will also be the host of your live training session if you have Premium Care!