Interactions are your go-to for all your communications with a contact! Keep track of all your communications with a contact, both online and offline, for a full history of your relationship, empowering you to take your relationships to the next level!
Where are Interactions?
(1) Navigate to Contacts in the Sidebar > Select the contact > Select Interactions tab
Here will be a summary of all interactions with the contact!

Interaction Types
Keela's interaction tool allows you to record and store all different types of interactions you have with your contacts. When you create a new interaction, you will be able to choose from several types.
E-mail - Any email correspondence you had with a contact.
Mail - If you sent or received physical mail from a contact.
Phone - If you want to record information about a call you had with a contact.
In-person - If you had an in-person meeting with a contact.
Online Chat - If you had an online chat or interaction with a contact.
Video Conference - If you had a video conference or call with a contact.
Social Media - Any social media correspondence you had with a contact.
Event - Any interaction related to an event (i.e. attended, registered, donated, etc.)
Other - If your interaction is unique and does not fall under the above categories.
Automated Interactions
To keep things easy, Keela also automatically logs certain interactions for you, see below!
E-mails - Any personal emails sent or received from a contact, including donation receipts.
Email Marketing - Any Email Marketing sent to a contact.
BCC/FWD - Any emails copied to the Keela system using the BCC/FWD Emails functionality
Form Responses - Any responses a contact made on a form.
Eventbrite Events - If you set up the Eventbrite Integration, contact's responses to event invitations will be automatically generated as interactions.
The type of interaction, whether manually created or automated, will appear in the Type column under the Interactions tab, to help you stay organized!

Create a New Interaction
(1) Select Create New to the top right of the Interaction tab. An interaction card will pop out for you to fill in the details.

Note: If this is your first interaction for a contact, Log Interaction and Send Email buttons will appear in the middle of the page in lieu of the Create New button.
(2) Complete the applicable information: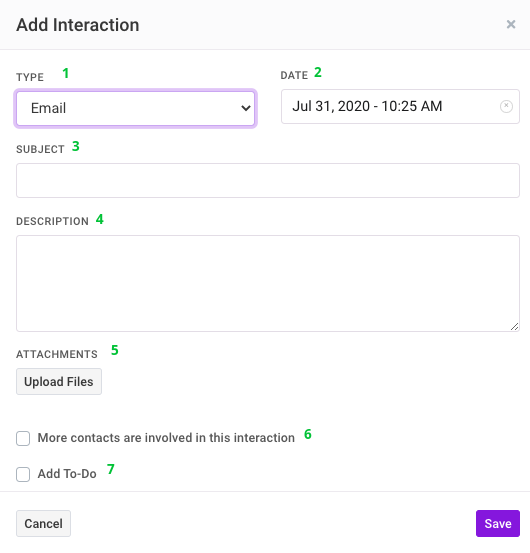 A guide to the fields:
Type - How you interacted with the contact (i.e. Email, Mail, Phone, In-Person, Online Chat, Video Conference, Social Media, Event, Other).
Date - When the interaction took place.
Subject - Brief description of the interaction.
Description - Details of the interaction that you may need to reference later.
Attachments - Upload any files that you want to include with this interaction.
More Contacts - add any additional Contact that you want associated with this interaction.
To-Do - The To-Do option allows you to set reminders or tasks specific to the contact. For example, maybe you had an in-person meeting with the contact and want to remind yourself to reach out 1 month later about a donation. You can create these To-Do's by clicking on the To-Do box and input sections will appear that you can fill in with the relevant information. Find out more about To-Do's here.
Creating Joint Interactions
Were more than one contact involved in your interaction? Log a Joint Interaction to reflect this!
When logging an interaction, check the option More contacts are involved in this interaction. You'll then be able to include additional contacts and the interaction will appear on each contact's interaction tab!
Note - If you add a To-Do, there will be a joint To-Do on each contact's To-Do section as well!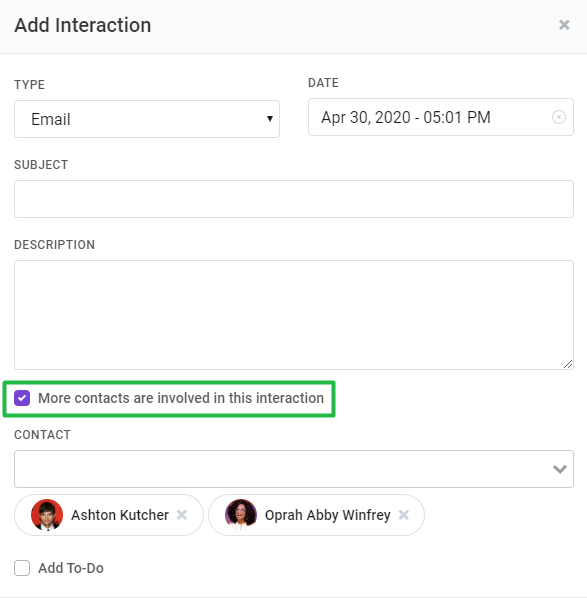 Creating Bulk Interactions
Did you have the same interaction with multiple people (but separately)? Bulk add an Interaction to a group of contacts with a few clicks. Note that when you create a Bulk Interaction, a copy of that Interaction will appear in the Interactions tab of each of the contacts included in that Bulk Interaction.
Navigate to All Contacts
Use Filters to filter out the contacts that you want to create a bulk interaction for. For example, you could filter out a certain Tag or Segment. Once you filter out the contacts, you will want to select the drops down arrow next to 'Full Name' and select 'Select all pages' which select all the contacts that you filtered out.
You can also choose to skip the filtering and instead, only multi-select contacts that you want to create Bulk Interaction for directly from the contact list.
Once your contacts that you want to create a Bulk Interaction for are selected > click Action > Create Bulk Interaction.