Create and manage all your individual your contacts in just a few clicks!
If you are looking to manage a Company, you can go here to our Manage a Company article!
Create a Contact
(1) Navigate to Contacts in the sidebar > click New Contact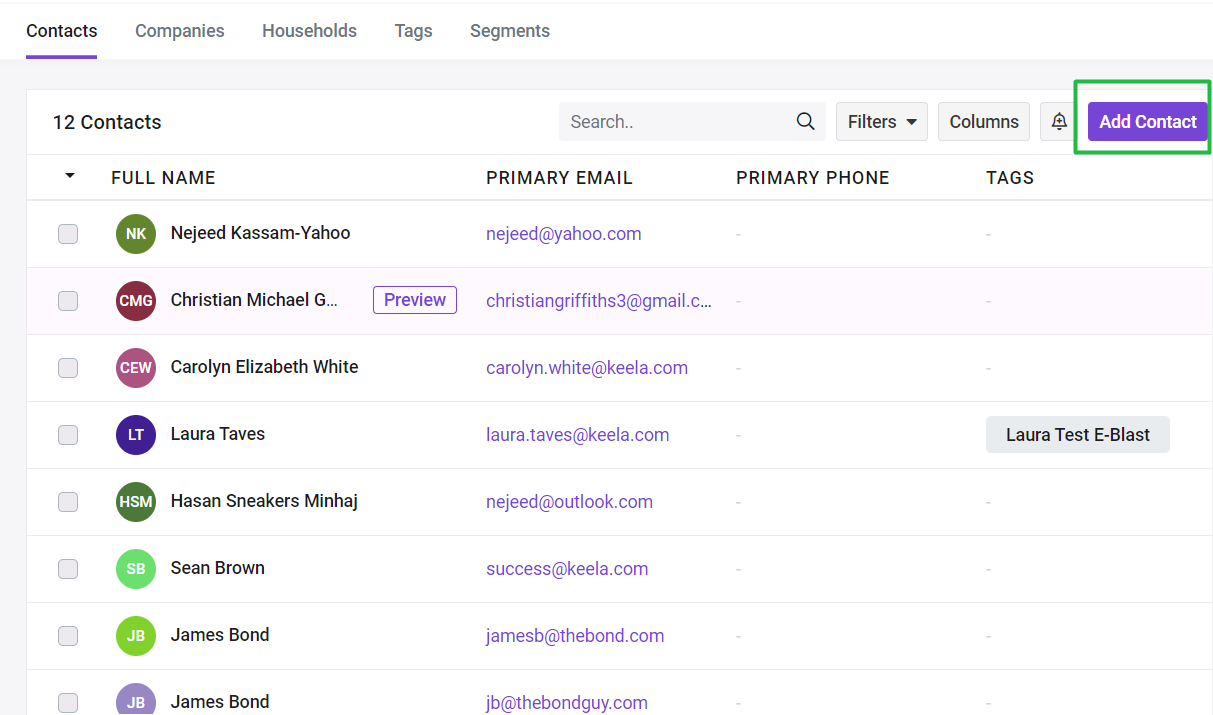 (2) A Contact Card will appear so you can fill in the initial details.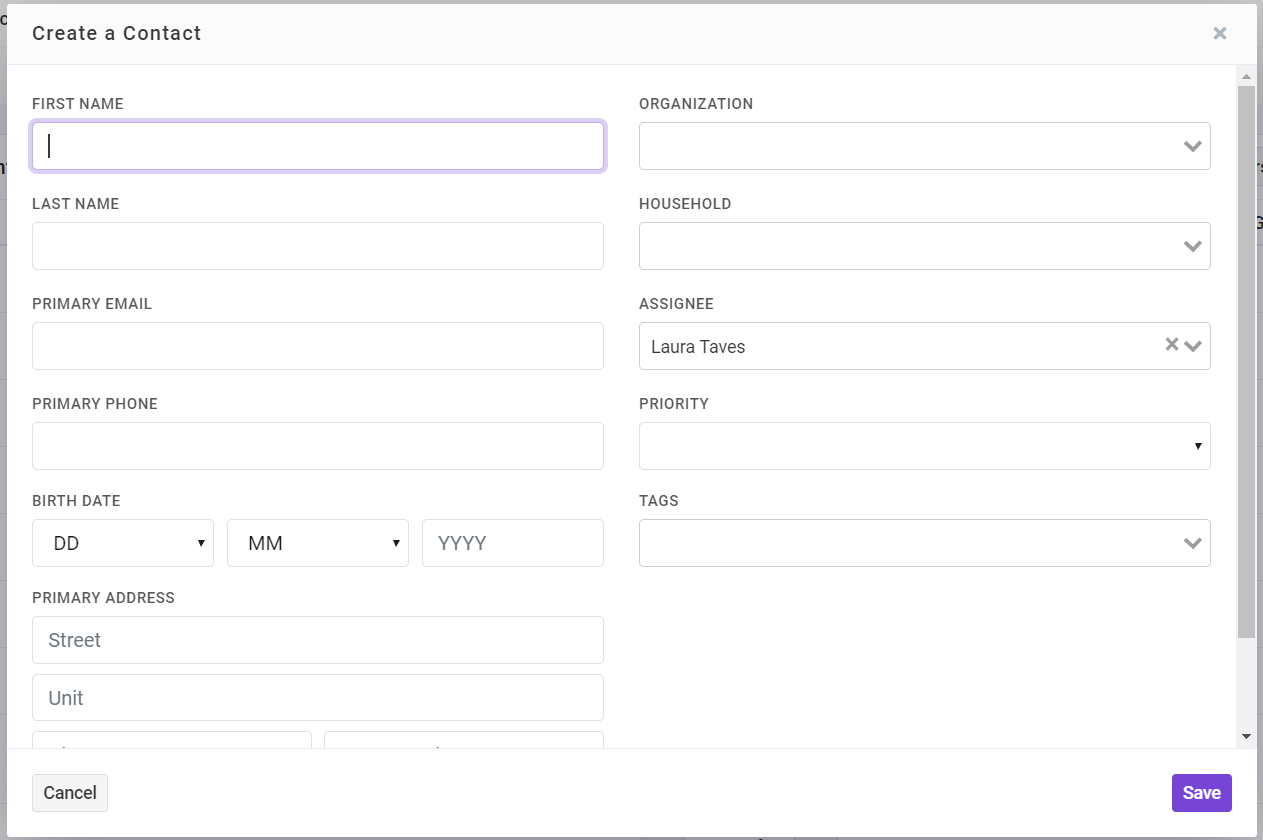 A guide to the fields:
Organization - If the individual is associated with a Company, you can add the Company here.

Note: that you will only be able to add Companies to this field if they already exist in Keela.

If you would like to create a Company Contact record, please refer to Manage a Company
Household - Add contact to an existing Household in Keela.
Assignee -

Your team member who will be responsible for the new contact. The contact creator will be the assignee by default, but this can always be changed or removed.

Priority - A

contact priority level between zero to three stars, with three stars indicating highest priority and zero stars, lowest priority.

Tags - Add your contact to a tag or create a new one. You can add as little or as many as you'd like!
(3) Once submitted, you can navigate to the Contact's Profile to make further additions to the contact.
Tip: If you need to add multiple contacts at once, we recommend importing the contacts.
Need to add some additional fields to help manage your contacts? Create a Custom Field!
Edit a Contact
Select Contacts on the sidebar > select the contact > n
avigate to the
Profile
tab > click
Edit
in the category where you'd like to make changes > then select Save.

Delete Contacts
Deleting a Single Contact
Select Contacts in the side bar > search and select the contact you want to Delete > clicking the three dots button > select Delete Contact.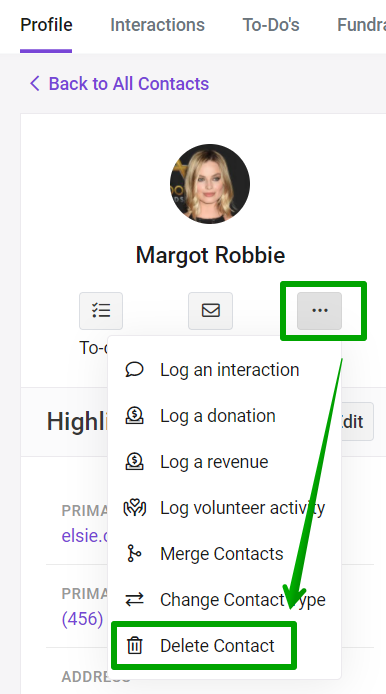 Manage Contact Highlights
Each contact has a Highlights section under the profile tab with an overview of important information about this contact. You have the option to customize the information that appears in this section.
To customize a Contact's highlights > selecting the Edit button in the Highlights section. Here you can then add up to 10 custom fields and arrange them any way you'd like! Cool right?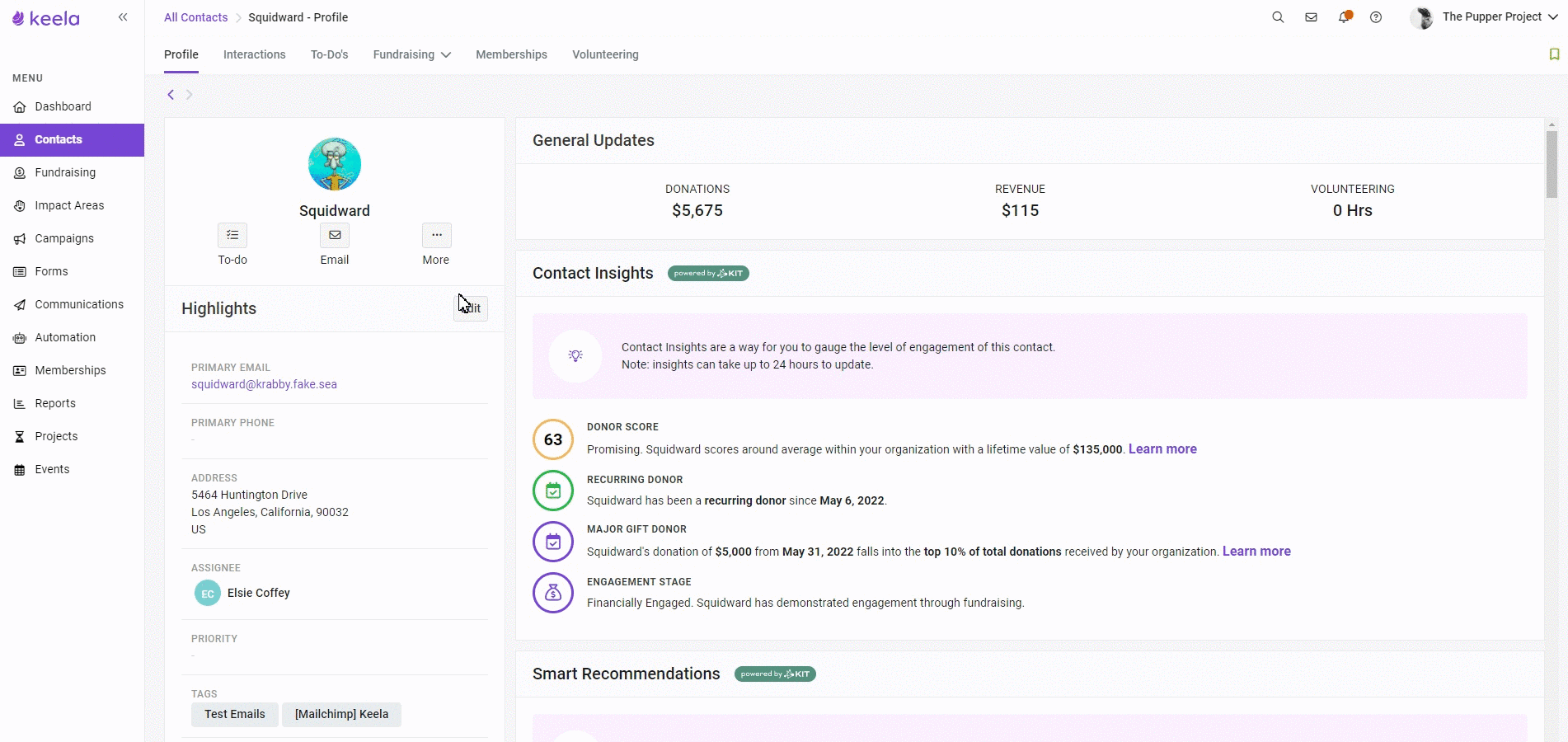 FAQ
I want to be able to store additional information for my contacts (files, interests etc.). How can I do this?
We know your contact data is unique, so you can store any additional information in Custom Fields! For example, you can create a new contact section specific to volunteer information. Store the start date for when they started volunteering, all their waivers and volunteer interests - all in one-place.
What does 'Date Created' refer to?
This shows the date the contact was created in your Keela account (Example: manually, via import or via a Keela Form). In addition to viewing this on the contact profile, this field is also exportable!