Introducing our Wealth and Demographics add-on tool, providing rich insights into individual wealth, including real estate values, estimated income, mortgages, and more. Additionally, gain demographic data based on zip codes, offering statistics such as average home values, rent, education levels, and median household income.
This tool offers vital data for strategic decisions, including donor segmentation, major contributor identification, grant proposals, personalized communication, and diversified fundraising sources, enabling targeted outreach, improved stewardship, a competitive edge, and data-driven decision-making.
Note: This tool is exclusively available to our US customers due to the greater data accessibility within the US. We are committed to upholding legal restrictions surrounding public data in other regions, which is why this tool may not be accessible outside the United States.
To access Keela's Wealth and Demographics tool, head to a contact's profile> click on the Fundraising tab > head to Capacity to Give. 
Wealth Data
As a fundraiser, you can leverage individual wealth data to identify high-potential donors, tailor your solicitation amounts, and craft personalized fundraising appeals, thus optimizing your fundraising strategies for greater success.
Keela uses data provided by Data Axle to provide individual wealth data. Below are the available wealth data points, organized by various categories below. 
Family Data
Marital Status:

 

Estimates if the person is married.
Number of Adults:

 

The number of adults in the family.
Number of Children:

 

Estimates the number of children in the family.
Family Financial Data
Household Income:

 

The estimated income of the family.
Household Income Range:

 

The estimated income range of the family.
Household Disposable Income:

 

Estimates the disposable income of the family.
Household Wealth:

 

The estimated wealth of the family.
Household Vacation Spending:

 

The estimated expenses the family spends on vacations.
Potential Investor:

 

Indicates the family is likely to make financial investments.
Household Liquid Assets:

 

An estimate of a family's liquid assets.
Home Owner:

 

Estimates if the family owns their home.
Mortgage Owner:

 

The individual is directly associated with the property mortgage.
Home Equity:

 

An estimate of the current home equity.
Multiple Properties Owner:

 

The family owns properties other than their residence.
Neighborhood Socioeconomic Status:

 

Quality of a person's neighborhood on the socio-economic continuum.
Real Estate Data
Home Value:

 

An estimate of the current home value.
Home Bedroom Count:

 

The number of bedrooms in the home.
Home Year Built:

 

The year the home was built
Individual Interest Data
Below are the available data points available in relation to interests. 
American history
Auto racing
Aviation
Baseball
Basketball
Beaches
Birds
Boating and sailing
Books
Business
Hiking and camping
Cars
Cats
Charities
Collectibles
College
Conservative politics
Cooking
Crafts
Crocheting
Cruises
Culture and Arts

Current news
Dieting
DIY
Dogs
Domestic travel
Electronics
Farming
Fiction
Fishing
Fitness
Football
Gambling
Games
Gardening
Golf
Gourmet foods
Health
History
Hockey
Home Decor
Horses

Hunting
Inspirational Products
Knitting
Liberal politics
Motorcycles
Music
Nonfiction
Outdoors
Personal Finance
Pets
Photography
Religion
RVs
Science
Science Fiction
Skiing
Soccer
Sports
Tennis
Travel
Movies
Wildlife
Ranges
Please note that some of the wealth values are sometimes presented in a range (e.g., Home Value = $20,000 to $400,000). To enable you to filter these data points, we have introduced 'Lower Range' and 'Upper Range' filters. This allows you to apply filters like 'Home Value > Upper Range > Is Between > $400,000 and $800,000'. You can also incorporate these ranges into your column sets.
The 'Lower Range' and 'Upper Range' values have been applied to the following data points:
Home Value
Household Income Range
Household Wealth
Household Vacation Spending
Household Liquid Assets
Home Equity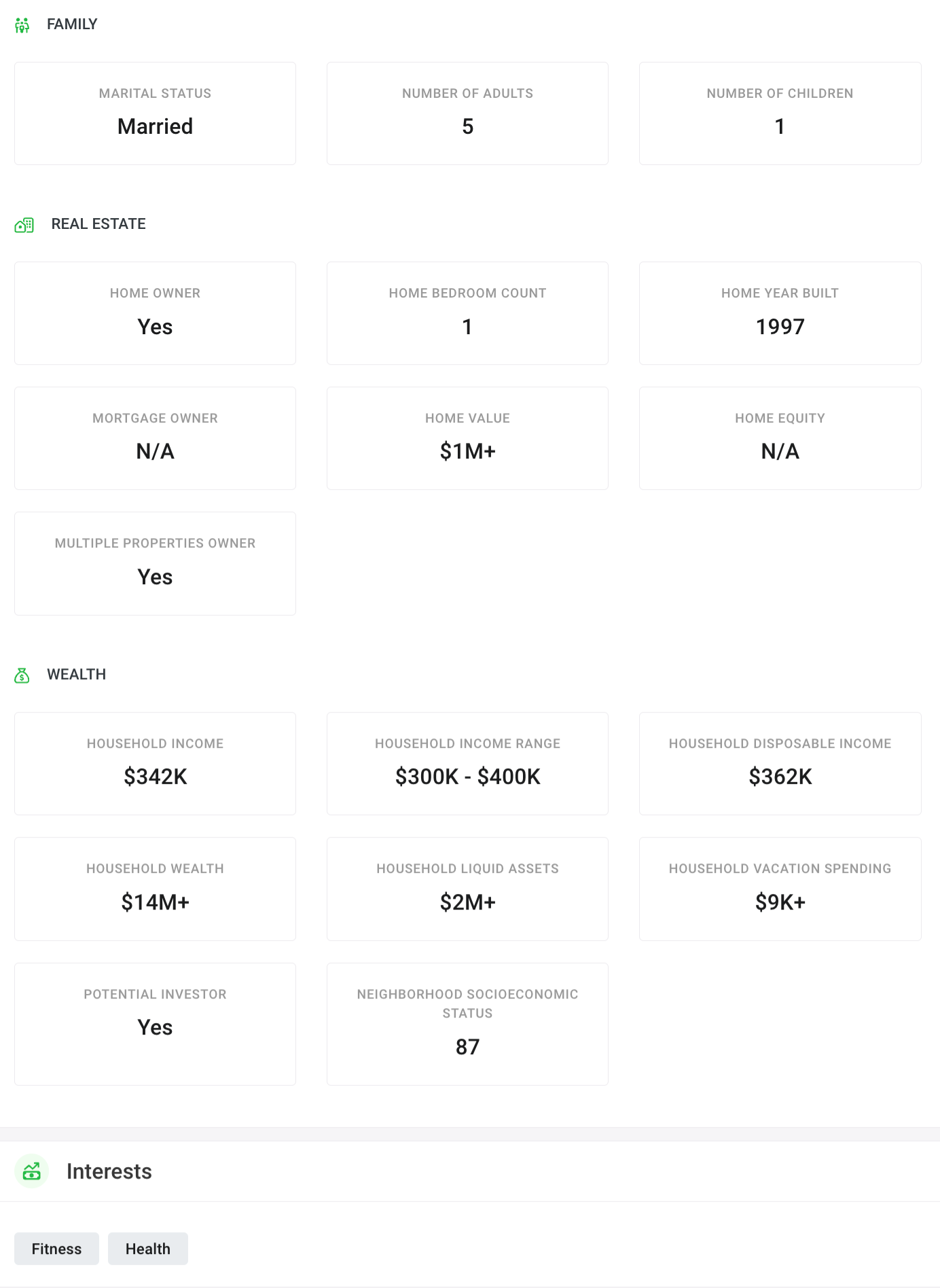 Accuracy of Wealth Data 
DataAxle, the third-party source that supplies wealth data to Keela, utilizes an individual's first name and full address to locate a match within their system. The greater the completeness of the name and address of a contact, the higher the accuracy of the wealth data they can offer.
On every contact record where wealth data is included, you will find a 'Match Confidence Score.' This score is specifically related to wealth information (not demographic details) and is provided by DataAxle. The confidence score indicates the level of certainty DataAxle has in the accuracy of the information provided for that specific contact. Each contact is assigned a unique confidence score.

Demographic Data
Leveraging demographic statistics enables the identification and focused targeting of potential donors who exhibit the capacity to contribute, paving the way for more tailored and successful fundraising strategies.
Keela pulls from census data to provide several demographic statistics based on a contact's postal code. Below are the available demographic statistics: 
Median Household Income
Median Individual Income
Employment Rate
Median Home Value
Median Monthly Rent
Number of Households
Median Age
Population Density
Population
Education Level
Household Type
Commute Breakdown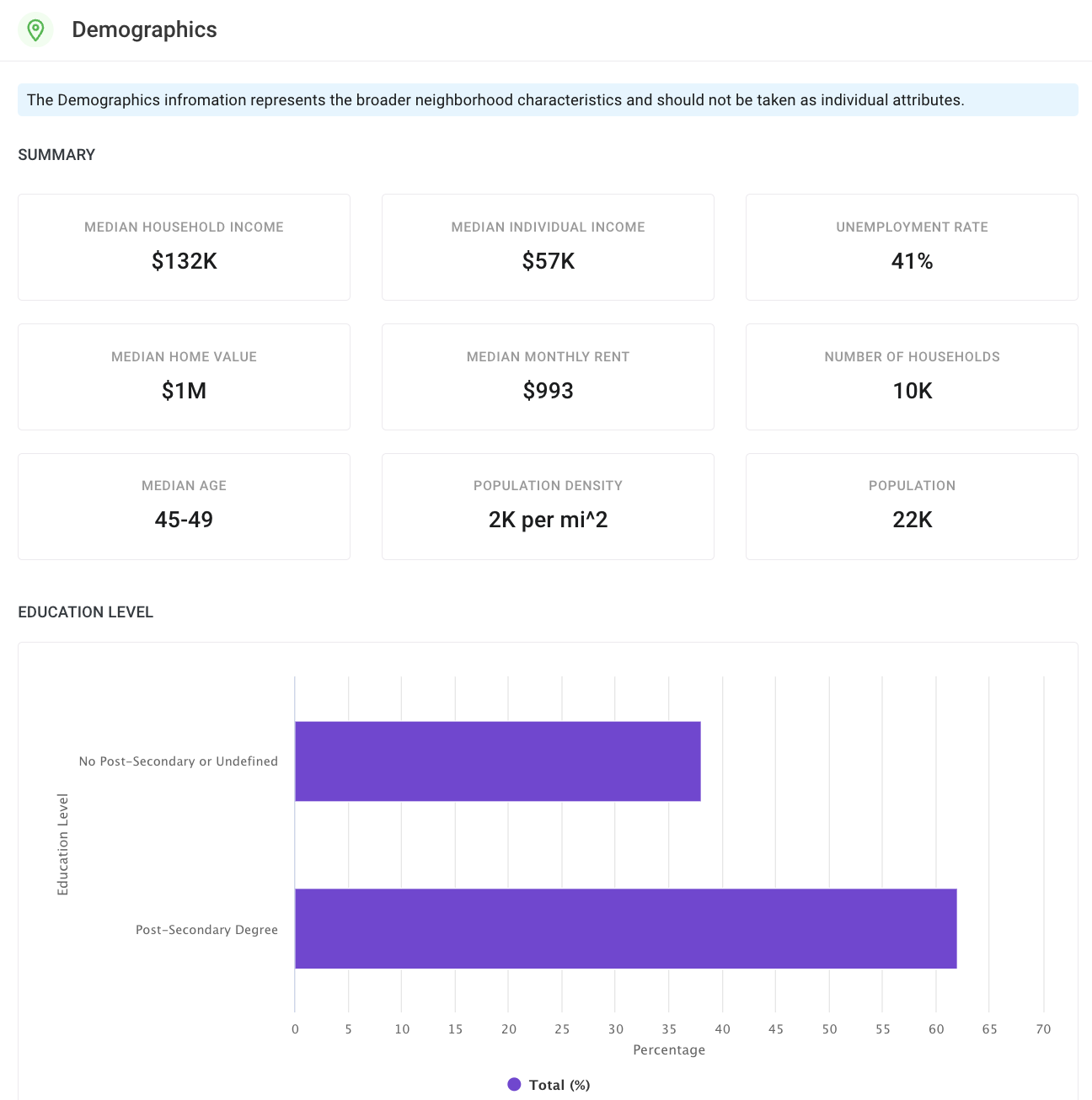 Pricing
We're delighted to introduce Keela's wealth and demographics feature as an exciting add-on to enhance your experience! We've made it available as an add-on because obtaining this valuable data comes with substantial costs. Our ongoing commitment to keeping this feature up to date also incurs expenses. Don't worry; we've got you covered with all the pricing details provided below!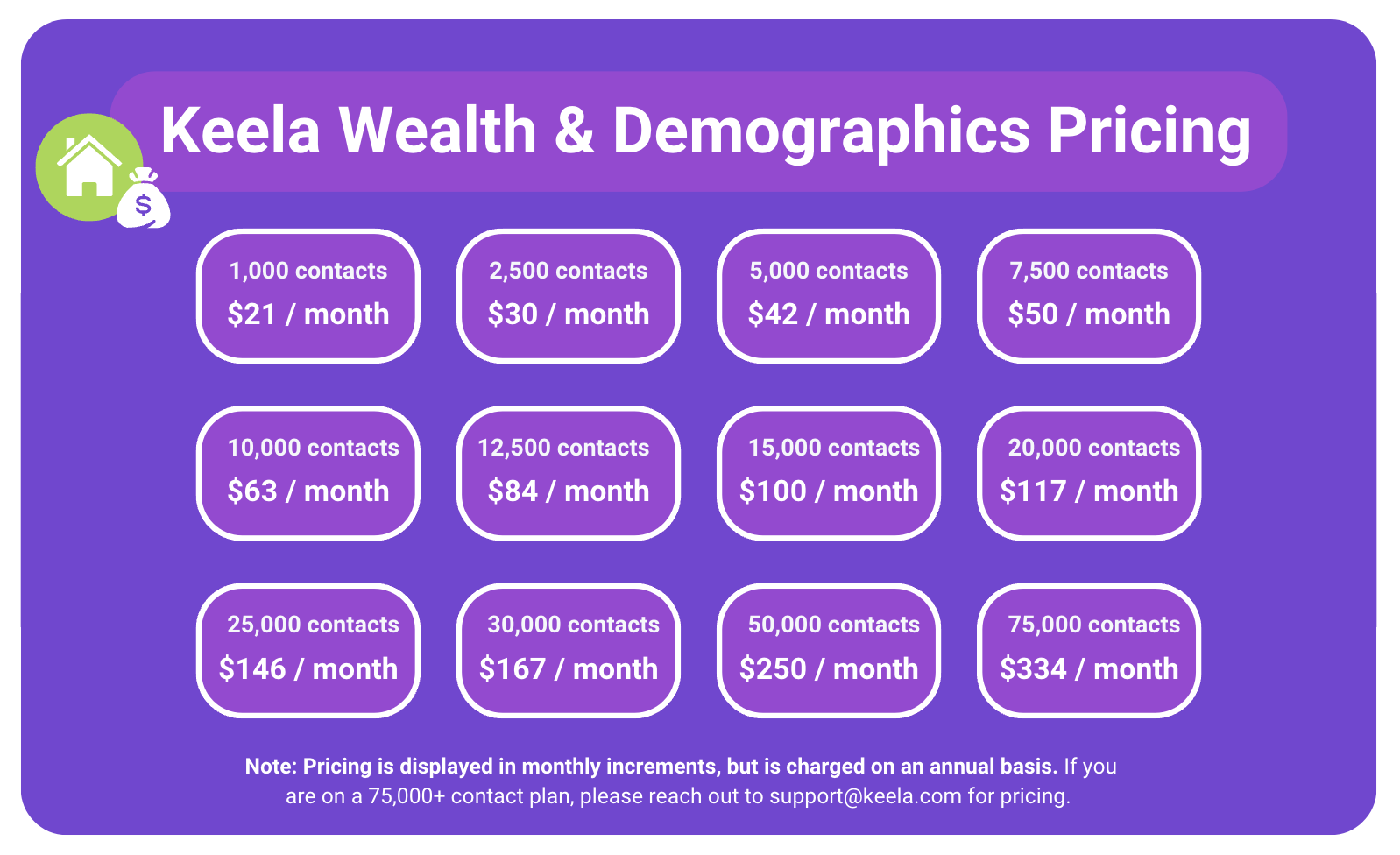 FAQ's
How is this different from other wealth screening tools, like DonorSearch?
→ Type of Data Used
Keela's Wealth and Demographics tool offers a unique and complementary perspective compared to traditional wealth screening tools like DonorSearch. While DonorSearch specializes in extracting specific donor-giving histories, such as donation recipients and amounts, Keela's Wealth and Demographics tool takes a broader approach. It aims to create a comprehensive profile of a contact's wealth, providing organizations with a more holistic understanding of their capacity to contribute. In essence, these tools can be utilized independently or in tandem to enhance the wealth screening process.
→ Data Available
Keela's Wealth and Demographics tool utilizes data from Data Axle, which has a database of 263 million data records. This number doesn't include the additional census data used for Demographics, which means even more data points! In comparison, Donor Search has 160 million records. As a result, Keela's Wealth and Demographics tool is expected to provide information on nearly twice as many contact records. For contacts with a name and address, one can anticipate a coverage rate of approximately 40-60% or higher.
→ Cost 
Wealth screening tools tend to be costlier and often impose limits on the number of data pulls for contact records. Keela's Wealth and Demographics tool stands out by offering a broader range of available data points, no limitations on data pulls, and a notably lower cost compared to traditional wealth screening tools.
Where is the data pulled from? 
Keela's Wealth and Demographics tool retrieves data from both public census sources and a third-party data provider, DataAxle.