Keela debuted our new Donation and Subscription Forms back in July 2022. Given the success of these new forms and in order continue to build out innovative technology to maximize your revenue growth and conversion, we will be retiring Keela's Original Donation and Subscription Forms. These new forms have a boat load of new functionality and are prettily packaged in a sleek and user friendly design proven to maximize your conversion.
Why is Keela retiring the Original Donation and Subscription Forms?
Keela's Product Team spent years of research and development to build out the best forms in the industry! These forms are riddled with AI-informed technology (Smart Ask!), conversion-focused features (built-in recurring gift prompts!) and Integrations (Crypto Forms and Double the Donation!). And we're just getting started!
All of our future innovations and enhancements require the technology built-in to these new Forms. Rather than trying to maintain our Original Donation and Subscription Forms, we want to invest this time into expanding our Form functionality and integrations!
When is Keela planning to retire these forms?
We know that it can take some time to get set up and comfortable with new functionality. That's why we want to ease into this transformation with you!
As of April 5th, 2023: It will no longer be possible to create Donation and Subscription Forms using our Original Form Builder. Inquiries and issues pertaining to the Original Forms will no longer be supported.
On or After June 1st, 2023: As of June 1st, all Original Donation Forms and Subscription Forms will be automatically updated to "Closed". If anyone attempts to access this form, they will be brought to the "Form Closed Page". Don't worry, all historical data will still be accessible!
Please note that due to the number of forms that need to get "Closed," the form closures will start on June 1st and it will slowly start closing your Original Donation and Subscription Forms. It might take longer for some!
What does this mean for you?
Your Original Donation and Subscription Forms will need to be replaced with Keela's New Forms prior to June 1st, 2023. To start, we recommend taking a look at the Donation and Subscription Forms which are currently in use by your organization. If they look anything like this, you're using one of Keela's Original Forms: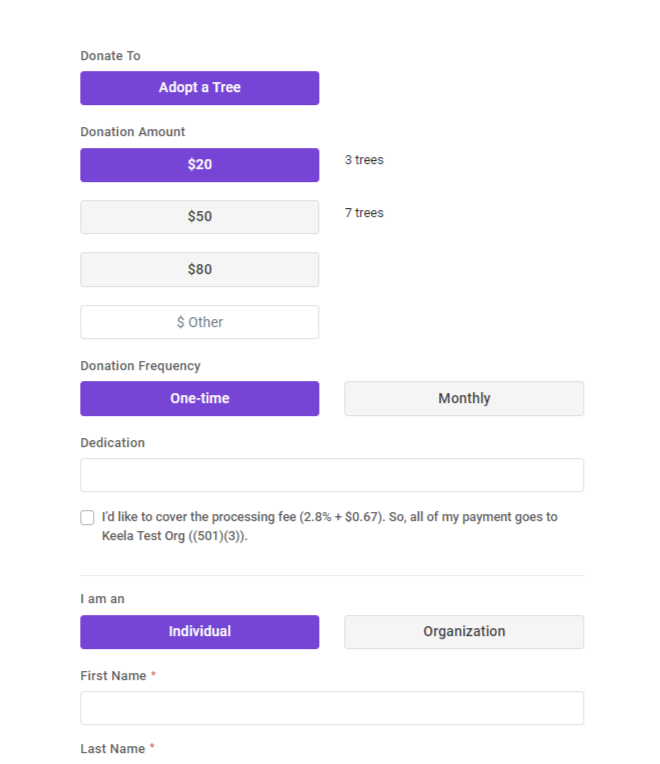 Steps:
1) Take a look at your current forms and make note of any original Forms you may need to replace and where they need to be replaced (ex. website, posters with QR codes, etc.)
2) Create a New Donation Form or New Subscription Form
3) Share or Embed your New Forms
4) Archive your Original Donation and Subscription Forms
And voila! You've successfully updated your Forms and their ready for early retirement.
Further Resources
Professional Services Promotion
Looking for additional assistance? Purchase Professional Services and our experts can create and share your forms for you! Our Team will work with your organization to build customized embedded, standalone or pop-up Subscription or Donation Forms. For the month of May, receive 25% off any Form Creation and Embedding services!
Reach out to our Customer Care Team at support@keela.com for a quote!
**Professional Services not available for Keela Starter accounts
For any questions or concerns about the discontinuation of the original Donation and Subscription forms, or to purchase Professional Services reach out to support@keela.com!