One of the best things about Keela is that it makes your end of year receipting a breeze! The only trouble is... receipting time happens once a year. Recalling the process after 11 months can be a little bit tricky. Not to worry! Let us be your co-pilots this Receipting season.
See the whole thing, start to finish
Elsie held a Carelabs Webinar that runs through the entire process that you should be following on Receipting Day from start to finish. Watch the full video here:
How can I issue Outstanding Receipts from Keela?
With our Bulk Receipting Tool!
This tool allows you to locate any donations without receipts and issue them in bulk via a three-step process. Skip to 📼19:35 of the above video to watch Elsie demonstrate this entire process in detail.
Want to learn more? Check out our Bulk Receipting training videos and article here.
What about Scheduled Cumulative Receipts?
Scheduled Receipts are sent in first week of your charitable status' fiscal year.
Cumulative Receipts are a single receipt, with a single receipt number, for multiple donations.
Skip to 📼12:00 of the above video to learn more about Scheduled Receipts. When creating a Recurring Donation series (ie. Monthly donation payments) in your Keela account, you can choose for your donor to receive a single receipt for all of these payments at the end of the fiscal year. You can also add this as the Default Receipting option for ongoing donors who create these via a New Keela Donation Form.
These Scheduled Receipts will be sent automatically from Keela to the Contacts' email in the first week of the fiscal year of whatever charitable status your organization has in Keela.
January 4th - January 6th* in the next calendar year
A U.S. Registered 501(c)(3) Organization

A U.S. Registered 501(c)(3) Non-profit Private Operating Foundation

A Canadian Registered Charity

A Canadian Registered Municipal or Public Body Performing a Function of Government in Canada

Other Non-Profit/Non-Registered Organization
April 4th - April 6th* in the next calendar year
A New Zealand Charity registered with Charities Services
July 4th - July 6th* in the next calendar year
An Australian Charity or Registered Nonprofit with an ABN #
An Australian Charity registered with ACNC with DGR status
Australian Government Agency with DGR Status
*Note: We begin sending these cumulative receipts on the 4th. As there are quite a few receipts in the queue it can take a couple of days for everyone to receive their receipt via email.
Can I change the Receipt Setting of a Recurring Donation to Cumulative?
Yes - but only for new donations.
Updating the receipt preferences for a Contact's recurring payments will affect all future payments only (not donations that have already been made and therefore receipted).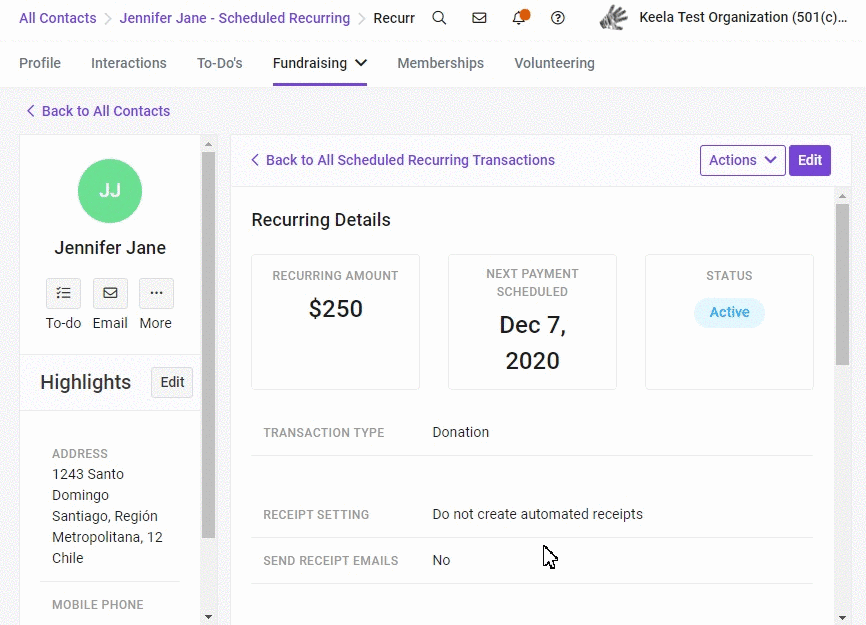 You can change the receipt preferences by going to a Contact's recurring transaction record > Click Edit in the top right-hand corner of the details page. > Locate the Receipt Settings field > Select the Create an annual cumulative receipt at the end of the year option > Save
Tip: We definitely recommend making this change to all relevant Recurring Donations on (or after) January 1st to ensure that next year's donations are sorted!
Can I send a summary of all donations to a donor?
Yes! We call this a Donation Summary.
You can send a Donation Summary to your donors via email or direct mail. Find instructions for each below or at 49:52 of Elsie's webinar above.
Can I re-issue a receipt that have already been generated?
Yes! You can now re-issue a single receipt via email, from the Contact's Profile.
Navigate to the Contact's Profile, and into their Transactions. Click into the receipted transaction, and click Actions > Re-Send Receipt.
Can I re-issue *all* receipts that have already been generated?
This is not best practice - we do not recommend this.
One of the best parts about Keela is that it automates a vast majority of your receipting so that you don't have to spend hours of time doing it come Receipting Season. We do not recommend re-issuing multiple receipts that have already been issued because it's doubling up on work unnecessarily.
So many nonprofits are overworked, underfunded and understaffed. We do not want you to add to this hefty workload by re-issuing receipts!
Instead, we want you to use this time to:
Rest and recuperate after the busiest two months of the fundraising year
Re-invest it back into a Donor Stewardship strategy that will have a real impact on your donors (ie. Create a Happy New Year video that summarizes your year - Check out this webinar for some ideas!).
Re-invest in your cause area!
Take a moment to ask yourself what your donors actually want - for you to spend hours of time doubling up on work, or to re-invest it in a cause area that they believe in.
What does Keela recommend instead?
☑️Ignore all Receipts that have already been issued - your job is done there!
☑️ Use the Bulk Receipting tool to issue all outstanding receipts
☑️ Send a Donation Summary to all Donors via email or mail (see above here)
I *really* want to re-issue multiple receipts that have already been generated.
Okay, okay - here are the steps to do this.
Note: It is not compliant to issue a new cumulative receipt that includes a donation on it that has already had a receipt issued for it. That is why we do not allow for already receipted donations to be included in new cumulative receipts. You will need to cancel any already issued receipts so that a new cumulative receipt can be issued for each donor via the Bulk Receipting too. We recommend speaking to your tax professional if you have any questions about this.
Step 1 - Cancel the Already Issued Receipts
One Receipt: You can do this within the donation itself by following the steps here: Cancel a Receipt
Multiple Receipts: You are now able to select multiple Transactions within a Contact Profile, and cancel multiple receipts at once! Follow these steps here: Cancel Multiple Receipts At Once
Step 2 - Use the Bulk Receipting Tool to issue new, Cumulative Receipts
Refer to the instructions above for a step-by-step guide on how to use the Bulk Receipting Tool.
How do I download my One-Click Fundraising Report?
Find a step by step training video here: Keela's One-Click Fundraising Report. Alternatively, check out 1:00:14 of Elsie's webinar.