We know that donations and revenues are essential to any non-profit. This is why we've built out an extraordinary Fundraising Tool, with lots of added features to be utilized by your organization.
Here, we'll summarize each tab that is found within our Fundraising Tool. For a more in-depth walk through, check-out our Training Video: How to Navigate the Fundraising section of Keela.
Summary Tab
This is the best place to learn about your organization's donations and revenues at a glance.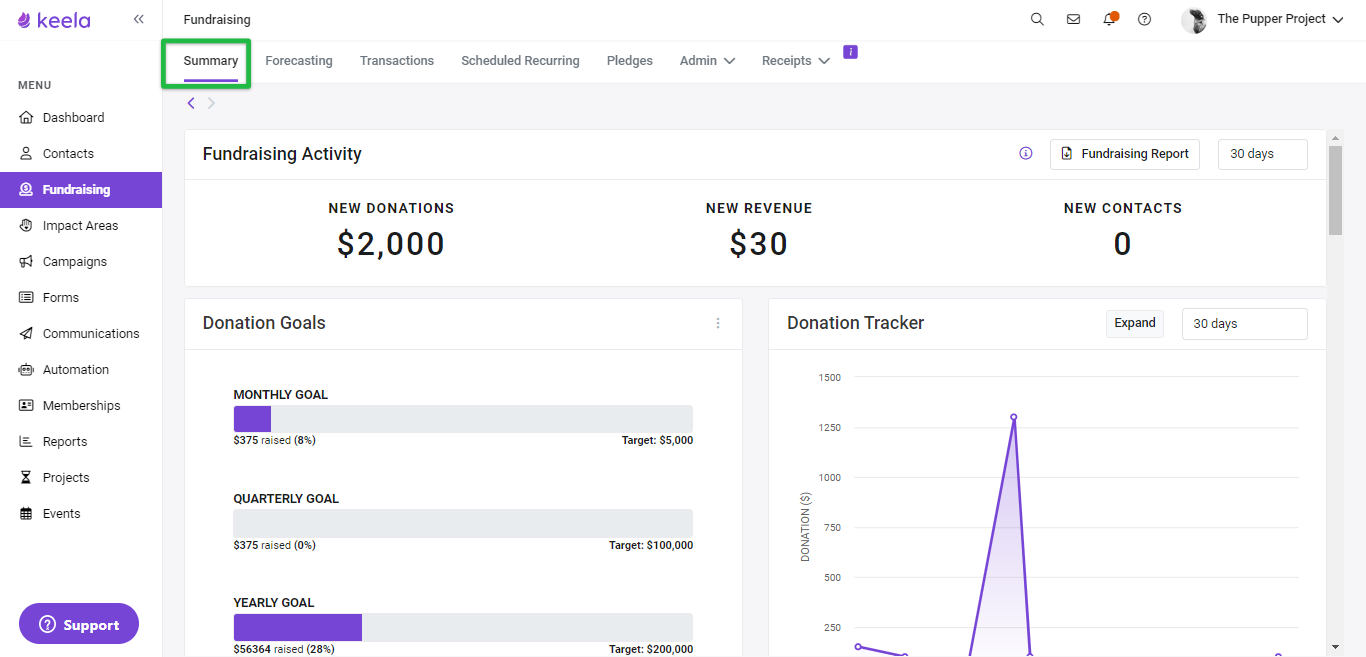 Here is what you can find on the Summary Tab:
Fundraising Activity - a summary of your fundraising activity over 30, 60 or 90 days
Keela's One-Click Fundraising Report - this nifty report is automatically populated by Keela!
Donation Goals and Revenue Goals - record and track your organizations financial goals
Donation Trackers and Revenue Trackers - report on transactions overtime
Key Performance Indicators (KPIs) - use Keela's array of automatically calculated KPIs to manage your organizations metrics and track your success
Recent Transactions - view up to 30 of your organization's most recent transactions at a glance
Forecasting Tab
This is an in-depth and interactive look into your transaction history to take the guess work out of your financial planning and help you optimize your fundraising appeals.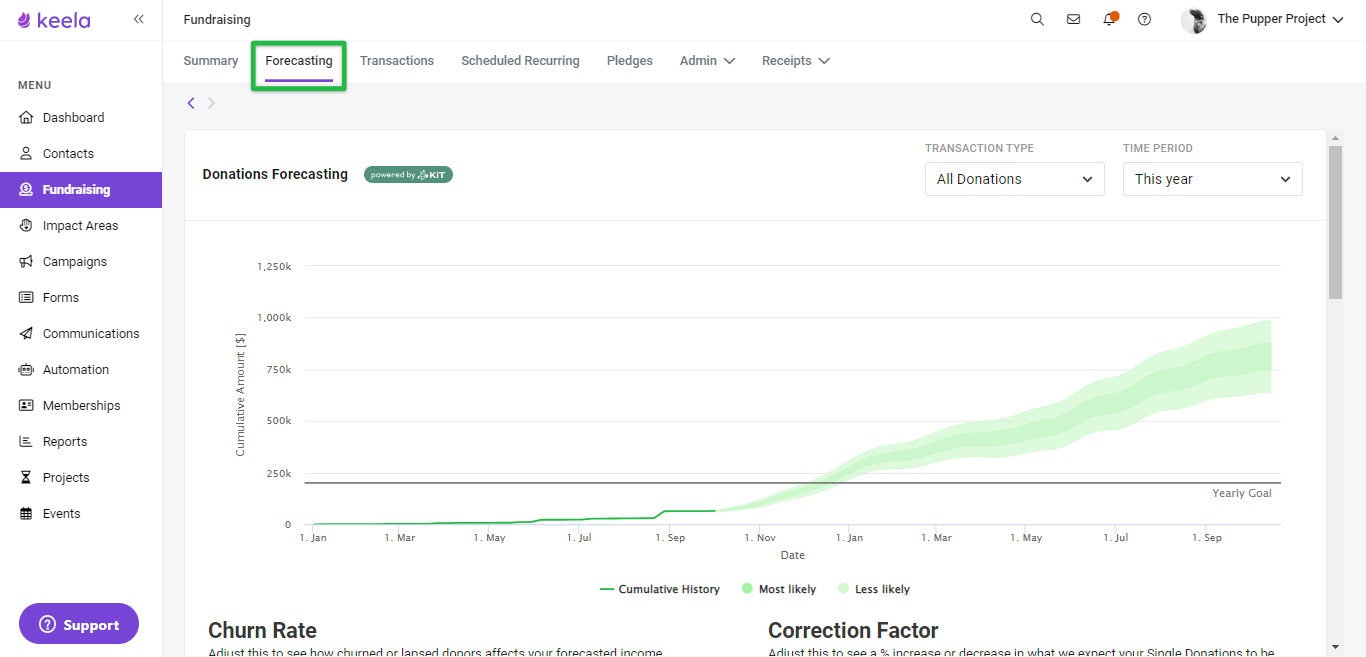 Here is a summary of what is included on the Forecasting Tab:
Donations Forecasting - use this interactive graph to project your estimated transactions. You can even consider Churn Rate and Correction Factors.
Yearly Transaction Types - Keela breaks down the current calendar year by transaction type so you can easily see where most of your transactions fall
Donor Scores -

this graph gives you an idea of what the average level of engagement for your donors is

Donor Readiness - Keela uses data analysis and AI to identify donors who may be ready to give right now!
Time of Year - Keela uses data analysis and AI to

visually represent the number of donors deemed as likely to give each month
For an in-depth breakthrough, head to our Forecasting Donations with Keela article!
Transactions Tab
The Transactions Tab houses the full list of each and every transaction that is held in Keela! Here, you can view, filter and export transactions. You can even manually log transactions here!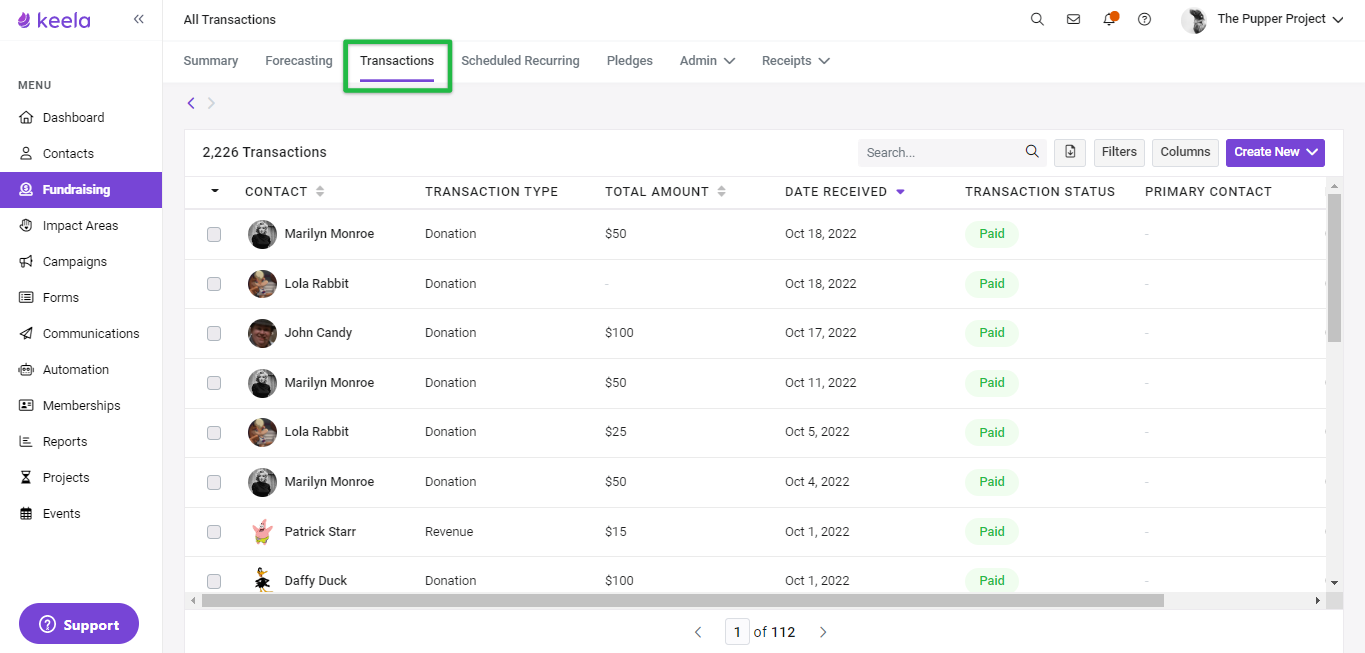 Scheduled Recurring Tab
The Scheduled Recurring Tab functions similarly to the Transactions Tab, but only contains recurring revenues and donations. Here you can create, view, and filter for specific recurring transactions!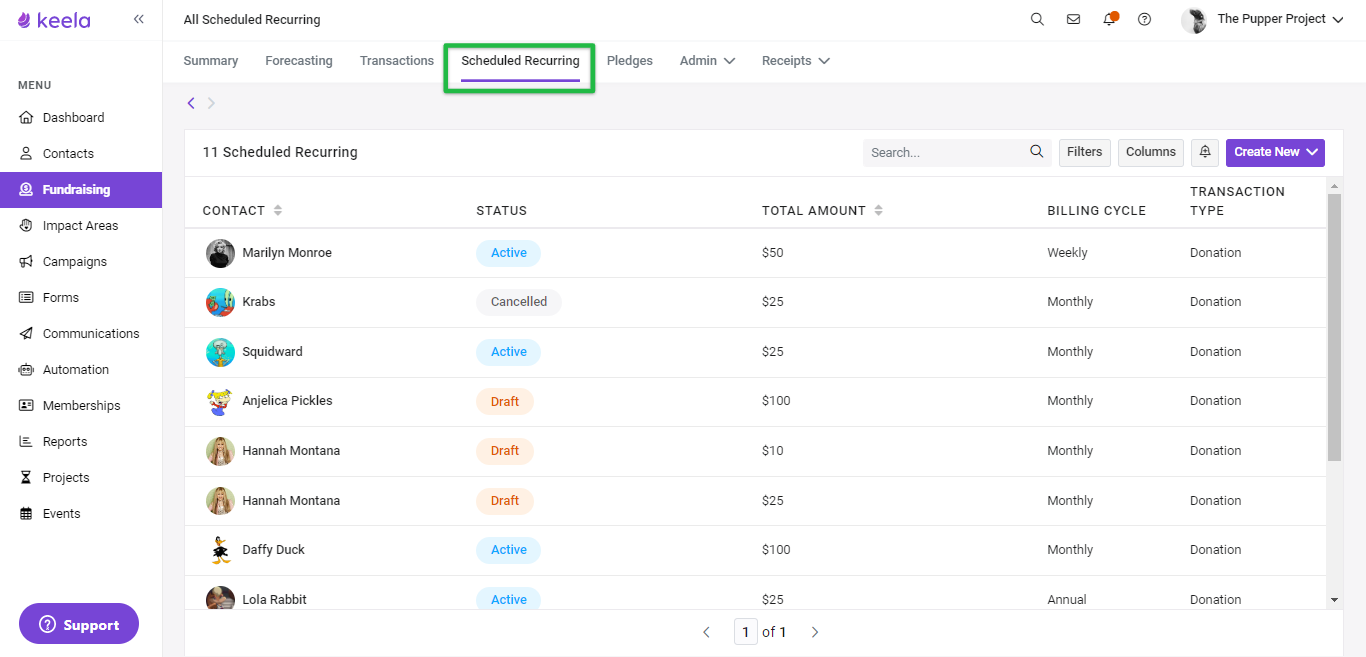 Pledges Tab
Pledges are commitments to give. By creating a Pledge in Keela, you can easily keep track of Pledges status. Here on the Pledge Tab, you can view, edit, filter and create new Pledges.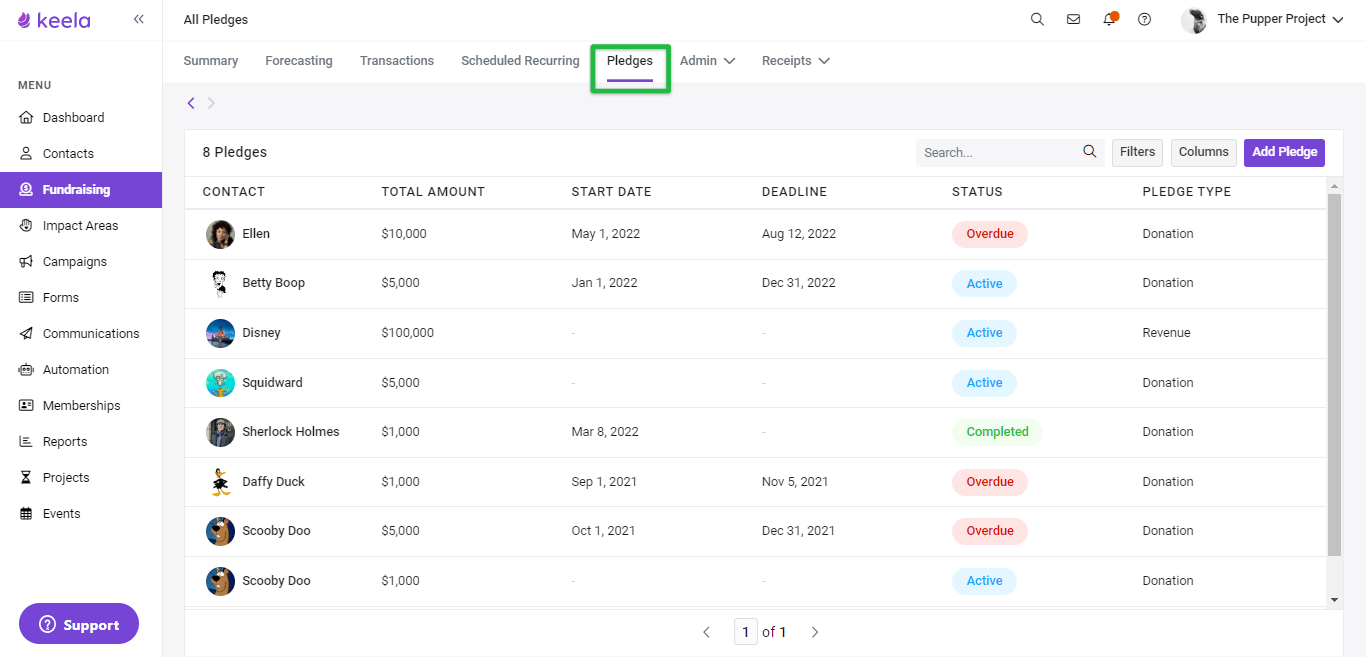 Admin Tab
The Admin Tab is where you can manage the Source Associations you may have added to your transactions. On this tab, you can create, delete, or rename a Source.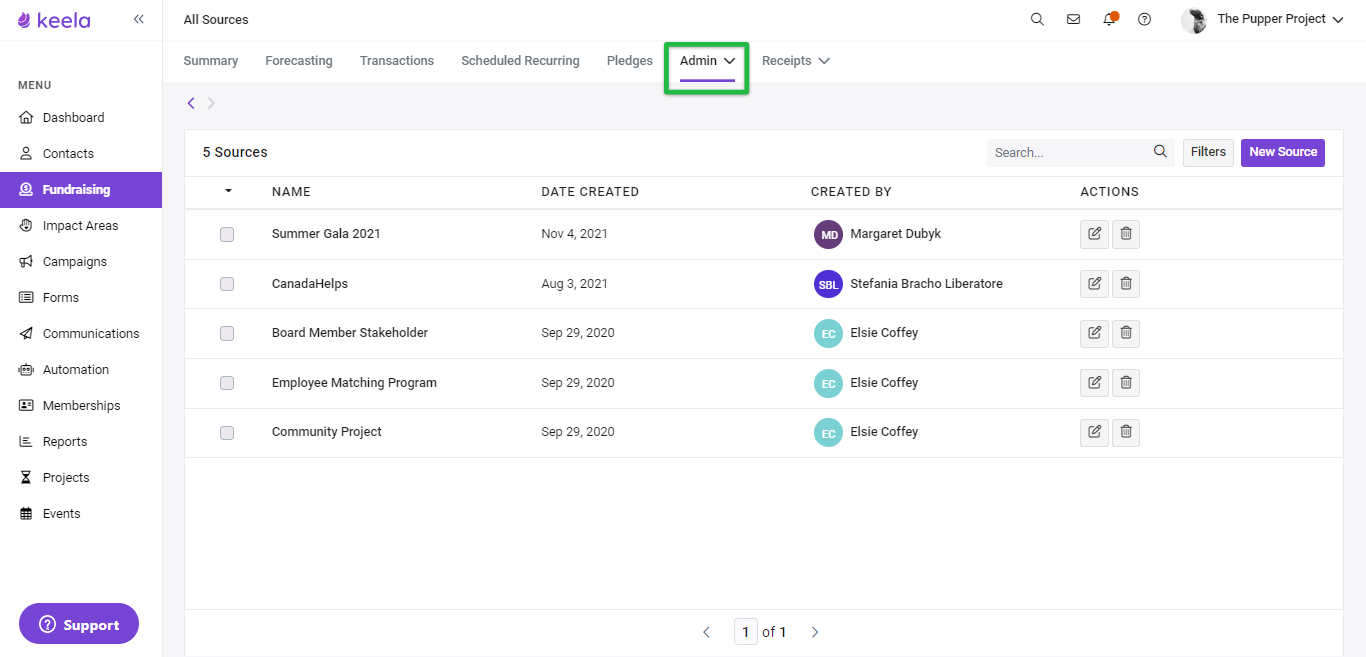 To learn more about sources, head to What's the difference between Impact Area, Campaign, Source and Keywords?
Receipts Tab
The Receipts Tab is where our Bulk Receipting Tool lives. Here, Keela will consolidate every unreceipted transaction from the previous and current fiscal years. This way, you can ignore or receipt transactions in bulk!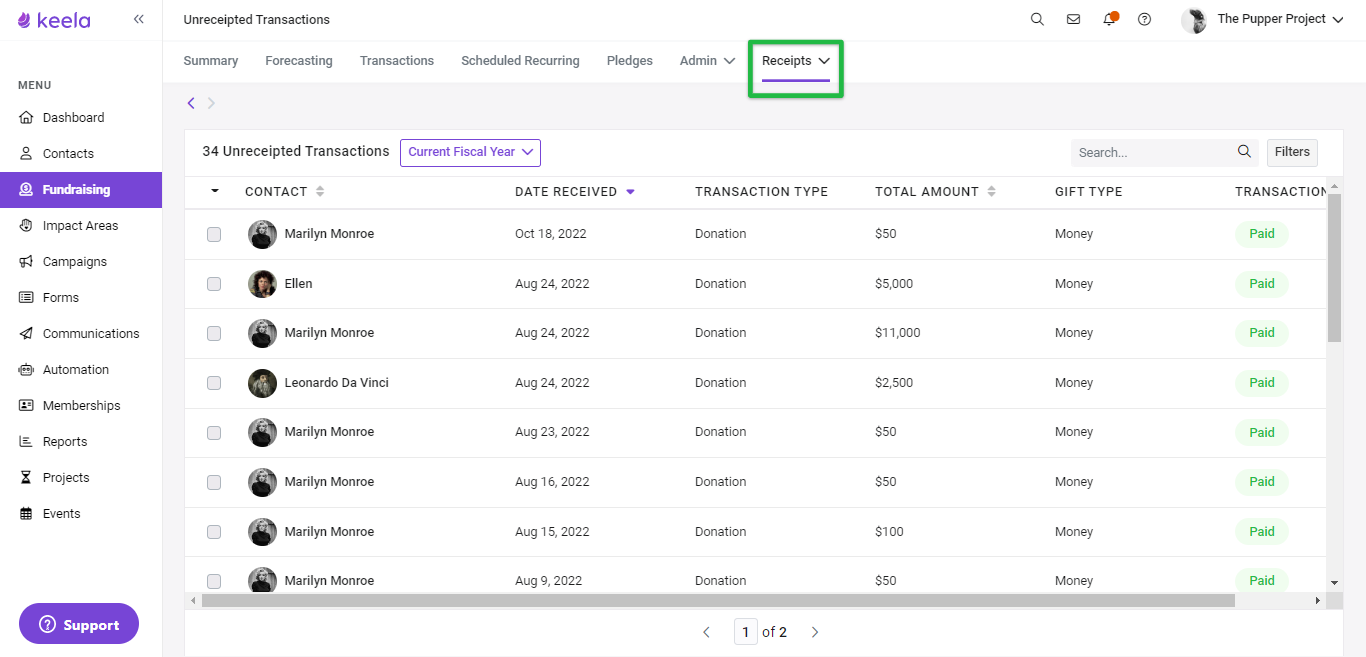 For a deep-dive of our Bulk Receipting Tool head to our Bulk Receipting Tool article or Training Video!